Bo's Café is a remarkable little book that I'd never heard of until a few weeks ago. Now that I've read it, I can't wait to get it into the hands of everyone I know!
The novel centers around the character of Steven Kerner, a high-powered executive living a seemingly idyllic life in Southern California. At just thirty-four, he has an enviable job, a beautiful wife, a lovely daughter, and more money and influence than he can handle. But as Steven soon learns, although he's a "highly trained, intelligent, and successful professional . . . when it comes to [his] personal life, [he's] a real amateur human being." When decades of pent up anger, insecurity, and shame come to a head, Steven's perfect world begins to unravel, then totally falls apart when his wife Lindsey—tired of their constant fighting and her husband's volatile temper—declares she's had enough and kicks Steven out of the house.
Now living by himself in a hotel, Steven is unsure where to turn until he is befriended by an eccentric mystery man whom he soon learns is a dock worker named Andy. Before long, Andy has introduced Steven to a hodgepodge group of friends who gather each week at a quirky eatery called Bo's Café. As Steven gets to know this new group, he is slowly able to drop his guard around them and experiences authentic community and accountability for the first time in his life. Steven's new friends help him relinquish the protective masks he has been wearing to help him get to the root of his issues and become the man his family needs him to be.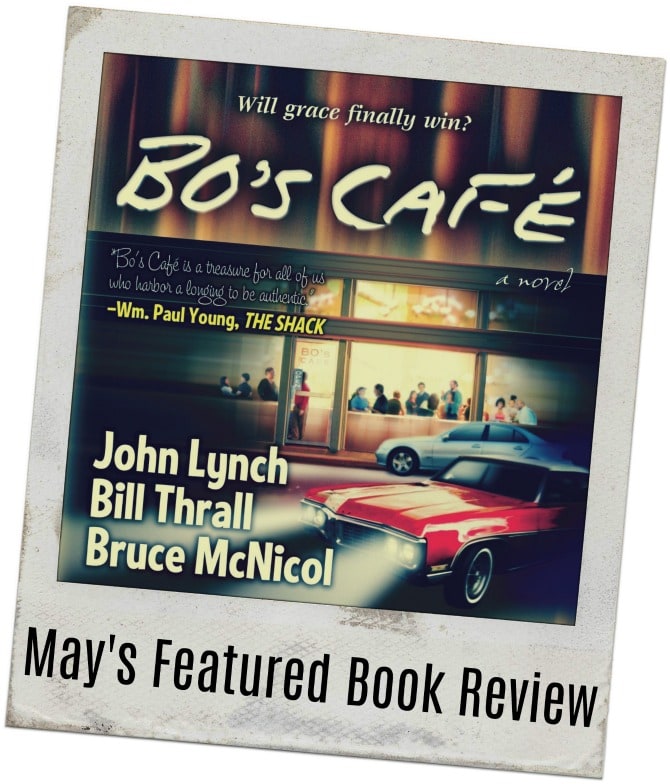 As I mentioned above, I'd never heard of this book until Luke introduced it to me earlier this month. Luke recently joined a men's leadership group at church, and each month the men are reading a book together; Bo's Café was their first selection. I was intrigued by the choice of a novel as a first read and was eager to see what this book was all about. Having read it, I can't imagine a more perfect selection for kickstarting an accountability group.
As a piece of fiction, Bo's Café actually works quite well: it features well-developed and interesting characters, a decent plot trajectory, and copious amounts of sentimentality and humor. But it's the lessons in this book—obvious, but carefully woven into the story—that make it a standout read. I'm sure that many Christians have read books or heard sermons about the importance of community, the detriments of inauthenticy, the eroding nature of shame, and the power of God's grace. Bo's Café takes these seemingly unattainable concepts and fleshes them into an engaging and relatable story.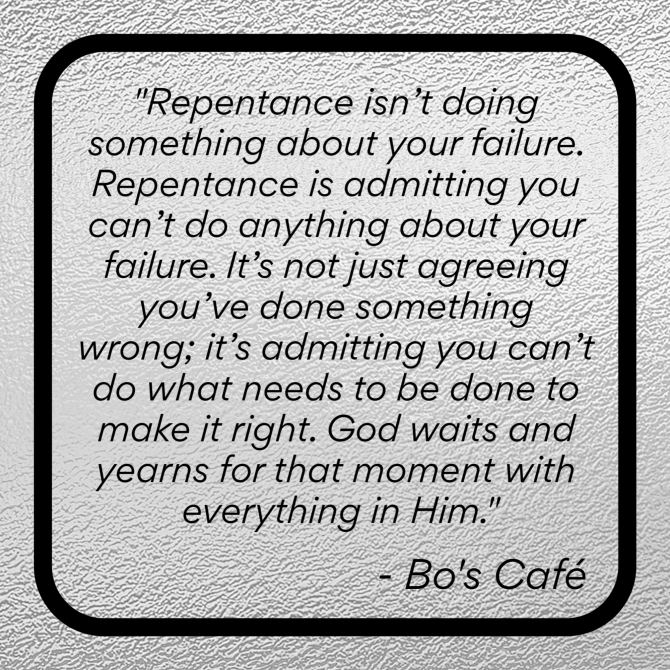 While Bo's Café is filled with powerful life lessons, a few in particular stood out to me. The first was the amazing illustration of the importance of authenticity and vulnerability within community. Steven and Andy's relationship involves mentorship and levels of transparency many of us long for, but haven't quite achieved; it's helpful to see their dynamic played out on the page, and I loved the banter between the two. Their conversations reminded me of how much I've benefitted from my own involvement in community groups, and how these groups have worked best when all of us are willing to present our whole, unfiltered selves to the group and accept the same from the others. This is the type of community God intends for the church, and when it works, there is truly nothing better.
My other biggest takeaway from the book related to the idea of behavior modification versus true soul change. When Steven is first getting to know Andy, Steven hopes that his new friend can help him "fix" his anger issues so that he can prove to his wife that he's changed and move back home. But Andy sees through Steven's motivations and lies (including the lies Steven himself has come to believe) and refuses to engage in a game of whack-a-mole with Steven's problem behaviors. Instead, he waits for Steven to come to the end of himself; only then can he begin the real work of releasing his brokenness to God and letting Him transform Steven from the inside out. Like Steven, I am ever-aware of my own sin issues and want to try to fix them on my own. Bo's offered me an important reminder that my sins are simply symptoms of a deeper problem—a problem that only Jesus can solve.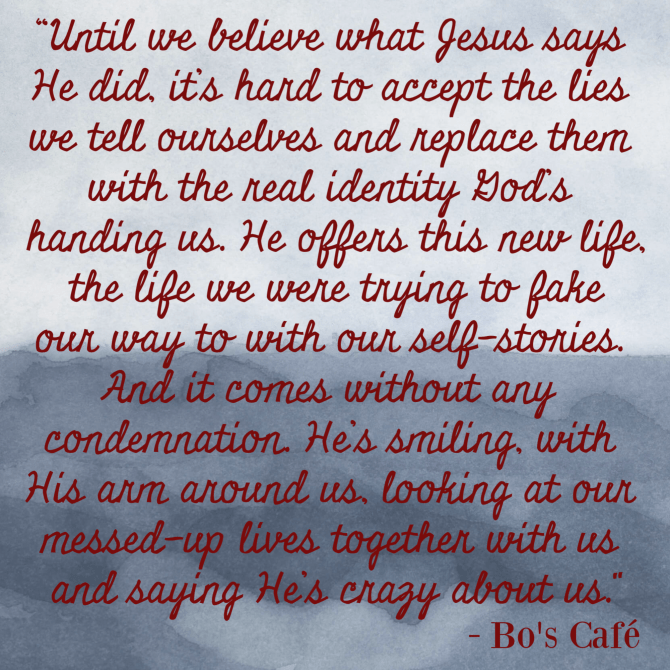 I'm so excited for Luke's new group, and am looking forward to hearing about their takeaways from this book. If you are a part of a similar book club or accountability group, I'd highly recommend Bo's Café as your next group read!
My Rating: 5 Stars!