Summer is just around the corner, and for many, that means that the year's best reading is about to begin. I of course believe that any time of year is a good time for books, but in an effort to help YOU find the perfect read for your summer vacation or for lounging by the pool, I've rounded up my recommendations for the BEST books to read this summer.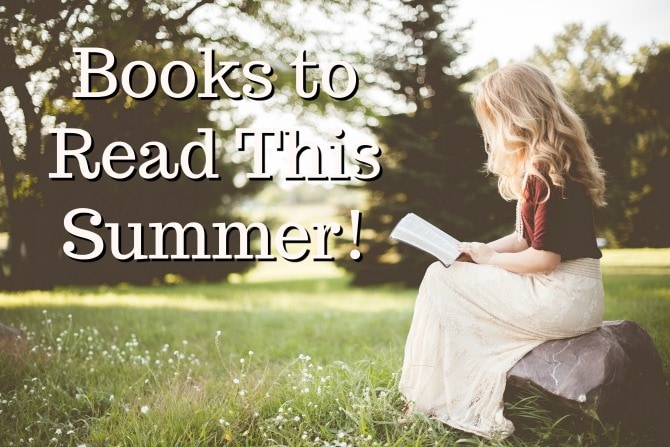 You'll likely recognize many of these titles from previous appearances on the blog, because the books in this guide are some of my very favorites. (However, there are quite a few beloved books missing from this list because if you haven't already read Harry Potter, Gone Girl, or The Help . . . well, nothing I say here will convince you to change your mind.) If you're an avid reader, you're likely to spot some of your own favorites here, but I hope that you can find something new to read this summer as well.
I have included a wide variety of titles, with some recent debuts, a few classics, and everything in between. I've organized my recommendations by genre, with each list ordered by release date. When there are other books I'd recommend from a specific author, I've included links to those titles as well. I've read each of these books (many of them more than once), so if you have any questions about a specific title, please feel free to ask!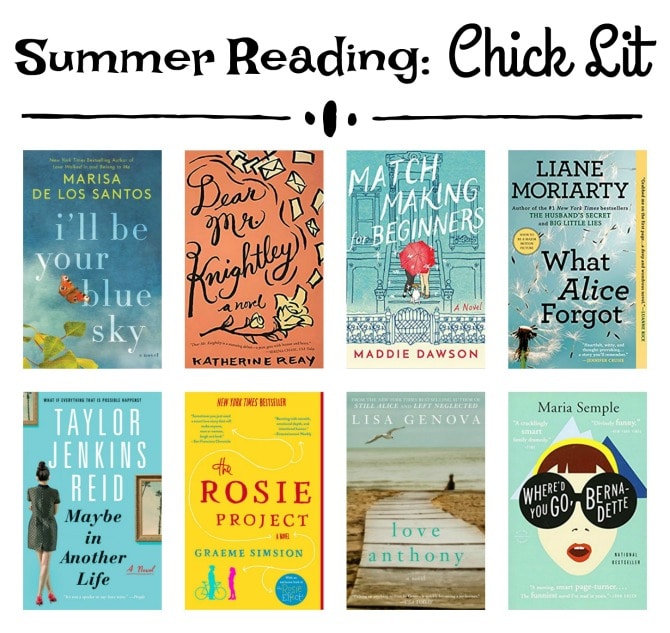 I don't really care for the "Chick Lit" label, and often don't like the books categorized under this genre. However, I know it's a genre many women think of when gearing up for "summer reading," and each of these specific books earns my total stamp of approval—sweet and smart, this is "Chick Lit" at its absolute best.
Where'd You Go, Bernadette, by Maria Semple: A lighthearted read with a quirky protagonist and interesting structure. There's a reason this has become a book club staple in recent years! Read it before the movie remake comes out later this summer.
Love Anthony, by Lisa Genova: This is a heartbreaking but beautifully rendered story of friendship, autism, and unconditional love. Lisa Genova has a way of bringing heart and depth to challenging subjects, and this book is Genova at her best. I read this book three years ago, and still think about it often. (Also by Lisa Genova: Left Neglected, Still Alice, Inside the O'Briens)
The Rosie Project, by Graeme Simsion: The endearing story of a socially challenged professor and the woman who unexpectedly steals his heart. Hilarious and charming!
Dear Mr. Knightley, by Katherine Reay: My favorite from Katherine Reay, though I enjoy all of her books for their winsom stories and clever literary tie-ins. This epistolary novel about a young woman exiting the foster care system is both touching and thought-provoking. (Also by Katherine Reay: Lizzy & Jane, The Brontë Plot, A Portrait of Emily Price)
What Alice Forgot, by Liane Moriarty: You really can't go wrong with anything by Liane Moriarty, but nothing can top this book for me. It's the story of a 39-year-old woman who wakes up one morning with no recollection of the previous ten years. It's a clever premise that leaves the reader with a lot to think about. (Also by Liane Moriarty: The Husband's Secret, Nine Perfect Strangers, Big Little Lies, Truly Madly Guilty)
Maybe In Another Life, by Taylor Jenkins Reid: I was surprised by how much I enjoyed this novel that follows two extremely different trajectories stemming from a single decision in a young woman's life.
I'll Be Your Blue Sky, by Marisa de los Santos: In this beautifully written story of secrets, sacrifice, and friendship, a runaway bride is gifted a house that leads her into a decades-old mystery. Though technically the third in a series, this book easily stands alone. (Also by Marisa de los Santos: The Precious One)
Matchmaking for Beginners, by Maddie Dawson: This is the utterly delightful story of two women—one at the end of her life, another whose life is just beginning, both of whom have the ability to identify couples who are destined to be together.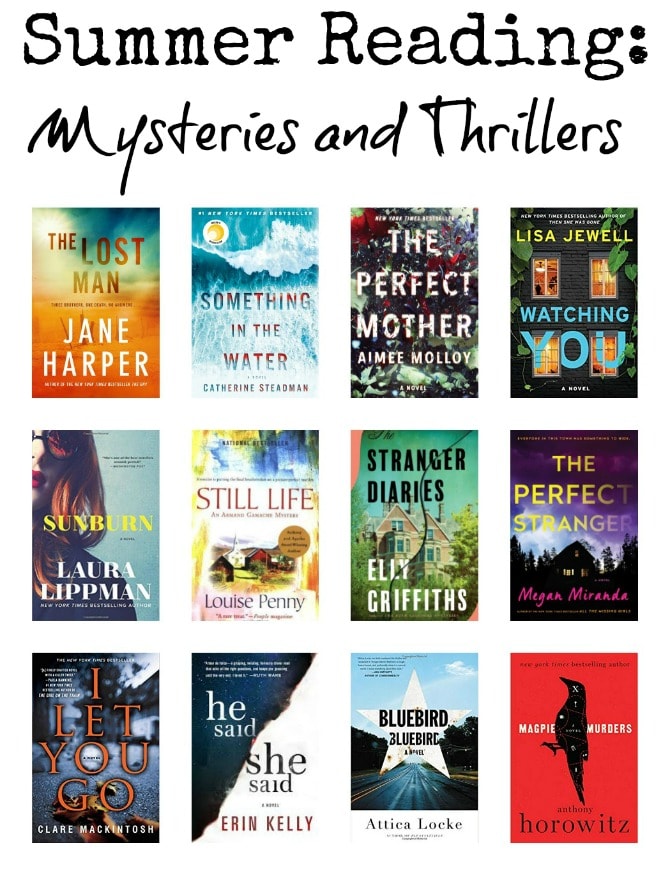 Personally, when I think of summer reading, it's the mystery genre that I reach for first. These books are all fast-paced page turners that would be easy to polish off during an afternoon or two at the beach.
Still Life, by Louise Penny: I adore Louise Penny's Inspector Gamache series for its complex mysteries, lovable characters, and rich themes. This isn't the best book in the series, but it's the first, and you must start at the beginning—but definitely don't stop there! If you're new to this series, you are in for a treat! With fourteen books in the series (fifteen as of this August!), you'll have plenty to keep you reading this summer.
I Let You Go, by Clare Mackintosh: This is the riveting tale of a woman who is devastated after losing her son. I can't recall another time when a plot twist caught me off guard the way this one did! (Also by Clare Mackintosh: I See You)
The Perfect Stranger, by Megan Miranda: A haunting story of a journalist whose room mate has gone missing, leaving her to wonder if she ever existed at all. (Also by Megan Miranda: All the Missing Girls)
He Said/She Said, by Erin Kelly: Young and in love, two eclipse chasers are having the experience of a lifetime at a festival celebrating a solar eclipse when they witness a crime that will haunt them for the rest of their lives. Twisty, terrifying, and totally engrossing.
Magpie Murders, by Anthony Horowitz: In this novel that features two books in one, the manuscript from a bestselling mystery author holds the clues to a real-life murder mystery. I've never read anything else quite like this, and I was captivated from start to finish. (Also by Anthony Horowitz: The House of Silk)
Bluebird, Bluebird, by Attica Locke: A literary mystery that explores themes of racism, loyalty, and justice through the harrowing story of a Texas Ranger.
Sunburn, by Laura Lippman: A quintessential summer read, this is the tale of two star-crossed lovers whose hidden pasts and patterns of deception and betrayal result in a fateful summer of love.
The Perfect Mother, by Aimee Molloy: An intriguing look at the lives of several young mothers as they navigate parenting, careers, and life in New York City. . . not to mention the devastating kidnapping of one of their children.
Something in the Water, by Catherine Steadman: A honeymoon in paradise goes awry when a picture-perfect couple discovers something in the water while scuba diving off the coast of a tropical island. What they find could prove fatal for their relationship, and possibly for the couple themselves.
Watching You, by Lisa Jewell: A modern take on the Rear Window premise, filled with intriguing characters and a whole slew of ethical quandaries. (Also by Lisa Jewell: I Found You, The Girls in the Garden, Then She Was Gone)
The Lost Man, by Jane Harper: This atmospheric thriller follows the lives of a family devastated by loss and perpetually at the mercy of the relentless Australian Outback. (Also by Jane Harper: The Dry)
The Stranger Diaries, by Elly Griffiths: A high school English teacher comes face-to-face with murder when her best friend is murdered, and her own diaries seem to have played a role in the crime. A perfect read for fall, but good enough to read now!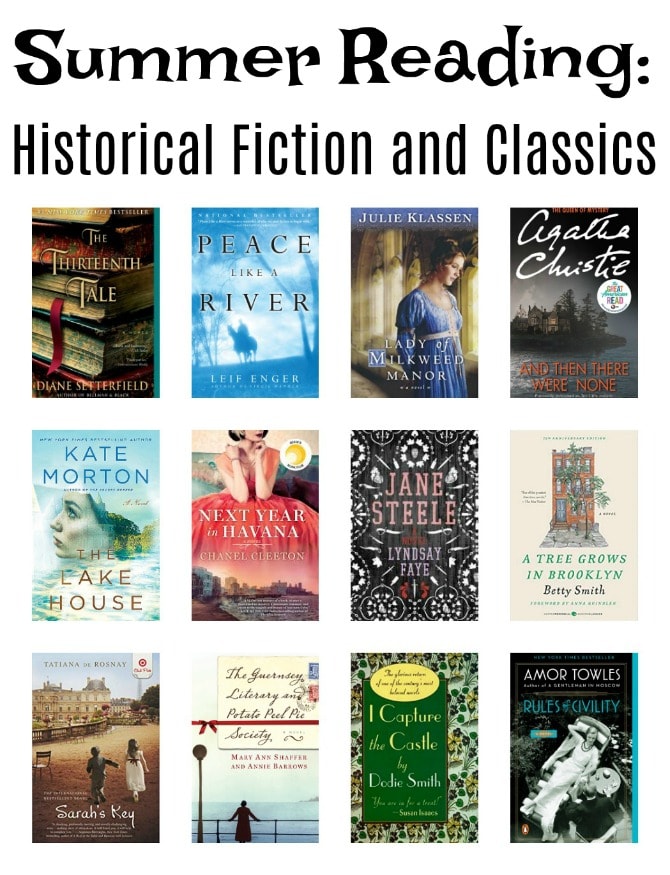 If you're looking for historical fiction, or perhaps a classic title, I've got you covered! Travel through time this summer from the comfort of your own home with one of these historical titles.
And Then There Were None, by Agatha Christie: My very favorite mystery from the greatest mystery writer of all time. If you've never read this classic whodonit, PLEASE do so! (Also by Agatha Christie: literally everything she wrote!)
A Tree Grows in Brooklyn, by Betty Smith: A coming-of-age story set at the turn of the twentieth century that captures a unique time in history while exploring universal experiences of adolescence.
I Capture the Castle, by Dodie Smith: This is the whimsical story of a young woman growing up in a crumbling castle, surrounded by her eccentric family. I adore this novel!
Peace Like a River, by Leif Enger: Set in the bitter cold of a midwestern winter in the early 1960s, this is a novel of family, faith, loyalty, and miracles. So much of this book reminds me of To Kill a Mockingbird, so if that classic is a favorite of yours (as it is mine), you'll love this.
The Thirteenth Tale, by Diane Setterfield: This love letter to the reading life unites gothic sensibilities with an utterly spellbinding mystery. This is my favorite book that I've read this year, and I don't know how I missed out on reading it for so long. (Also by Diane Setterfield: Once Upon a River)
Sarah's Key, by Tatiana de Rosnay: In 2002, a Parisian journalist stumbles across a heartbreaking mystery dating back to the second World War. Sarah's Key presents a compelling look at the French occupation, with an intriguing modern-day storyline that brings the historical repercussions to life.
Lady of Milkweed Manor, by Julie Klassen: Set in Regency England and written in the classical style of that era, Julie Klassen's mysterious romances are my favorite historical novels. Lady of Milkweed Manor, which follows the story of a young women placed in a home for unwed mothers, was Klassen's debut and it remains her best work. (Also by Julie Klassen: The Apothecary's Daughter, The Secret of Pembrooke Park, The Silent Governess, The Tutor's Daughter)
The Guernsey Literary and Potato Peel Pie Society, by Mary Ann Shaffer and Annie Barrows: A charming epistolary novel told through humorous letters between an eccentric group of friends during World War II. It's been a while since I read this, it might be time for a revisit myself!
Rules of Civility, by Amor Towles: Amor Towles is one of the greatest novelists of our generation, and his literary prowess sparkles in this debut novel set in New York City in 1938. A must-read for fans of The Great Gatsby. (Also by Amor Towles: A Gentleman in Moscow)
The Lake House, by Kate Morton: In modern-day London, a detective stumbles across an old, abandoned estate. Her investigation leads her to discover a historic family tragedy in this book of secrets, deception, and mistaken assumptions.
Jane Steele, by Lyndsay Faye: This reimagining of Jane Eyre as a gutsy, heroic serial killer is creative, acerbically humorous, and a true page-turner.
Next Year in Havana, by Chanel Cleeton: When a Cuban-American woman travels to Havana to rediscover the roots of her identity, she learns of her grandmother's clandestine romance in 1958 and stumbles into a romantic relationship of her own.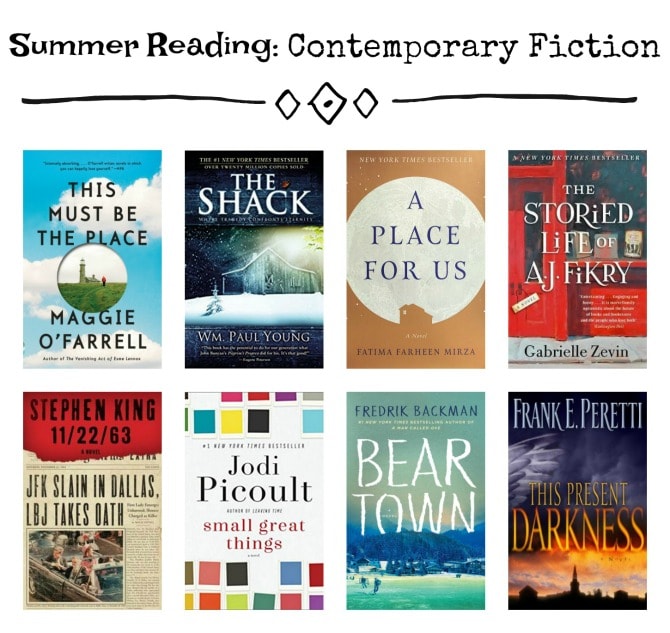 Not everyone is looking for light and breezy when it comes to summer reading. These books are a bit more literary, with stories that will keep you reading and themes you'll remember long after finishing the last page.
This Present Darkness, by Frank E. Peretti: This book completely transformed my understanding of spiritual warfare. Peretti is the master of Christian Horror, and This Present Darkness is his most iconic work. (Also by Frank E. Peretti: The Prophet, The Visitation, The Oath, Hangman's Curse)
The Shack, by William P. Young: Whether or not you are on board with some of the unconventional ideas in this book, The Shack offers an incredible portrayal of grace, redemption, and authentic relationship with God. If you haven't seen the movie, I'd highly recommend it as well, but read the book first!
11/22/63, by Stephen King: A historical thriller with a sci-fi twist, this is the spellbinding story of a man who travels back in time in an attempt to prevent JFK's assassination. Impeccable storytelling, incredible premise, and not at all the horror story I expected from Steven King (I mean that in a good way!).
The Storied Life of A.J. Fikry, by Gabrielle Zevin: This book is a bibliophile's dream come true: a quirky protagonist, a sweet love story, a touch of mystery, and literary references galore! (Also by Gabrielle Zevin: Young Jane Young)
Beartown, by Fredrik Backman: The captivating story of a hockey town torn apart by tragedy. I couldn't care less about sports, but this book stole my heart. (Also by Fredrik Backman: A Man Called Ove)
This Must Be the Place, by Maggie O'Farrell: The best novel I read in 2018, this book spans decades, following several members of an unconventional family. Unique narrative structure combines with unforgettable characters and an evocative setting to create one incredible love story. (Also by Maggie O'Farrell: I Am, I Am, I Am: Seventeen Brushes With Death [memoir])
Small Great Things, by Jodi Picoult: An African American nurse is charged with a crime for treating the child of a white supremacist in this thought-provoking examination of power, privilege, and responsibility. This is an issues-driven novel with heart, and it opened my eyes to many race-related issues I'd never considered. (Also by Jodi Picoult: Leaving Time)
A Place for Us, by Fatima Farheen Mirza: The incredible story of a Muslim family torn apart by cultural misunderstanding and decades of deception. Have tissues ready for this one!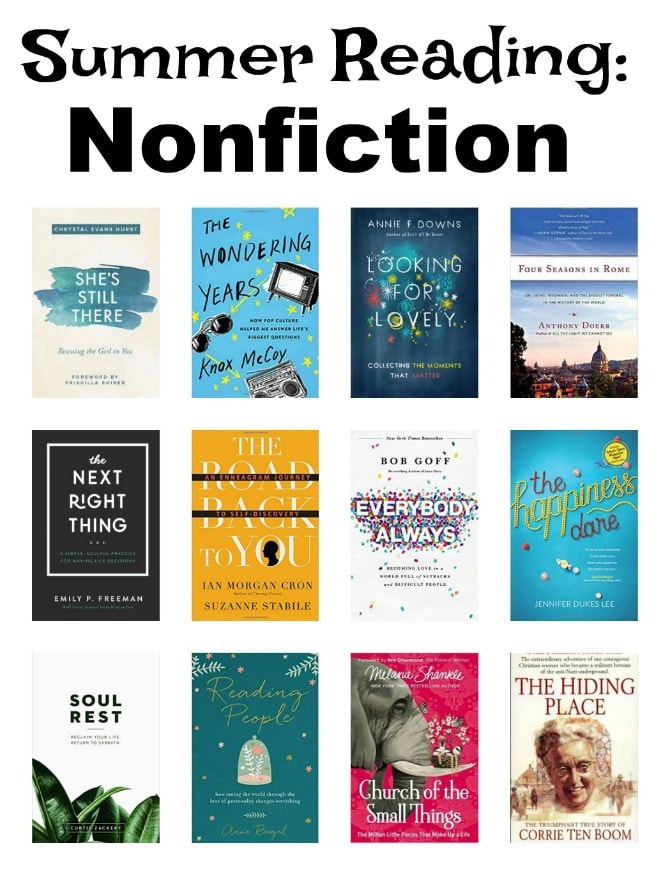 Whoever said that summer reading needed to be limited to novels? These are some of my favorite nonfiction titles that make for great summer reading: plenty of substance, but nothing too dark or heavy.
The Hiding Place, by Corrie Ten Boom: A memoir by a prisoner in a German concentration camp during the Jewish Holocaust might not seem like a fitting summer read, but Corrie Ten Boom's absorbing story is filled with redemption and hope. This is my favorite memoir of all time, and it's one I believe everyone should read.
Four Seasons in Rome: On Twins, Insomnia, and the Biggest Funeral in the History of the World, by Anthony Doerr: In this unique travel memoir, Anthony Doerr documents quotidian moments spent in one of the world's most romantic cities during his young family's year spent writing and living in Rome. (Also by Anthony Doerr: All the Light We Cannot See [Historical Fiction])
Looking for Lovely, by Annie F. Downs: Sometimes it can be hard to notice God in the simple beauty of everyday moments. In this book, Annie F. Downs utilizes personal stories and Biblical wisdom to lead readers in finding the lovely all around us. (Also by Annie F. Downs: Remember God)
The Happiness Dare: Pursuing Your Heart's Deepest, Holiest, and Most Vulnerable Desire, by Jennifer Dukes Lee: This is The Happiness Project (another book I love) written from a Christian perspective. Jennifer Dukes Lee outlines five happiness styles and helps readers determine their own happiness sweet spot. I appreciated this book's premise that happiness is not antithetical to holiness and can actually glorify God.
The Road Back to You: An Enneagram Journey to Self-Discovery, by Ian Morgan Cron and Suzanne Stabile: Everyone's talking about the Enneagram these days! If you're still unsure of your own type, or simply want to learn more about this life-changing personality model, this book provides an informative, engaging introduction. (Also by Suzanne Stabile: The Path Between Us: An Enneagram Journey to Healthy Relationships)
She's Still There: Rescuing the Girl In You, by Chrystal Evans Hurst: For those who feel they have lost themselves and want to reclaim their passions and purposes, this is an excellent guide in helping you embrace the woman God made you to be.
Reading People: How Seeing the World through the Lens of Personality Changes Everything, by Anne Bogel: My favorite book about personality, Reading People provides an overview of several different personality frameworks that helps readers better understand themselves and those around them. (Also by Anne Bogel: I'd Rather Be Reading: The Delights and Dilemmas of the Reading Life)
Everybody, Always: Becoming Love in a World Full of Setbacks and Difficult People, by Bob Goff: It's hard not to love Bob Goff's passion and enthusiasm, and this book will leave you inspired to change the world, one loving act at a time. (Also by Bob Goff: Love Does: Discover a Secretly Incredible Life in an Ordinary World, and by his wife Maria Goff: Love Lives Here: Finding What You Need in a World Telling You What You Want)
Church of the Small Things: The Million Little Pieces That Make Up a Life, by Melanie Shankle: With her signature wry humor, Melanie Shankle shares hilarious and relatable stories of the seemingly ordinary moments that make up an extraordinary life. (Also by Melanie Shankle: Sparkly Green Earrings: Catching the Light at Every Turn, The Antelope in the Living Room: The Real Story of Two People Sharing One Life, Nobody's Cuter Than You: A Memoir About the Beauty of Friendship)
Soul Rest: Reclaim Your Life. Return to Sabbath, by Curtis Zackary: A life-giving book about Sabbath and how we can learn to trust the Lord with our need for rest. This is an excellent book for those seeking true peace and rejuvenation this summer.
The Wondering Years: How Pop Culture Helped Me Answer Life's Biggest Questions, by Knox McCoy: A spiritual memoir, filled with humorous stories and brimming with pop cultural references.
The Next Right Thing: A Simple, Soulful Practice for Making Life Decisions, by Emily P. Freeman: If you find yourself facing a big decision—or even just a number of small ones—this summer, make this book your next read. Emily P. Freeman's sage advice will lead you to exactly where you need to be. (Also by Emily P. Freeman: Grace for the Good Girl: Letting Go of the Try-Hard Life, It's Simply Tuesday: Small-Moment Living in a Fast-Moving World)
---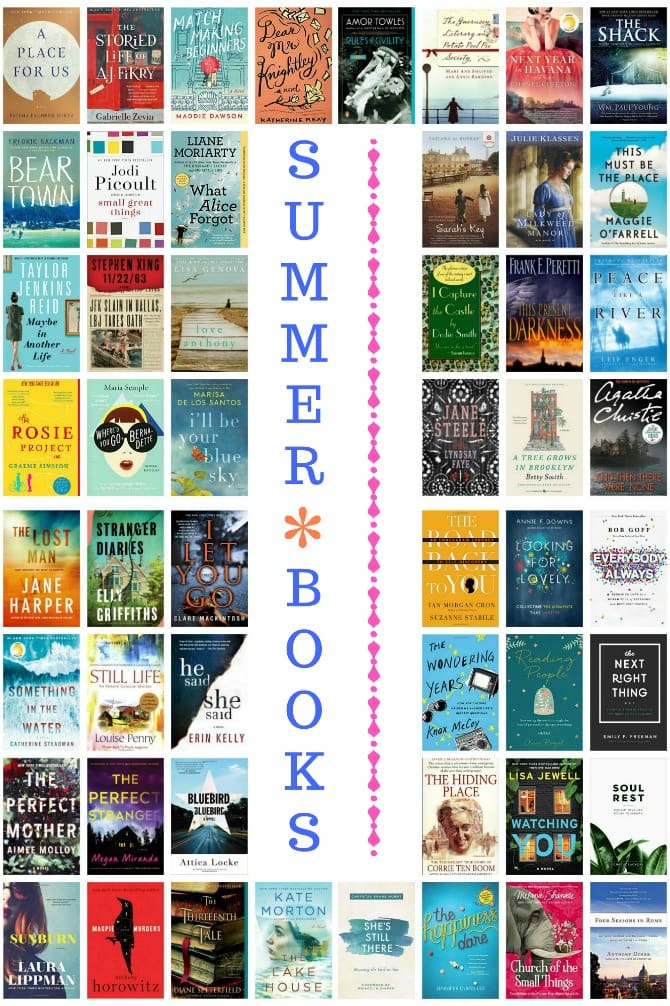 What books will you be reading this summer? Any favorites you think I should read? Share them with me in the Comments!