I don't know about you, but I'm not quite sure how moms survived in the years before Amazon Prime. I love that with the swipe of a finger I can find and purchase nearly anything I could possibly need or want and it will be delivered to my house in two days, with FREE shipping! It's nothing short of a miracle!
I was a heavy Amazon Prime user even before becoming a mom, and now that "quick" stops to the store are nearly nonexistent, I've become an Amazon Prime junkie of the highest order. Luke and I use the service to buy everything under the sun and joke that we keep the company (and UPS) in business.
Not surprisingly, many of our Amazon purchases are made for, or at least because of, the tiniest member of our household. Here's a look at a few of my favorite recent toddler-inspired Amazon finds.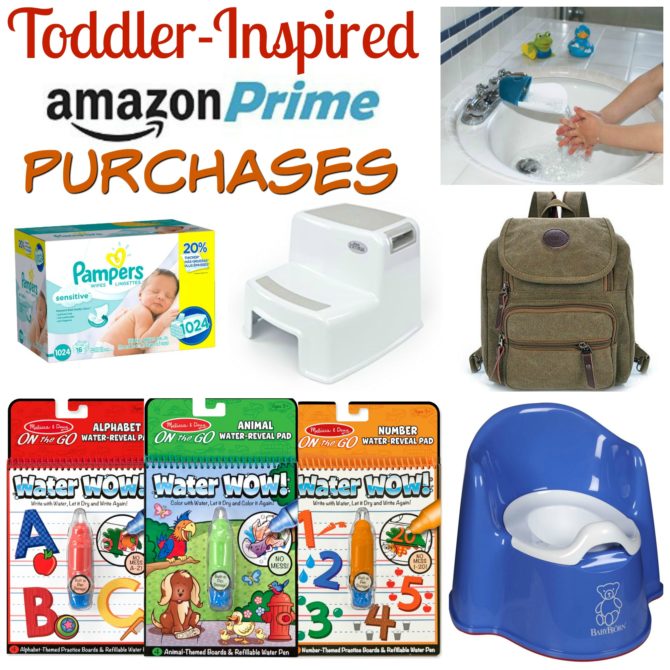 Luke discovered this little gadget, and though I thought it seemed gimicky at first, I have to admit that it's proven really handy. (I promise that pun was accidental!) The extender attaches to our bathroom faucet and extends the reach of the water so that Charleston can wash his hands more easily. He's discovered that he LOVES washing his hands and, with our help, does so multiple times per day, just for fun. He's still just a little guy, and our counters are unusually high, so to save us from having to lift him up to the sink with each wash, we bought the next item on this list as an additional hand-washing prop.
There's nothing too special about a step stool, but we really like this one because it's attractive and sturdy, but also easy to scoot around. The two steps are perfect, giving Charlie just enough height but not so much that it's unsafe for him to use.
I'm embarrassed to admit how often I repurchase this 7-pack box of wipes refills. (It's often enough that I don't even bother with Subscribe & Save because I tend to rebuy more than once per month!) We keep wipes on Charlie's changing table as well as in our kitchen and use them for everything from wiping up spills to post-meal hand wipe-downs, and of course at diaper-change time. We discovered very early that Charlie has sensitive skin and doesn't tolerate scented wipes, so I'm glad that I'm able to get these hypoallergenic ones at such a great price. I also feel better using a more natural wipe since we use them so frequently.
We're taking a slow and steady approach to potty training, beginning with the purchase and subtle bathroom-placement of this potty chair. We aren't pushing anything yet, but the chair sits in Charleston's bathroom and we occasionally ask if he'd like to use it. (Sometimes he's the one to ask us.) So far, we've had good success. There's a lot of potty chairs out there, but I appreciate the minimalist design of this one, which makes it less of an eyesore. I also like that it's sturdy and doesn't slide around on our bathroom floor.
We (I mean, the Easter Bunny) bought these as an Easter Basket filler and they're a big hit. Charlie loves coloring, but Mama doesn't love the mess or multiple pieces of a traditional coloring book+crayons, so these are a great coloring alternative. I like the educational element of this particular set (Melissa and Doug has several different styles to choose from), and since they're small, I can keep one in my purse to pull out at a restaurant or other times when we're out and in need of quick and easy entertainment.
This item was actually for me and not Charleston, but I did buy it because of him. I've discovered the hard way (ahem, lots of purse spills!) that carrying an over-the-shoulder purse isn't exactly conducive to chasing after a toddler 24-7. I'm an accessories girl and love my cute purses, so I held off as long as I could, but finally accepted that for this life stage, a backpack really is the best way to go. This multi-pocket backpack is just big enough to hold what I need without feeling like I've reentered my textbook-toting high school days, when a twenty-pound Jansport was permanently affixed to my back. And as far as backpack purses go, this one is actually pretty cute. It comes in five different colors, and I went with the sky blue, though if I were to buy again I think I would choose the khaki.
---
Now it's your turn: what was the last purchase (toddler-centric or otherwise) that you made on Amazon? If you haven't yet jumped on the Amazon Prime wagon, let me know your secret because I really have a hard time fathoming an Amazon-free existence!
Save
Save
Save
Save