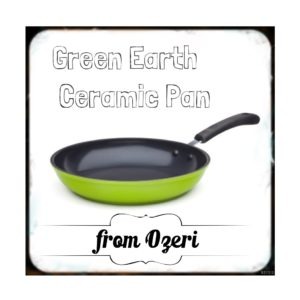 Every kitchen has its heavy hitters, those cooking essentials that sustain a home cook's culinary escapades and keep (homemade) food on the table.  In my kitchen, an 8-inch skillet is one of these indispensable tools.  In the past I have tended to stick (pun intended) with Teflon skillets.  A majority of my cookware is Teflon, and all of my other Teflon pots and pans have held up fine.  But my 8-inch skillets definitely see more stove time, and the resulting Teflon-peeling has necessitated nearly annual skillet replacements.  When my most recent skillet bit the dust after less than six months, I decided it was time to try something new.  I liked the idea of using cast iron, but wanted something that would be easier to clean – and, to be honest, easier to lift!  After doing some research (i.e., asking my mother-in-law what she uses), I decided that porcelain was the way to go, and once I'd made my decision, my husband surprised me with this Ozeri Green Earth pan.
This skillet has been in regular use for several weeks now, and I can honestly say that it is the best pan I have ever used!  It lives up to all of its claims: it is durable, scratch-resistant, and incredibly easy to clean.  It takes a bit longer than my last pan to heat up, but once it's warm, it cooks very evenly, probably due to the textured surface (which has the added benefit of creating an awesome honeycomb pattern on my pancakes!).  And having experienced one too many chaffing Teflon pans, I definitely appreciate the fact that the Ozeri's coating is made without any heavy metals or chemicals.
My single (petty) reservation with the Ozeri pan is the fact that it comes in only one color: neon green.  Don't get me wrong, I love me some green, but the rest of my kitchen is red, so I kind of feel like it's Christmas whenever I bust out my new pan. . . I guess that could be a good thing, though, right!?
Yuletide hues notwithstanding, I am happy to have found a pan that I love and can feel good about using.  I hope – and believe – that this one will hold out a bit longer than six months!
**Side Note: As the result of a happy accident – in which my husband mistakenly thought I wanted a larger pan – I also acquired this 10-inch skillet from Ozeri, which is larger and has a slightly different design.  Though it hasn't gotten as much use as the 8-inch pan, I can vouch for its excellent quality and durability.**