I read a lot (as you well know) and nearly all of the books I read get featured at some point here on the blog. At least, all of the adult books I read make an appearance here. An area of my reading life that doesn't get much airtime here is the books I share with Charleston. Today, I thought it would be fun (and helpful for you who are parents) to share some of the books Charleston and I have enjoyed together in the last couple of months.
As Charleston's mom, I currently hold two huge dreams for him (there are more, of course, but these are the two that are easiest to articulate): 1) that he loves Jesus with his whole heart and lives a life that glorifies Him, and 2) that he is a lifelong reader and lover of books. I cannot begin to express how giddy I am over the fact that, at three years of age, both of those dreams are turning into a reality. Reading together is currently one of Charleston's favorite activities, and we do it whenever we get the chance: he reads to himself while I'm getting ready in the mornings, we read after meal times and before bed, he requests that I read to him during potty time (who doesn't love a good bathroom book?), and it's one of our favorite ways to fill a free afternoon.
I'm thankful that we have plenty of books to fuel this hobby. We have our own closet full of picture books (many of which were mine from childhood, and some that belonged to my mom when she was a little girl!), and we rotate these out to our various "book piles" throughout the house. We also pick up ten or so books every time we are at the library, which is at least once per week. We read each of these library books numerous times during our time with them; some become so beloved that Charleston can't bear to part with them at the end of the week, and when that's the case, we'll purchase a copy for our home library. Each of the books I'm sharing today were library books that Charleston deemed favorites, and that both of us would highly recommend.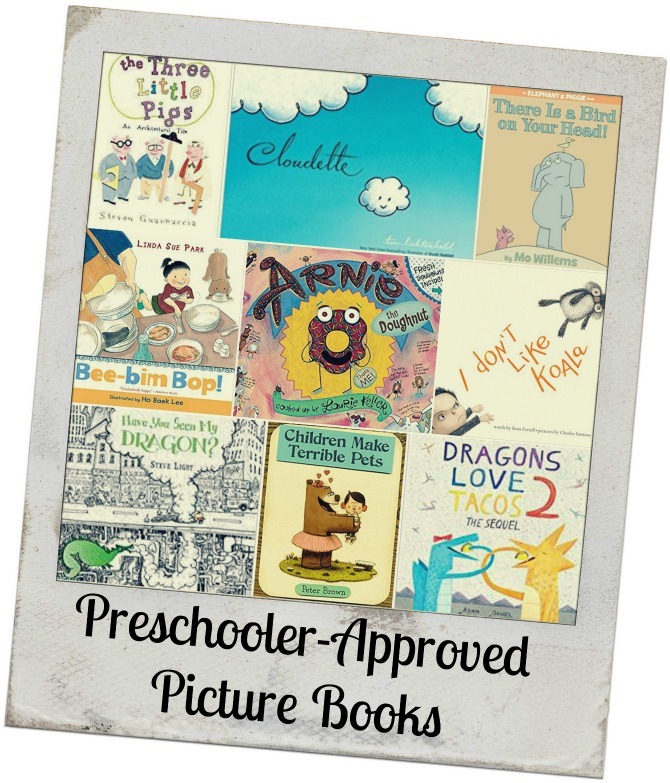 Children Make Terrible Pets, by Peter Brown: Having recently acquired our own family pet, we appreciated this twist on the the classic first-pet story in which a bear brings home a pet boy, whom she names Squeaker. This is a charming story, and the illustrations have a fun retro look.
I Don't Like Koala, by Sean Ferrell: This (oddly-titled) picture book tells the story of Adam and the pet Koala that he just can't seem to get rid of. Adam goes to great lengths to "lose" Koala, but eventually he realizes that Koala isn't "the most terrible terrible" after all. Thanks to this book, "the most terrible terrible" has become a common phrase in our family lexicon. Hearing those words from my three-year-old's mouth always makes me giggle!
The Three Little Pigs: An Architectural Tale, by Steven Guarnaccia: Charleston really loves the story of the three pigs, so we've read several versions of it, and I think I like this one best. The pigs and their homes in this retelling are nods to three architects—Frank Gehry, Phillip Johnson, and Frank Lloyd Wright. (Full disclosure: I recognized the architects' iconic homes in the illustrations, but I needed the Amazon book synopsis to tell me their names!) I'm always a sucker for a good modern-day retelling of classic folktales, and I couldn't get over the creative details included in this one. Such a fun way to blend literature and art!
Arnie the Doughnut, by Laure Keller: Laurie Keller's books are totally zany, but so much fun! Arnie is a freshly baked donut who is excited about the life ahead of him—until he discovers that the man who paid for him at the bakery intends to EAT him! Arnie quickly convinces Mr. Bing that eating him would be a very bad idea, but will the unique pair be able to settle on a companionship that both parties can agree on? Much of the humor in this book went over Charleston's head, but he liked the colorful pictures. I personally got such a kick out of all the silly asides, a trademark of Keller's books. This book will definitely appeal to much older kids, too.
Cloudette, by Tom Lichtenheld: This is a charming story about an adorable petite cloud named Clouette who believes she isn't big enough to accomplish all that the bigger clouds can do, but goes on to discover her own unique purpose. I love the messages of courage and determination, as well as the science tie-ins. Charleston's takeaway: "Aww, she's so CUTE! I love her."
Have You Seen My Dragon, by Steve Light: This unique counting book follows a small boy around the city as he searches for his dragon friend. The ornate pen-and-ink illustrations in this book are incredible! Charleston loved counting the items on each page, and searching for the dragon hidden within the intricately drawn scenes.
Bee-Bim Bop!, by Linda Sue Park: In this bouncy rhyming book, a young girl helps her mother make the traditional Korean rice dish bee-bim bop. The illustrations are colorful and whimsical, and the story is fun and energetic, using food to provide a window into another culture. By the end of this story, Charleston was begging me to let him help me cook up some bee-bim bop of our own!
Dragons Love Tacos 2: The Sequel, by Adam Rubin: Our family adored the original Dragons Love Tacos! In this hilarious sequel, the world is suffering from a taco shortage, and in order to fuel their taco love, the dragons must travel back in time to rescue their beloved snack food from extinction. The story and illustrations are completely over-the-top—a surefire way to win Charleston's heart.
There is a Bird on Your Head, by Mo Willems: I've saved the best for last! We were a little late to the Elephant & Piggie game (totally my fault, I didn't quite get the hype), but one read through this sweet and silly book, and we were both sold on the series. Elephant and Piggie are such endearing characters. Charleston loves the books' simple language and slapstick humor, and I appreciate their lessons on things like miscommunication, politeness, and optimism. You can't go wrong with any of the books in this series, but There Is a Bird on Your Head remains our favorite. And head's up: Piggie is a girl! We had read through several books in the series before I realized this, and had to completely alter my Piggie voice during reading.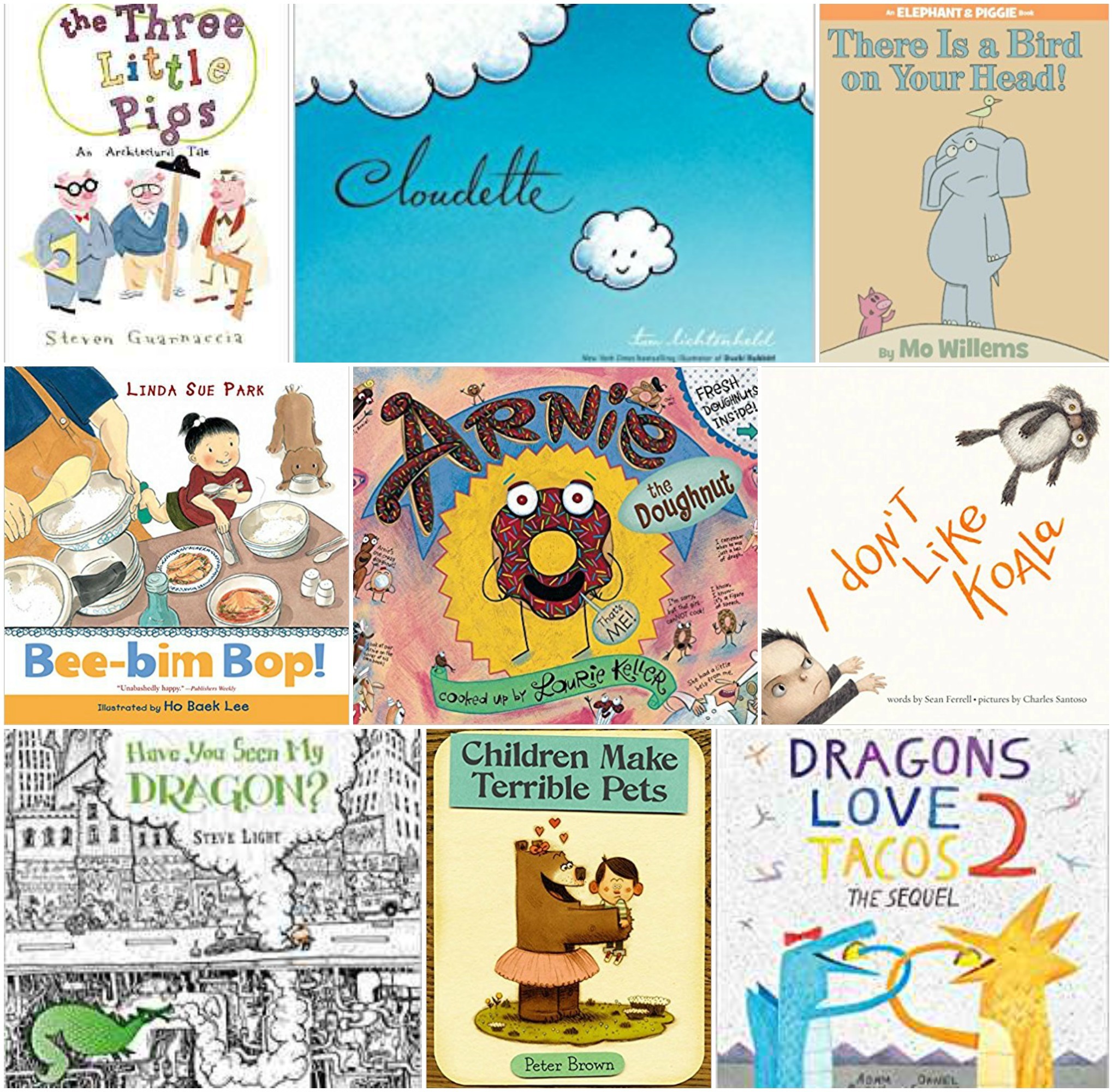 Do you or your kids have any favorite picture books you think we'd enjoy? Please send your recommendations our way!