I have a whopping EIGHT book reviews to share with you today, so let's skip the formalities and get right to the reviews!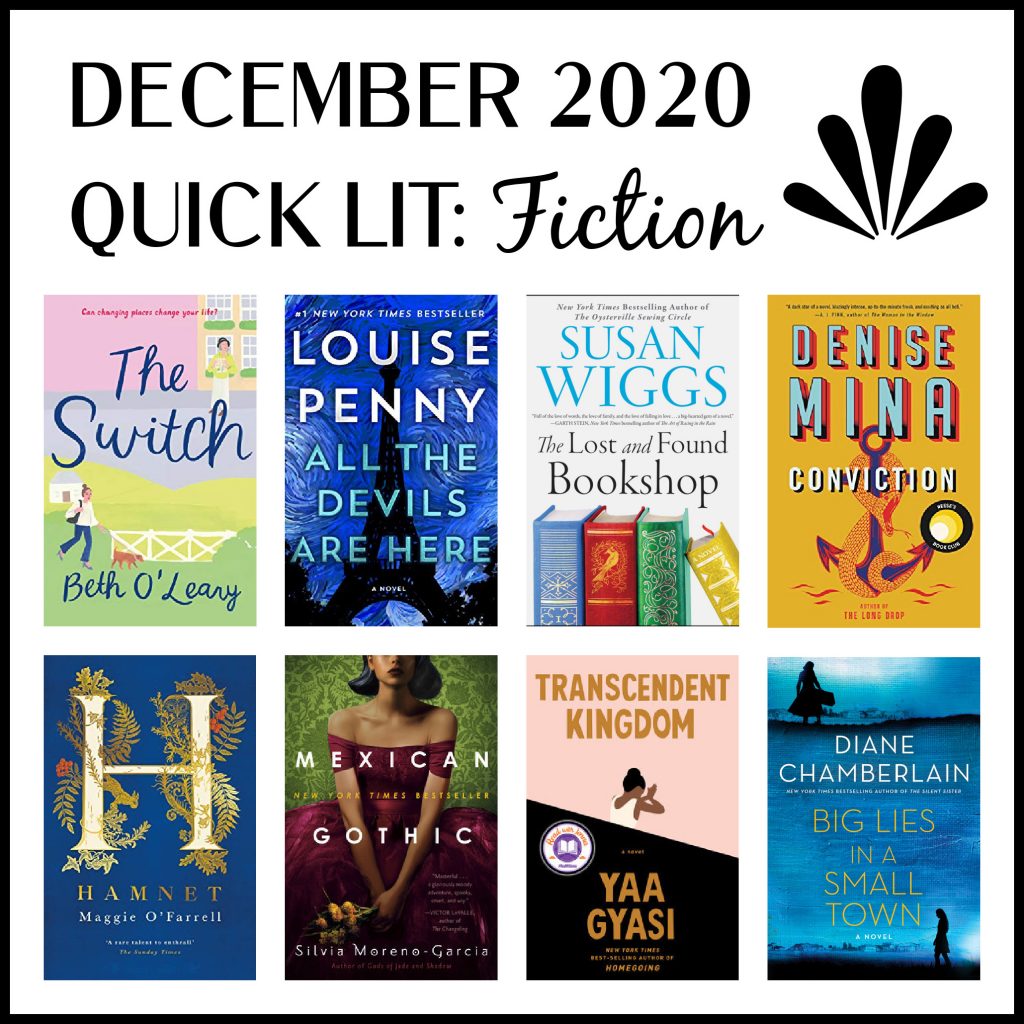 Big Lies in a Small Town, by Diane Chamberlain: In 2018, Morgan Christopher is a budding artist spending time in a North Carolina prison for a crime she didn't commit. When she is given the opportunity for early release, Morgan jumps at the chance. Her path to freedom comes in the form of a mysterious offer from a famous artist who hand-picked Morgan to restore an old post office mural, and though she knows nothing about art restoration, Morgan travels to the small town of Edenton to begin work on the mural originally painted by Anna Dale in 1940.
As Anna's original artwork is uncovered and Morgan discovers many past secrets hidden within the painting, she begins to feel a strong connection to Anna: they are two young artists separated by nearly eighty years, but both harbor pain and resentment, and both are forced to carry secrets they shouldn't have to bear. In spite of such hardship and mistreatment, both women find kindness and hope in unexpected places.
The novel moves back and forth in time between Anna's and Morgan's stories, and though both are inspiring protagonists, they lack unique voices, causing their backstories to occasionally blend together. (This wasn't helped by the fact that I listened to the audio, read by a single narrator.) That said, I loved this book from the beginning for its intriguing premise, layered stories, and interesting insights into the world of art. The plot does drag a bit in the middle as we wait for hinted-at big reveals, but the various plot threads come together well (albeit somewhat predictably) in the end.
Big Lies grapples with some very challenging themes including mental illness, addiction, racism, and trauma. At times the generally lighthearted tone doesn't quite mesh with the seriousness of the story, but overall I appreciated Chamberlain's thematic restraint. Head's up for sensitive readers: there is one very graphic abuse scene that is pretty hard to get through. It's brief and handled delicately, but I wish I had known about it going into the novel.
My Rating: 4 Stars.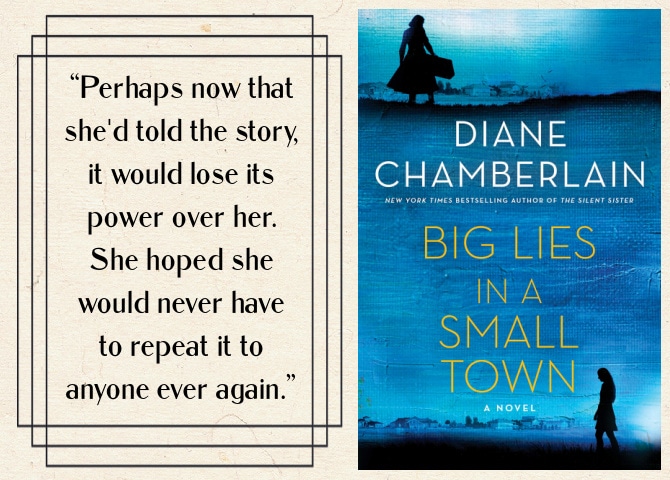 ---
Mexican Gothic, by Silvia Marena Garcia: Noemí Taboada is a coquettish socialite living in 1950s Mexico, where her marriage prospects are of greater concern to her father than her various intellectual pursuits. When the family receives a concerning letter from Noemí's newlywed cousin, Catalina, Noemí travels to her cousin's new home—an isolated mansion in the remote Mexican countryside—to rescue Catalina from her domineering English husband.
Upon her arrival at High Place, Noemí encounters hostility from Catalina's new family, particularly from Catalina's menacing husband and ancient father-in-law. Noemí is disturbed yet mesmerized by this inhospitable family and their decaying home, which has soon enveloped her in a nightmarish web of death and deceit. Intent on rescuing her increasingly ill cousin, Noemí begins investigating the family's disturbing past and soon unearths something far worse than she could have imagined.
With its Rebecca overtones and intriguing setting, this gothic mystery initially had me turning pages as quickly as I could to uncover the secrets of High Place and unveil Noemí's ultimate fate. Noemí is a strong, vibrant heroine who contrasts sharply with the flat peripheral characters, a dichotomy that fuels the novel's suspense. The slow build of the increasingly creepy nature of High Place is also quite effective.
Unfortunately, as the novel progressed and numerous supernatural developments were introduced, my interest waned. The book remains delightfully atmospheric and deliciously eerie from start to finish, but Moreno-Garcia takes some interesting turns with the story that I wasn't expecting and just didn't love. I also wanted more of a Mexican feel from the book, but because High House belongs to an established British family, the novel has a much more Victorian vibe—which isn't bad, except that it keeps the book from living up to the promise of its title.
If you are a fan of gothic suspense and are open to some bizarre supernatural aspects to your fiction, you will love this book. If you don't care for horror or paranormal ativity, this might not be the novel for you.
My Rating: 3.5 Stars. (Rounded down time 3 Stars on Goodreads.)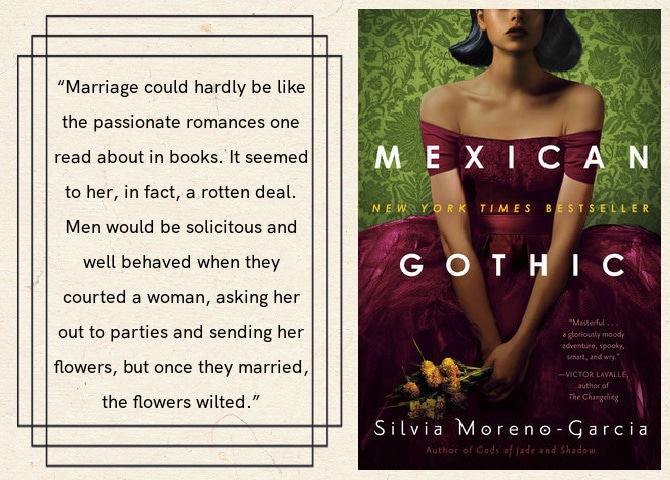 ---
Transcendent Kingdom, by Yaa Gyasi: Gifty grew up in Alabama, the daughter of Ghanian immigrants and the youngest of two children. Gifty's brother, Nana, was a talented high school student whose OxyContin addiction began with an overdose after an ankle injury and ultimately resulted in his suicide. Gifty's mother never overcame the grief of her son's death, and the once strong woman is now suicidal and unable to care for herself.
Gifty, now in her twenties, is a PhD student at Stanford, where she is studying neuroscience in an attempt to understand the depression and addiction that have plagued her family. But science is unable to offer the comfort Gifty seeks, and though she has purportedly abandoned the God and religion of her youth, she longs for the simplicity and assurance of her childhood faith as she comes to terms with the hand life has dealt her.
This is a gorgeously written story of grief, faith, trauma, and survival. Gifty's narration is so intimate and so tender, I felt as though I was reading the author's personal diaries, and while her experiences are exceedingly different from my own, I could relate to her questioning of God, her struggle to understand the suffering around her, and her complicated yearning for comfort, answers, and healing.
Gyasi deftly navigates intersecting themes of addiction, family strife, identity, and belonging in a story that is at once philosophical and transcendently personal. This is not an uplifting read, and there is very little action, but I was captivated by the empathy and insight Gyasi brings to the characters and story. I have not read Homegoing, but my impressions of this book have prompted me to bump Gyasi's debut novel to the top of my TBR.
My Rating: 4.5 Stars. (Rounded down to 4 stars on Goodreads.)
---
Conviction, by Denise Mina: Anna McDonald is a wife and mother whose biggest excitement these days comes in the form of the true crime podcasts she regularly binges. When her perfect little world comes crashing down around her, Anna escapes into a new podcast about a sunken yacht on which the bodies of a murdered family were found. As Anna listens, she is shocked to hear a name she recognizes—that of an acquaintance from a former life. . . a life she has tried desperately to leave behind.
Anna is absorbed in the podcast when an unexpected visitor shows up on her doorstep. Finn, a washed up ex-rock star who suffers from a life-threatening eating disorder, becomes Anna's unexpected companion on a journey across Europe as they attempt to solve the mystery at the root of the podcast. Along the way, Anna's own secret history is unearthed and it becomes clear that the truth—for Anna, Finn, and countless podcast listeners—may be more surprising and painful than any of them anticipated.
This is a very fun read that unites two of my passions: podcasts and mysteries (though not quite as well as other recent books have done [see: A Good Girl's Guide to Murder]). The triple mysteries are intriguing and unexpected, the European settings are a delight, and I enjoyed Anna's sometimes-humorous and admittedly unreliable narration. The inclusion of an anorexic male character was an interesting editorial decision, and as someone with deep personal experience with anorexia, I appreciated the compassionate and mostly accurate portrayal of the disease. The storyline involving abuse and trauma is also written with sensitivity and fits well with the rest of the novel.
The book does have its flaws: the story gets convoluted at times, and the characters are pretty outlandish. The novel takes some turns that I couldn't quite follow, and while I loved the twists towards the end, the finale is pretty abrupt. This is definitely not a standout in the thriller genre, but if you are in the mood for a fast-paced book with a unique story structure, you'll likely enjoy this one.
My Rating: 3.5 Stars. (Rounded up to 4 stars on Goodreads.)

---
Hamnet, by Maggie O'Farrell: Set in 1580s England in the midst of the Black Plague, Hamnet is the fictionalized reimagining of the family of William Shakespeare (who himself plays a small role in the novel and is never actually named). His wife, Agnes, is an unusual and mystical woman whose entire world is altered after the death of her mother and again when she falls in love with a talented young tutor and settles in with his family on Henley Street, Stratford. Then her life once again takes a devastating turn following the loss of their son, Hamnet, whose death forever fractures their family. I know almost nothing about William Shakespeare and never would have picked up this book were in not for my love of Maggie O'Farrell. And wow, am I glad that I gave this one a chance.
Sometimes the books I love the most are hardest for me to write about, because they touch me so deeply, and no review of mine could do them justice. That is true with this book. The story moves slowly and doesn't cover a lot of territory, but the writing is phenomenal, with an immersive setting and vivid characters that make the pages fly by. Only an author of Maggie O'Farrell's caliber could captivate my attention across entire chapters about a flea's role in bringing the Bubonic plague to Europe, or keep me willingly reading through nearly half of a book analyzing the aftermath of a tragedy and the repercussions of grief.
Rarely have I felt so invested in the fate of a family, or experienced their pain and longing so viscerally. The twin dynamic hit me particularly hard for obvious reasons, but Agnes's connection to her children is something that will strike a cord with any mother. I shed endless tears with this book, which is perhaps the saddest novel I have ever read, but also one of the most beautiful. The ending, which explains the connection of Hamnet the boy to Hamlet the play, is incredible. This was the last official book to read in 2020, and it was at the top of my list of favorites.
My Rating: 5 Stars!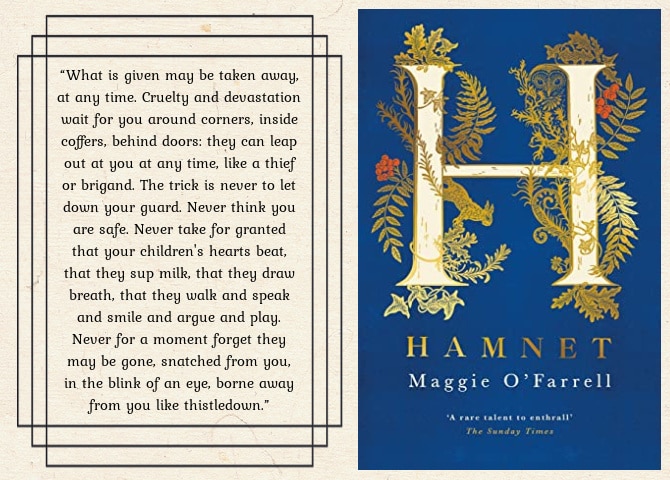 ---
The Switch, by Beth O'Leary: Following a nervous breakdown at work, twenty-something overachiever Leena is ordered to take a two-month sabbatical, and she escapes London for some time at her grandmother Eileen's house in a tiny Yorkshire village. Meanwhile, Eileen is newly single and, though she is on the cusp of turning eighty, is eager to find a new man to replace the husband that left her for another woman. Knowing that London will provide Eileen with more prospective gentleman suitors, Leena proposes a two-month swap: she will take over Eileen's village responsibilities (which include looking out for Leena's estranged mother) while Eileen moves into Leena's flat and takes on the London dating scene. Stepping into one another's shoes has its challenges, but as Leena and Eileen find themselves within new settings and surrounded by one another's closest friends and loved ones, they learn a great deal about life, love, and perspective.
This darling book was a warm, comfortable blanket and exactly what I wanted to be reading in the midst of a chaotic few weeks. Leena and Eileen are both delightful—insightful, courageous, and flawed yet also kind-hearted and open to genuine heart change. I was particularly drawn to Eileen's story as it isn't often we get a front-row seat to the romantic life of a septuagenarian. (For the record, this romance is closed-door and incredibly sweet.) I also loved the redemptive story between Leena and her mother as they navigate their grief in the wake of a shared family tragedy.
Though humorous and mostly light-hearted, there are some heavier themes here including domestic abuse, cancer, and infidelity. These are handled with delicacy and compassion and add depth to an otherwise straightforward story.
From the reviews, it seems that many who loved O'Leary's debut novel (The Flatshare) were disappointed with The Switch, but I enjoyed this second novel much more. At its heart this is a double love story, but it is much less formulaic than a typical romance, and the added dynamic of love stories across generations was more to my personal reading taste.
My Rating: 4 Stars.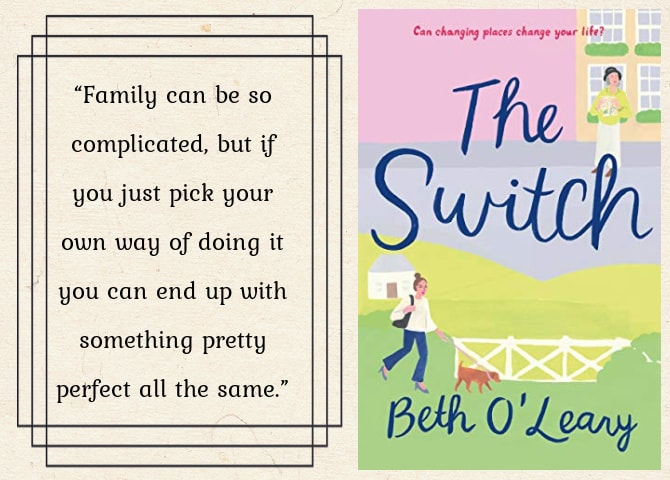 ---
All the Devils Are Here, by Louise Penny: In this sixteenth novel in the Inspector Gamache series, the Chief Inspector and his wife are vacationing in Paris, which is now home to their daughter Annie and son Daniel. On their first night in Paris, the family is enjoying an evening together when they witness Gamache's beloved godfather, Steven, knocked down in what appears to be a deliberate attempt on the nonagenarian's life. Gamache's attempts to get to the root of the incident leads him down a trail lined with bodies, corruption, and decades-old secrets. Soon the entire family is engulfed in a dangerous web of villainous lies that prompt Gamache to confront his own shortcomings as a father, son, and investigator.
I adore this series and always look forward to the latest addition with excitement and slight trepidation that a subsequent title won't quite measure up to the series' reputation. Thankfully this one most certainly does! I missed Three Pines and our friends there, but enjoyed the Paris setting and was impressed with Penny's ability to maintain the books' cozy, intimate tone in the big city.
The Inspector Gamache books always feature engaging mysteries, but it is in the character depictions and relationship dynamics that they really shine, and this book is no exception. I loved getting to see a new side of Gamache as we witness his relationships with both his godfather and his son. I found this father/son story heartbreaking but also filled with hope for healing and reconciliation. Fans of the series are sure to be pleased with this latest installment, but if you haven't already jumped on board the Three Pines train, please start with Book One!
My Rating: 4 Stars.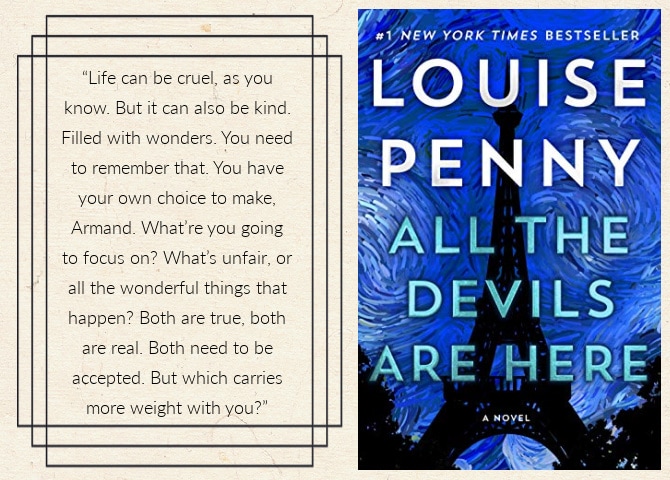 ---
The Lost and Found Bookshop, by Susan Wiggs: After losing her mother and fiancé in a shocking accident, Natalie Harper leaves a job she didn't love and heads for San Francisco to care for her ailing grandfather and take over her mother's charming but financially struggling bookshop. As Natalie navigates the grief of her mother's passing, she finds fulfillment and comfort in the books she shares with the bookshop's patrons, and in the relationships she forms with those who come into her store. Among them is a delightful young girl named Dorothy and her repairman dad, Peach Gallagher, whom Natalie hires to help out around the store. Natalie soon finds herself falling for the handsome contractor, but is unwilling to pursue a relationship for a man she assumes is married. Meanwhile, Natalie and her grandfather uncover new truths about each other, their past, and the bookshop they both love.
By now my love for books-about-books is well documented, and the bookstore setting—and bookish enthusiasm—was my favorite part of the novel. The characters are also wonderful, especially Natalie's endearing grandfather. Wiggs deftly navigates difficult themes of infidelity, loss, and reconciliation without weighing down a very sweet story. This is technically a romance, and I found the love story quite predictable, but at its heart this is a story of family, healing, and the restorative power of books.
My Rating: 4 Stars.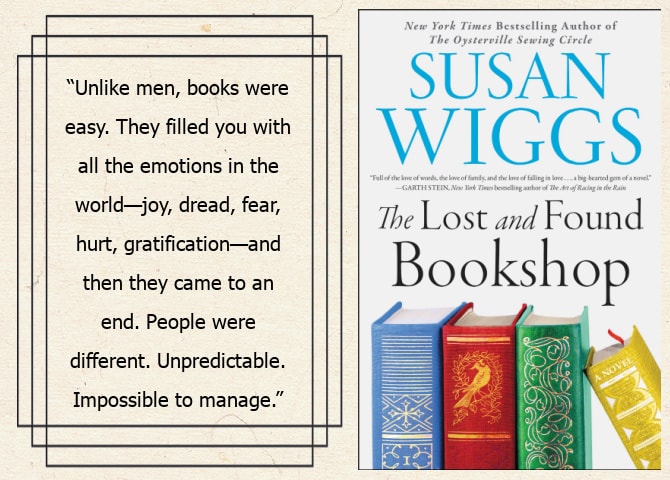 ---
In case you missed it, don't forget to check out this month's nonfiction book reviews here: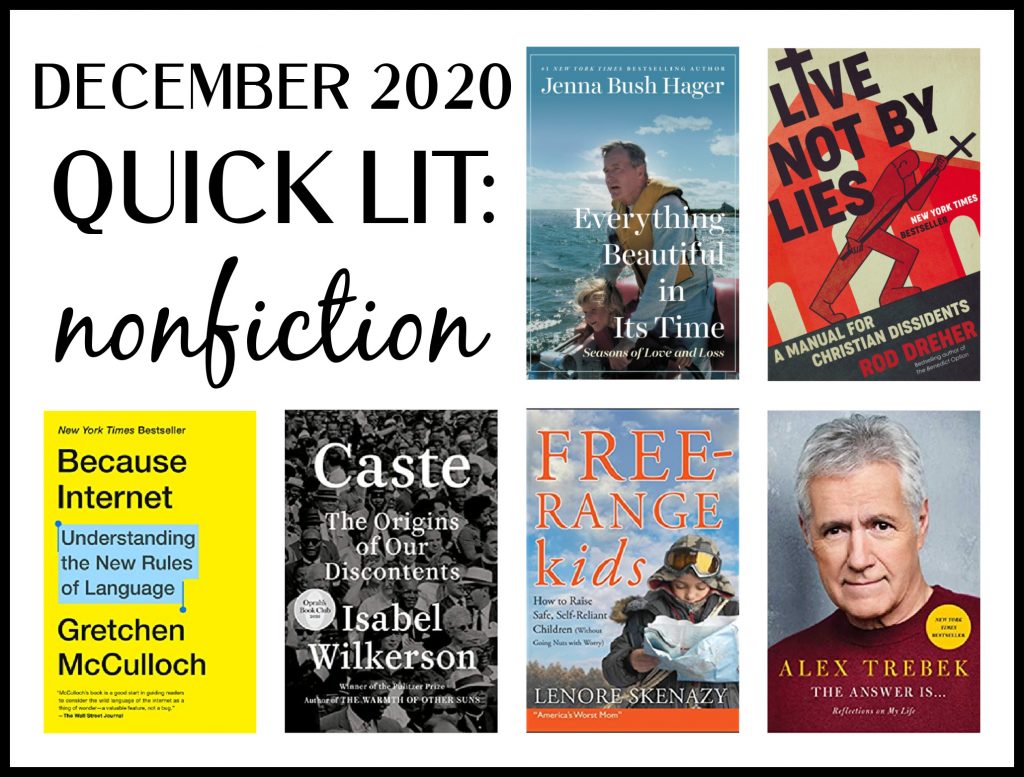 And next Monday I'll have a roundup of my favorite books—fiction and nonfiction—of 2020.