A mystery, a thriller, literary fiction, and romance all make an appearance in today's reviews, in addition to an enlightening book on happiness and a spiritual book I can't stop talking about. Let's get right to the reviews!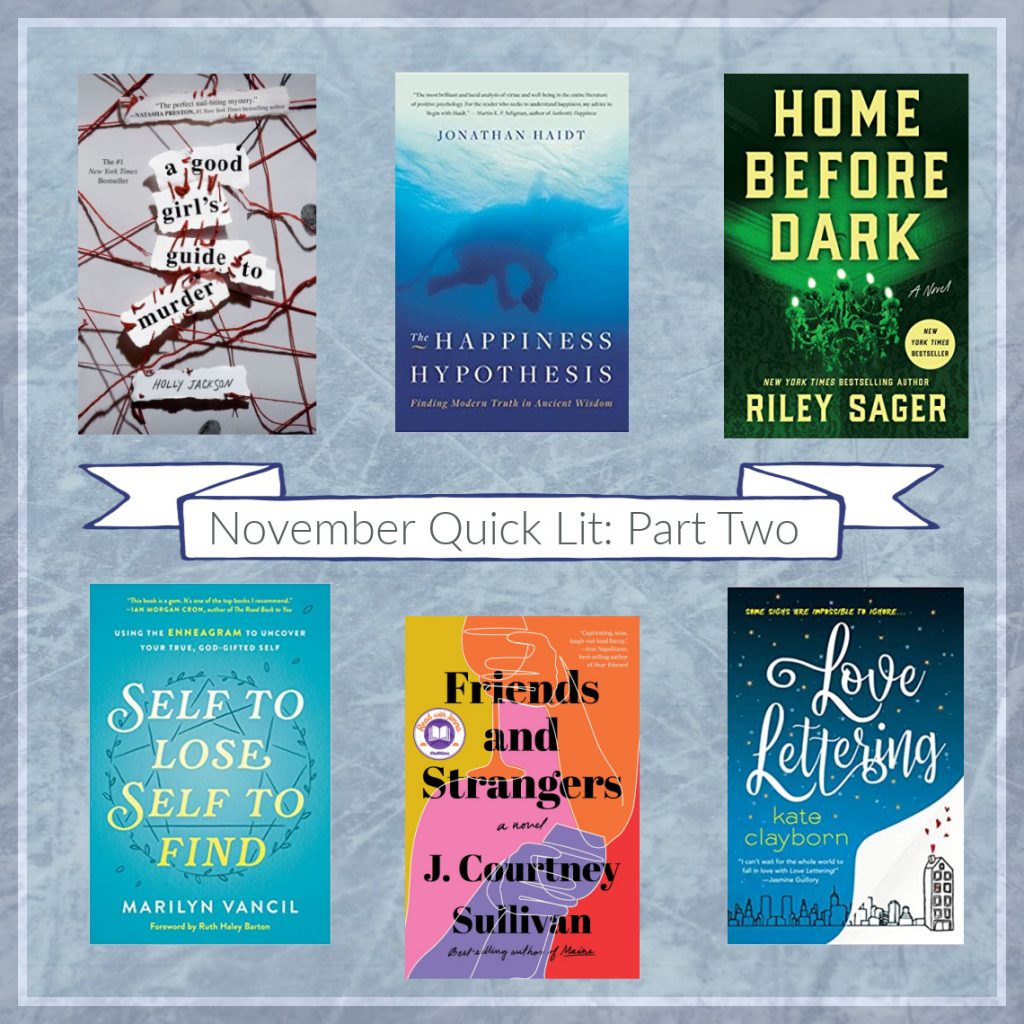 Love Lettering, by Kate Clayborn: Meg Mackworth is a hand-lettering aficionado whose skill has made her famous among the New York elite. Meg's tendency to see the world in fonts and signs has led to a successful career designing custom planners; it also gives her insight into other people's lives. When Reid Sutherland and his fiancé commission Meg to design their wedding programs, she anticipates a poor outcome for the couple and can't resist weaving a secret word of warning into their program design. One year later, Reid tracks Meg down, admits to having spotted her warning, and asks how she was so sure that his seemingly perfect relationship was about to implode. Meg and Reid embark on a tentative journey of friendship and forgiveness; Meg helps Reid come out of his shell, and he serves as her muse and confidant in the midst of a creative block that could mean the end of her hand-lettering career.
I loved the hand-lettering component to this book, and particularly enjoyed Meg's creative perspective and the way that her love of fonts and words is laced into the story. I also found the storyline surrounding Meg's relationship with her lifelong best friend, Sibby, particularly compelling; their codependent dynamic is one I have often observed in real-life female friendships, but not something that is frequently explored in fiction. Clayborn does an excellent job of depicting both the ins and outs of their friendship, and I liked seeing the women enter into the hard conversations and truth-telling necessary to preserve and improve their relationship.
Despite these high points, I found this book to be incredibly slow. I didn't sense much chemistry between Meg and Reid, and the constant dredging up of past pains and hardships grew tedious. I would have enjoyed this much more if it were half the length and a little less somber, and if the bedroom scenes had been a little more closed-door.
My Rating: 3 Stars.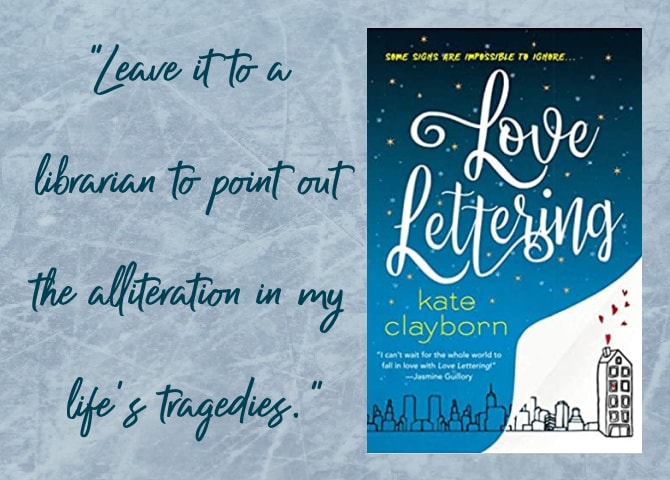 ---
The Happiness Hypothesis: Finding Modern Truth in Ancient Wisdom, by Jonathan Haidt: In this eye-opening tome, social psychologist and ethical professor Jonathan Haidt draws upon the teachings of history's greatest thinkers to present ten "great ideas" on happiness, which he then examines in light of contemporary psychological research.
The book begins with a discussion of the paradoxes within each of us and how an understanding of these divisions can help us change our behavior. Haidt goes on to examine the nature of relationships, the pursuit of happiness, the utility of adversity and virtue, and the impact of religion on life-long practices. The result is a book about how to construct a life of virtue, fulfillment, meaning, and—of course—happiness. The focus of the book is much broader than the title would indicate, though the concept of happiness does get quite a bit of page time in later chapters.
I have read and learned a great deal from Haidt's other two books (The Coddling of the American Mind and The Righteous Mind), and was surprised by the overlap between those more recent works and this one (published in 2006). Though I wish I had read this book prior to those, it was interesting to see how his ideas in Happiness laid the groundwork for his future research. And having read the other books, I was definitely able to glean more from Happiness thanks to my familiarity with the recurring themes and ideas (particularly "the elephant and the rider" metaphor, which represents the relationship between our minds' controlled processes and automatic processes).
Haidt is an atheist and a political liberal, so I have been surprised by the how many of his ideas are in line with my own views. I appreciate his rational and balanced approach to potentially controversial topics and his ability to find the humanity and commonality between opposing viewpoints. Haidt's writing is thoughtful and insightful, and his ideas are counterintuitive yet accessible. The Happiness Hypothesis is a fantastic resource for those wanting a better understanding of cognitive functioning and the role our brains play in social behavior, morality, and world view.
My Rating: 4 Stars.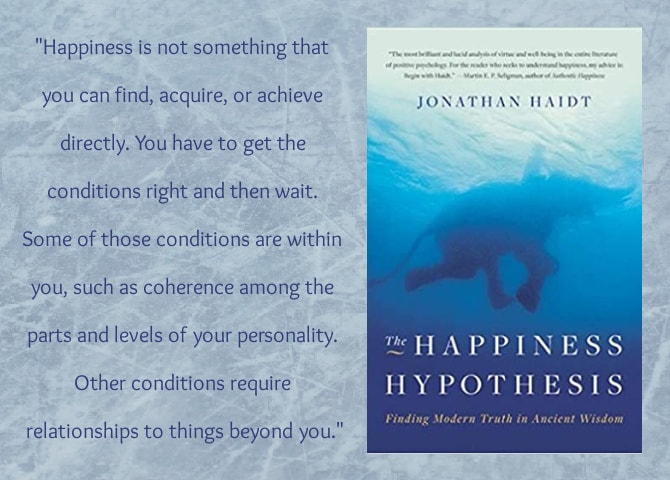 ---
A Good Girl's Guide to Murder, by Holly Jackson: Five years ago, popular high school senior Andie Bell went missing. Her body was never found, but her boyfriend Sal Singh confessed to her murder and then committed suicide. It was an open and shut case—except that Pippa Fitz-Amobi, now a high school senior herself, refuses to believe that Sal was guilty. For her senior project, Pip decides to reexamine the closed case alongside Sal's younger brother, Ravi, who is eager to believe in Sal's innocence. Together Pip and Ravi begin interviewing Andie and Sal's former classmates and digging into old records and photos. But before long, their investigation has Pip following dangerous trails that could spell disaster for another generation of Fairview seniors.
Imagine if Nancy Drew took on the case of Andan Syed (of Serial fame) and you've got a clear picture of this novel—and unsurprisingly, the resulting mashup is brilliant! The well-crafted, not-too-scary mystery features plenty of plot twists that had me fooled right up until the end. And Pip is a delightful protagonist—smart, courageous, compassionate, and cheeky enough to take on a mystery that the professionals were too incompetent to get right.
Though technically YA, this is a book that can be enjoyed by teens and adults alike. (Thankfully, there is very little profanity and no explicit sex—a rarity in YA these days.) The unique structure features several interviews and transcripts that are excellently produced in the audio version. I am so excited to read the next book in this series!
My Rating: 4.5 Stars (Rounded down to 4 stars on Goodreads.)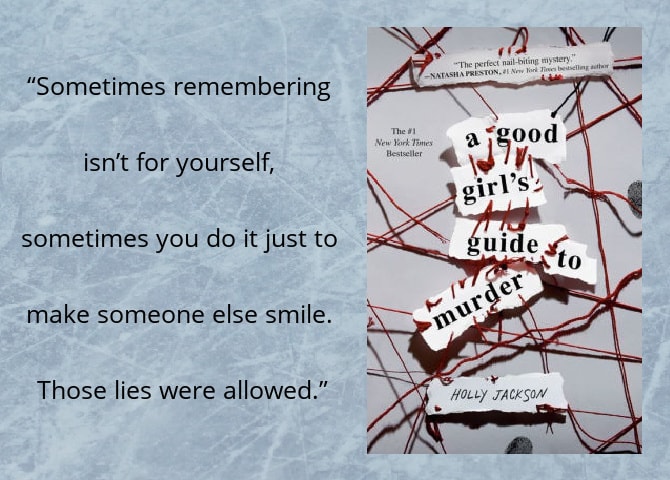 ---
Home Before Dark, by Riley Sager: Twenty-five years ago, Maggie Holt and her parents, Ewan and Jess, moved into Baneberry Hall, a Victorian estate that quickly proved more than the family could handle. They fled the house after just three weeks, and their brief stay served as the basis for Ewan's bestselling memoir, House of Horrors, in which he recounted the ghostly happenings and supernatural encounters that took place within those twenty days.
Upon her father's death, Maggie has inherited Baneberry Hall and returns to the house, whose notoriety has haunted her for most of her life—even though she no longer recalls the events of her time living there. Maggie has always doubted her father's portrayal of the haunted house, but upon her arrival she begins to experience an entirely new set of unexplained happenings, leading her to suspect that her father might have been telling the truth all along.
Maggie's present-day story is interspersed with chapters from her father's memoir, creating an spine-chilling story of a very spooky house and its many (unsavory) past inhabitants. I plowed through this one, eager to uncover the truth of Baneberry Hall and especially of Maggie's past. The prose is excellent, and the book-within-a-book format is on point. While the characters could have been better developed, the riveting storyline and visceral setting compensate for this shortcoming. I loved the very satisfying ending.
The book reads more horror than thriller, but wasn't too gory for this sensitive reader. A perfect autumn read!
My Rating: 4 Stars.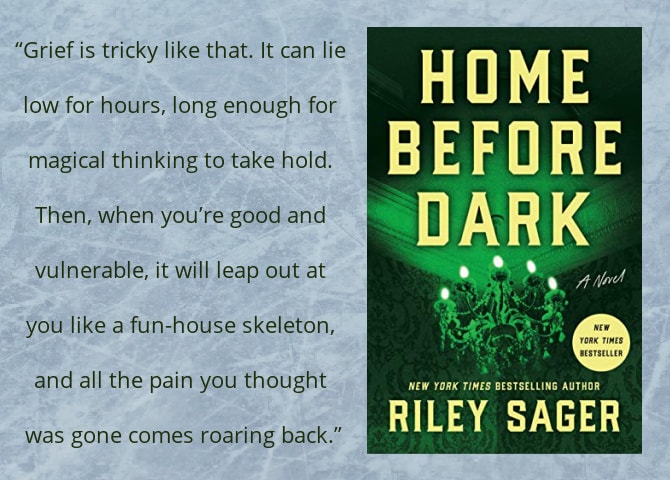 ---
Friends and Strangers, by J. Courtney Sullivan: Elisabeth is an acclaimed author who is struggling to adjust to first-time motherhood and life in the suburbs after nearly twenty years in Brooklyn. Elisabeth finds connection and companionship with Sam, the college senior she hired to babysit her infant son. Sam is a budding artist with a lot on her plate, including mounting college debt, strained campus relationships, and a romantic entanglement with a much older man who lives overseas.
Sam and Elisabeth are about as different as can be, but their professional relationship soon morphs into something deeper, and the women support each other through relationship woes, career challenges, and more. But as their personal lives grow increasingly entangled, it becomes clear that friendship between these near strangers might not be as easy or straightforward as it seems.
This is the first book I've read from J. Courtney Sullivan, and I really enjoyed the narrative style that was more literary than your typical Chick Lit, but light enough to make for engaging reading. I appreciated the nuanced look at complicated themes, including relationship boundaries, class divisions, family dynamics (particularly with in-laws and step parents), privilege, infertility, and loneliness. Elisabeth and Sam are both difficult characters to root for, but I found each protagonist to be believable and relatable. I particularly resonated with Elisabeth's challenges of adjusting to new motherhood and a new home; and having spent many years as a babysitter and nanny, I related to quite a bit of Sam's story as well.
While I enjoyed the layered storylines, their drawn out nature made for tedious reading at times, and I disliked the inconclusive and abrupt ending. This reminded me a lot of Such a Fun Age, which addresses similar themes and was the more compelling novel of the two.
My Rating: 3.5 Stars. (Rounded down to 3 stars on Goodreads.)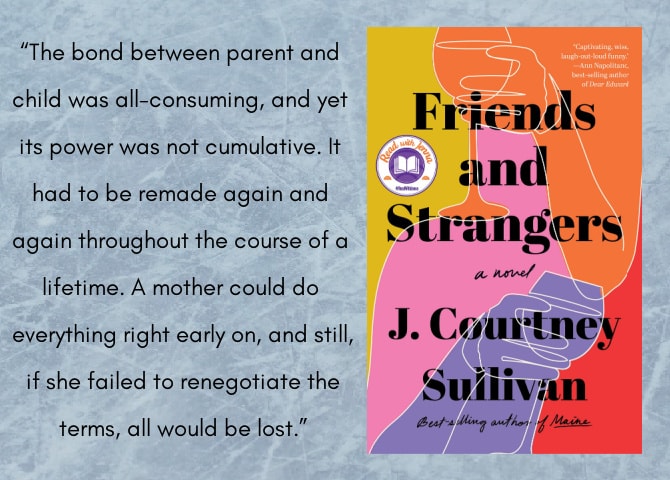 ---
Self to Lose, Self to Find: Using the Enneagram to Uncover Your True, God-Gifted Self, by Marilyn Vancil: I thought that I had read, or at least knew about, just about every Enneagram book out there, so I was THRILLED to be introduced to this one, which was part of the curriculum for my women's leadership group at church. The book takes a slightly different approach to the Enneagram, describing it as a tool that God can use to bring about true life change. As the author states in her introduction, "The overall theme is experiencing freedom: freedom from the old self and into the true self, freedom to live fully, and freedom to love deeply." Vancil goes on to explain how each type has adapted strategies that protect us from our human frailties, and she utilizes the Enneagram framework to model the relinquishing of these inauthentic parts of ourselves.
In addition to the usual Enneagram info—including detailed descriptions of each of the nine types, as well as explanation of wings, arrows, centers, social styles, and subtypes—Self to Lose also offers prayers uniquely designed to help each type connect to God's love and confess type-specific sins with the goal of repentance. The book ends with a helpful path to finding freedom through an exercise called "owning up" (observing, welcoming, naming, and untangling) that enables us to confront our distorted beliefs and exchange our protective personas for our true Christ-ordained identifies.
I REALLY liked this book, which adds to the Enneagram cannon in unique and helpful ways while also serving as a comprehensive guide for Enneagram newbies. I appreciated the blending of scriptural truths with psychological insights, as well as the emphasis on relying on Christ (and not pop psychology) to guide us away from unhelpful aspects of our personalities and into who we were created to be. Highly recommend for both Enneagram enthusiasts and those new to the framework.
My Rating: 5 stars!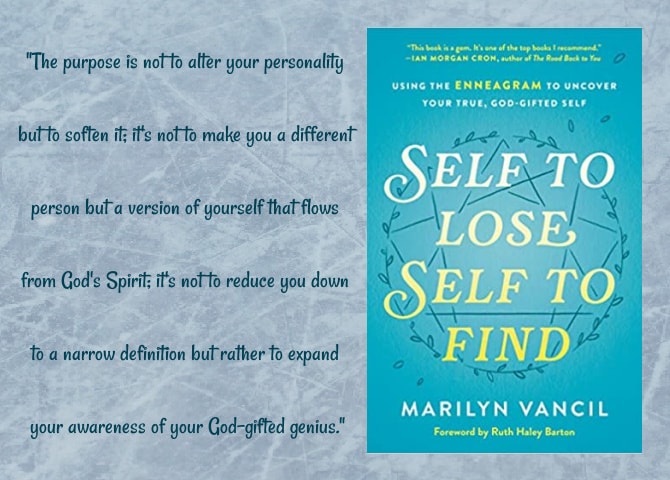 ---
I'm linking up with Modern Mrs. Darcy to share what we've been reading lately. If you are here from the linkup, I'm so glad you stopped by. You can read Part One of this month's Quick Lit posts right here: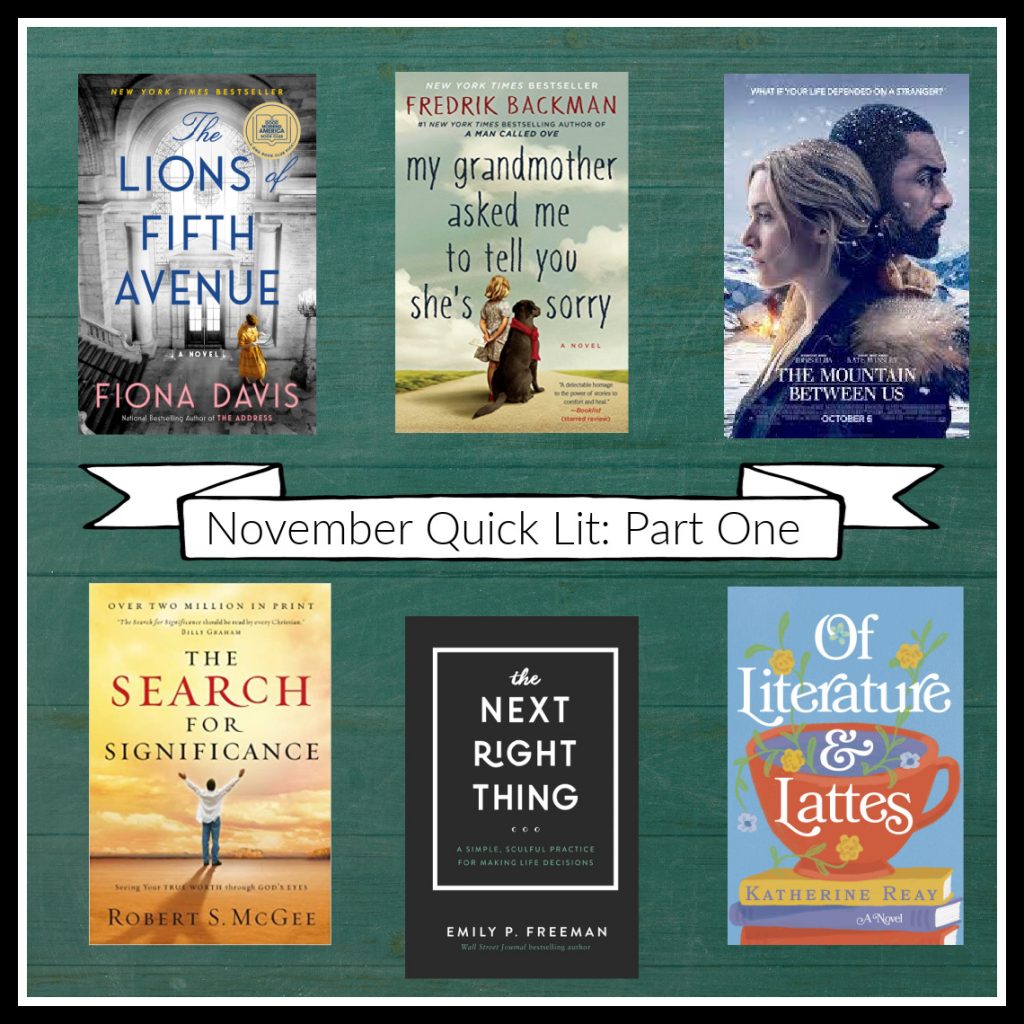 If you've read any of these books, I'd love to hear your thoughts: did your opinions align with mine? What was the best (or worst!) book you read this month?