Hello! I'm emerging from my blogging break today, and it feels good to be back! How has January been treating you? I've had a bit of a rocky start to the new year, but I'm plowing forward and am still determined to make 2019 a great one. And I'm so happy to be getting right back into blogging—a bit sooner than anticipated, but I've missed writing here and was eager to return to this space. How else, but with some book reviews?!
I'm sharing an eclectic assortment of books with you today: some Historical Fiction, a little YA, explorations of faith and pop culture, and two memoirs—one funny, one much less so. Let's get into the reviews!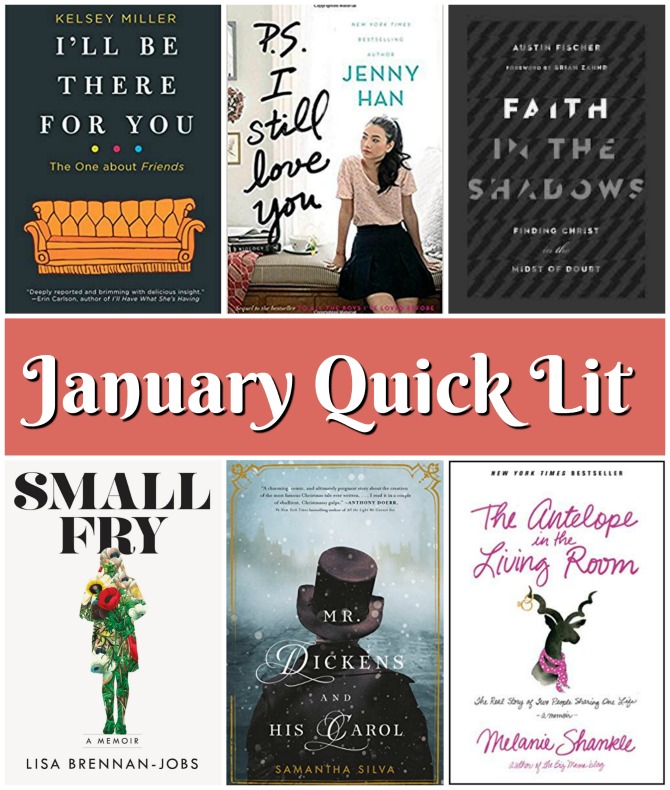 Small Fry, by Lisa Brennan-Jobs: Small Fry was one of the hottest novels of 2018, named Best Book of the Year by numerous sources. As the memoir from the daughter of a cultural icon, the attention isn't surprising. But what nobody saw coming was that this book is actually really good. As one Amazon Reviewer put it, "When you finish Lisa Brennan-Jobs' memoir of growing up as the daughter of Apple co-founder Steve Jobs, you'll feel sorry for her—not just because Jobs was a jerk a lot of the time, but because some readers will be too busy rubbernecking at her famous dad to notice what a great writer his daughter is."
Born on a farm to unwed hippies, Lisa's childhood was marked by poverty, instability, and emotional abuse. When she was young, Lisa's father was conspicuously absent from her life. Even once he reluctantly acknowledged paternity, it was years before he took an interest in her. Lisa's mother was physically present for her childhood, but Chrisann Brennan was immature and unbalanced, creating a turbulent home environment that Lisa was eager to leave. In her teens, Lisa moved in with her father, who could be warm and welcoming one minute and cold and critical the next. Small Fry is a heartbreaking coming-of-age story, fairly generic but for the the ominous presence of Steve Jobs casting a shadow over every memory and anecdote.
Lisa Brennan-Jobs is indeed a phenomenal writer, with a remarkable memory and stunning attention to detail. Her writing is vivid and her emotions palpable—her youthful bewilderment and teen angst are as believable in hindsight as if they were ripped from the pages of her childhood journals. Yet she manages to convey devastating anecdotes in a matter-of-fact tone that is both honest and gracious toward her transgressors. Lisa's parents are the obvious villains of her story, yet she does not appear to view them in this way. She is not a victim, just one woman sharing her story as she experienced it.
With its poignant narration and captivating characters, Small Fry is deserving of the critical attention it has received. Personally, though, I found it to be a painful read. I hated the circumstances Lisa was subjected to, and felt angry for the countless children like her who have faced such appalling upbringings. I wanted more redemption for this story, and while I can't fault the author for the way her life has unfolded, this personal frustration of mine is the only explanation I have to offer for why I couldn't rate this book more highly. I can see this is a good book, I'm glad memoirs like it exist, and I am thankful to authors like Lisa Brennan-Jobs who share their intimate stories in this way; they just might not be for me.
My Rating: 3.5 Stars.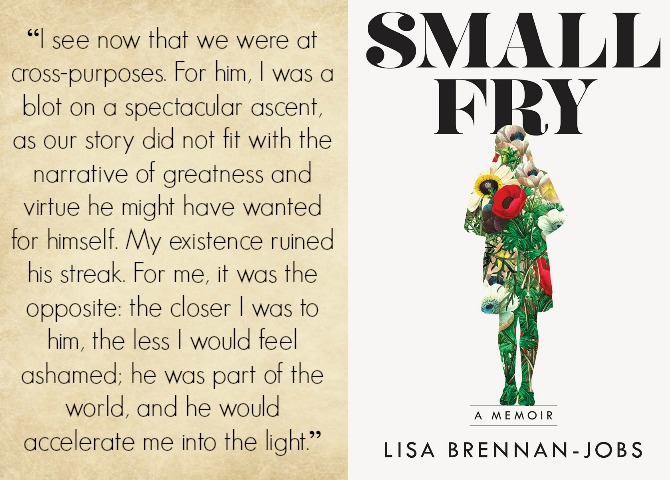 ---
Faith in the Shadows: Find Christ in the Midst of Doubt, by Austin Fischer: Over these past few years I've been on a journey toward becoming less sure about almost everything, but more sure about the few things that truly matter. Along the way I've shed many preconceptions I held about faith and God and what it all means. I don't think I could have read this book a few years ago; I would have perceived its messages to be heresy that threatened the integrity of my own beliefs. But as I've begun to untangle who God is from my preconceived notions about Him, I've grown more comfortable with questions and with listening to ideas that don't fully align with mine.
Austin Fischer was a pastor who nearly abandoned his faith because he didn't think he was allowed to have doubts. He had seen too much pain in the world, noticed too many discrepancies between the Bible and scientific fact, and grown uncomfortable with God's silence—he could no longer be certain about God, and therefore He no longer felt he could place his trust in Him. But after deconstructing his faith and making peace with his own doubts, he began the process of reconstructing a stronger, more honest faith.
In Faith in the Shadows, Fischer redefines faith and helps readers navigate our own doubts. He demonstrates how Christian fundamentalism of the past hundred years has cheapened faith and Scripture and explains that dogmatism is not a necessary component of a relationship with Jesus. He addresses areas that have been faith hangups for many (such as the problem of evil in the world, the existence of Hell, and the inerrancy of Scripture) and makes a case for why he has chosen to pursue a life of faith, even in the presence of lingering doubts.
I loved Fischer's tenderness and honesty. He is transparent with his questions while remaining humble in the face of God's beauty and sovereignty. As was the case with Rachel Held Evans' Inspired, there is a lot in this book that I disagreed with, but Fischer's ideas are thoughtfully presented and gave me a lot to ponder. Fischer goes beyond feel-good theology to confront some truly problematic issues and I admire his willingness to dive into territory that many pastors would rather avoid. I would recommend this book to anyone who has wanted to leave the church, but can't bring themselves to abandon God.
My Rating: 4 stars.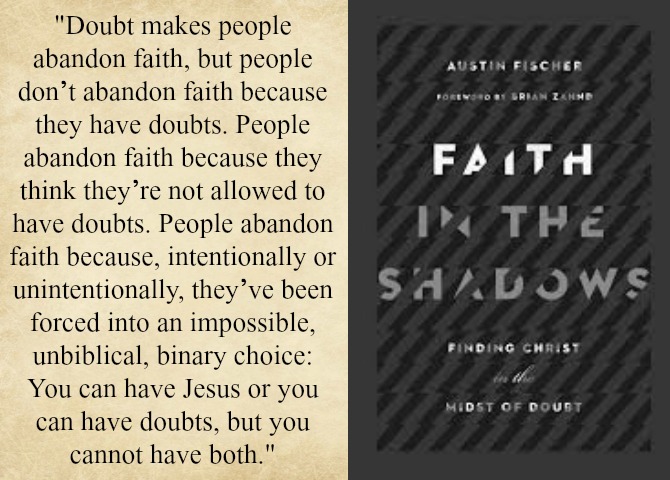 ---
P.S. I Still Love You, by Jenny Han: I read To All the Boys I've Loved Before a couple of months ago, and while it wasn't a favorite, I thought the story was cute and was eager to see what would happen as the series progressed. P.S. I Still Love You picks up right where Book 1 left off, with Lara Jean pining after Peter, whom she accidentally fell in love with while posing as his pretend girlfriend. The two reconcile, but continue to face numerous hurdles in the form of schoolyard rumors, an annoying ex-girlfriend, and the return of yet another of Lara Jean's former crushes. Lara Jean's heart is torn as she begins to question her heart and the very notion of young love.
I won't mince words here: I didn't like this book. Gone is the innocence and sweetness that I loved in Book 1. Lara Jean is still a likable character, but her decisions and actions grow increasingly more problematic. I missed the tender family moments, which were a highlight in To All the Boys but are sparse in this book. There is a LOT more foul language this time around, and the topic of sex is given way too much page time. The scenes themselves aren't steamy, but the characters talk about sex through nearly every chapter, and their views on teen promiscuity are very different from my conservative ones.
There are a couple of positives, namely the discussion of double standards for male and female sexual conduct, as well as Lara Jean herself, who is kind, thoughtful, and reflective. But I just couldn't with all the teen drama and juvenile dialogue. I won't be reading Book 3. (Though I'll admit that I hated leaving the series without answers to the relationship cliffhangers, so I went ahead and read Book 3's summary on Wikipedia. I don't feel like I'm missing anything by skipping the book itself).
My Rating: 2 stars.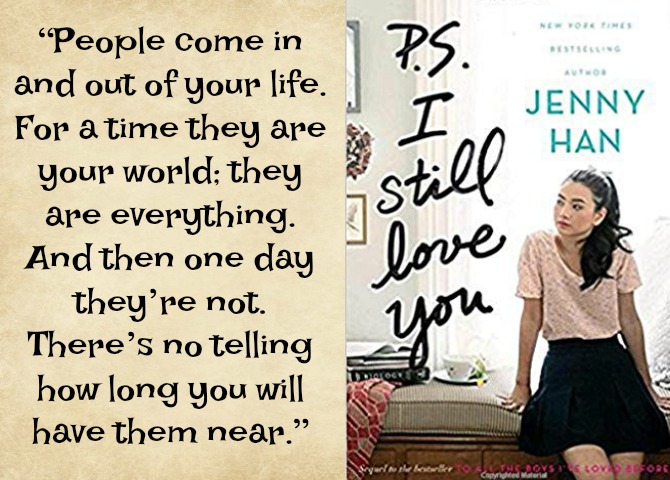 ---
I'll Be There For You: The One About Friends, by Kelsey Miller: Let's just get this out of the way: I am not a Friends fan. I didn't watch the show when it was on the air, and when we finally binged it on Netflix a few years ago I wasn't that impressed. I'm a sucker for tv and movie trivia, though, so when this book started popping up on gift guides in November, my interest was peaked. Then I heard the author interviewed on a podcast and she had me sold; despite not loving the show, I was dying to read all about it.
The book is a treasure trove of knowledge about all things Friends. From the show's origin stories, to details about specific episodes, and of course tons of info on the actors and their relationships with the characters they played. There is a lot of information here, so much that the book reads a lot like a Wikipedia page. I was surprised by how few of these facts were new to me. I always read Wikipedia notes and iMDB trivia when binging a show, and much of the book seemed to be lifted straight from those sources. There is no fresh material from interviews with actors or creators of the show, and there's less about the author's personal connection with the show than I'd anticipated (I think this would have added a nice touch, and given the book a bit more depth).
The one thing this book does do that you won't find in other trivia sources is explore the more problematic issues of Friends. From the dated gender stereotypes and sexism to the homophobic jokes and lack of racial diversity, there was a lot about Friends that simply wouldn't fly today, and it was interesting to see how much has changed in our world—and specifically in pop culture—in the years since Friends was on the air. Even the way we watch television is vastly different today; there simply aren't shows that everyone is watching these days, the way an entire generation watched Friends.
Because it does shed light on the problems of Friends, and does not portray the Friends cast or creators very favorably, this book has the potential to dampen Friends fervor for its readers. For me, it had the opposite effect: reading about the show—even though it was a show I didn't particularly like—had me feeling nostalgic for a simpler time, when television could just be television: not statement-making, or excessively PC, or tiptoeing around sensitive topics, but simply existing for the sake of entertainment. I don't condone a lot of Friends' controversial attitudes, but I also see how the show paved the way for changes in culture—some good and some harmful. (The particular categorization of good and harmful effects is a point on which this book's liberal-minded author and I very much disagree). If you loved Friends, or even if you didn't, this book will inevitably affect the way you view television and the role it plays in America.
My Rating: 3.5 Stars.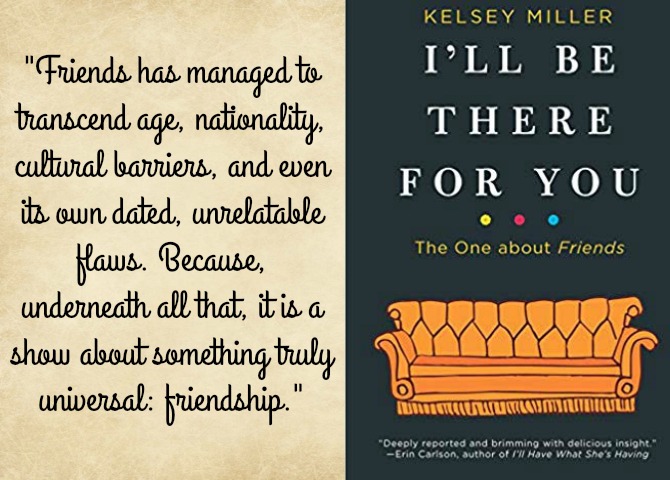 ---
The Antelope in the Living Room: The Real Story of Two People Sharing One Life, by Melanie Shankle: I was only a few chapters into Melanie Shankle's first book last year, when I knew that her entire canon was in my reading future. I adore her down-to-earth writing style that mixes humorous anecdotes with heartfelt commentary and poignant reflections.
While her other books have focused on relationships with her daughter, her friends, and extended family, this one is about her marriage to Perry, her husband of sixteen years. Their pairing is not an obvious one: she loves shopping and Netflix marathons, he is a hunter and a landscaper; he is pragmatic, she is whimsical; she is a writer and a book worm, and he—as she discovered on their honeymoon—does not like to read. These personality differences fuel the comedy in this book, and while their relationship is an unconventional one, their commitment to one another is beautiful and inspiring.
Like all of Melanie's books, this one is a compilation of humorous essays, bringing readers through the journey of meeting Perry, their wedding, and the ups and downs they've faced since saying "I Do." I enjoyed all of them, and some had me literally laughing-crying, they are just SO good. Melanie isn't shy about her Christian faith, but it slides naturally into her anecdotes without dominating the stories. (In other words, this is a book that could be appreciated by Christians and non-Christians alike).
One of my favorite things about Melanie Shankle is that she doesn't take herself too seriously. With this book, I love that she isn't too precious about her marriage, while still honoring her husband and their vows. She is able to point to oddities in their pairing without giving the impression that their relationship is doomed. I saw so much of Luke and myself in these pages, and know this book would be appreciated by any wife; it would also make a great gift for a bride-to-be!
My Rating: 4 stars.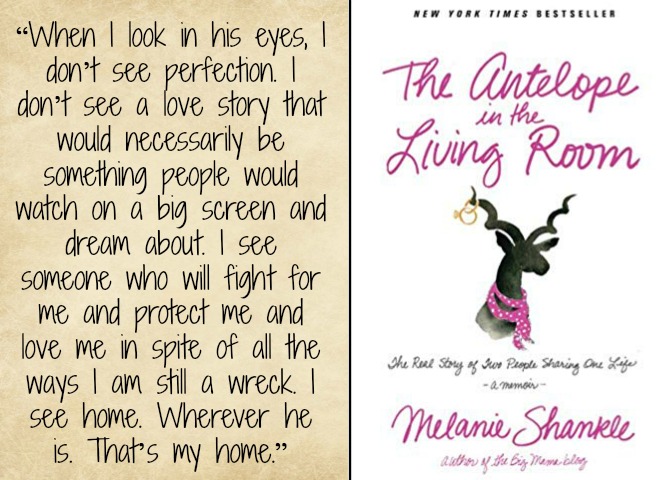 ---
Mr. Dickens and His Carol, by Samantha Silva: I'm sorry to be bringing you a Christmas book review in January; for the record, I read this one before Christmas, but since posting my most recent Quick Lit round-up, so the review will have to live here, weeks after the season has past. Just file this one away to read next December—and you WILL want to read it next December, because it's a great seasonal read!
As the title suggests, this is the story of Charles Dickens and the writing of his classic A Christmas Carol. The novel opens in November, with Dickens feeling melancholic after the flop of his recent book. His critics and audience have turned on him, which does not bode well for the family's financial situation—especially as the number of children in his home is rapidly expanding, and friends and family members are regularly coming to him with money requests. His publishers believe that a Christmas-themed book is just what he needs to turn his career (and theirs) around, but Dickens' Scrooge-ish mood and current writer's block do not bode well for this project.
After a falling out with his wife, Dickens walks the streets of London seeking inspiration that comes in the form of a mysterious young woman. Through her, Dickens rediscovers the love and joy around Christmas and sets out to write the story that will one day become synonymous with the Holiday Spirit.
Anthony Doerr, author of All the Light We Cannot See, gives the best description of this book: "A charming, comic, and ultimately poignant story about the creation of the most famous Christmas tale ever written. It's as foggy and haunted and redemptive as the original; it's all heart, and I read it in a couple of ebullient, Christmassy gulps." I couldn't have said it better. (Which is probably a good thing, since Doerr is a first-class author; good to know he's nailed the ability to speak eloquently about books.) The plot moves a bit slowly at points, and I had trouble liking the characters, but mid-story twists and a touching conclusion won my heart. I loved the clever references to the Dickensian classic, and the glimpse—albeit a fictionalized one—at the man behind the work. This book has me wanting to read an autobiography of Dickens! And I certainly will enjoy A Christmas Carol even more after reading this.
My Rating: 4 stars.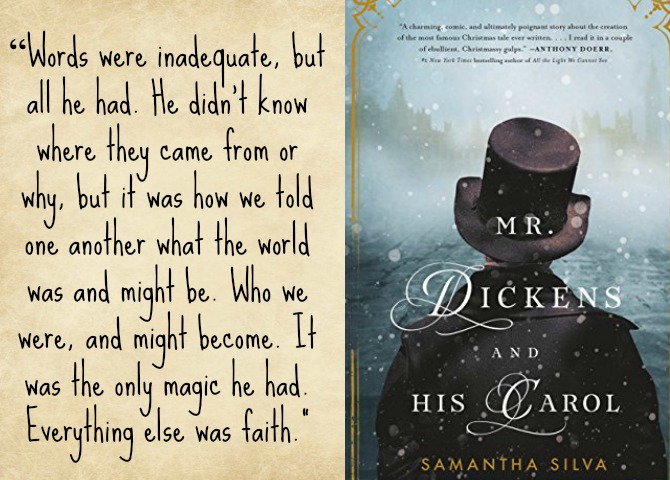 ---
I'll be linking up with Modern Mrs. Darcy to share what we have been reading lately. To those visiting from the link-up, thanks so much for stopping by! If you're looking for a little more book inspiration, I'd love for you to visit my roundup of 20 favorite books from the 205 books I read in 2018.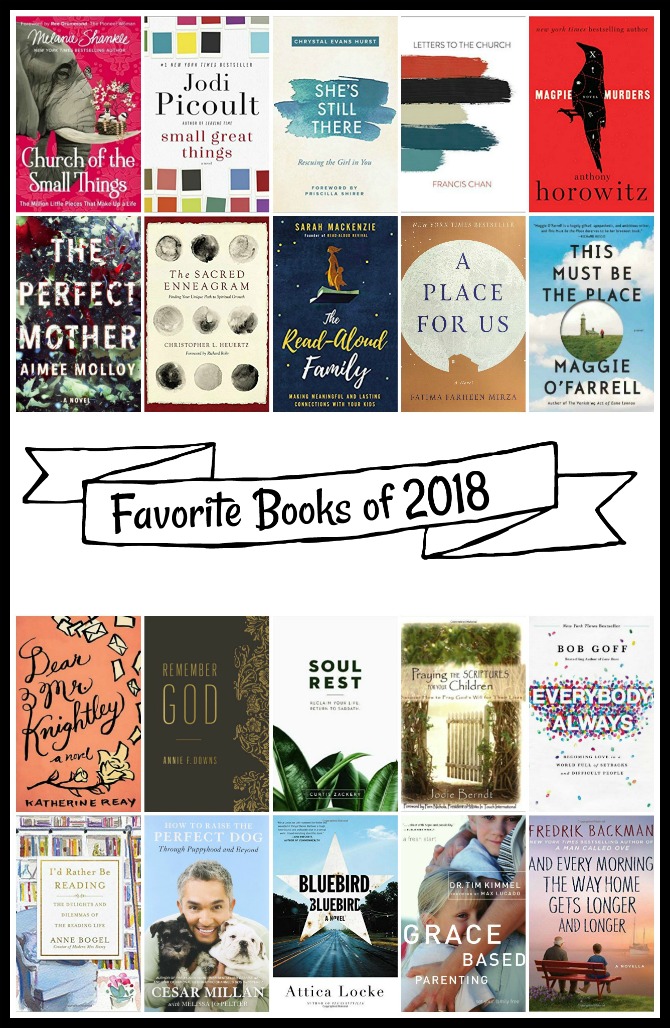 What is the best (or worst) thing you read this month?