With Valentine's Day coming up this week, it seemed like the perfect time to share some of the love stories I've read in the last couple of months. Romance isn't generally a genre I'm quick to reach for, but most of these were read around Christmas time when I wanted to dig into a feel-good love story. As you'll see, not all of these titles lived up to my expectations, but I did find love with a couple of these books.
Lovely War, by Julie Berry: On the eve of World War II, a group of Greek gods (taking the form of socialites and hotel employees) have gathered in a Manhattan hotel for a debate about love and war—and which of the two will ultimately triumph. Their argument leads the gods to share the stories of four young people and their experience during World War I. There's Hazel, a classical British pianist; her love interest James, a British soldier; Aubrey, a Harlem-born ragtime musician serving overseas with the US Army; and Colette, a Belgian orphan with a devastating history. As their stories unfold, we explore themes of love, hope, passion, racism, and perseverance through the eyes of the various gods and goddesses whose own fates are in the balance.
If you're thinking it sounds like there is a lot going on here, you're right. Yet somehow, it all works! I'm not usually one for Greek mythology, but I found these Greek deities to be compelling narrators for a collection of wartime love stories that otherwise might not have held my interest. The interplay between these disparate genres (fantasy and historical fiction) is creative and helped me to understand the challenges and underlying messages and motivations of each set of characters in a new way. The writing is in line with other YA books (not especially deep or challenging), but the stories and characters are memorable and the plot is engrossing.
My Rating: 4 Stars.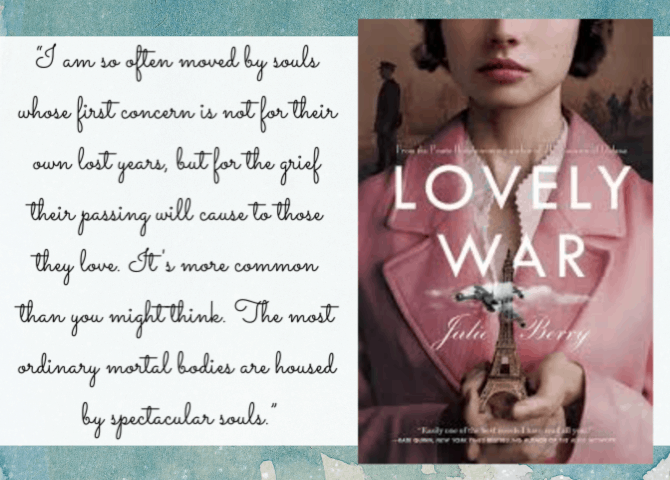 ---
The Rest of the Story, by Sarah Dessen: Emma Saylor lost her mom when she was just ten years old, and with her went her memories of the lakeside town where her mom grew up. Now seventeen, Emma is given the chance to return to this town to stay with her mom's family while her dad is away on his honeymoon. When Emma arrives in working class Lake Town, she is introduced to the large family who know her as "Saylor," the name Emma's mom called her. As she gets to know her relatives, she is exposed to a life she's never known, one with less privilege and more hard work. Emma also learns more of her mother's past as she grows close to Roo, her childhood best friend and the son of someone who was once close to her mother. In learning more about her history, Emma must come to terms with aspects of her own identity while also working to overcome previously held stereotypes as she attempts to make a place for herself in the town that has indirectly shaped her.
For a YA novel, this is a strong title with likable characters and an engaging story. I was drawn to the complex themes of family, identity, privilege, and peer pressure, and appreciated the lack of sex and swearing. I also enjoyed the sweet love story that is not at the forefront of the story but is a welcome addition. This is a novel both teens and adults can enjoy.
My Rating: 3.5 Stars.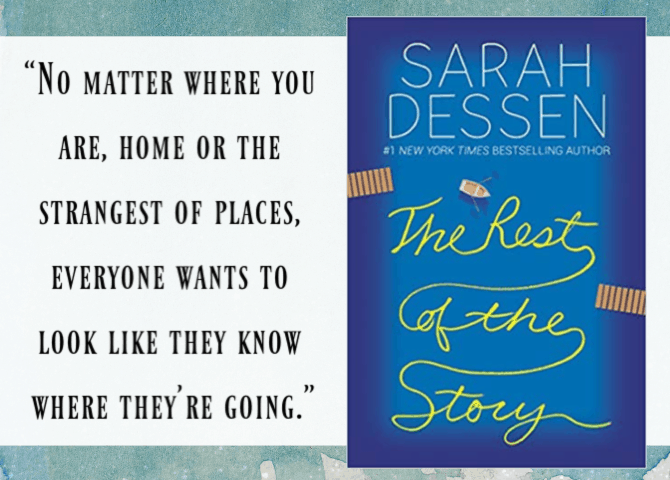 ---
The Unhoneymooners, by Christina Lauren: Olive and Ami are identical twins, but their personalities couldn't be more different—most notably, Ami has always had the best of luck while Olive is comically unlucky. Their fortunes seem to have switched on Ami's wedding day when Ami and the rest of her bridal party are struck by food poisoning. The only two unaffected individuals are Olive and Ethan, Ami's new brother-in-law, who happens to be Olive's nemesis. Unable to attend her own honeymoon—an all-expenses paid trip to Maui that Ami won in a contest—Ami sends Olive in her place. The catch? Ethan will be going too.
Olive and Ethan agree to a truce for the sake of a free vacation. But what they had hoped would be an entirely separate-but-together vacation turns to something more when Olive's new boss shows up in Maui, and she must pretend to be a happy newlywed enjoying her honeymoon. Then the charade continues when Ethan's ex-girlfriend appears on the island as well. It isn't long before Ethan and Olive's play acting turns into something more. But is this real love, or has Olive's bad luck followed her to Hawaii?
This is a popcorn romance in every sense of the word, meaning that it is a feel-good love story with minimal plot and lots of predictability. But it was a fun read, with characters I found likable and some humorous moments that had me laughing out loud, and it has just the right level of heat to be believable without making me blush. I think I would love this as a movie.
My Rating: 3.5 Stars.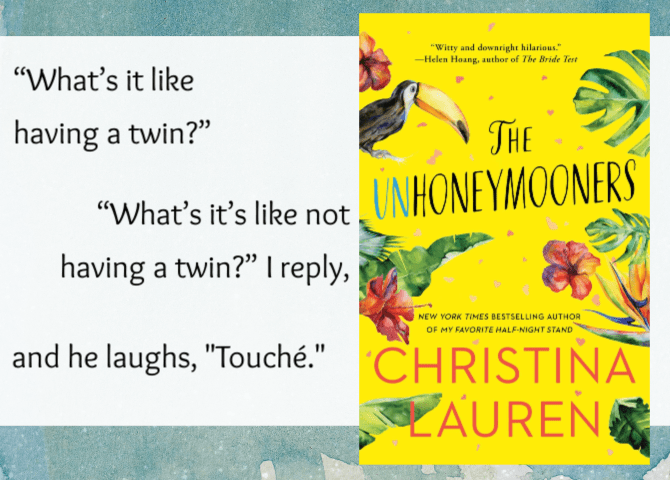 ---
Wrapped Up in Christmas, by Janice Lynn: Sarah Smith is a pastor's daughter from a small town who is passionate about her pet projects, like making quilts for wounded soldiers and renovating her late aunt's home to turn it into a bed and breakfast. When a young man shows up in town, she assumes he is there in response to the ad she put out for a handyman and she puts him to work. Little does she know that this former army ranger was the recipient of Sarah's quilt, and that he came to town to find the quilt maker and thank her for the gift that kept him going while in the hospital with little reason left to live. Unsurprisingly, the two begin to fall in love, but their broken pasts seem destined to keep them apart.
I have a fairly high tolerance for minimal plot and poor writing when it comes to Christmas stories, but this one was pretty bad, even for a cheesy Christmas book. The story is sweet but there is nothing remarkable about the story or the characters, and not even the slightest hint at a plot twist. It's a feel good story through and through, and though heartwarming, I felt it needed more to make an impression.
My Rating: 2.5 Stars.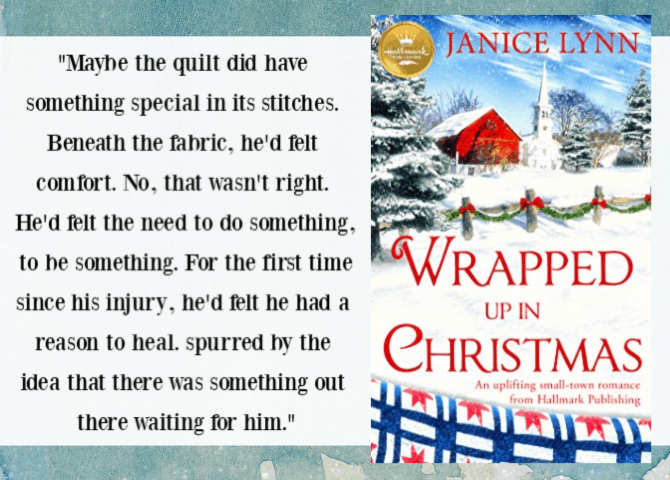 ---
One Day in December, by Josie Silver: Ten years into the past, on a snowy December day, twenty-something Laurie is boarding a bus when she spots the man of her dreams standing on the curb. The bus pulls away before they get a chance to meet in person, and she spends the next year looking for the man she is sure she has fallen in love with. The two are eventually united one year later when the man, whom she learns is named Jack, shows up as the date of Laurie's best friend, Sarah. Laurie and Jack quickly become friends, knowing that they could never be anything more. For the next ten years, they remain in one another's lives as they fall in and out of relationships with other people, but their own love story seems to have failed before it ever had the chance to begin.
I'm not a believer at love in first sight, so I should have known from the book description that this story wouldn't be one I would love. However, many glowing reviews convinced me to give it a chance. While I can see the draw of this will-they-or-won't-they type of storyline, it simply wasn't for me. I found the characters selfish and shallow and couldn't understand Jack and Laurie's need to keep secrets from everyone around them. I did enjoy following these characters through a whole decade, checking in on them on significant dates throughout the year, but the clever story structure wasn't enough to redeem this book for me.
My Rating: 2.5 Stars.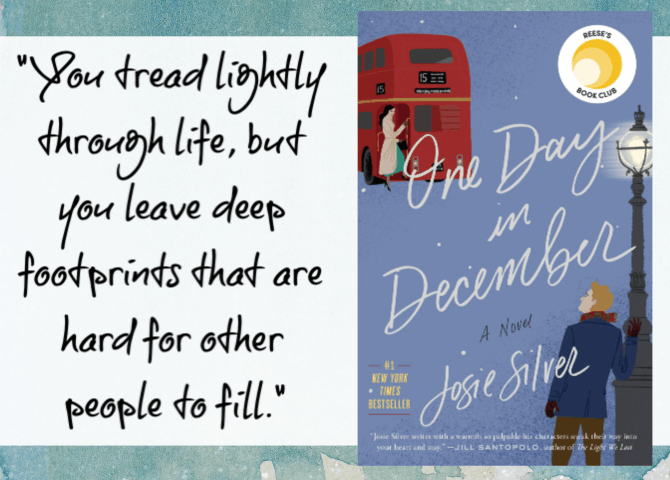 ---
A Timeless Christmas, by Alexis Stanton: History enthusiast Megan Turner enjoys her job as a tour guide in a historic mansion that once belonged to the dashing inventor Charles Whitley. Though he disappeared over one hundred years ago, Megan admits that she has a small crush on the home's former owner. Her crush becomes a bit more understandable when Whitley himself travels through time and into her life in the twenty-first century.
The haughty yet bewildered Charles is determined to find his way back to his own time, but in the meantime he is fascinated by the world in which he finds himself. . . and especially by the lovely young Megan who is proving to be an excellent guide through life in the modern era.
I'm a sucker for time travel stories, and though this one is light on the science, it's heavy on the sentimentality—just what I want from a Christmas romance. I enjoyed the characters and the setting, and though the love story is predictable and not particularly well written, I found it endearing—a perfect cozy tale to add some holiday cheer to my reading life during the month of December.
My Rating: 3.5 Stars.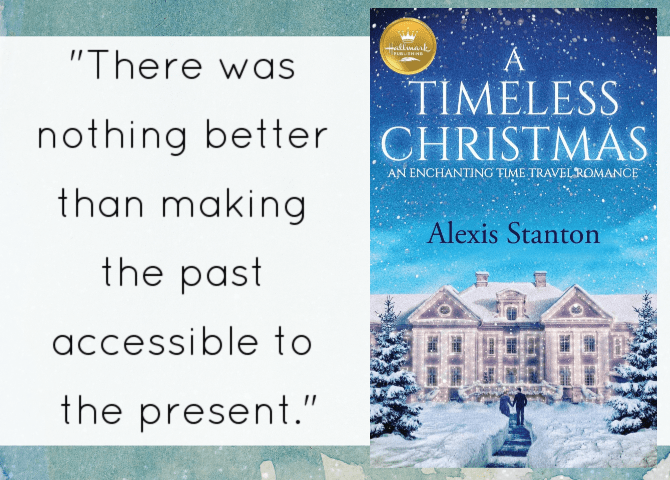 ---
What are your thoughts on romance novels? Do you love them/hate them/love to hate them? Any specific favorites that you think I might enjoy?