Mysteries were my first literary love, the genre that made me a lifelong reader. I cut my reading teeth on the Boxcar Children and Nancy Drew, then graduated to Agatha Christie and beyond. While I read more broadly these days, I've never lost my love for a great mystery or thriller (although today's batch of reviews is proof that I sometimes have to wade through some not-so-great mysteries to get to the good ones).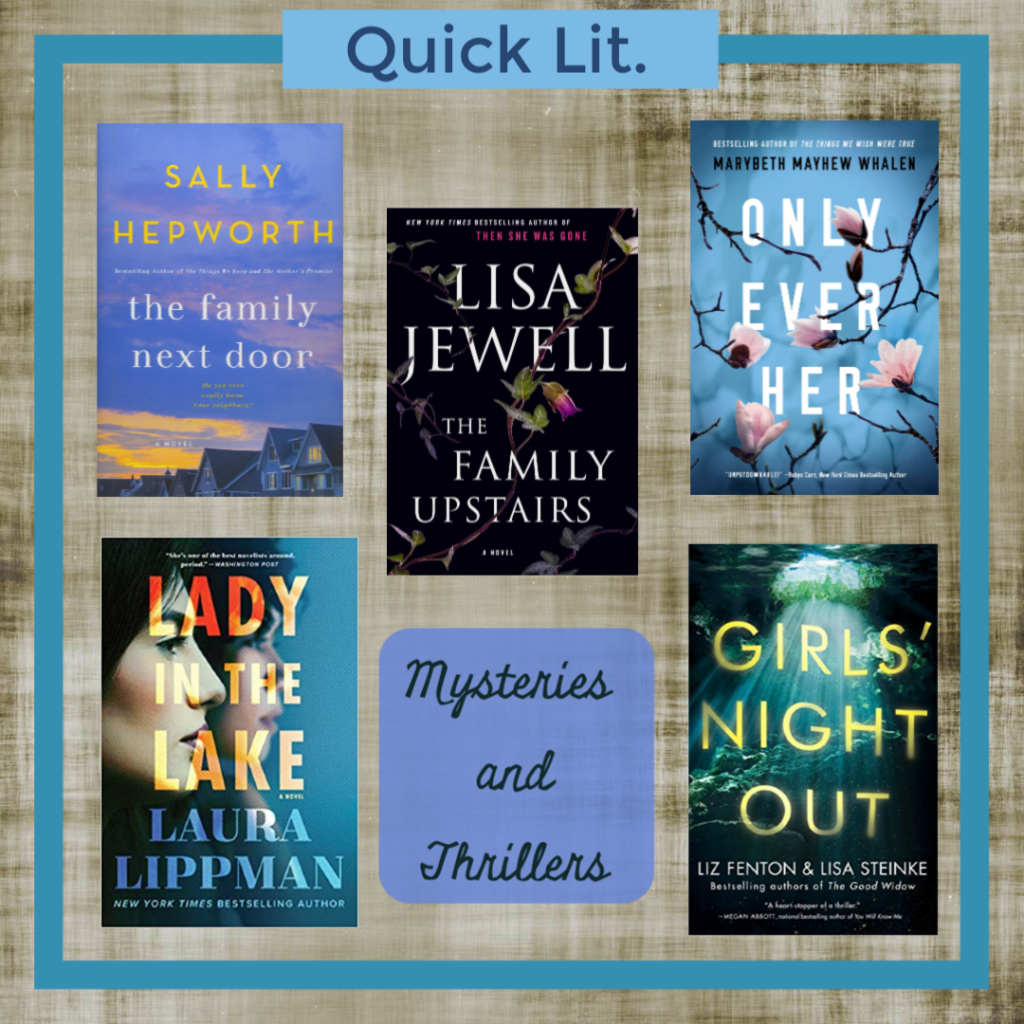 Girls' Night Out, by Liz Fenton and Lisa Steinke: Ashley, Lauren, and Natalie have been best friends since college, but now, as they approach forty, their friendships have been strained to the point of breaking. When Ashley invites Lauren and Natalie on a girls' trip to Mexico to sort out their friendship, they reluctantly agree to go. But instead of growing closer, hostility rises. Natalie resents Ashley for refusing to agree to the multi-million dollar buyout offer they received for their successful company. Lauren still blames Ashley for the death of her husband one year earlier. And Ashley seems to have forgotten the purpose of their trip, instead spending all of her time with a mysterious local man whom the other women distrust. The trip spirals into disaster when Ashley goes missing and Natalie loses her memory of the night of Ashley's disappearance. Jumping back and forth in the timeline, and shifting between the three women's perspectives, we slowly gain an understanding of the secrets each woman is keeping and what went wrong that night.
I've enjoyed the writing of these two authors in the past but was incredibly disappointed with this book. The characters are flat and unrelatable, the dialogue is stilted, and despite the strong setup, the plot is hijacked by an annoyingly repetitive spiral around these three immature women and their petty arguments. I grew tired of reading chapter after chapter of their inner turmoil and girl drama and found the slow trickling out of their secrets to be manipulative and anticlimactic. Even the ending was a letdown. I almost didn't make it through this book which is very rare for me in a thriller.
My Rating: 2.5 Stars.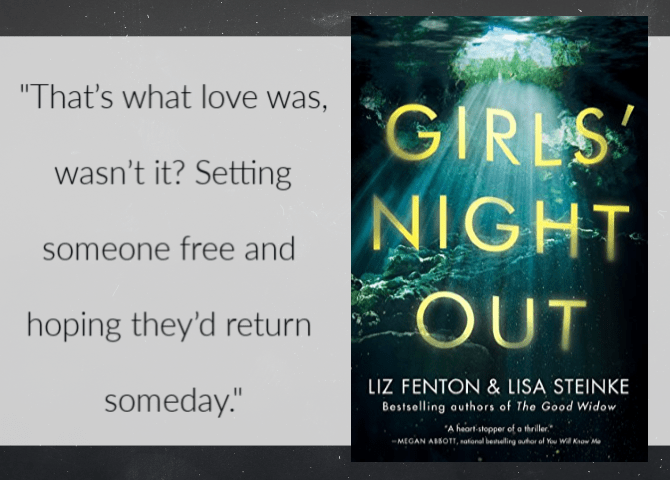 ---
The Family Next Door, by Sally Hepworth: In the idyllic suburb of Pleasant Court, Melbourne, three women seem to be living up to their suburb's name: Essie, Ange, and Fran all appear to be happily married, with well-adjusted children and flourishing social lives. But each woman has a secret to hide, their lives and memories plagued by infidelity, parental failures, and deep-seated insecurities. When a new woman named Isabelle moves in next door to Essie, this single, childless neighbor is an immediate object of curiosity. And Isabelle has secrets of her own—secrets that are tied to at least one of the women of Pleasant Court.
With its complicated female protagonists and family drama, The Family Next Door is reminiscent of Liane Moriarty's novels, though less insightful and with more of a soap opera vibe. The novel certainly held my attention, and the big twist was quite a surprise. I was also intrigued by the secretive nature of each woman's struggles, and appreciated the subtle message of how shame and secrecy can be our undoing, while vulnerable transparency can lead to true friendship and life fulfillment. Some of the domestic scenarios were a little over-the-top for me, though, and I found myself hoping for more authenticity and depth from the characters and the story.
My Rating: 3.5 Stars.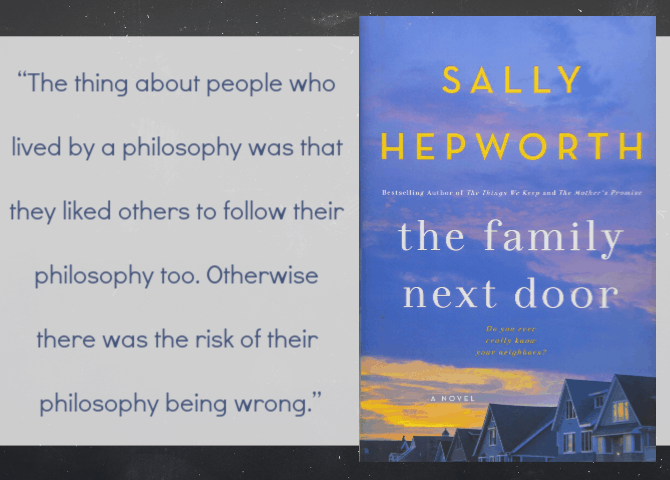 ---
The Family Upstairs, by Lisa Jewell: Libby Jones grew up knowing that she was adopted and she's always held romantic notions of what her birth parents were like. Shortly after Libby's twenty-fifth birthday, she discovers that she has inherited a mansion in London's fashionable Chelsea neighborhood, and through her new home, she soon learns of the family's unsavory history—one that involves three bodies and a baby left behind. . . a baby that grew up to be Libby herself. Though older children had also been living in the home, they disappeared without a trace and haven't been seen or heard from in the decades since.
Through the narration of a down-on-her-luck mom named Lucy, and Henry, a man who knows everything that happened in the house during the time his family lived there, we slowly learn exactly what happened all those years ago and what has become of the few who survived. It's an unsavory story, one marked by child abuse and cultic practices and layers of lies. In true Jewell fashion, none of our characters are as they seem to be and I was caught off guard a number of times.
The sinister characters and gothic atmosphere, combined with a few glimmers of altruism and hope, made this one of my favorites from Lisa Jewell. I do wish that I'd read rather than listened, as it was difficult to keep the characters and varying timelines straight via audio.
My Rating: 4 Stars.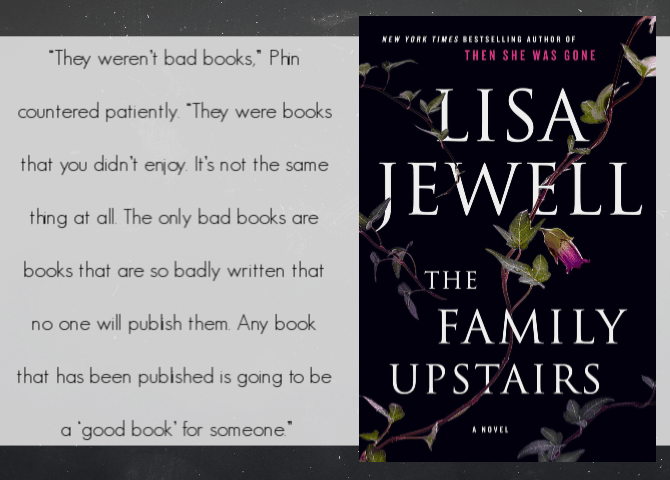 ---
Lady in the Lake, by Laura Lippman: In Baltimore, 1966, Maddie Schwartz—a former housewife and mother to a teen boy—has abandoned her marriage of almost twenty years to pursue a more fulfilling life. After helping the police find the body of a murdered girl, she lands a job at the local newspaper where she begins pursuing the story of a woman whose body was recently found in a city park lake.
The victim, a young black woman named Cleo, has stories of her own to tell and her ghost simply wants Maddie to abandon the story and leave her be. Maddie's investigation leads her into the lives and workplaces of individuals she never would have associated with in her past life. As she focuses on Cleo and her death, she fails to see those who are right in front of her.
I have enjoyed Laura Lippman's books in the past, but this one didn't do it for me. The premise and setting are great, and there are some interesting commentaries on racism and gender roles in the 1960s, but the storyline is hard to follow, made especially confusing by the numerous voices narrating their part of the story. Maddie is not a particularly likable or compelling protagonist, and the mystery wasn't complex enough to hold my attention. The book feels like a character study masquerading as a mystery, and it does not succeed at either endeavor. It isn't a terrible read, but it did not at all live up to my expectations.
My Rating: 3 Stars.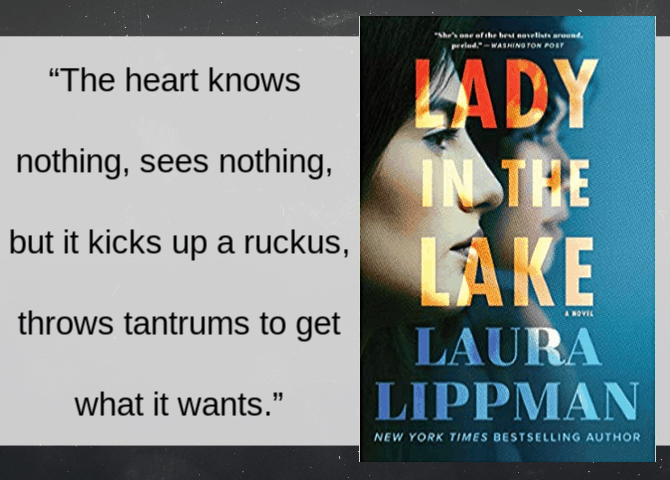 ---
Only Ever Her, by Marybeth Matthew Whalen: Twenty-three years ago, three-year-old Annie Taft witnessed the murder of her single mother. At the time, Annie's testimony was deemed enough evidence to land a man in jail for the murder. Now, just days before Annie is set to be married in one of the biggest weddings her South Carolina town has ever seen, the man convicted of her mother's murder is being released from custody due to insufficient evidence. Then, just as wedding week is kicking into gear, Annie vanishes. And while her loved ones attempt to track Annie down, they must sort through their own personal baggage and complicated histories.
Only Ever Her starts out strong, with an engaging premise and plenty of intrigue. The story is told through the perspectives of four supporting characters, and I enjoyed getting to know each of these flawed yet believable characters, including Annie's cousin; the aunt who raised her; the best friend who was not-so-secretly in love with her; and a journalist who is hoping the story of Annie's disappearance will lead to her big break. Unfortunately, these characters' stories began to usurp the overarching mystery, with most of the page time dedicated to what is going on in their heads as they process Annie's disappearance. I'm all for some good introspection and philosophizing in my novels, but not as a replacement for a decent plot line.
I found the end of this book very unsatisfying and entirely too tidy. Only Ever Her is a decent character study, but not the thriller it portends to be.
My Rating: 3 Stars.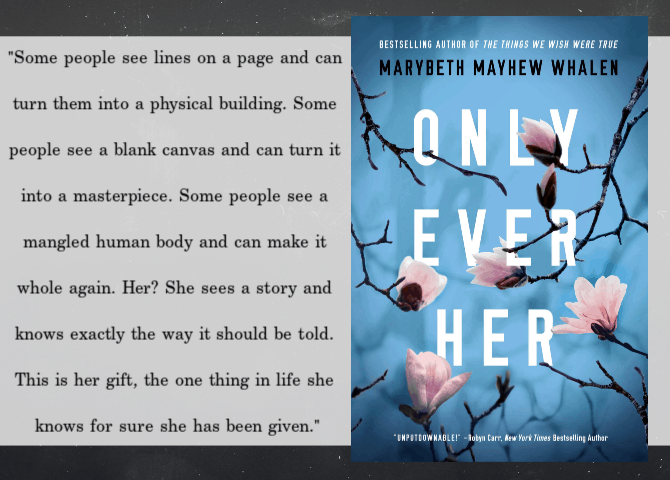 ---
Are you a mystery fan? What's the best one you've read recently?
I'm linking up with Modern Mrs. Darcy to share what we've read lately. If you're here from the linkup, thanks for stopping by! If you'd like to read more of my recent Quick Lit reviews, you can read my roundup of Love Story reviews here.
And for some nonfiction reviews, check out this post.