It appears I've really taken the back-to-school spirit to heart this fall by joining students everywhere in hitting the books! I didn't realize how much reading I'd done lately until I went to compile this wrap-up and realized that I've read/listened to ten books in the past four weeks. Overall I've been pretty happy with my selections lately: I've read a streak of good books (and some GREAT books), and I'm looking forward to reading more from a few of the authors I've discovered this month.

Nonfiction
I've been "craving" nonfiction lately in a way that still feels a bit foreign to me. Fortunately I've found some diverse nonfiction reads to satisfy my curious new thirst for all things sciency and self-help.
Bird by Bird, by Anne Lamott: Bird by Bird is often cited as THE book to read on writing, and I regret that I waited so long to read it. The book's title comes from advice that Lamott's father once gave her 10-year-old brother when he felt paralyzed to tackle a writing assignment on birds: "Just take it bird by bird." Lamott uses self-deprecation, sarcastic humor, and poignant stories to guide readers through the writing process, breaking it down into manageable steps while simultaneously offering keen psychological insights and advice on life. I was a bit taken aback by the book's crass tone, but it did nothing to overshadow Lamott's incredibly useful advice (as my abundant highlights can attest). One of my favorite take-aways from the book was this much-needed reminder on the value of imperfection: "Perfectionism means that you try desperately not to leave so much mess to clean up. But clutter and mess show us that life is being lived. Clutter is wonderfully fertile ground. . . Tidiness suggests that something is as good as it's going to get. . . perfect means shallow and unreal and fatally uninteresting." My Rating: 4.5 stars.
---
Blink, by Malcolm Gladwell: This pop-psychology book (from one of the kings of the genre) examines the ways in which our minds rely on personal bias, past circumstances, and social cues to form snap decisions. Gladwell argues that these unconscious, intuitive decisions are often more reliable than those that are carefully researched. As someone who has been working to better understand and listen to my intuition, I appreciated Gladwell's thesis. However, my instinctive thought (<—see what I did there?!) was that there were holes in his reasoning, and in reading a few experts' reviews of the book, I discovered that its theories have mostly been dismissed by the broader psychological community. Still, this is thought-provoking read, and I did enjoy Gladwell's stories and examples, though some were more interesting than others: the story behind New Coke's flop was fascinating, but descriptions of police shootings really didn't do much for me. My Rating: 3 stars.

Daring Greatly, by Brené Brown: Between podcast interviews and blog mentions, I've been hearing a ton about Brené Brown lately, so I couldn't wait to check out her Ted Talks (they're awesome, by the way!) and jump into one of her books. Brown is a research professor whose studies on vulnerability, courage, and shame serve as source material for her writing. In Daring Greatly, Brown highlights our intrinsic need for love and belonging, then reminds readers that we are all worthy of acceptance. Brown explains that feelings of worthiness do not happen naturally but must be carefully cultivated, and she uses data and personal stories to illustrate how this challenging feat can be achieved. She then highlights the importance of overcoming shame in a quest for vulnerability, which is the catalyst for achieving genuine connection with others. Thanks to my (many) years of therapy, I was familiar with most of the ideas presented in Daring Greatly, but the book provided a helpful refresher course in some valuable lessons that are all too easy for me to forget.
I listened to the audio version of this book, and was disappointed that it was not narrated by Brown herself. The less-than-stellar narrator, combined with topics that were at times to deep to follow on audio, makes this a book that would definitely have been better to read rather than listen to. Daring Greatly is a treasure trove of knowledge, so I know I would benefit from a second time through the material, and I plan to return to it—and Brown's other books—in the future. My Rating: 4 stars.
---
Modern Romance, by Aziz Ansari: When I learned that Aziz Ansari was releasing a book, I assumed it was yet another mid-level actor's version of Bossypants. I actually tend to enjoy these celebrity memoirs, and I loved Aziz in Parks and Rec, so adding this to my TBR list was a no-brainer. Once I began listening (I ALWAYS read memoirs via audiobook!), I was surprised to discover that Modern Romance was nothing like what I'd expected: it is not, in fact, a memoir, but a scientific look at the modern dating scene. Though I'm no longer single, this a subject that intrigues me, particularly since Luke and I met online. (That was only 8 years ago, but things have changed A LOT since then!)
In compiling his research, Aziz joined forces with an NYU sociologist to conduct studies on the ways in which technology has impacted romantic relationships. Aziz shares their findings in this book (which, of course, is laden with jokes-a-plenty). Given the author and subject matter, it's not surprising that Modern Romance is pretty crass. But despite the salty language and raunchy depiction of sexual activity, I found it intriguing, and I enjoyed the comical interpretation of a somewhat serious subject. Modern Romance managed to convince me of a few things: that Aziz Ansari is a talented writer and surprisingly deep thinker, and that I am VERY fortunate to no longer be part of the dating scene. My Rating: 3.5 stars.
---
Adult Fiction
I've grown more particular with my fiction selections over the years, and this month I was excited to dive into some books that have been in my queue for a while.
Go Set a Watchman, by Harper Lee: Like so many readers, I've long considered Harper Lee's classic novel among my all-time favorite books, and I could hardly contain my excitement when I began hearing rumors about a To Kill a Mockingbird sequel. My anticipation slowly turned to dread as I began to learn more about this "new" novel's disturbing content and questionable road to publication: did I really want to read a book that the author might not have wanted published? Was I willing to read a book that might spoil the pristine image of my beloved Atticus Finch? Despite the controversy swirling around Go Set a Watchman, I decided to take the plunge, knowing that my curiosity would never be appeased until I'd read this book for myself.
Set twenty years after the events of To Kill a Mockingbird, Go Set a Watchman is the story of Jean Louise's return to Macomb County after having spent several (enlightening) years living in New York. Jean Louise is shocked by the cultural and political unrest that now permeates her hometown, and she must come to terms with the changes she sees in the people and places who shaped her.
Had I gone blindly into reading this novel, I would have been confused and devastated by much of its content (and a bit disappointed by the rough-around-the-edges writing); however, I had previously read Modern Mrs. Darcy's thoughts on the novel and was prepared to view Go Set a Watchman as an early imagining of what would become To Kill a Mockingbird rather than as a sequel. Viewed through this lens I was able to appreciate the book's glimpses into Harper Lee's writing process and evolving perspectives. And even apart from its relationship to Mockingbird, Watchman has some beautiful moments, particularly its depiction of Jean Louise's painful process of self actualization and her struggles to reconcile her present realities with her sanitized memories of the past. I didn't LOVE Go Set a Watchman, but I DID like and appreciate it, and in no way do I regret having read it. My Rating: 3.5 stars.
---
The Moonstone, by Wilkie Collins: Prior to its being selected as my book club's September read, I'd never heard of this 19th-century British novel—surprising, given my love for mysteries and the fact that The Moonstone is considered the first detective novel written in the English language. The book follows the mysterious theft of a stolen diamond, with sections of the story told from the vantage points of a colorful assortment of characters. I enjoyed the playful narration, as well as the appearance of many elements that have since become trademarks of the quintessential detective story (the locked room mystery, plot twists, red herrigs, etc.). The novel's one drawback is its excessive length; I would have enjoyed it even more if it had been a few hundred pages shorter. My Rating: 4 stars.

Still Life, by Louise Penny: Life seems idyllic in the quaint Canadian village of Three Pines, but the town is shaken to its core following the suspicious death of a beloved community member. This is the first in a mystery series featuring Quebec Chief Inspector of Homicide, Armand Gamache (a modern Hercule Poirot whose keen observational skills are matched only by his compassionate spirit). Still Life is an engrossing read with richly painted characters and an alluring setting, and I'm eager to continue with the series. The mystery genre has long been my favorite, but I have to admit that their luster has dulled a bit after reading countless cookie-cutter plot lines. I'm happy to have found a new series that delves beyond a showy storyline to explore the intricacies of the human psyche. My Rating: 4 stars.
---
Everything I Never Told You, by Celeste Ng: "Lydia is dead. But they don't know it yet." With an opening line like this one, Everything I Never Told You teases at the prospect of a riveting mystery; instead it offers up a psychological drama featuring an exploration of racial and gender issues. Set in the 1970s, the novel paints the portrait of a Chinese-American family plagued by misunderstanding, deceit, and unfulfilled expectations—all of which lead up to 16-year-old Lydia's tragic demise. The novel is insightful and thought-provoking, but while I admired Ng's artistic style and masterful character development, I didn't care for the direction that she chose to take the plot. Perhaps I would have had a greater appreciation for this book if I'd known what to expect before reading. My Rating: 3 stars.
---
YA Fiction
Young-adult novels can be a bit hit-or-miss with me, but I'd heard positive things about Rebecca Stead and was eager to read her books. I'm glad that I did!
When You Reach Me, by Rebecca Stead: Miranda Sinclair is a 6th-grade "latchkey kid" growing up in New York City in the 1970s. Miranda's mostly ordinary life takes a bizarre turn when she begins receiving mysterious notes that appear to be from the future. Inspired by a newspaper article about a man suffering from amnesia, and incorporating elements of the author's own childhood, this novel is a fun blend of mystery and science fiction. Though the book was slow at points, I loved the way story came together in the end. I also enjoyed the fun ties to A Wrinkle in Time, as well as the book's fun narrative structure and thoughtful treatment of a number of perennial schoolyard issues (bullying, cliques, evolving childhood relationships, etc.). There is so much more that Stead could have done with this intriguing premise, but given the age of the intended audience, the abbreviated format worked well. My Rating: 4 stars.
---
Liar and Spy, by Rebecca Stead: Liar and Spy follows the misadventures of 7th-grader Georges as he moves to a new apartment, establishes new relationships, and encounters a host of new and old social challenges. While the plot is less unique than that of When You Reach Me, the characters are more relatable and the themes of bullying and friendship are more fully realized, making Liar and Spy an equally strong YA pick. My Rating: 4 stars.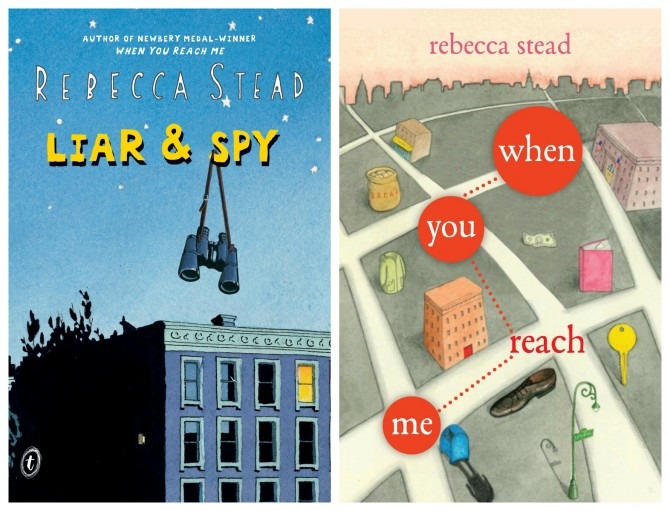 Have you read any of these books? If so, I'd love to hear your thoughts! And if you're looking to find your next book selection, head to Modern Mrs. Darcy's site where I'm linking up with a host of other bloggers to share what we've been reading.