This last Quick Lit post of the month features two historical novels, a Liane Moriarty read-alike, and two nonfiction reads that I can heartily recommend. Let's dive into the reviews!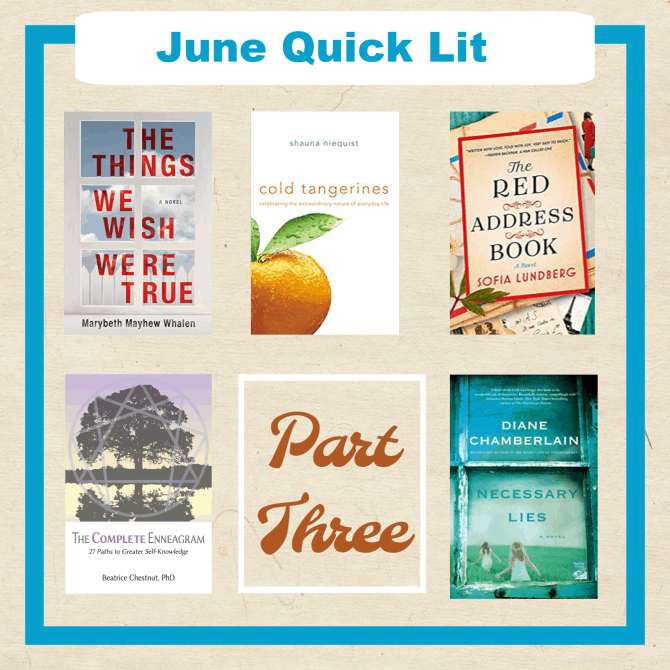 Necessary Lies, by Diane Chamberlain: As a newlywed in North Carolina in 1960, recent college graduate Jane Forrester is expected to set aside career aspirations to settle down and start a family with her pediatrician husband. But Jane desires to make a difference in the world before having children, so against her husband's wishes she obtains a job as a social worker with Grace County. In her work, Jane meets fifteen-year-old Ivy Hart, who lives with her grandmother, older sister, and nephew on a tobacco farm where they work as tenants. Ivy is struggling to care for her aging grandmother and her mentally ill sister, while managing her own epilepsy and doing her best not to get pregnant too soon (unlike her older sister).
As Jane grows into her position, she learns that one of her tasks is to recommend clients for sterilization, which is done without their knowledge or consent. The state's rationalization is that certain women are unfit to have children (due to low IQ scores, poor circumstances, or health concerns), and that the state should not be obligated to subsidize their children—therefore, the women should be prevented from conceiving. Jane is uncomfortable with the state's eugenics program, especially when she discovers how it has impacted the Hart family. As she grows closer to Ivy and her family, Jane is determined to do what's best for them—even when it jeopardizes her job and her own marriage.
Prior to reading this book, I'd never heard of the eugenics program in the United States. I was shocked and appalled by Chamberlain's descriptions of this practice and felt she did a good job of giving flesh to an unfortunate period in history. While I appreciated this educational aspect of the story, I had a hard time relating to the characters themselves and wasn't as drawn into the plot as I wanted to be. I also struggled with the black-and-white portrayal of the book's "villains," as I have no doubt many of the individuals involved in the eugenics program truly did have good intentions and were simply acting out of the information they had at the time. That's not to condone their actions, but I believe a more nuanced attitude toward history is necessary if we are to truly understand and learn from it.
I've heard wonderful things about Diane Chamberlain, so I'll likely give another of her books a try, but this one left me with just a mediocre impression of her work.
My Rating: 3.5 Stars.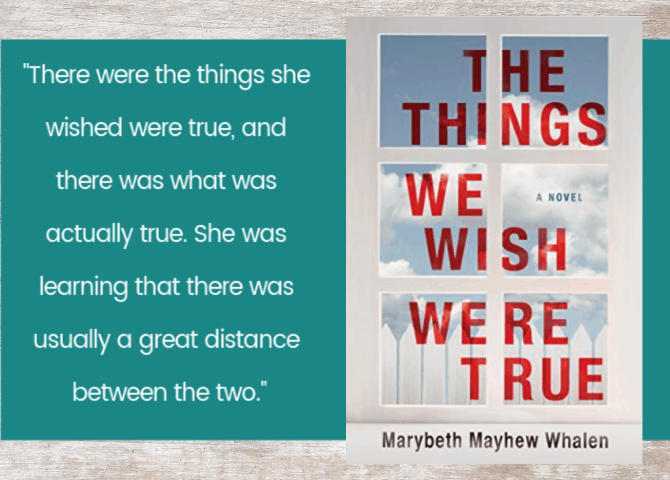 ---
The Complete Enneagram: 27 Paths to Greater Self Knowledge, by Beatrice Chestnut: I don't think I'll ever tire of learning more about the Enneagram, and this particular book has been on my TBR for a while. In it, psychotherapist Beatrice Chestnut offers an overview of the Enneagram model of personality and its uses for personal awareness and self-exploration. Her introduction also includes information about the model's history and the universal wisdom found within the system.
A majority of the book is dedicated to chapters exploring each of the nine types. Within each chapter, Chestnut provides descriptions of each number's characteristics and tendencies and provides suggestions for personal growth. The book stands apart from other books I've read on the Enneagram in that it explores the three subtypes of each number—essentially providing thorough descriptions for 27 distinct personality types (it's a VERY long book!). Though I had previously been vaguely familiar with the subtypes, I was eager to study them in depth with this book, and I found Chestnut's explanations fascinating and informative. In particular, Chestnut's explanation of my own number and subtype (a self-preservation One) was extremely enlightening for me.
The only downside to having acquired this new information about these subtypes is that it has made me even more aware of how complex the Enneagram can be and how difficult it is to determine other people's types. Some of the subtypes mimic other numbers, which I found quite confusing. That said, I definitely appreciated the appendix, which explains distinctions between each of the numbers and why they might mimic one another.
For such a comprehensive book, I was surprised that Chestnut didn't dedicate any page time to the topic of wings. I also found her explanation of arrows to be confusing and possibly misleading. Overall, though, the book is well-researched, practical, and applicable, and a great resource for those who are already familiar with the Enneagram and are ready for more in-depth information.
My Rating: 4 Stars.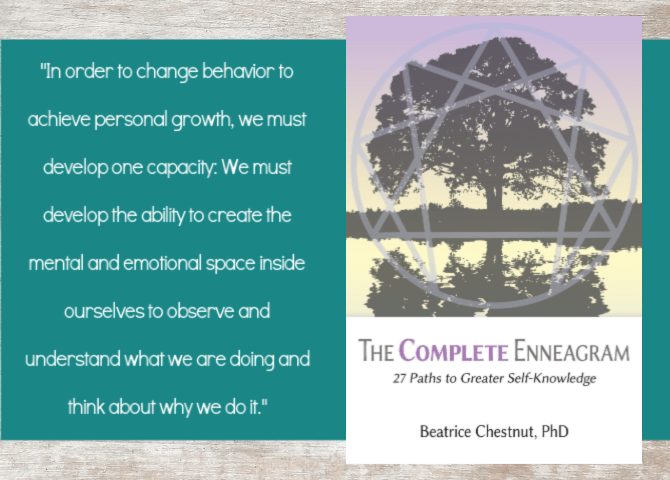 ---
The Red Address Book, by Sofia Lundberg: Ninety-six and nearing the end of her life, Doris Alm spends her days in her Stockholm apartment, looking forward to her weekly Skype visits with her beloved great-niece Jenny in California and reflecting on the individuals whose names fill the little red address book Doris has owned since childhood. Most of these names are crossed out, their owners having long since left this earth, but their memory lives on in Doris's heart, and she records their stories (and her own) for Jenny to read. Through her writings, we get a glimpse at Doris's hard, full life.
Born in Sweden in 1918, Doris lost her father at a young age and was sent away to work as a maid when she was just 13. This venture eventually led her to Paris to work as a model. During her years in France, Doris met her one true love, only to be left heartbroken when he returned to his home in America. The rest of her days have been spent in search of this man, and her journey took her to New York City, then back to Europe just as it was being torn apart by war. Her story is a sad one, her life marked by tragedy and hardship, but Doris is resilient, and through her trials she has learned the most important lesson of all—to love.
Part historical fiction, part romance, part family saga, The Red Address Book is a quiet book with a promising story and plenty of charm. I loved the premise of following the names within the address book to form a complete story of Doris's life, but felt that the author lost sight of the protagonist in telling the stories of so many others. I had trouble connecting with Doris and Jenny, and though the events of Doris's life are remarkable, the disjointed nature of the storytelling kept me from fully engaging with the plot. Though there are some very poignant reflections and moments where I could tell the author was doing her best to pull at the readers' heartstrings, I couldn't bring myself to feel emotionally invested. I suspect this is because this is a book in translation? Ultimately this is a book I did like and would recommend, but I'm having difficulty understanding all the rave reviews and hype.
My Rating: 3.5 Stars.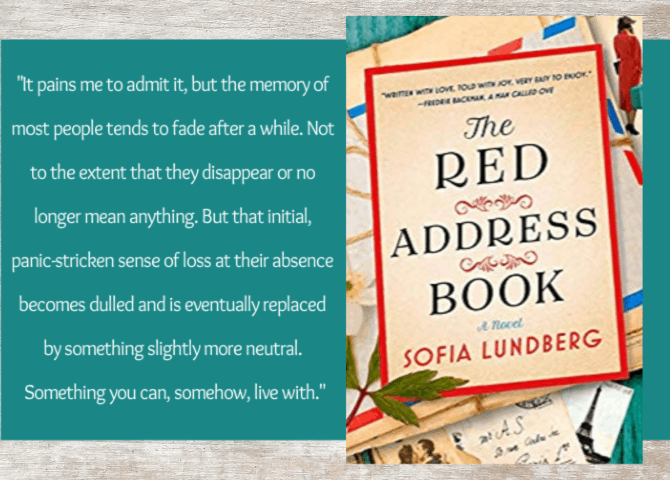 ---
Cold Tangerines: Celebrating the Extraordinary Nature of Everyday Life, by Shauna Niequist: I haven't been able to get Shauna Niequist's Bittersweet out of my head since reading it last month and was eager to dive into another of her books. Cold Tangerines, Niequist's first book, is a collection of essays celebrating the extraordinary moments hidden in our every day lives. Niequist shares stories from her early life, her marriage, her time working in a church, and her earliest days of motherhood to highlight God's presence and goodness in all things big and small. Niequist doesn't shy away from her challenges—including poor body image, envy and comparison, and heartbreaking loss—but the book is filled with hope and encouragement as she demonstrates what it looks like to pursue her best possible life in the midst of all that life throws at her.
As with all essay collections, parts of this book resonated with me more than others. I loved Niequist's reflections on marriage, community, creativity, and allowing God to handle the details of our individual stories. Other essays felt out of place and distracted from the hopeful message of the book. Overall, I felt that Cold Tangerines lacked fluidity and a consistent tone and message. But Shauna Niequist is an insightful, reflective writer whose strong prose and honest storytelling makes for an inspiring, enjoyable, and relatable read.
My Rating: 4 Stars.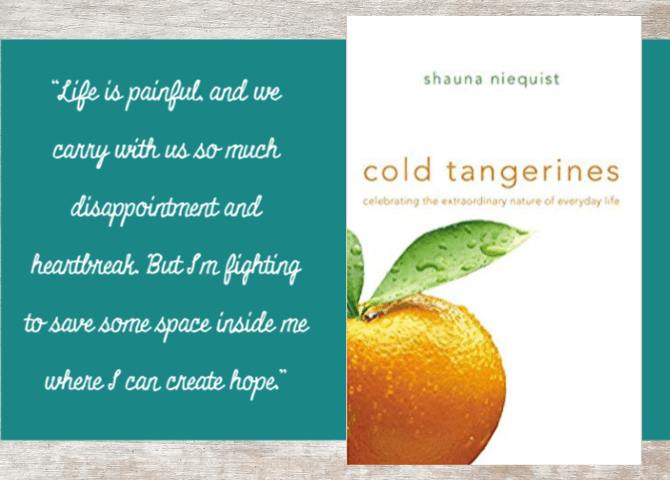 ---
The Things We Wish Were True, by Marybeth Mayhew Whalen: Sycamore Glen is an idyllic, All-American neighborhood where families spend lazy summer days at the pool, looking after each others' kids and enjoying neighborly camaraderie. But behind their happy faces and Southern charm, nearly everyone in the neighborhood is holding a secret. Among them is Zell, an empty nester with a heart of gold but perhaps too much interest in other people's business; Bright, a young stay-at-home mother who can't bear to tell her doting husband why she refuses to grow their family; Jencey, Bright's childhood best friend who has returned to town after more than a decade away; Lance, the father of two who is struggling since his wife left him unexpectedly; and Cailey, the young girl who spends her summer looking after her younger brother while their mother works.
When an accident occurs at the community pool one summer afternoon, the careful balance within the neighborhood is thrown off kilter. The neighbors are forced to come together in a new way, friendships and romantic alliances form, and priorities are reconsidered. But though much good stems from the tragedy, it results in the unearthing of long-buried secrets. One thing is certain: after this momentous summer, the neighborhood of Sycamore Glen will never be the same.
This is an engaging summer read that offers an illuminating glimpse into suburban life and its potentially dark underside. It is the type of story that causes one to reflect on how well we know those we love—and even how well we know ourselves. Whalen's characters are unique and memorable, and I enjoyed experiencing the story from each of their points of view.
The novel touches on some difficult subjects, such as infidelity, child molestation, and fractured families, but despite these darker elements, this is a quick and relatively light read. Some of the storylines are a tad melodramatic, and at times these flawed characters are difficult to root for, but I did enjoy seeing how each story component came together in the end.
My Rating: 4 Stars.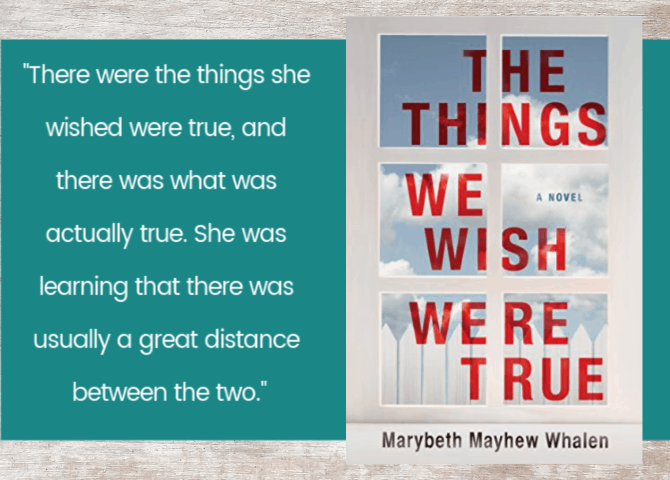 ---
Have you read any of these books? What were your thoughts? I'd love to hear what YOU have been reading this summer!