Fall has arrived. For many, that means that school is in session and it's time to hit the books. I've been hitting some books myself, but not many of the academic variety. Most of my recent reads have been fairly lighthearted, though I did squeeze in a couple of nonfiction books this month. Here's a look at what I've been reading over the past several weeks.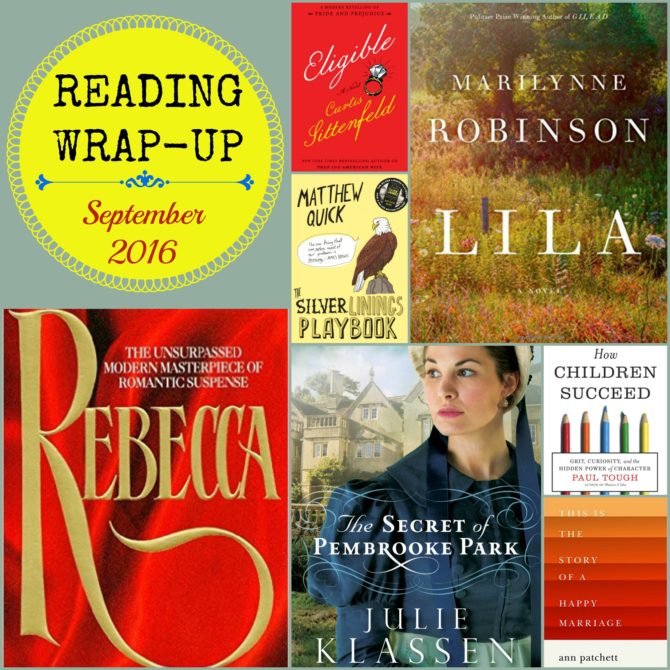 Rebecca, by Daphne Du Maurier: Rebecca has been described as a 20th-century Jane Eyre. While I prefer Brontë's book, I understand the comparison—Rebecca contains many of the elements I love in the Brontë sisters' gothic romances: slow-burning suspense, tortured love, mysterious characters, and highly figurative language are all prominent features within Rebecca.
The novel tells the story of an unnamed heroine whose circumstances seem like a dream come true: within the span of a few weeks she is transported from her lowly life as a lady's companion to the wife of a wealthy gentleman and mistress of Manderley, a gorgeous seaside estate. But our protagonist soon discovers that Manderley is haunted by the memory of her husband's first wife, Rebecca, whose palpable presence refuses to relinquish its grip on her husband or her home.
I enjoyed Du Maurier's evocative writing and psychological probing, though I did find parts of the book very slow. The pace adds to the suspense and is pivotal to the novel's structure, but it kept the book from being the page-turner I had expected.
Rebecca is brimming with symbolism and begs to be analyzed and discussed. The edition I read included an analytical afterward by Sally Beauman that enhanced my understanding and appreciation for the novel, and tapped into my desire to dive deeper into the text. I would have loved to explore this novel in a college literature class! My Rating: 4 stars.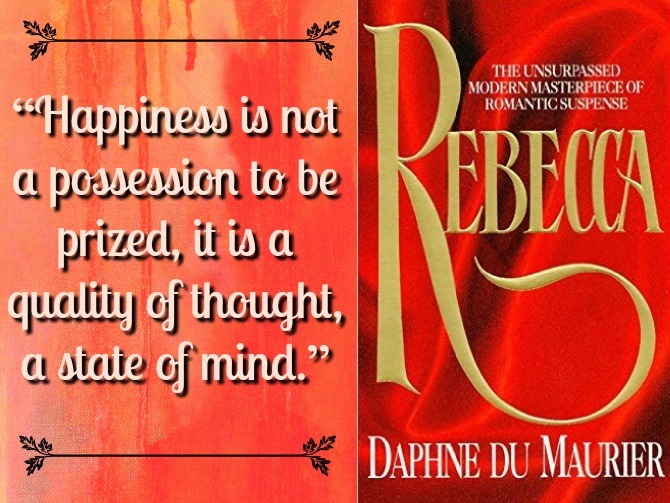 ---
The Secret of Pembrooke Park, by Julie Klassen: Intelligent, responsible Abigail Foster knows that she is no great beauty, especially compared with her younger sister. Abigail has all but resigned herself to spinsterhood but takes comfort in the fact that she is still of value to her family, thanks to her her practical mind and managerial expertise. But when the Fosters find themselves in a financial bind, they are forced to sell their London home, and Abigail holds herself responsible. Fortunately, the Fosters are saved from homelessness when an anonymous benefactor offers the use of a countryside manor that has sat abandoned for 18 years. While her family remains with relatives in London, Abigail ventures to Pembrooke Park to make the imposing house a livable space. Upon her arrival she finds herself involved in tangled web of mystery, including several decades-old murders that remain unsolved. Abigail doesn't know what to make of Pembrook Park's hidden secrets. . . or of the handsome country chaplain who seems eager to help her feel at home in her new house.
After my disappointing experience with The Dancing Master, I was less enthusiastic to start Pembrooke Park than I have been with Klassen's other novels. Happily, this novel has drawn me back into love with Julie Klassen's books. Pembrooke Park's  multi-layered mysteries are intriguing and I enjoyed each of the protagonists, who are believable and relatable. I felt the book could have been more tightly edited for length and also to clarify some unfortunate plotting decisions. I was also surprised by the level of steaminess—not pornographic by any means, but not quit fitting with her propriety one would expect from a book set in the early 19th century. Still, The Secret of Pembrooke Park was a very satisfying read and one I would recommend to any lover of historical mystery. My Rating: 4 stars.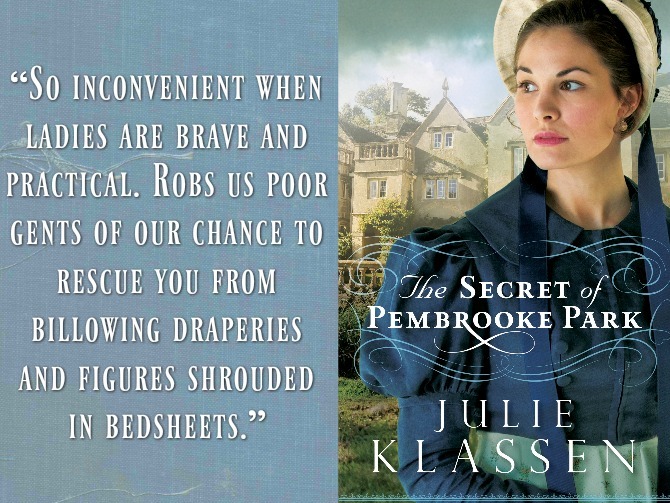 ---
The Silver Linings Playbook, by Matthew Quick: Pat Peoples was recently released from a psychiatric facility, with no memory of the exact events that brought him there. Now living at home with his codependent mother and negligent father, Pat is determined to make over his life and his body in order to find a happy ending with his estranged wife, Nikki. But Pat finds himself in a sea of sad endings, from the repeated losses for his beloved Philadelphia Eagles to the depressing novels he has been reading in search of literary silver linings. Then there is Tiffany, the depressed sister of his best friend's wife who seems set on making Pat's life even more complicated. With the help of his eccentric therapist, will Pat find his own silver lining or is he destined to fall short of his happily-ever-after?
This is a powerful story of hope struggling to thrive amid personal tragedy and inner turmoil. The characters are vivid and Pat's narration is gut-wrenching but endearing, although I did have some difficulty reconciling the juvenile tone of his narration with the actions of his character (leading me to wonder about the exact level of his mental illness).
I've wanted to read this book since I saw the move two years ago. I don't recall specifics of the film, though I do remember it being much funnier than the book. For once I am glad I watched the movie first, as it gave me a good mental picture of the characters as I read. Even apart from the movie, this is an engaging and thought-provoking novel that has me eager to read more from Matthew Quick. My Rating: 4 stars.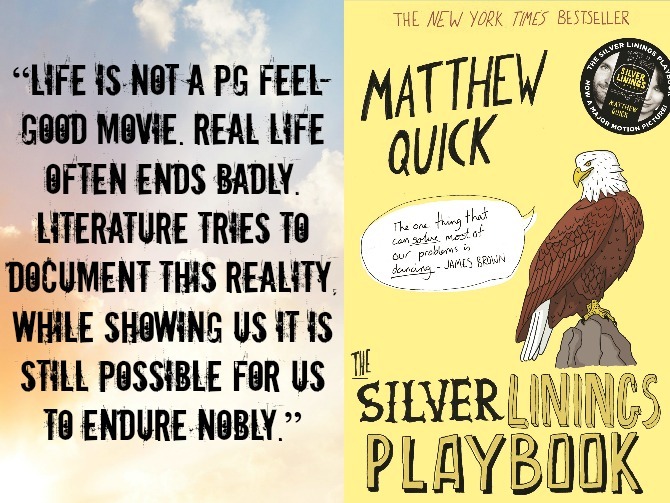 ---
This Is the Story of a Happy Marriage, by Ann Patchett: I've been drawn to memoirs lately, particularly those written by people who make a living with their writing. After hearing portions of an Ann Patchet essay read on a podcast, I knew I would love her most recent collection of essays.
This Is the Story of a Happy Marriage covers a range of topics: relationships, dogs, the police force, banned books, and of course, the life of a writer. As stand-alone pieces, each essay is insightful and entertaining, and together this eclectic mix of stories paints a vivid portrait of Patchett's life and work.
I've yet to read one of Patchett's novels (State of Wonder has been on my TBR since Elizabeth Gilbert's references to it in Big Magic), but she is a phenomenal writer of nonfiction. While I didn't love every essay in this collection, the good ones are truly outstanding. (I especially resonated with "The Getaway Car," which inspired last Friday's post). I differ from Patchett on several political points, and am puzzled by some of her life choices, but I admire her writing talent and hope to read more of her work. My Rating: 4 stars.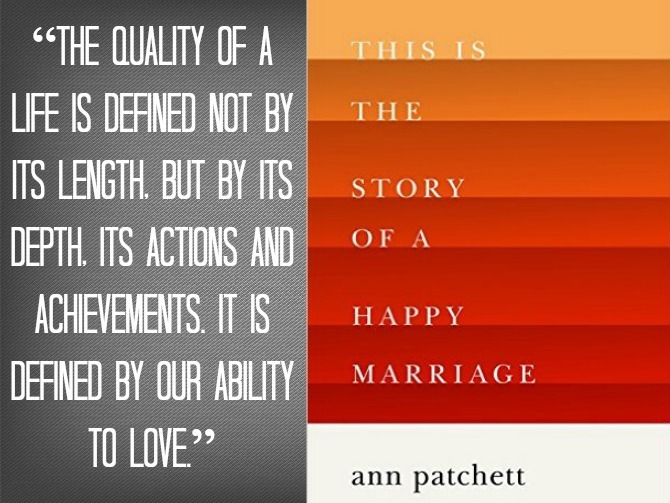 ---
Lila: A Novel, by Marilynne Robinson: In this book that has been described as an instant classic, author Marilynne Robinson returns to the town of Gilead to tell the story of minister John Ames's young wife, Lila. From her impoverished beginnings to her years of aimlessly roaming the countryside with an unexpected caregiver, Lila's early life followed a difficult trajectory. She has known nothing but heartbreak and brokenness before finding herself welcomed into the arms of the benevolent Ames.
This poignant novel is rich with spiritual themes and subtle layers of meaning. The story does not move quickly, but vibrant characters and lovely prose carry the novel when the plot slows. It took me several chapters to warm up to his one, but by the end, this sweet story had won me over. My Rating: 4 stars.
(A couple of notes: 1) Though Lila is a prequel to Gilead, both novels can easily stand alone. 2) I listened to the audiobook and while the reader has a lovely voice, I had a hard time following the shifting timeline without any visual cues, so I wouldn't recommend listening to this one. )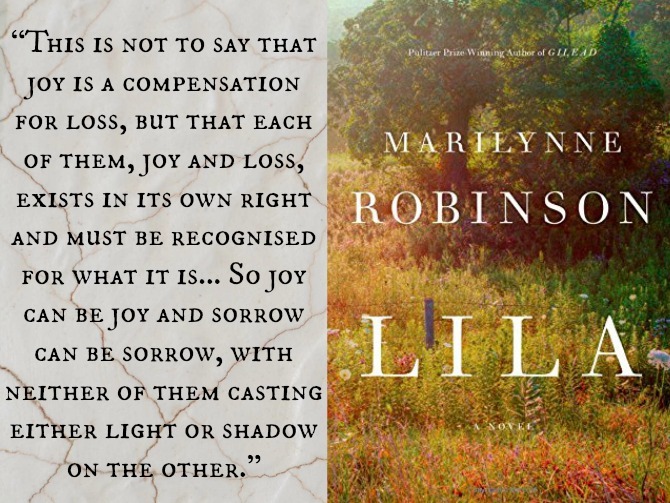 ---
Eligible, by Curtis Sittenfeld: Eligible is Pride and Prejudice unlike we have ever seen it. The Bennets are an eccentric family with five grown daughters. At nearly forty, Jane is a yoga instructor attempting to become a mother via sperm donor; her sister Liz is a magazine writer engaged in an affair with her best friend; Mary is an antisocial homebody working toward her third college degree; and Kitty and Lydia are jobless twenty-somethings who spend their days at CrossFit. Anxious to see her daughters married off, Mrs. Bennet orchestrates a family introduction to Chip Bingley, a surgeon and former star of a Bachelor-like reality show. The appearance of Chip and his best friend, Fitzwilliam Darcy, ushers in all manner of miscommunication, chaos, and complicated love for the Bennet sisters.
I adore Jane Austen, but Austen fan-fiction can be a bit hit-or-miss. While Eligible is much racier than I anticipated, I found it to be a delightful read. Sittenfeld preservers both the story and satirical tone of Austen's original work while making the book feel current. Some of the elements are somewhat over the top, though I am sure many of Austen's contemporaries felt the same about Pride and Prejudice. My one complaint with this book (besides the over abundance of on-screen sex) was the fact that the characters' actions were not in line with their ages: the story would have made more sense if all of the sisters were about ten years younger. Still, a very fun reimagining of a beloved classic. My Rating: 4 stars.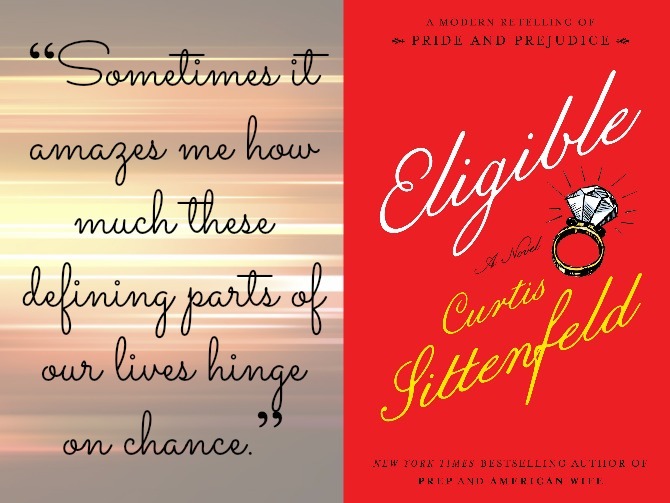 ---
How Children Succeed, by Paul Tough: In this Malcolm Gladwell read-alike, Paul Tough argues that success in life is less attributable to IQ and strong school curriculum and more dependent on things like character, resilience, and a nurturing upbringing. Through the stories of young children struggling to overcome life's obstacles, Tough demonstrates the malleability of intelligence, the value of secure attachment, and the power of perseverance and optimism.
Tough makes some interesting and sometimes surprising points (though many of his "groundbreaking findings" are simply common sense). However, his hypotheses rely too heavily on anecdotal evidence and lack the oomph of formalized studies. Ultimately, Tough raises more questions than answers (an expected problem given the broad subject).
The biggest shortcoming of Tough's book and premise is his definition of success as attending and graduating from college: there are many successful paths that don't involve a college degree, and I would argue that not every college graduate is "successful," even in the narrowest sense of the world. How Children Succeed is a good starting point for discussion but not the definitive solution it claims to be. My Rating: 3 stars.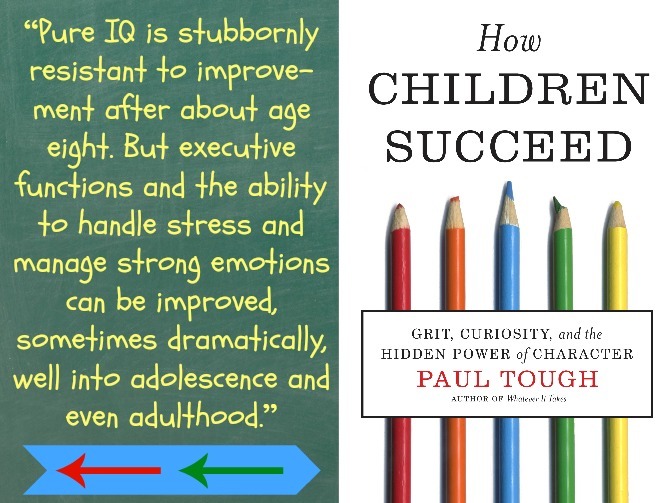 ---
As always, if you've read any of these books, I'd love to know what you thought: did you share my opinions or wildly disagree? Leave a comment to let me know! I'd also like to hear what you have been reading lately! And head to Modern Mrs. Darcy's monthly Quick Lit link-up, where bloggers from across the internet are sharing what they have been reading this month.
Save
Save
Save
Save
Save
Save
Save
Save
Save
Save
Save