I am so excited about the titles I am reviewing today! All five books are standouts, each for their own reasons. Let's get right to the reviews!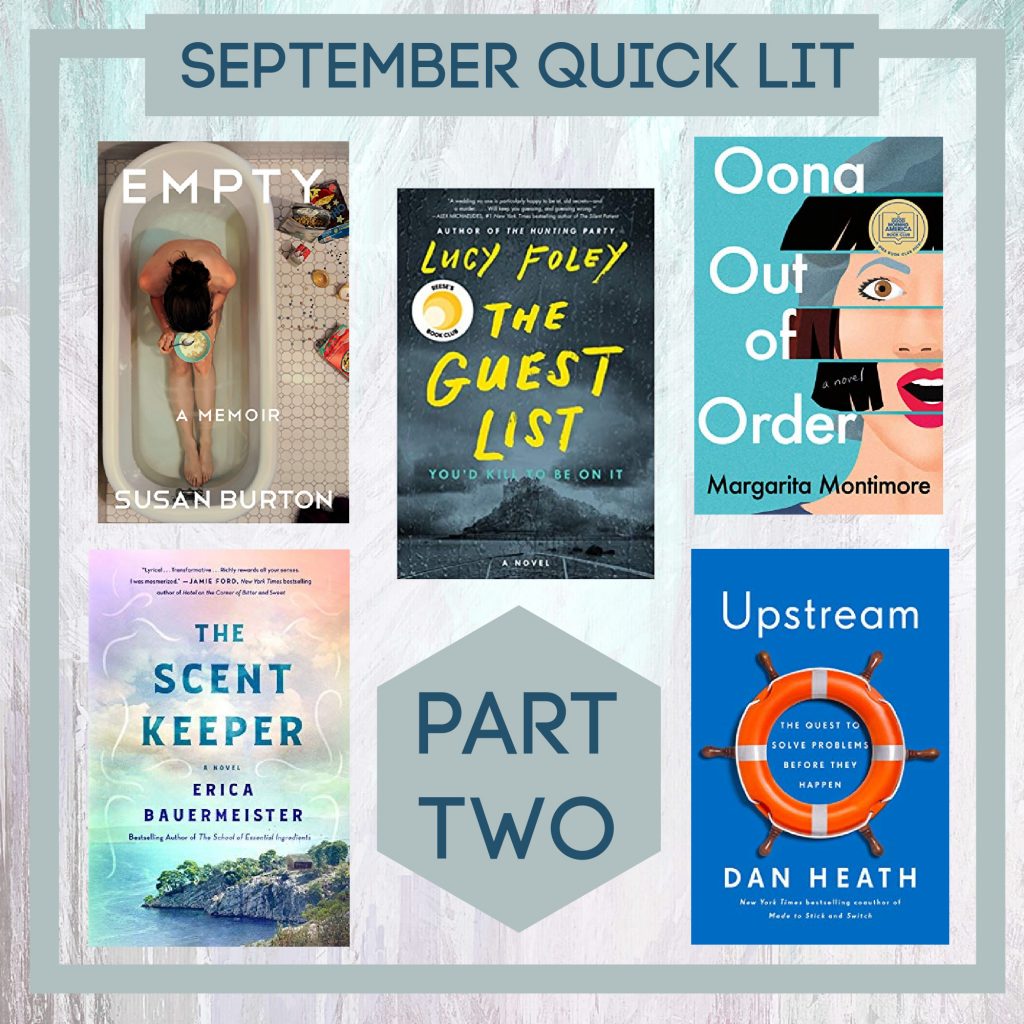 The Scent Keeper, by Erica Bauermeister: Emmeline's childhood on a remote island is as enchanted as the fairytales her father tells her every night. Emmeline and her father spend their days exploring the island through their senses, which allow them to unlock many secrets of the natural world. However, Emmeline's father retains some secrets of his own, including the mysterious scents that fill the drawers of their cabin, and the inner workings of the peculiar machine that captures scents like a Polaroid Camera for smells. Emmeline's magical childhood comes to a screeching halt when disaster strikes and she is forced to leave the comfort of the only home she has ever known for the hardship and cruelties of life beyond the island. With her sense of smell as her guide, Emmeline embarks on a quest to understand her personal history. Along the way she encounters bullying and suffering as well as love, compassion, and belonging.
This is a remarkable coming-of-age story with a touch of magical realism, a sprinkling of fairy tale, and liberal doses of hardship and trauma. The writing is lyrical and vibrant, with the power of scent guiding the story and the prose in some intriguing ways. In my own reality, smell is often the forgotten sense, yet it comes to life in this novel in ways I didn't believe possible in a work of contemporary fiction. Scent is the true protagonist in this story, though the narrator (Emmeline) is also a vivid and sympathetic character. I enjoyed viewing the world through the lens of her unique childhood and teen experiences.
The Scent Keeper explores some challenging themes including childhood trauma, secrecy, domestic abuse, and mental illness, but the overarching tone is mostly hopeful, and the lovely storytelling prevents the book from unbearable heavIness. Perfect for fans of Where the Crawdads Sing and The Great Alone (but if you didn't care for those books, don't let the comparison scare you away, as I personally enjoyed this book more than either of those). I didn't love the ending of The Scent Keeper, but appreciated its unique structure and found the conclusion fitting, if not totally satisfying.
My Rating: 4 Stars.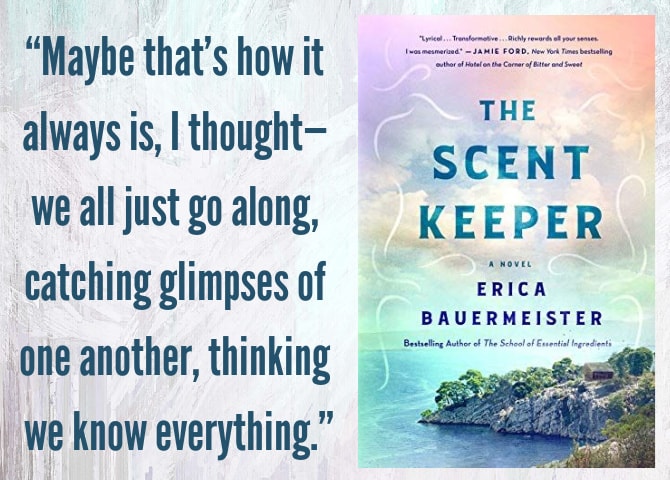 ---
Empty, by Susan Burton: For years, Susan Burton felt compelled to write a book about adolescence: she was fascinated by the history of teen girls, and particularly intrigued by her own coming of age. But as her manuscript started to take shape, a more specific story began to emerge; almost without her knowing and certainly without her permission, her objective exploration of adolescence had been reduced to an autobiographical look at her own youth and specifically at the eating disorders that dominated her teen years and continue to have a hold on her to this day. For almost thirty years, Burton carried the secrets of her compulsive overeating and anorexia. In Empty, the middle-aged author emerges from years of secrecy and shame to share the intricacies of her complex and deeply tormented relationship with food.
My own decades-long battle with disordered eating was what drew me to this memoir, and Burton's experiences reflect my own in some shockingly similar ways. Entire chapters of this book could have been ripped from my own journals, and reading it made me feel both known (comforting) and exposed (horrifying). Burton tells her life story through the lens of her relationship with food—something that has always permeated every facet of her existence—beginning with her childhood, and with extra page time devoted to those years in which her starving and overeating were at their peak. He storytelling is at once specific and universal, with prose that is vividly corporeal, engaging sensations and elucidating emotions once dulled by endless cycles of binging and restriction.
I haven't read many eating disorder memoirs because they are often triggering for me. Empty is exceptional in that Burton captures the essence of an eating disorder without delving into potentially-triggering specifics. (She never shares her weight, food amounts, or other troubling metrics.) She also refrains from relying on ED-recovery psychobabble or common eating disorder tropes to describe her experience, sharing instead from frighteningly deep introspection and brazen reflection. As a result of her willingness to excavate her most painful memories, we as her audience are gifted with a collection of brutally honest anecdotes that encapsulate the science, psychology, and absurdity of an eating disorder in a way that only someone who has endured food-related trauma ever could.
This book is unique among addiction memoirs in that it isn't entirely a story of the past: Burton is honest about her continued struggles with food, and admits that sharing the secret of her disorder (something she'd never done before penning this memoir) is one hopeful step towards exorcising her demons once and for all. Some may be disappointed by this lack of resolution To her journey, and I agree that I generally prefer to read survival stories written from scars rather than open wounds. In this instance, though, I found the in-process nature of Burton's memoir refreshing—possibly because I, like Burton, have overcome the worst of my disorder without having conquered it entirely. Her willingness to share from a position of not-quite-recovered is inspiring and redemptive.
Empty is one the most viscerally courageous and transparent pieces I have ever read. Burton's storytelling utterly wrecked me, prompting me to reflect on my own eating disorder journey in uncomfortable yet helpful ways. Superbly written and emotionally resonant, Empty is a book that will be with me for years to come.
My Rating: 5 Stars.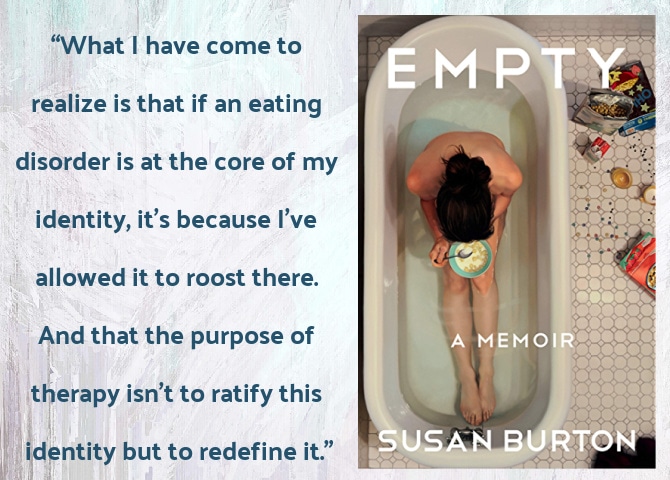 ---
The Guest List, by Lucy Foley: On an island off the coast of Ireland, guests gather for the high-profile wedding of a reality show star and an ambitions magazine editor. The weekend's happenings are told from the perspective of five characters: the bride, the best man, the wedding planner, the bride's sister, and the wife of the bride's best friend. Despite perfect planning and meticulous attention to detail, the weekend gets off to a rough start when old resentments resurface, past secrets are exposed, and guests resort to poor behavior. Sprinkled throughout the narrative are flashes forward to the wedding night, where someone ends up dead, but we don't know who the victim is, how he or she was killed, or why.
With its creepy island setting and locked door premise, I can understand why this book is being compared to an Agatha Christie classic, and while no book can measure up to Christie's masterpieces, this was certainly an entertaining and wonderfully crafted mystery. Though the characters are deeply unlikeable, I enjoyed the round-robin narrative style that slowly exposes the motives and experiences of each character and the various dynamics between members of the wedding party and other guests. The mystery has numerous red herrings that kept me on my toes to the very end. Head's up for sensitive readers: while there isn't much gore, there is quite a bit of language, sex, and sensitive themes. Despite not loving those aspects, I found this to be a sinfully delicious read.
My Rating: 4.5 Stars. (Rounded down to 4 stars on Goodreads)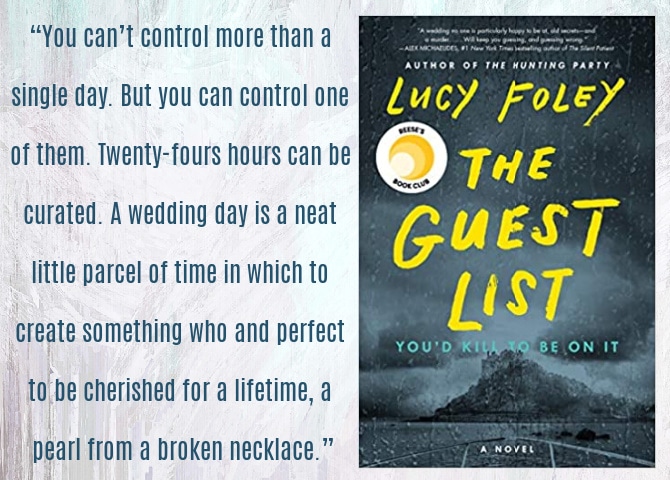 ---
Oona Out of Order, by Margarita Montimore: It's New Year's Eve 1982, and Oona Lockhart will be turning nineteen at the stroke of midnight. Though she hasn't yet decided whether she will go to London to study economics, or remain in New York to pursue music alongside her boyfriend, she knows that the year ahead will be momentous. But then, just as the countdown to the new year begins, Oona faints, and wakes up thirty-two years later in the body of a fifty-one-year-old. After a period of confusion, Oona comes to understand the facts of her existence: Oona does not experience life in chronological order, but instead jumps to a new age with each turn of the calendar year. She never knows what year she will wake up in on January 1, or how old she will be.
As Oona hops through the decades, she begins to piece together the picture of her life—a life with many seasons, several friends and lovers, various careers, and countless highs and lows. Oona struggles to know how much she can/should attempt to alter her past and future, all while keeping her secret from nearly everyone around her.
In recent years I've become a huge fan of time travel novels as well as novels featuring parallel existences, and the premise of Oona Out of Order is a sort of conglomeration of those two things. It's a unique and fascinating premise and while high-concept books like this one can sometimes feel gimmicky, I found the premise here to be incredibly well executed. Though I wish we were give an explanation for Oona's time travel "condition," I was able to put aside my questions because I was so immersed in Oona's journey. Oona isn't a particularly easy character to root for, and she is surrounded by a cast of equally unlikeable characters, but I appreciated the maturity and growth Oona demonstrates—a phenomenon that was interesting to witness, as her mind is maturing at different rates than her body. Oona makes some important discoveries about what it means to be a human, how we relate to others, and the experience of aging in body and in mind.
I found this to be one of the more thought-provoking novels I've read in quite a while, as it prompted me to reflect on my own life and relation to time. How might I do things differently if my existence were not in chronological order? What would be important and what would I be willing to let go of? Would I learn the lessons I needed to learn at each stage, and would I attempt to control other life stages or simply go along for the ride? This would be such a delightful book club choice that could evoke some enlightening discussion.
My Rating: 4 Stars.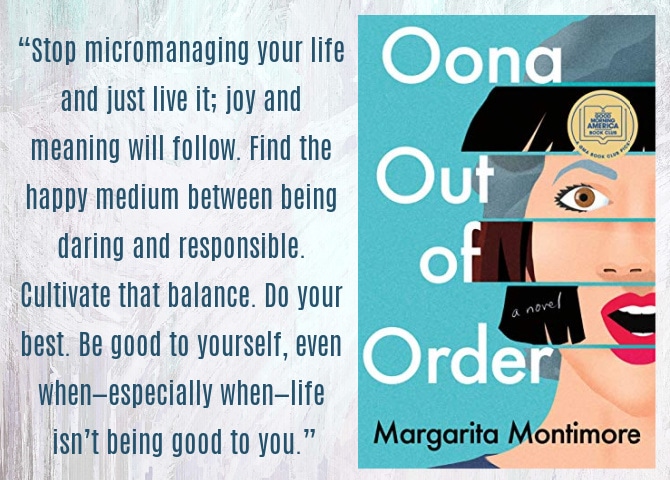 ---
Upstream: The Quest to Solve Problems Before They Happen, by Dan Heath: Upstream begins with the following anecdote:
"You and your friend are having a picnic by the side of a river. Suddenly you hear a shout across the waters – a child is drowning. Without thinking you both dive in, grab the child and swim to shore. But before you recover, you hear another child crying for help. You and your friend again swung into action to rescue. Then another struggling child drifts into sight… then another… then another. The two of you can barely keep up. Suddenly you see your friend wading out of the water, seeming to leave you alone. 'Where are you going' you asked, to which he responded: 'I'm going upstream to handle the guy who's throwing all these kids in the water.'"
As individuals and as a society, we spend most of our time "pulling kids out of the water", dedicating our time and resources to putting out fires and producing band-aid fixes. We stay downstream, handling problems as they come, rather than working our way upstream to fix the systems that got us into trouble in the first place.
Upstream explores three psychological problems that push us downstream (blindness to the problem, lack of ownership over the problem, and tunnel vision that confines us to short-term/reactive thinking). It then outlines several practical solutions for preventing problems rather than simply reacting to them. To illustrate these principles, Heath introduces us to several proactive thinkers who have solved seemingly insurmountable problems such as school dropouts and astronomical c-section rates. He also highlights a few modern problems (mass shootings, health care, environmental concerns) and demonstrates how upstream thinking could lead to long-term solutions.
I've read several of the books Dan Heath has written with his brother Chip and loved each of them, but this might be my favorite. Since hearing Dan Heath interviewed about the book on Armchair Expert, I have not stopped thinking about the upstream approach, especially as it pertains to the biggest issues we are facing as a nation today (namely systemic racism and the COVID pandemic). I wish that more people were focused on upstream solutions, thinking through the long-term implications of various decisions and also working backwards to the root of these problems and using that as a starting point for making the best decisions moving forward.
This is an outright fascinating read, and one with an extremely important premise that works on so many dimensions: I love that the concept of Upstream thinking can be applied at both the macro and micro levels. (Heath explains how we can integrate these principles into our personal lives, which is something I have begun to do.) I also appreciate the elucidation of how past decisions/habits have present-day consequences, and how present decisions can in turn affect the future; large scale thinking is pretty much my favorite, and this book does it SO WELL!
My only criticism is that Heath doesn't always take differing values into consideration in his examples (his suggested solutions are not always as straightforward or uncontroversial as he would make them seem), and I feel that he doesn't go far enough upstream to address even broader causes at play. Still, this is a powerful book that—though published before the events of 2020—is an incredibly timely read.
My Rating: 4.5 Stars. (Rounded up to 5 stars on Goodreads)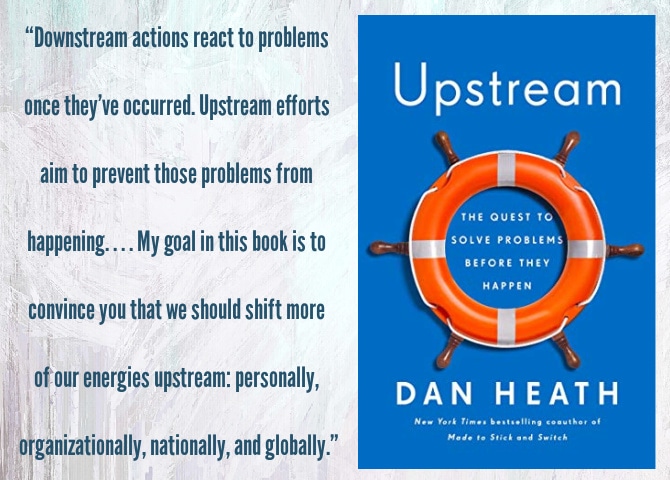 ---
I'm linking up with Modern Mrs. Darcy to share what we are reading this month. If you are here from the linkup, thanks for stopping by! You can read Part One of this month's book reviews here.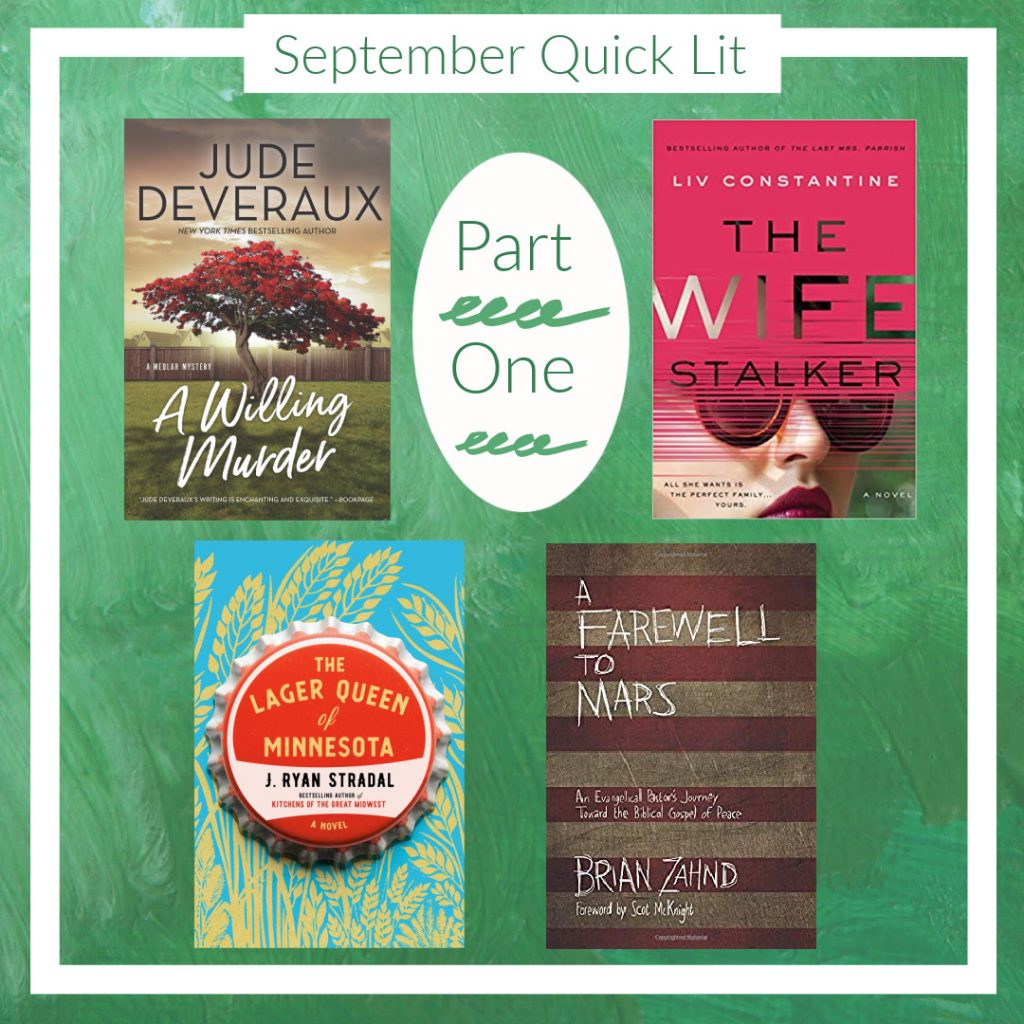 And check back here next Monday when I'll be sharing reviews of four other books I've read recently.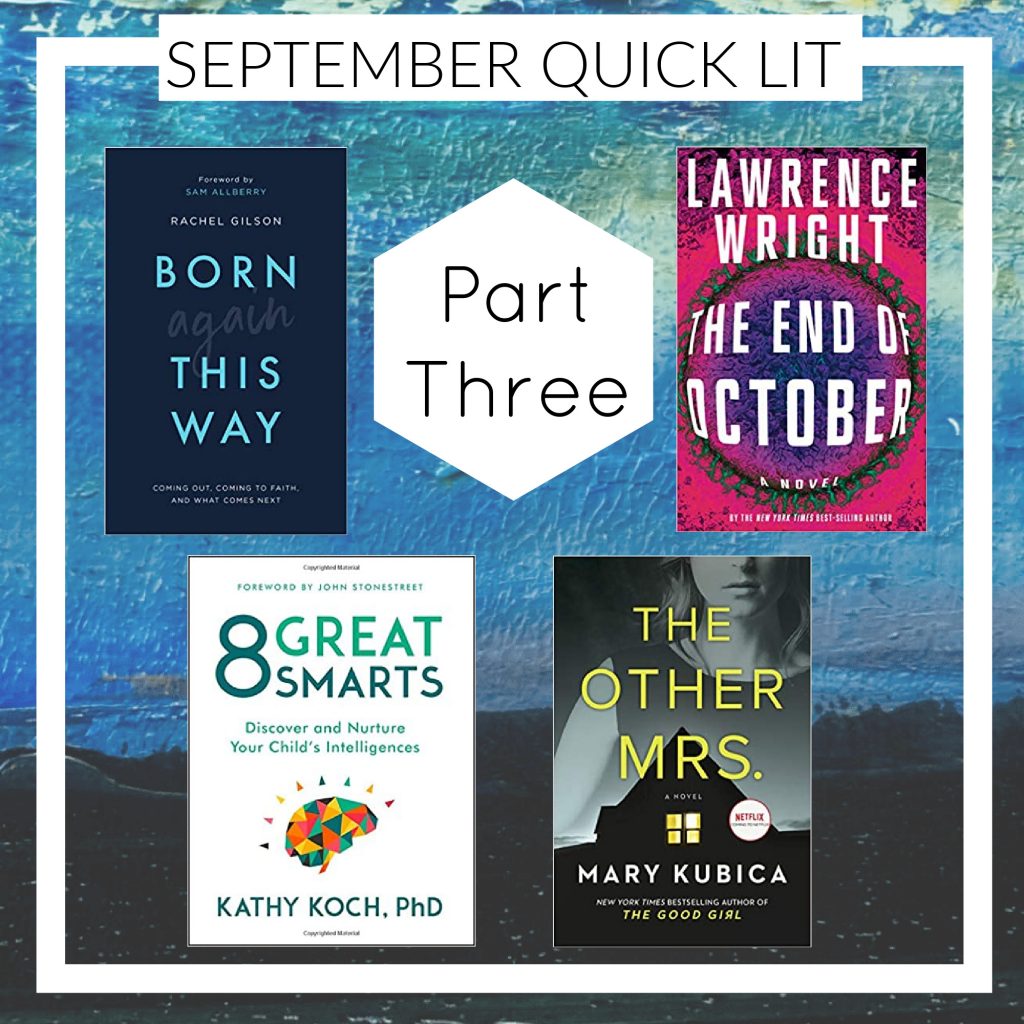 What is the best book you've read lately?