As this year of pursuing Wholeheartedness has unfolded, a key virtue that has risen to the surface (of my consciousness if not always applied awareness) has been integration: I want to live a life in which my beliefs and faith are fully integrated with every aspect of my being. Wholeheartedness begins with a Christ-centered vision for spirit-filled living, but it cannot end there. By its very definition, wholeheartedness implies an extension into the WHOLE of my being: proper belief and right-thinking extending out into my emotions, my actions, my habits and my decisions.
This is not always easy for me. I have no idea if the tendency to compartmentalize is common to all humans or a unique quirk of my own personality, but I struggle to keep each of the parts of me from being their own thing. Too often my faith and relationship with God lives in one box, my interpersonal dynamics live in another, my work and leisure live someplace else entirely. Even when it comes to motherhood—which is both a key aspect of who I am and what I do with a vast majority of my time—I find it difficult to merge my mothering with embodied faith. A desire to gain clarity on this marriage of faith life and mom life led me to pick up Leslie Ludy's Set-apart Motherhood, a book that has literally been on my shelf for years and was just waiting for the proper time to be read.
Leslie Ludy is a self-proclaimed "real mom" to six kids (four at the time this book was written). She begins her book by acknowledging that her "days are filled with moments that are oh-so-real-life, not to mention unglamorous and unromantic." But just because motherhood can be a little messy does not mean that she is accepting chaos as the norm, or resigning herself to the belief that motherhood needs to be a constant struggle. Instead, she has "purposed not to settle for anything less than His pattern for motherhood—and His pattern is victorious, joy-filled, and beautiful." The notion that motherhood can be beautiful is hard for some of us to accept, especially on those days (or in those years) when motherhood feels everything BUT attractive. But as Ludy has discovered—and as she wants her reading audience to discover too—is that "motherhood can be marked by beauty, joy, and incredible fulfillment when [we] focus on Jesus Christ, instead of on all the inconveniences and struggles [we] face along the way."
Set-Apart Motherhood is a call to rise above mediocrity, stepping into the fulfillment that can be found in raising children and running a home when God is at the center of our mothering and our home life. We reap the benefits from this pursuit, as do our children; it also glorifies our Heavenly Father, and though the intention is not to impress others with our parenting skills or homemaking abilities, set-apart motherhood can also serve to point onlookers to the Lord as well.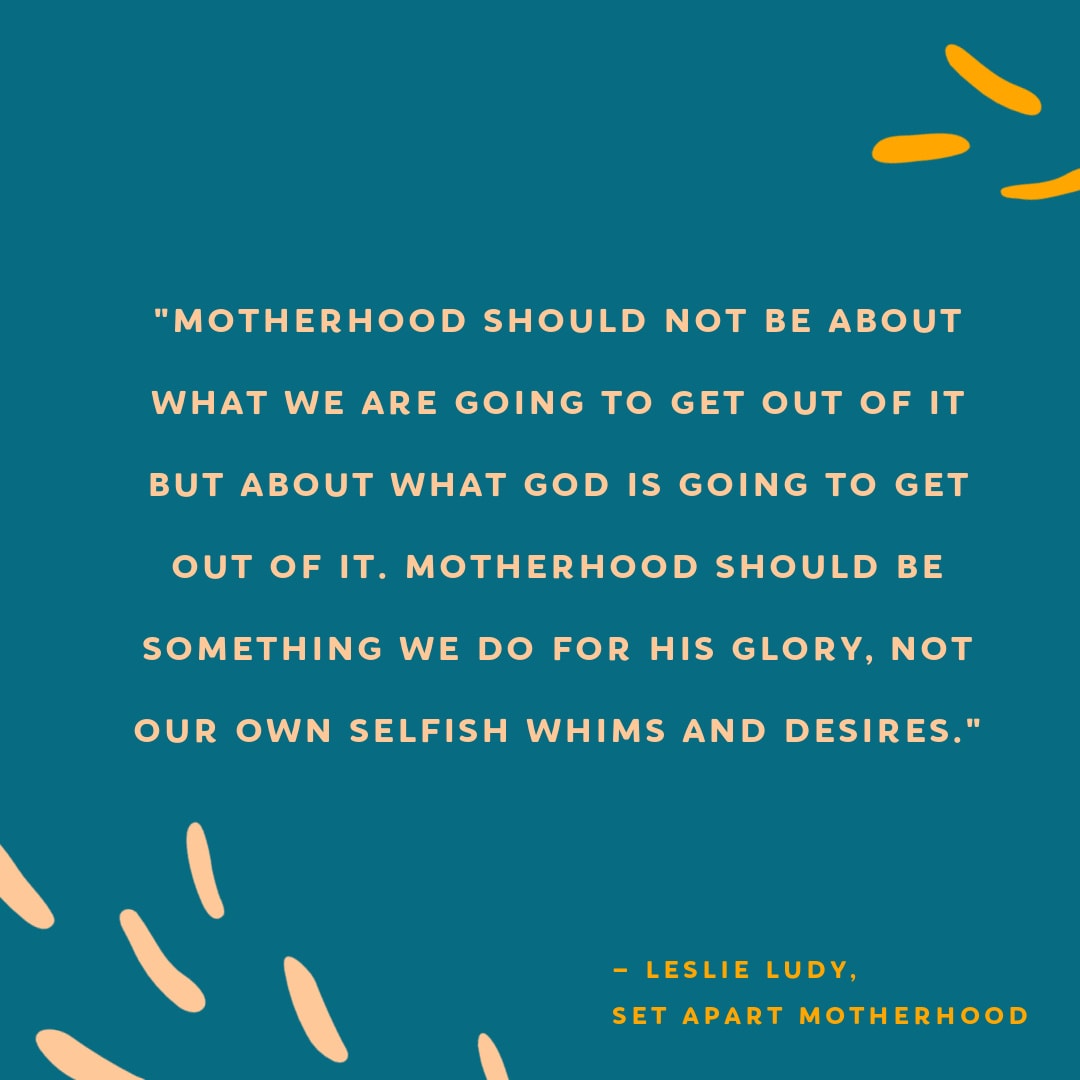 About half of this book is dedicated to chapters on how to make set-apart motherhood practical. Luddy offers tips for taming the chaos in our homes, transforming our homes into havens of peace, establishing healthy routines, and nurturing the faith lives of our children. I'll admit that when I began reading through these chapters they felt a little dated: were these ideas truly Biblical, or simply attractive-sounding 1950s ideals repackaged with Christian rhetoric and twenty-first century anecdotes? As I read, though, I discovered that these strategies were not just compelling (though they were that) but also rooted in Biblical principles. For instance, a chapter on reducing the frazzle and frenzy in our home offers suggestions for how we spend our "me time"—not with pampering or productivity, but in time spent meditating on God's Word. A chapter on bringing beauty into our homes does not offer ideas for making our houses Instagram-ready; instead, it focuses on how thoughtful homemaking is an act of love and how bringing peace and order into our homes can reflect God's nature and help our families thrive.
Ludy reminds us that order and structure are gifts from God and help us focus on our priorities; this mentality sets the tone for sections on how to establish healthy family rhythms and routines. I appreciated Ludy's ability to bring Biblical purpose into ordinary activities, offering a why for the ins and outs of motherhood and homemaking beyond cultural expectations or a felt need to prove ourselves as competent moms. Each chapter ends with relevant Scriptures to meditate on and discussion/reflection questions for exploring these concepts and applying them. I came to the end of each chapter feeling thankful for the hand-holding in meshing Biblical ideas with the types of things I'm doing in my home and with my kids each day.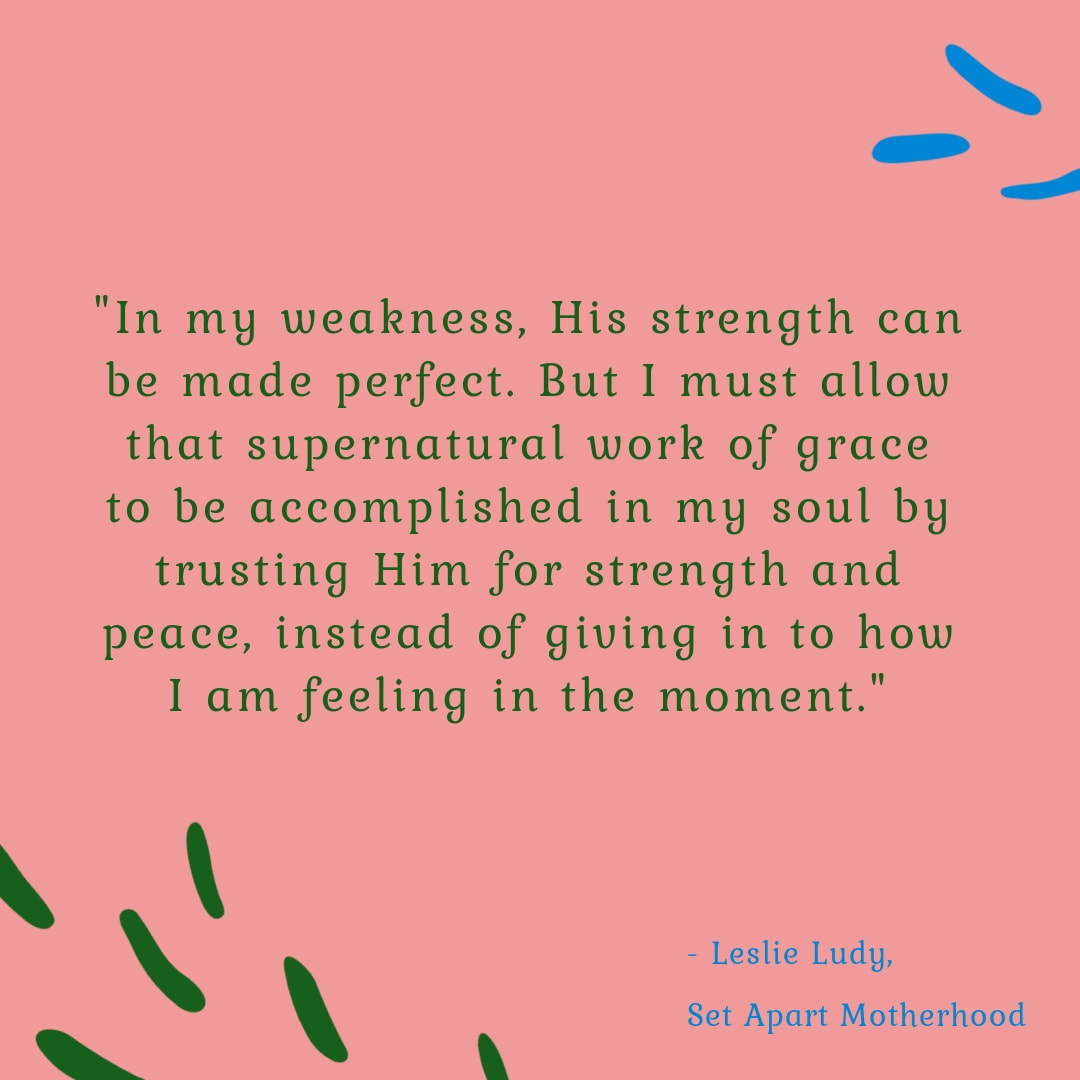 The final section of the book focuses in on the hearts of our children and on our own hearts as moms. Ludy offers specific tools for praying for our kids and growing in our faith. We are also given chapters on building our mothering resilience, learning to entrust our children to the care of the Creator, and training our children in honorable behavior. Again, aspects of these chapters felt a little legalistic at first, but sitting with the principles a bit helped me see that it was a secular influence (rather than genuine Truth) stirring up these impressions: it is not culturally popular to raise our children to be honorable ladies and gentleman, but there are clear Biblical reasons for instilling honorable behavior into our children—not to impress others, or because we feel that their salvation depends upon their ability to demonstrate good manners, but because we are raising our children to be the Christ-honoring men and women God wants them to become, and "honor training" prepares their hearts for the Gospel and for a lifetime glorifying the Lord.
This book was published in 2014, and though that is objectively not all that long ago, the world has changed a lot in that time. From growing reliance on technology to increased cultural resistance to Christianity and ever-evolving ideas about motherhood and homemaking, the audience for whom Leslie Ludy wrote this book is not the same as the audience reading it today, just eight years later. Personally I liked stepping back in time just a bit, as the vision for motherhood and homemaking set forth here is much more in line with what I hope for my family. (Whether or not that is entirely practical is another story. . .)
While I always need to resist the pull towards perfectionism and legalism that books like this one can bring out in me, I found this to be a worthwhile and encouraging read that met—and even exceeded—my desire for a book that would bring my faith life down into the mothering trenches. Leslie Ludy is helping me see how simple things like dressing with dignity, staying consistent with bedtimes, and having my kids engage in sitting practice at mealtimes can have Kingdom implications. Not every woman is called to be a mom, and certainly not every mom has the calling or privilege of staying home with her kids; as a woman who has been called to this role, I am feeling inspired to embrace the joy and beauty of our own family life in ways that reflect Christ to my children and help us all exhibit wholeheartedness in our spirits and in our home.