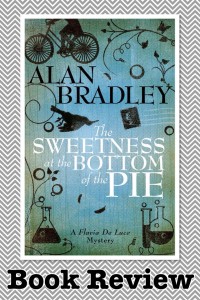 I have a long-standing love affair with fictional detectives and their various shenanigans.  I cut my teeth on the adventures of the Boxcar Children and the Bobbsey Twins, worked my way through the escapades of Nancy Drew and the Hardy Boys, and eventually arrived at the thrilling conundrums tackled by Miss Marple and (my personal favorite) Hercule Poirot.  A few television investigators have captured my heart as well (I'm looking at you, Jessica Fletcher and Monk).  I have encountered numerous other detectives, but most fall into the category of "entertaining, but not particularly memorable."  However, I recently discovered a new young sleuth who is engaging, unconventional, and totally unforgettable.
Flavia de Luce, heroine of The Sweetness at the Bottom of the Pie, is a precocious 11-year-old with a passion for chemistry, an invincible spirit, and a flair for the dramatic.  Flavia lives in the English countryside with her reclusive father and her two antagonistic older sisters.  In the summer of 1950, a series of mysterious events begins when the family's housekeeper discovers a dead bird on the doorstep, a postage stamp pinned to its beak.  Shortly afterward, Flavia finds a dying man lying in the cucumber patch.  When Flavia's father is arrested for the crime, Flavia takes it upon herself to get to the bottom of the mystery.
Alan Bradley, the book's author, is a 70-year-old first-time novelist who did not initially set out to write about a child detective, but claims that she "hijacked" another story he had been working on.  In 2007, Bradley won the Debut Dagger Award based on a chapter and synopsis of the novel and went on to sign a three-book deal with three separate publishing houses. The book that eventually materialized is an old-fashioned mystery, refreshingly free of profanity and gratuitous sex or gore.  The novel is written in the style of the Golden Age of Crime Writing and was influenced by Bradley's favorite authors, including Dorothy L. Sayers, Arthur Conan Doyle, and Agatha Christe.  Based on the age of the protagonist, I had assumed – prior to reading this book – that it was written for children, but with its complex plot and mature themes, The Sweetness at the Bottom of the Pie is definitely a book for adults.
I credit the intrepid young Flavia de Luce for initially warming me to this book, but it was the clever mystery that kept me loving the novel to the very end.  I am looking forward to reading more of the Flavia de Luce mysteries!
My Rating: 4 out of 5 Stars