I've so enjoyed sharing our family's best-loved items with you through this Tried & True series. My hope is that you have had some fun getting a peak behind the curtain of our family's home life, and possibly gotten some ideas for tools, toys, books, and gear that you might want to add to your own household or buy as a gift.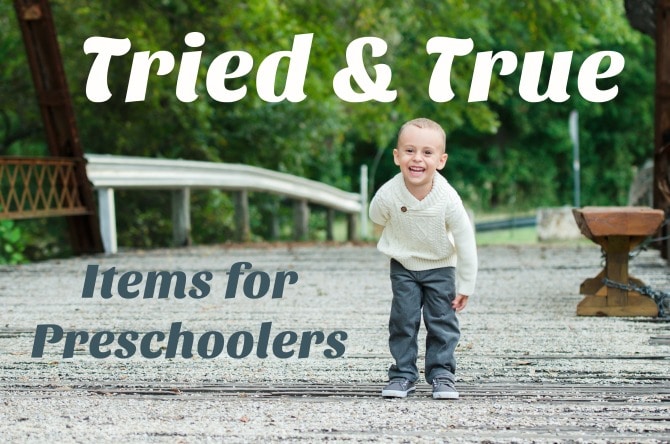 Today, I'm sharing what will likely be my final installment of this series—at least for the time being. (I'm sure I'll eventually have a master list of Tried & True items for twins, and I might share some Tried & True holiday items in December.) This list was a lot of fun to compile because it contains the toys and gear Charleston is loving right now, as a spunky four-year-old. Many of these items have been with us since he was just two years old, others are more recent additions. And everything on this list is something he loves and that I, as a mom, would wholeheartedly recommend.
Micro Mini Scooter ~ Charleston has had this scooter since he was two, and he still rides it ALL THE TIME and has mastered a number of tricks. The scooter is well-constructed and loads of fun. Pro Tip: invest in some adult scooters, too, so that your whole family can ride together!
BMW Mini Cooper Tricycle ~ Charleston was slow to warm up to this trike, but now he loves it so much he doesn't want to move up to a big- boy bike. This model is hard to find online, but it's worth the hunt: it's one of the classiest I've come across.
Radio Flyer All-Terrain 3-in-1 Wagon ~ Every family needs a wagon. This one is both fun and practical. I love that it folds flat for easy storage and transport. Though we haven't used it in an airport ourselves, I have friends who consider this wagon their best friend for family airplane trips.
Sportspower My First Trampoline ~ Safer than the big kid models, and perfect for helping kids burn off some energy in the yard. Charleston enjoys combining bouncing time with a game of beachball volleyball with the adults in the yard.
---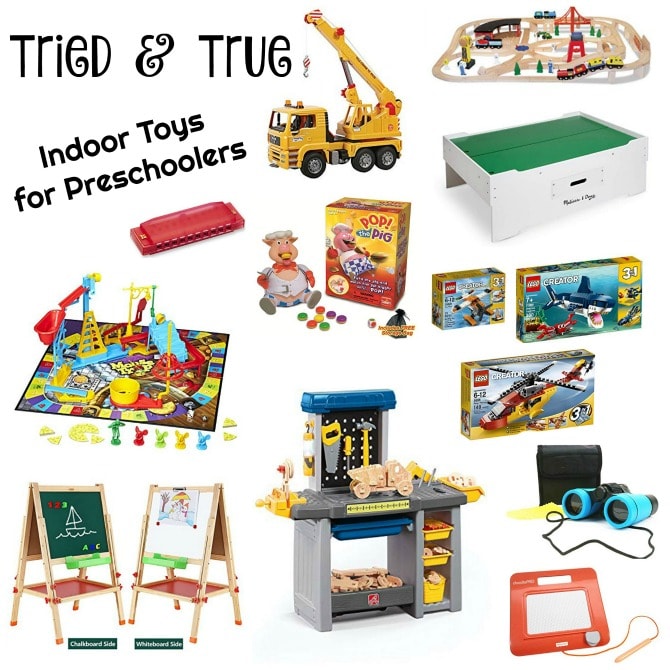 Bruder Crane Truck ~ You really can't beat Bruder's quality when it comes to toy trucks!
Melissa & Doug Wooden Railway Set ~ We've had this train set for nearly three years, and it's still Charleston's most-played-with toy. He continually impresses me with his elaborate track designs, and I enjoy watching him engage in imaginative play with the trains.
Melissa & Doug Deluxe Wooden Activity Table ~ This table is the perfect landing spot for our railway set. It has convenient under-table storage, as well as a huge drawer for storing track pieces and trains.
Kids Translucent Harmonica ~ My little music lover adores this inexpensive, great-sounding harmonica. This would make a perfect stocking stuffer or Easter basket filler.
Pop the Pig Game ~ A simple but fun game. My favorite part is that all the pieces can be stored inside the pig, making for quick and easy cleanup.
Lego 3in 1 Sets ~ These sets have become our go-to incentive prizes. Charleston still needs help assembling these kits, but they've become a fun family activity. With three themed models in each set, these are a fantastic bargain.
Mouse Trap Game ~ Not the easiest game to set up, but Charleston adores this game. I like that it gives him a chance to work on his building skills, making it more educational than most board games for young kids.
Double Sided Adjustable Kids Easel ~ I like having this designated spot for Charleston's crafting. If giving as a gift, be sure to include a smock, paper pads, and some dry erase crayons.
Step2 Handyman Kids Toolbench ~ What boy doesn't love to build? This interactive bench gets a LOT of playtime and lets Charleston feel like a good builder like his daddy.
Scotamalone Kid Binoculars ~ Another great stocking stuffer idea. Charleston has been known to wear these for days on end, removing them only for showers and bedtime!
Fisher-Price DoodlePro ~ Just like the Magnadoodles we grew up with. This is a perfect mess-free toy to keep in the car.
---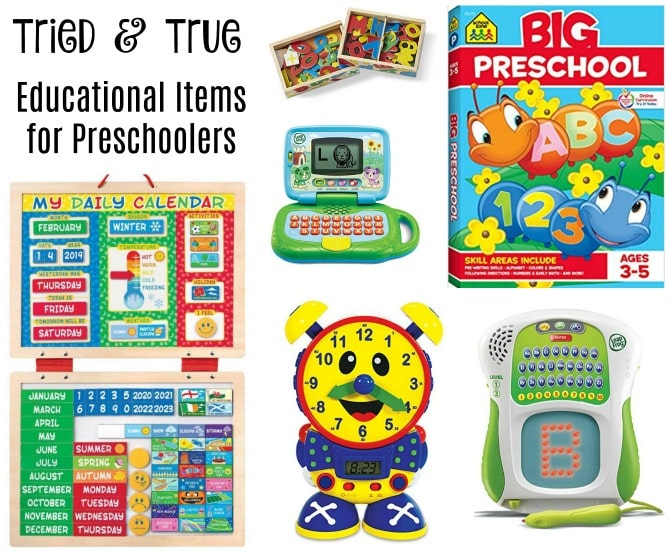 Melissa and Doug Magnetic Letters and Numbers ~ It doesn't get much more basic than these, but they are well-made and a must for teaching letter and number recognition. We like to use a cookie sheet as an easily transportable surface for these.
Leapfrog My Own Leaptop ~ Simpler than a tablet, but still fun. Charleston likes working on his own "laptop" at the desk with Luke and me while we are at our computers.
School Zone Big Preschool Workbook ~ We've gone through a number of workbooks, but found this was the best in terms of both educational value and child interest. Charleston actually WANTED to work in this workbook, which definitely hasn't been the case with others we've tried. It's huge (over 300 pages) and touches on numerous preschool skills.
Melissa and Doug My Daily Calendar ~ This has been a fun tool for helping Charleston understand the calendar and learn his days and months.
Telly the Teaching Time Clock ~ This is an adorable time-teaching tool, as well as a functional clock and nightlight.
Leapfrog Scribble and Write Tablet ~ A great interactive toy that teaches letter formation in addition to letter recognition.
---
PicassoTiles Magnetic Building Tiles ~ Our whole family LOVES these blocks! They boost creativity, are fairly mess-free, and store easily in their own box.
Educational Insights Design & Drill Activity Center ~ A creative toy—great for tool-loving boys like mine—that teaches fine motor skills and pattern recognition.
MindWare Imagination Patterns ~ I've been impressed with how well Charleston is able to recreate the patterns in this magnetic toy. All the pieces store nicely in their sturdy wood carrying case.
ALEX Toys Future Coders Robot ~ A unique activity that teaches sequencing and coding skills. Younger kids can follow the simple colored patters while older kids will be able to practice "coding" by interpreting symbols to recreate images on the robot's grid surface.
Magicfly Marble Run Set ~ I had no idea that a kid could become "obsessed" with marble runs, but Charleston has. (He would happily watch marble run YouTube videos all day long if we'd let him!) This easy-to-assemble set is simple enough for Charleston to build on his own, but Luke and I enjoy helping him with more elaborate courses too.
---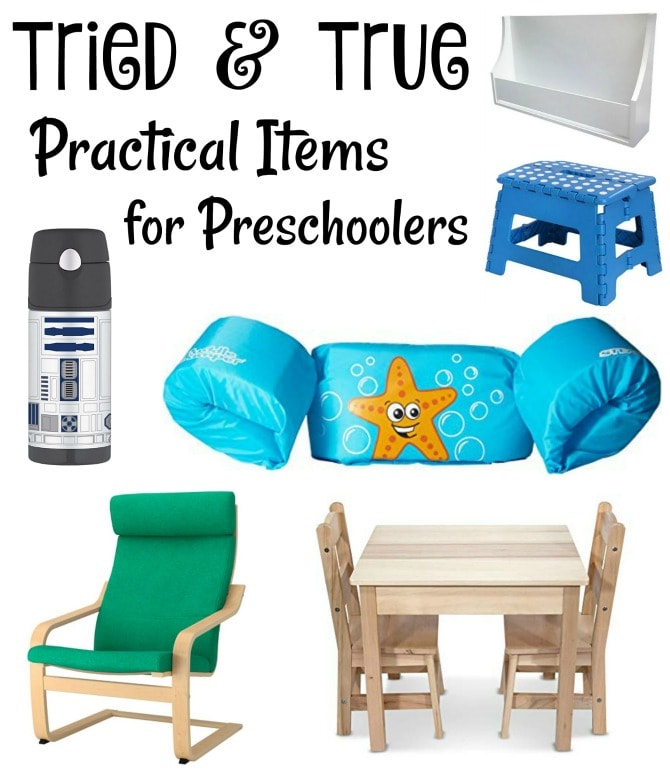 Thermos Funtainer 12 Ounce Bottle ~ This thermos really does keep drinks cold for 12 hours as advertised, and it comes in dozens of adorable styles. We have both the R2D2 and Cars thermoses.
Target Pillowfort Book Shelf ~ These book shelves are well-built and attractive and hold quite a few books. We have them in both Charleston's room and our playroom.
Utopia Home Foldable Step Stool ~ We love this sturdy little stool, which folds flat and gets used as a step stool, a chair (for sitting taller at the coffee table), and a pillow fort prop.
Stearns Puddle Jumper ~ I have this vest to thank for helping Charleston feel comfortable on his own in the water, and for making ME feel much less nervous taking him to the pool on my own.
IKEA Poäng Armchair ~ This is an adult-sized chair that we bought for Charleston's new room when we moved to this house. (His old glider is now in the twins' nursery, but we wanted a reading chair in his room, too.) It's attractive, well-made, and very comfortable, and it comes in a rainbow of colors.
Melissa & Doug Solid Wood Table and Chairs ~ This table gets a ton of use in our house. It's definitely Charleston-sized, but the chairs are strong enough to hold an adult. The small size makes it perfect for our playroom, and I'm a big fan of the chic wood finish.
---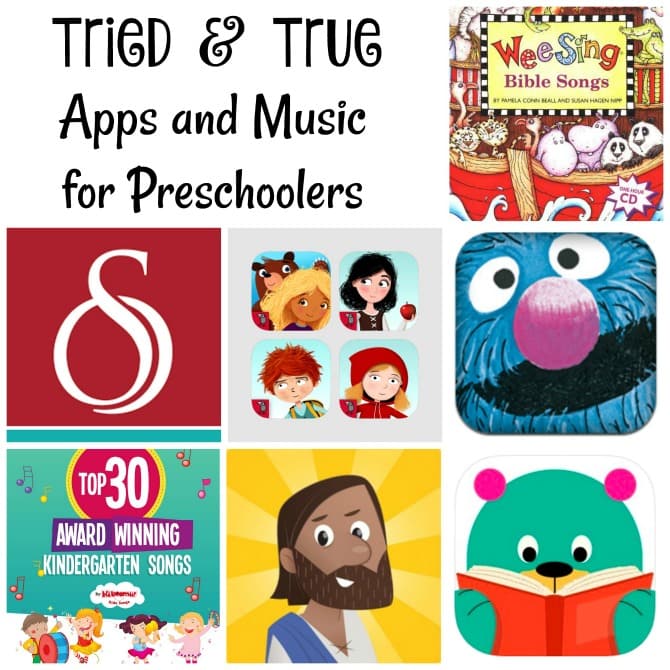 Wee Sing Bible Songs ~ Charleston will happily listen to almost any music, from classical to rock, but we like to throw in some kid songs too every once in a while. This album is a classic and the lyrics have prompted some really great discussions about God and the Bible.
Storyline Online ~ Storyline features videos of well-known celebrities reading quality children's books. The phone app is a little buggy, so I would recommend visiting the website instead.
Nosy Crow Fairytales Bundle ~ This bundle includes six well-designed interactive fairytale apps. We are big fans of the classic fairytales around here and Charleston likes revisiting the familiar tales and playing games as he works his way through the stories.
The Monster at the End of This Book! ~ One of our favorite children's books, brought to life!
The Kiboomers Top 30 Award Winning Kindergarten Songs ~ As an adult, I don't particularly love listening to this album, but Charleston can't get enough of it, and the songs are helping him learn important skills like skip counting, the order of the planets, rhyming, and how to count to 100.
The Bible App for Kids ~ I have been so impressed with the quality and content within this app, which introduces children to 41 well-known Bible stories. We let Charleston do his own "daily devotions" on this app if he is with either Luke or me when we are doing our own daily Bible reading.
Khan Academy Kids ~ I recently discovered this (free!) app and have been blown away by its numerous high-quality educational games that are geared to your child's age and skill level. Since dropping his afternoon nap, Charleston has needed some more down-time activities in the afternoons, and I feel good about letting him spend half an hour doing some playtime/school with Khan Kids.
---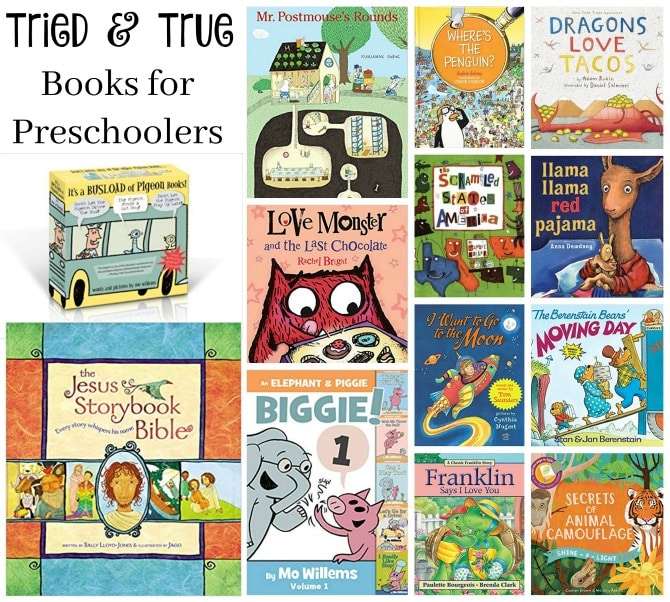 It was hard to limit this list to just a few titles! We are constantly reading new books thanks to our weekly library hauls, and many of them have become much-loved by both Charleston and me. I've included quite a few series in this list (with our favorite title from each series shown in the collage above), as well as a few stand-alone titles that we read again and again. If you are looking for more children's book inspiration, be sure to check out my Kid Lit posts. (Speaking of which—I have another one headed your way in a couple of weeks!)
Mr. Postmouse's Rounds ~ We love the intricately drawn scenes in this whimsical book (and its sequels). This is a fun one for Charleston to "read" on his own, though I enjoy it too.
Where's the Penguin? ~ A cute and clever alternative to the Where's Waldo books.
Dragons Love Tacos ~ This book is quite popular among all our preschooler friends, and for good reason: it's clever and hilarious (as is the follow-up book)! Great for reading aloud.
Mo Willems' Pigeon Books ~ This series is sweet and funny and has some great (but subtle) messages.
Rachel Bright's Love Monster Books ~ A heartwarming and creative series with fun, colorful illustrations.
The Scrambled States of America ~ We love everything we've read by Laurie Keller. This book is a great introduction to the fifty states. Kids will like the silly main story, and adults will appreciate the clever asides and higher-level jokes.
Anna Dewdney's Lllama Llama Books ~ This was the first series Charleston latched on to. I appreciate the thoughtful lessons in each book and Charleston enjoys the rhyming narrative.
The Jesus Storybook Bible ~ An AMAZING children's Bible that will be appreciated by both children and adults. Featuring beautiful illustrations and lovely lyrical language, I love how Sally Lloyd-Jones captures the essential Big Picture message in each Biblical story.
Mo Willems' Elephant & Piggie Books ~ We honestly can't get enough of this series! The characters are endearing, and the stories make us laugh every time we read them.
I Want to Go to the Moon ~ Charleston has REALLY enjoyed this library find about Neil Armstrong. I appreciate the message of perseverance and pursuing one's dreams; Charleston is now convinced that he can go to Saturn (even though everyone says it's impossible), just like how Neil was told he couldn't go to the moon but did. The book is actually told in the form of lyrics to a song, and it comes with an accompanying CD. (We listened to this song on repeat in my car for nearly a month and Charleston never tired of it.)
The Berenstain Bears Books ~ I loved this series as a child and have enjoyed introducing it to Charleston. Such great messages that really stick!
Paulette Bourgeois' Franklin Books ~ This is another series from my own childhood that Charleston has taken a liking to. The character of Franklin is adorable, and we enjoy reading about his funny escapades.
Secrets of Animal Camouflage ~ This book introduced Charleston to the concept of camouflage and how animals use it for their own self-preservation. The artwork is lovely and Charleston enjoys using a flashlight to spot the hidden animals.
---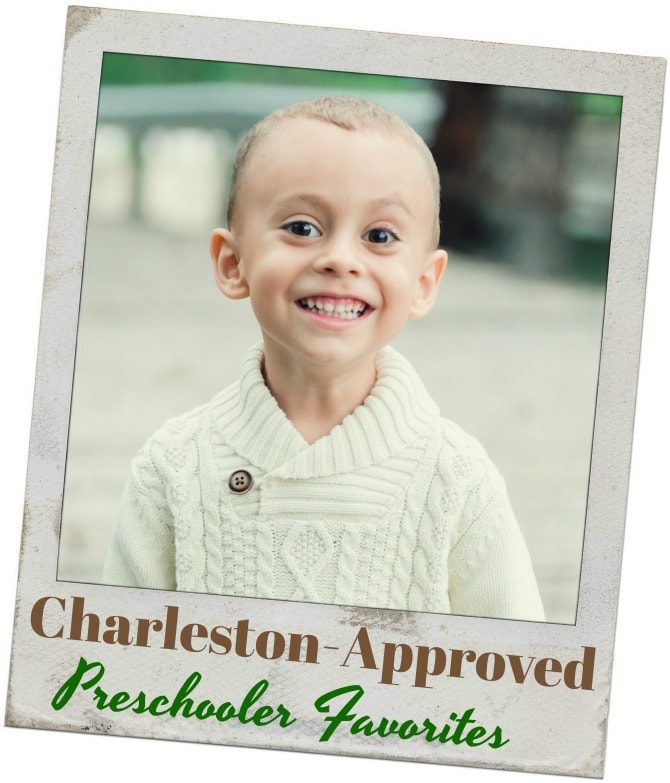 Do you have a preschooler? What are his or her favorite items right now? We'd love to hear your best recommendations! After all, Christmas will be here before we know it!