I enjoyed every one of the five titles I'm sharing today. A couple were surprise hits for me, and one of these books is in the running for my favorite novel of the year!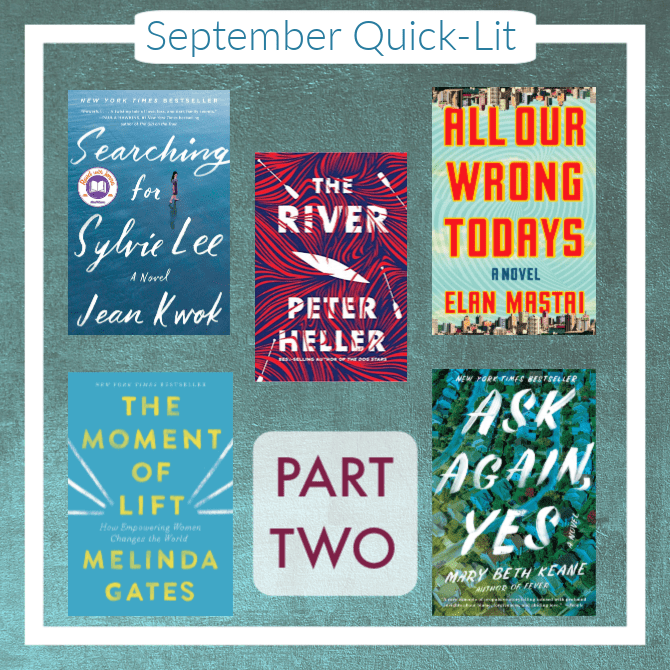 The Moment of Lift: How Empowering Women Changes the World, by Melinda Gates: As co-chair of the Bill and Melinda Gates Foundation, Melinda Gates has spent the last twenty years helping people find solutions to their most urgent needs. Through her work, she has learned that the quickest way to improve a society is to invest in its women. In this book, Gates explains the link between women's empowerment and the health of a society. She delves into difficult but vital topics such as family planning, girls' education, child marriages, and women in agriculture and in the workplace. Gates touches on how these issues pertain to women in the United States, but many of her stories relate to women all over the world, and her chapters are filled with heartbreaking yet inspiring stories of women whose lives have been improved, resulting in life the betterment of their children and their communities.
The messages within this book are not easy ones, and the solutions Gates proposes will require time, money, international support, and enormous shifts in priorities and cultural mindset. But Gates' anecdotes highlight the massive good that has already been done and provide hope for the betterment of women's lives and the subsequent lifting up of all of society.
I wasn't prepared to be as impressed with Melinda Gates as I was. She is logical and mission-focused, committed to her cause and her ideals. But ultimately she is guided by her heart and her faith: Gates is a devout Catholic, and her desire to follow Christ's example of loving others shines through the pages of this book and in every aspect of her work. I especially love that her ultimate goal is not equality, but connection—so powerful!
I'm usually wary of feminist advocates, as I find they are often more interested in tearing men down than in building women up. This could not be further from the truth for Melinda Gates. She is proud to partner with her husband and speaks positively of him and of their equal partnership throughout the book. And her reasons for focusing on bettering the lives of women are not at all arbitrary or driven by a hatred of men; rather, they are backed by research and experience, which shows that empowering women is the key to better outcomes for all people, men AND women.
This is an important read that opened my eyes to some troubling global issues, and gave me hope that change can and will take place. Gates managed to change my mind one some controversial issues, specifically the importance of universal access to birth control and the inclusion of local opinions when determining how to allocate charitable donations.
My Rating: 4 Stars.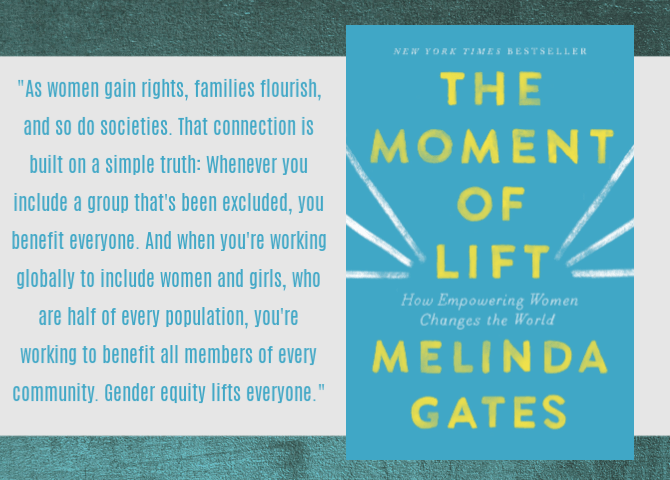 ---
The River, by Peter Heller: When Anne Bogel—my favorite book whisperer (and someone who literally reads for a living)—hails a book as her favorite read of the year, I take notice! In this fast-paced wilderness thriller, Wynn and Jack are best friends who met at Dartmouth's freshman orientation and instantly bonded over their mutual love of both literature and the outdoors. When the friends decide to take a semester off to canoe the Maskwa River in Northern Canada, they anticipate an adventurous yet leisurely trip filled with fishing, berry picking, floating along the river, and sleeping under the stars.
Their journey takes an abrupt turn when they come across a suspicious man who reports that his wife has disappeared in the woods. Wynn and Jack agree to help, but their search for the woman soon turns deadly as they find themselves battling against natural disasters and dangerous human enemies.
This is a brief but dense novel that packs a powerful punch. Peter Heller weaves evocative descriptions and exciting wilderness adventure into a novel that is equal parts thriller and character study. Wynn and Jack are both compelling characters: Wynn is a gentle giant from Vermont, with a poetic soul and a kind-hearted respect for nature, people, and especially his best friend. Jack is a rugged Colorado cowboy who views life as a challenge to be conquered and, guided by his survival instincts, takes a more pragmatic approach to life. I enjoyed the dynamic between these unique young men, whose friendship is unlikely yet entirely believable.
I'm not an outdoorsy gal and don't usually enjoy nature-centric novels, but Heller's vivid imagery drew me in, and the constant action kept me glued to the story. This is more than just a thriller or a wilderness story. It is a meditation on friendship, courage, survival, human instincts, and integrity. I didn't see the ending coming, and I didn't like it at all, but as a whole this is a beautiful and deeply moving novel.
My Rating: 4 Stars.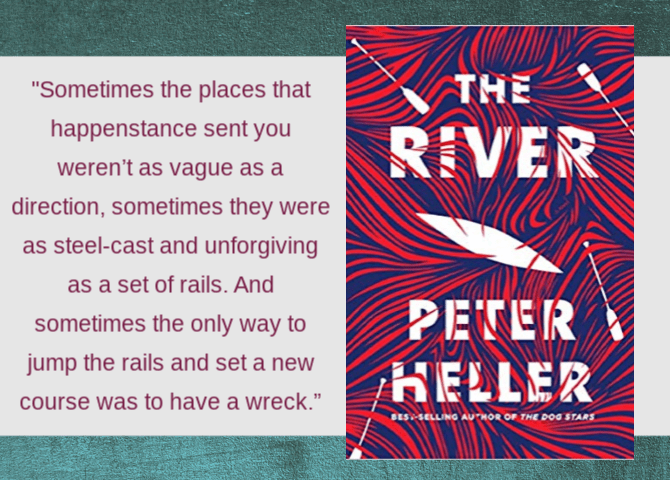 ---
Ask Again, Yes!, by Mary Beth Keane: In 1973, Francis Gleeson and Brian Stanhope are rookie cops in the NYPD whose professional relationship becomes more personal when the two young fathers find themselves living as next-door neighbors in a small town outside the city. Francis's wife Lena, a lonely SAHM to three young girls, is eager to have new friends in the Stanhopes, but Anne Stanhope's icy demeanor quickly puts a wedge between the families. Despite this, Francis's daughter Kate and Brian's son Peter—born just six months apart—become inseparable, with their childhood friendship developing into something more as they approach adolescence.
When a shocking and violent incident forces the Stanhhopes to move away, Peter and Kate are separated for a time, only to be reunited years later. Yet their love story is haunted by both their pasts and their present as their bond is repeatedly tested and those around them are forced to come to terms with the choices they have made.
This is a painful read at times, packed to the brim with every possible conflict as the Gleesons and Stanhopes face loneliness, abandonment, alcoholism, mental illness, infant loss, cancer, and more. Yet it is also one of the most beautiful, redemptive stories I have read in a long time. Keane's characters face unfathomable tragedy, yet they demonstrate fierce love, loyalty, resilience, and a determination to "do the work" required for a meaningful—yet entirely ordinary—life. Their story is a depiction of the ways that seemingly small incidents can reverberate through families, and what happens when individuals have the courage to stand up to generations of sin and disfunction.
Ask Again, Yes, reminded me of two of my favorite novels that I read in 2018: A Place for Us and This Must Be the Place. Like those books, this is a family saga that spans decades, is told from various points of view, and features fully developed characters who are flawed yet also easy to root for. Ask Again, Yes, carries a beautiful balance of dramatic plot points (the realistic kind, not at all gratuitous or emotionally manipulative) and ordinary, relatable moments, all infused with incredible insight and compassion. One reviewer of this book described it as "unpretentiously profound. . . modestly magnificent" and I wholeheartedly agree with her sentiments. This is easily one of the best books I've read this year.
My Rating: 5+ Stars!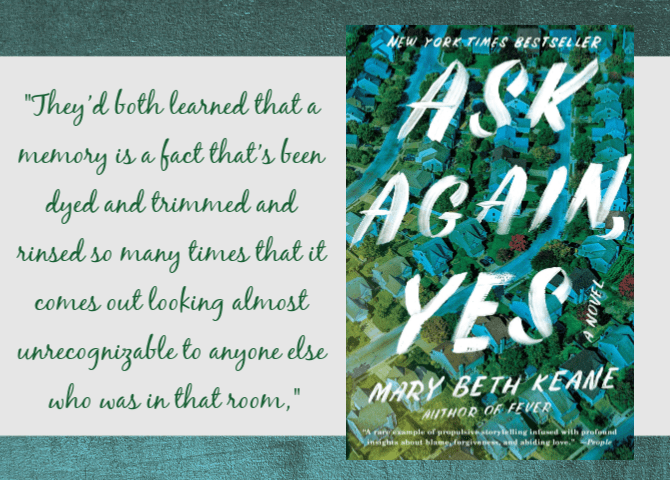 ---
Searching for Sylvie Lee, by Jean Kwok: Amy Lee has always looked up to her sister Sylvie. Seven years her senior, Sylvie is beautiful, confident, and successful, with a wealthy husband and flourishing career. Meanwhile, Amy is stumbling through life, in her mid twenties but still living at home with their protective Chinese immigrant parents. When Sylvie receives news that the grandmother who raised her for her first seven years is dying, Sylvie travels to her former home in the Netherlands to be with her. But Sylvie doesn't come back, and Amy—desperate to be reunited with her beloved sister—boards a plane for the very first time and sets off to find Sylvie. In the Netherlands, she meets her extended family and retraces her sister's final movements. Amy's recounting of her search is interspersed with narration from Sylvie's own journey, just weeks before, and with that of their mother as she reflects on a life of hardship and regret. Each woman must grapple with her past and present while determining what this will mean for their family's future.
Though ostensibly a mystery, at its heart this is a family story that examines the ramifications of past mistakes and the secrets we choose to keep. It is an intricate multicultural story, as we see life through the eyes of a Chinese immigrant family, with much of the present-day story set in the Netherlands and Venice. Through the various characters and settings, Kwok manages to capture the unique experiences and everyday challenges faced by people of color in both America and Europe.
This is a sad but beautifully crafted novel that highlights the discrepancies in our perceptions of life, even among family members. I really loved this aspect of the story as well as the three protagonists themselves. I also found the mystery component compelling, if a little farfetched. Highly recommend for fans of Celeste Ng's books and those who enjoy multicultural family stories.
My Rating: 4 Stars.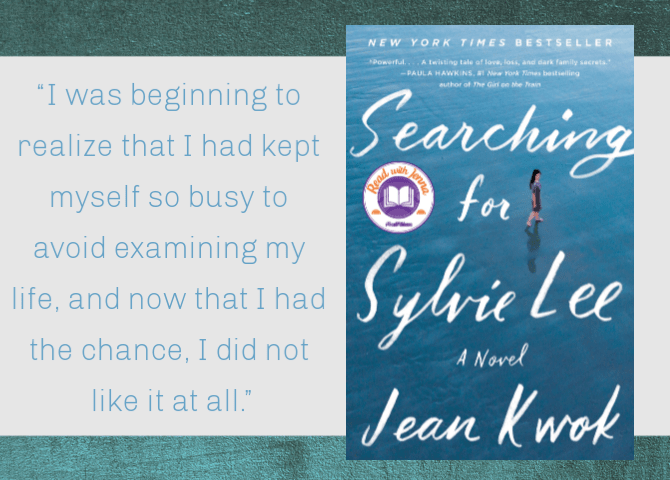 ---
All Our Wrong Todays, by Elan Mastai: In Tom Barren's 2016, the world is exactly like the future imagined by people living in the 1950s. In this technology-fueled utopia, Tom leads a life straight out of an episode of The Jetsons, complete with flying cars, robots that take care of all of your personal grooming, and zero inconveniences. But when Tom falls prey to a time-traveling mishap, he finds himself in an alternate 2016 in which the world (the same one we would recognize as reality) seems like a dystopian wasteland. Tom has no idea how to use his kitchen appliances, open doors, or even dress himself. But before long, Tom realizes that this world isn't all that bad: here he has a family that he actually likes, a soul mate who understands him, and a career that he's good at. Which leaves him with a decision to make: does he go back and fix his mistake, reverting history to its utopian state and restoring the lives of billions of people who were never born because of Tom's mishap, or does he selfishly choose to let his mishap stand so that he can live out a quiet life of love and fulfillment?
Though I don't usually go for science fiction, I love a good time travel/alternate reality story, and this one delivers! Even though the science-y parts went completely over my head, I had fun attempting to understand the mind-bending explanations of time, space, and physics, which are made much more reader-friendly thanks to the cheeky narration. (Tim's laugh-out-loud storytelling is possibly the book's biggest selling point.) And if the intriguing premise and dazzling descriptions of the futuristic utopia were what lured me in, it was the human elements that kept me reading. There is a sweet love story involved, as well as some important character development and insightful reflections on love, family, destiny, heroism, ingenuity, identity, and ethical obligations.
This is a fun, thought-provoking read with copious amounts of humor and just as much heart. Mastai is a screenwriter, and the book plays out like a movie, so I was excited to see that a movie deal is already in the works! If you enjoyed Dark Matter, 11/22/63, or The Martian, you'll love this one.
My Rating: 4 Stars.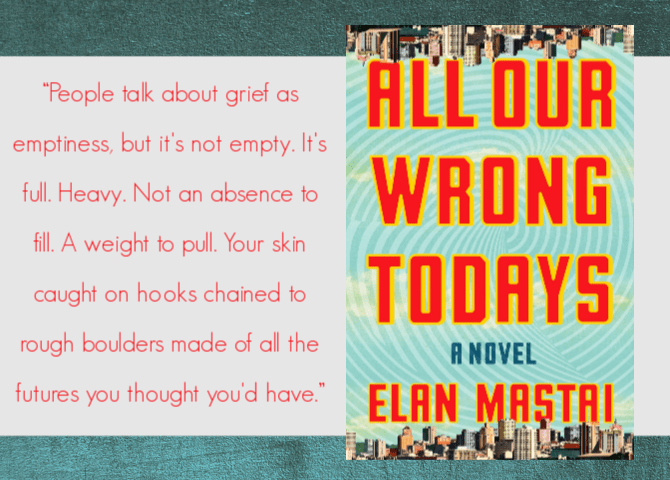 ---
In case you missed it, last Wednesday I shared Part One of this month's book reviews. You can find it here.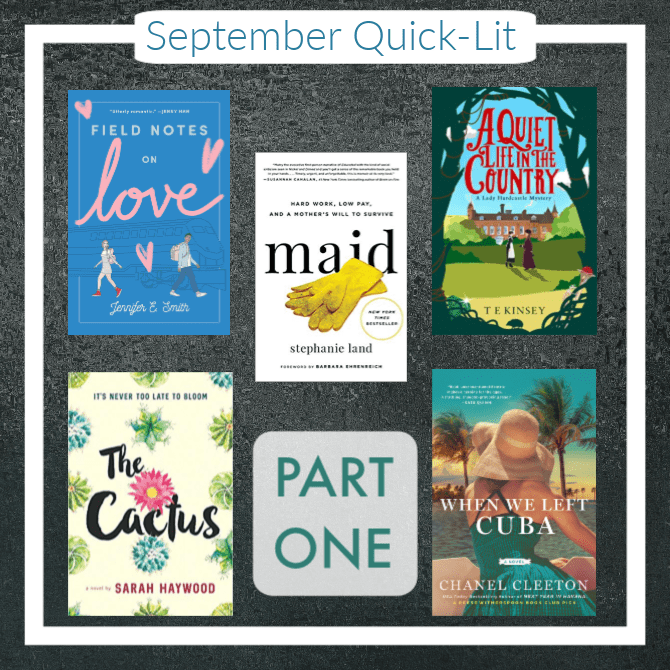 And next Wednesday I'll be sharing reviews of five more books I read in the past month, pictured below.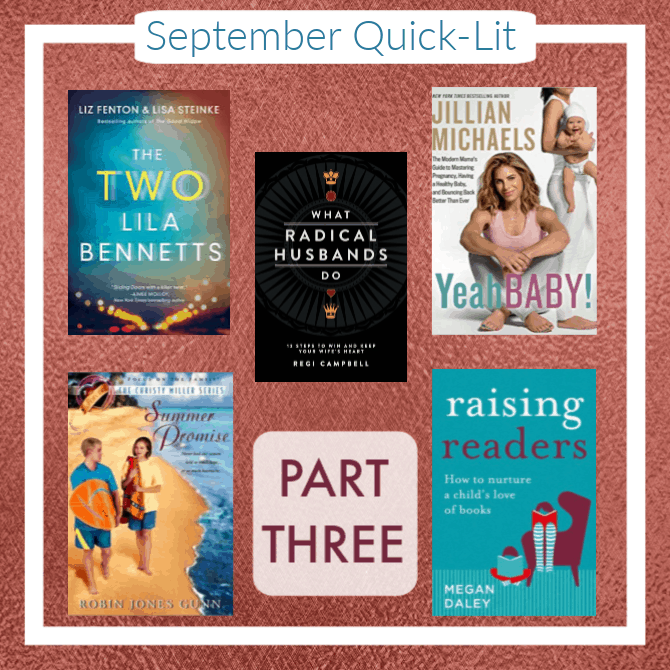 Have you read any of these books? Share your thoughts in the Comments!