If there's one thing I've learned in my time as a parent, it's that kids come with a LOT of stuff. Even when you attempt to take a more minimal approach, as we have, the clothes and gear and toys seem to accumulate. Which is why, even after sharing a roundup of Tried and True baby and toddler items we loved with Charleston, and another post about recommendation-worthy items from when the twins were newborns, I have yet another Tried and True post for you today filled with some more baby items currently getting a lot of love in our home.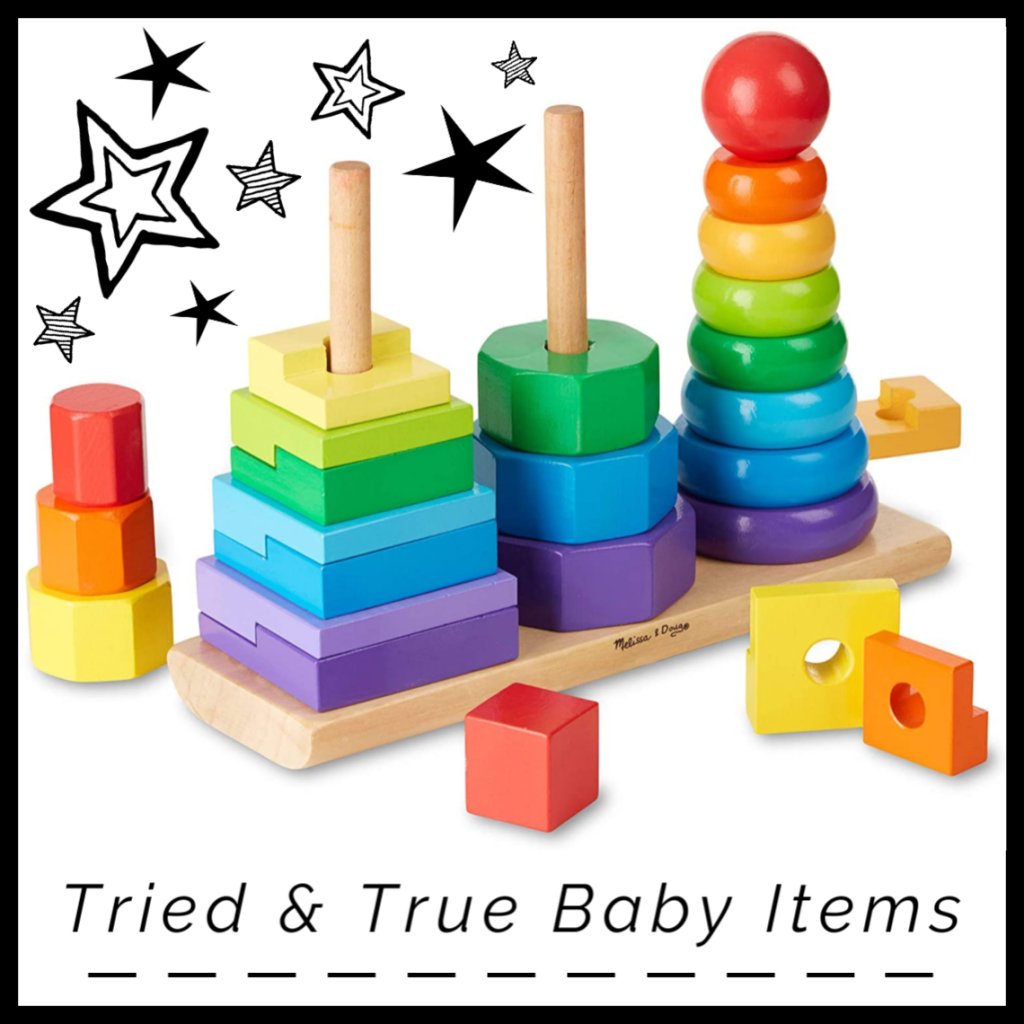 Some of the items in this post were handed down from Charleston and are getting a second life with the twins. Others are items we have acquired in the months since Kali and Sully were born. The one commonality among the items I'm sharing today is that they are all things we own and that receive our stamp of approval. If you are currently compiling a baby registry or shopping for your favorite little one, the items on this list would be a great place to start.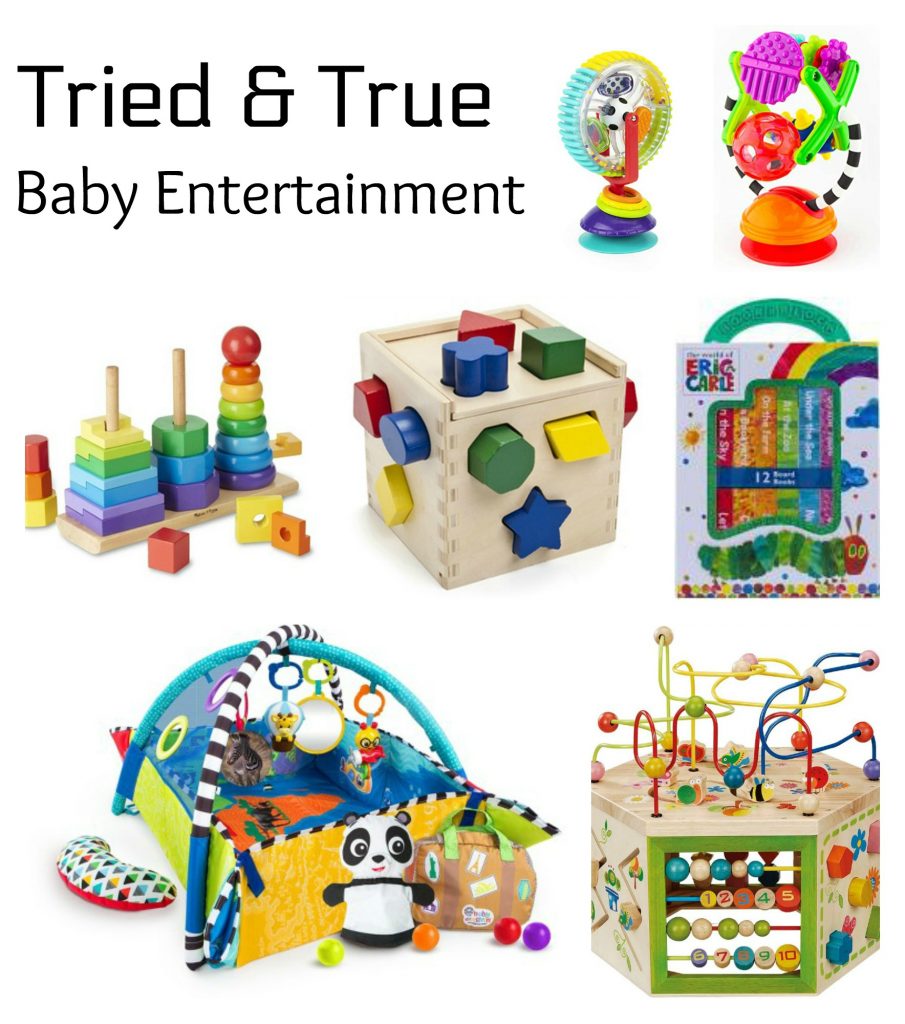 Sassy Wonder Wheel Activity and Sassy Teethe & Twirl // These spinning toys suction to the twins' high chairs or Bumbo trays and provide an excellent diversion while I'm getting them situated before a meal, or cleaning up after they've eaten. At under $10 each, they would make great stocking stuffers, Easter Basket fillers (which is where the twins received theirs), or add-ons to a baby shower gift.
Melissa & Doug Geometric Stacker // By now you are probably tired of hearing me sing the praises of Melissa & Doug toys, but they simply can't be beat for their high quality, quaint aesthetic, and high entertainment and educational value—all without any screens, batteries, or annoying sounds or lights. This attractive stacking toy is the twins' absolute favorite item and will keep them entertained for hours. Kali and Sully love pulling the blocks off the rods, and I appreciate that the multi-piece toy stacks back up into one easy-to-store unit that looks lovely on our playroom shelf.
Melissa & Doug Shaper Sorting Cube // Another great compact, durable toy that will grow with the twins as they learn their colors, shapes, and problem-solving skills.
World of Eric Carle, My First Library Board Books // This book set from one of our favorite children's book authors comes with a sturdy portable case and contains twelve books in a baby-friendly size. Charleston enjoys "reading" these mostly wordless books with the twins, showing them how to turn the pages and discussing each illustration. (Other books I've enjoyed reading with Kali and Sully are the Baby Lit books—we have more than a dozen of them!—and anything by Sandra Boynton.)
Baby Einstein Activity Gym // This 5-in-1 convertible activity gym is big enough to hold both Kali and Sully and features numerous toys and diversions that have grown with them over the past few months: the hanging toys were great when they were just gaining an awareness of their surroundings, and now that they're mobile, they are able to play in its ball pit form. The mat is easy to clean and folds up nicely.
EverEarth Garden Activity Cube // Charleston received this cube for his first Christmas and the fact that he stills plays with it at age five speaks to its longevity! The colorful, high-quality toy has six sides of different activities that are interesting for the babies now and will build upon their cognitive and fine motor skills as they grow.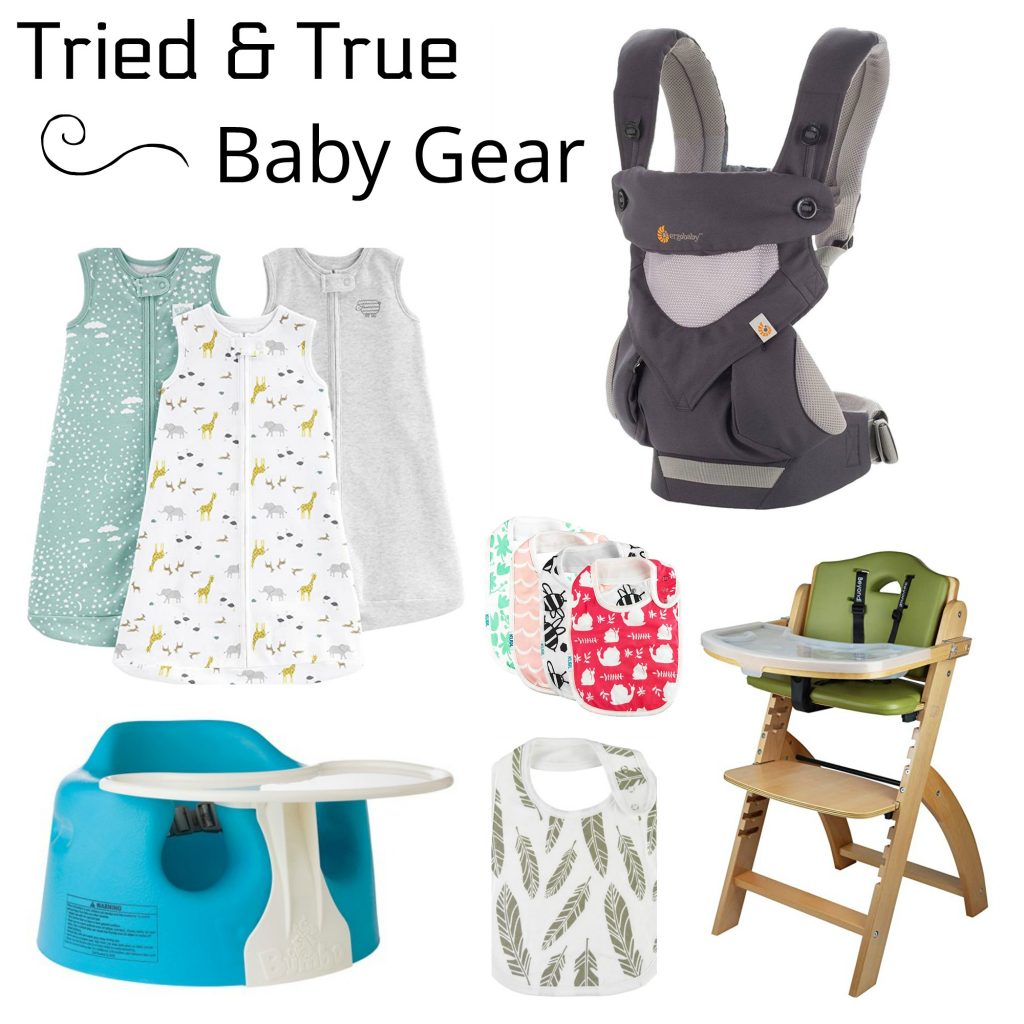 Simple Joys by Carter's Sleep Bags // These sleep sacks have been a lifesaver as we've transitioned the twins out of their swaddles. They are soft and lightweight (ideal for the warmer spring and summer nights) and zip up easily. I appreciate that they are fitted towards the top with plenty of extra fabric at the bottom, giving us a few months' of use before the babies are too long for them.
Ergobaby Carrier // I swear by the Baby K'Tan for wearing newborns, but now that the twins are bigger, I love this sturdier carrier. It offers great back support and keeps baby in one place—even active ones like mine! Kali likes facing towards Mama in this carrier while Sully prefers to be outward facing, and both positions feel comfortable and secure. The carrier is breathable, machine-washable, and easy to put on.
Bumbo Floor Seat and Play Tray // We had received a hand-me-down Bumbo when we had Charleston, and it didn't get much use with him, but it was such a hit with the twins that we bought a second one, along with a tray. I like to prop the twins in these with some toys (like the spinners above) while I clean or cook. We also feed them in these on occasion, and they are easy to pack in the car for use when we are visiting family and won't have access to high chairs at meal times.
KUDL Baby Bibs // These are the BEST bibs I have ever seen. They come in several adorable patterns, and their multiple snaps ensure that they stay put throughout meal time. They are super soft and absorbent, and their large size offers full coverage for messy eating.
Abiie Beyond Wooden High Chair // We bought our first Abiee high chair when Charleston was a few months old and it was the most expensive baby item we owned, but it has served us so well over the years that we bought a second identical chair to use with the twins. And the chairs have been worth every penny! These chairs are attractive and durable (our five-year-old chair still looks brand new), and transition from baby to toddler to traditional chair that even an adult can use. The chairs have secure five-point harnesses, easy-to-clean waterproof cushions, and removable trays that are dishwasher safe.
---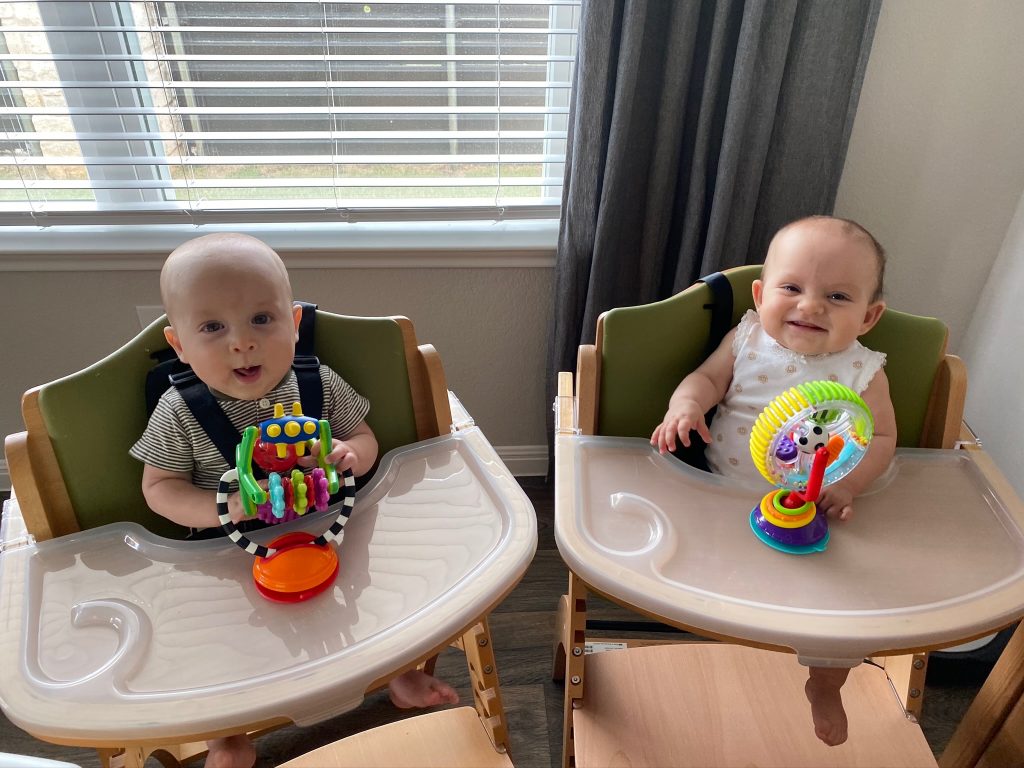 If you have any questions about any of these items, I'd be happy to answer them! And if you own (or decide to purchase) an item you see here, I would love to hear about your experience!