One of the great wonders of a book is its ability to instantly transport the reader to a new world. Through reading I can visit any country in the world from the comfort of my own living room. Yet I rarely embrace these opportunities, at least not as often as I would like to. I settle for books set in my own time and place, by authors who look and sound like me. There's nothing wrong with reading within my geographic comfort zone, but I'd like to expand my horizons.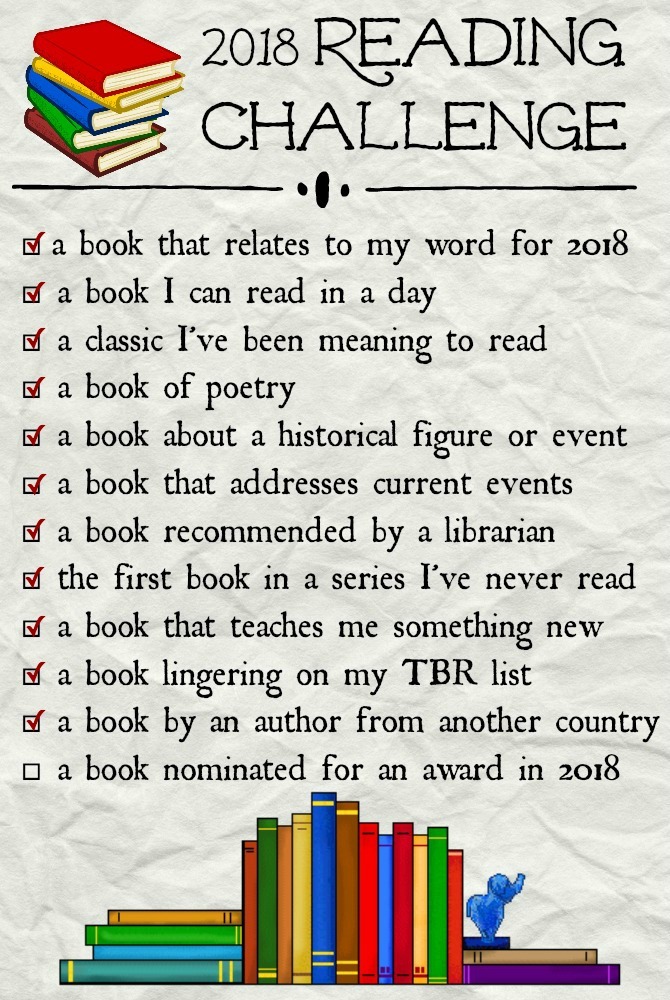 The aim of this month's Reading Challenge category, a book by an author from another country, was to read a book set in a foreign land by a writer who has first-hand experience with the book's setting. Ayọ̀bámi Adébáyọ̀'s Stay With Me checked all of my boxes. Adébáyọ̀ was born in Lagos, Nigeria, and has spent a lifetime growing familiar with the Nigerian culture, geography, and political systems described in her book.
The story begins in the year 2008, then flashes back twenty years. . . . When Yejide and Akin meet at University in the early 1980s, their attraction is instantaneous. True love follows shortly afterward, and both agree that, despite the traditions of their Yaruba community, polygamy is not for them; they only have eyes for each other. And for a while their love is enough. Akin is the firstborn son of an influential family and has found success as an accountant; Yejide takes pride in her successful beauty salon and looks forward to becoming a mother, which she hopes will heal the wounds caused by growing up as an outcast in her own family since the death of her own mother in childbirth.
But four years into their marriage, and Yejide has yet to give birth to a child. Against the couple's wishes, Akin's mother intervenes by coercing her son to take a second wife. Yejide knows that in order to save her marriage, she must become pregnant, and she finds herself risking her health, her values, and her future in her attempts to conceive.
As you might have surmised from the synopsis, this is not an easily accessible read. The unfamiliar names, setting, and cultural mores made it difficult to get through the first few chapters, and I found the back-and-forth narration between Akin and Yejide (without any headings or notes indicating a perspective shift) very confusing. Nevertheless, these barriers to entry ultimately became what I loved most about this book, because they showed me that while our countries and cultures may differ, some experiences—and our understanding of them—are universal.
Stay With Me picked me up from my comfortable American environment and set me down in unfamiliar territory; once there, I encountered a fight to construct a life of love and meaning despite intrusive family members and misaligned cultural expectations; a lifelong battle for normalcy amid a chaotic and deadly political environment; and a heart-wrenching struggle to fulfill one's dreams while butting up against one obstacle after another. This is a story of unspeakable heartbreak, emotional upheaval, and—despite this—hope and love that refuse to be extinguished.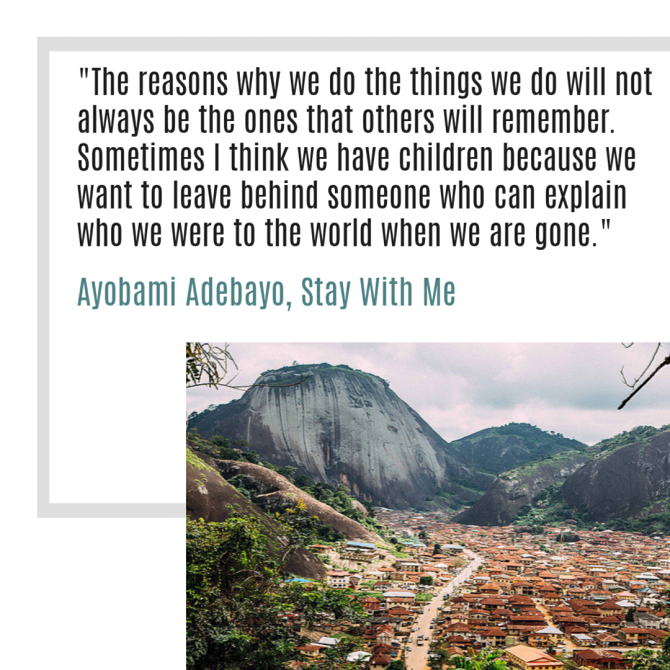 While the story, characters, and setting of this novel are all captivating, it is the themes that stand out to me the most. Stay With Me is a portrait of a marriage in crisis, fraught with betrayal and misunderstanding; both parties long to give and receive love, yet their failure to communicate their internal pain leads to disastrous results. Other noteworthy themes include loneliness, the mistreatment and dehumanizing of women, the discrepancy between personal values and cultural norms, and the interplay between faith and science.
Motherhood is another prominent theme within in the novel. Yejide hopes to heal from her personal mother wound by becoming a mother herself. When her dreams are dashed, she hardens herself to love; in an attempt to avoid pain, she constructs barriers that ultimately keep her from experiencing joy. It's easy to judge Yejide for her decisions, yet how many of us become so dominated by our fears that we miss out on life's greatest blessings?
Stay With Me opened my eyes to many unique cultural views, while also helping me feel less alone in the skin I am in.
My Rating: 4.5 stars.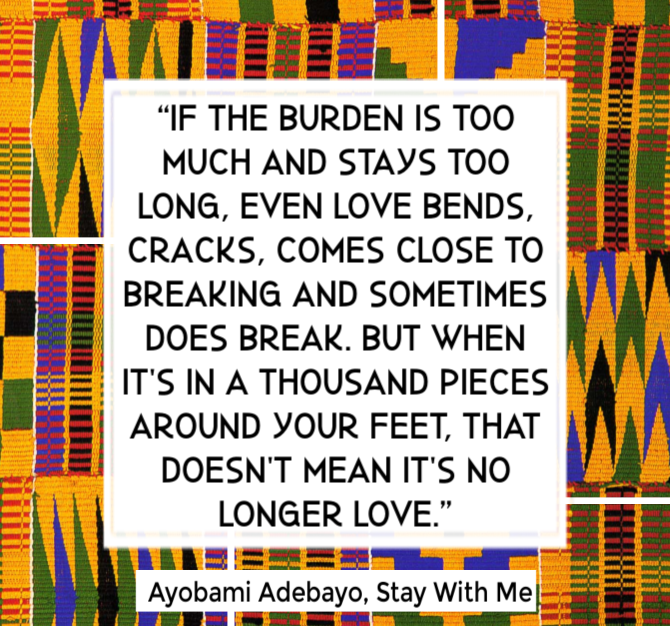 ---
OTHER BOOKS I CONSIDERED FOR THIS CATEGORY
A few of these books were written in English, but many are books in translation. I've included the author's nationality next to each title. Most (but not all) of the books are set in the author's country of origin. Along with each book title, I've included part of the Amazon synopsis, or a portion of an endorsement or review.
Americanah, by Chimamanda Ngozi Adichie (Nigerian) "From one of the world's great contemporary writers comes the story of two Nigerians making their way in the U.S. and the UK, raising universal questions of race and belonging, the overseas experience for the African diaspora, and the search for identity and a home." —Barack Obama
The Time In Between, by Maria Dueñas (Spanish) "The inspiring international bestseller of a seemingly ordinary woman who uses her talent and courage to transform herself first into a prestigious couturier and then into an undercover agent for the Allies during World War II."
My Brilliant Friend, by Elena Ferrante (Italian) "Book one in the New York Times bestselling Neapolitan quartet about two friends growing up in post-war Italy is a rich, intense, and generous-hearted family epic by Italy's most beloved and acclaimed writer, Elena Ferrante."
A Thousand Splendid Sons, by Khaled Hosseini (Afghan-American) "A Thousand Splendid Suns is at once an incredible chronicle of thirty years of Afghan history and a deeply moving story of family, friendship, faith, and the salvation to be found in love."
One Hundred Years of Solitude, by Gabriel García Márquez (Colombian) "One Hundred Years of Solitude tells the story of the rise and fall, birth and death of the mythical town of Macondo through the history of the Buendia family. Inventive, amusing, magnetic, sad, and alive with unforgettable men and women—brimming with truth, compassion, and a lyrical magic that strikes the soul—this novel is a masterpiece in the art of fiction."
The Thorn Birds, by Colleen McCullough (Australian) "One of the most beloved novels of all time, The Thorn Birds, Colleen McCullough's sweeping family saga of dreams, titanic struggles, dark passions, and forbidden love in the Australian Outback, returns to enthrall a new generation."
IQ84, by Haruki Murakami (Japanese) "A love story, a mystery, a fantasy, a novel of self-discovery, a dystopia to rival George Orwell's—1Q84 is Haruki Murakami's most ambitious undertaking yet: an instant best seller in his native Japan, and a tremendous feat of imagination from one of our most revered contemporary writers."
Convenience Store Woman, by Sayaka Murata (Japanese) "A brilliant depiction of an unusual psyche and a world hidden from view, Convenience Store Woman is an ironic and sharp-eyed look at contemporary work culture and the pressures to conform, as well as a charming and completely fresh portrait of an unforgettable heroine."
The Perfect Nanny, by Leila Slimani (French-Moroccon) "A great novel . . . Incredibly engaging and disturbing . . . You read the entire novel knowing something terrible is coming. In that, Slimani has us in her thrall." —Roxane Gay
Cutting for Stone, by Abraham Verghese (Indian-American, born in Ethiopia) "A sweeping, emotionally riveting novel with over one million copies sold—an enthralling family saga of Africa and America, doctors and patients, exile and home."
I Am Malala, by Malala Yousafzai (Pakistani) "I Am Malala is the remarkable tale of a family uprooted by global terrorism, of the fight for girls' education, of a father who, himself a school owner, championed and encouraged his daughter to write and attend school, and of brave parents who have a fierce love for their daughter in a society that prizes sons."
The Shadow of the Wind, by Carlos Ruiz Zafón (Spanish) "Anyone who enjoys novels that are scary, erotic, touching, tragic and thrilling should rush right out to the nearest bookstore and pick up The Shadow of the Wind. Really, you should." — Michael Dirda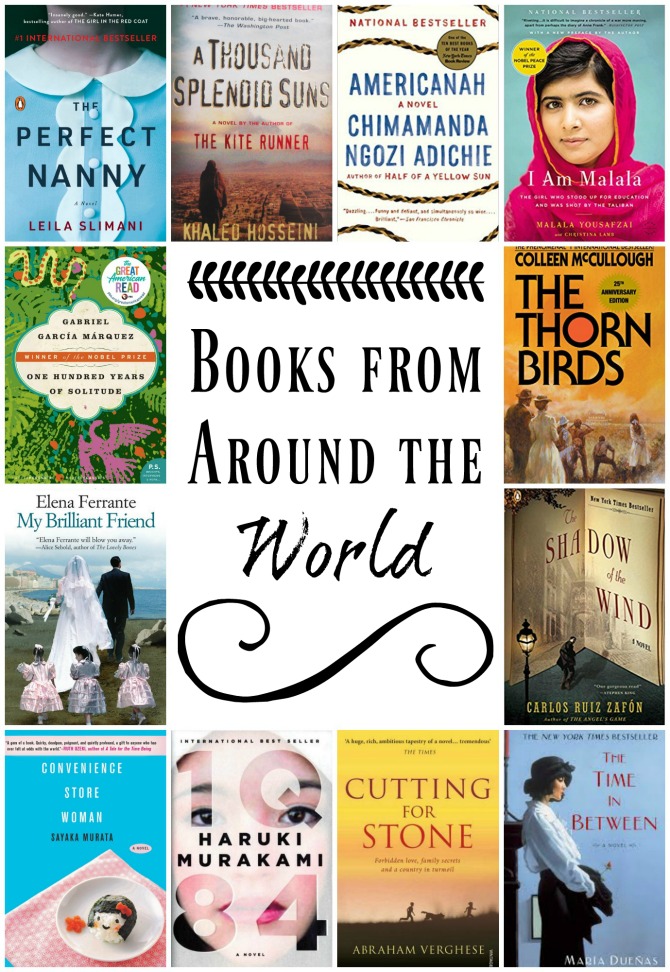 ---
Have you read widely from international authors? Which international books are your favorite?