Like most readers, my introduction to book awards came through those shiny Caldecott stickers adorning the covers of the books our school librarian read to us during our weekly library visits. I liked those books, I truly did, but they were never favorites. Even as a child, I came to associate those circular silver and gold embossments with books that adults REALLY liked, and that kids knew were just okay.
My impressions of book awards haven't changed much through the years. I'm glad these awards exist because they bring attention to important books and high-caliber writing that might otherwise be overlooked by your everyday reader. When I see that a book has been nominated for an award, I pay attention: this is a book that is significant, because of the themes it contains, or the stories it tells, or its superior prose. That said, I still associate awards with obligation—these are books I should read, but that I might not like all that much. My hope for this Reading Challenge category was to read an award nominee that was both deserving of its award and an enjoyable read.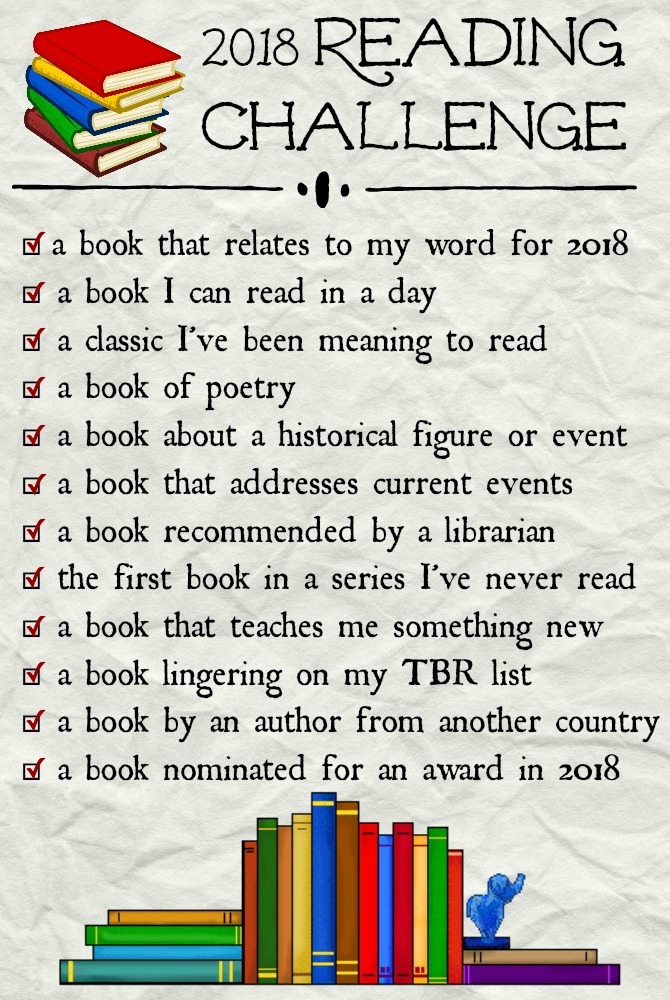 After conducting quite a bit of research on the various book awards, and sorting through many 2018 nominees and winners, I settled on Attica Locke's Bluebird, Bluebird, which is a 2018 recipient of the Edgar Award. Awarded each spring by the Mystery Writers of America, the Edgar Awards are (according to the Edgar website) widely acknowledged to be the most prestigious awards in the genre. The Edgars are named for Edgar Allen Poe and have existed since the 1950s, though I don't recall hearing about them before the last couple of years. Past winners have included Before the Fall, by Noah Hawley (I loved that one!); Stephen King's Mr. Mercedes; and The Expats, by Chris Pavone (another book I really enjoyed).
There are several categories of Edgar Awards, including Best First Novel, Best True Crime, and Best Young Adult. This year, Bluebird, Bluebird was awarded the top prize for Best Novel. Runners up included The Dime, Prussian Blue, A Rising Man, and The Twelve Lives of Samuel Hawley—none of which I have read or even heard of!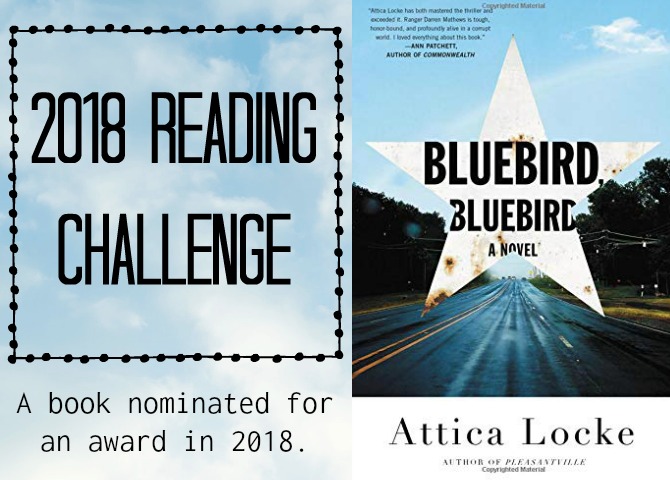 The protagonist of Bluebird, Bluebird is Darren Matthews, a black Texas Ranger who was raised in Texas and couldn't wait to leave, yet inexplicably felt himself drawn back to his home state. Despite pressure from his wife, and from the uncle who raised him, to pursue a career in law, Darren remains doggedly committed to pursuing and upholding justice and equality for all Texans, black AND white, within his role as a Ranger.
After a race-related incident puts his badge, his sobriety, and his marriage in jeopardy, Darren finds himself in the small West Texas town of Lark where two murders—a black lawyer from Chicago and a local white waitress—are wrecking havoc within the community. Darren fears a connection with the Aryan Brotherhood of Texas, and against authorization from his superiors, he sets out to investigate the two deaths. His involvement evokes resistance from the local sheriff and angst from members of the community. Darren's outsider status places him in a precarious position, but he has made a promise to the widow of the black man that he will find his killer, and Darren pledges to see the case to its bitter end, even when his own life is in the balance.
This book is NOT your everyday whodunnit. Following in the footsteps of other issue-driven thrillers such as the Cormoran Strike and Inspector Gamache series, this is a hard-hitting novel with vibrant characters, riveting storytelling, strong sense of place, and a mystery that could have been lifted straight from today's headlines. Locke addresses the prickly but important issue of race relations, and dives deep into the pasts and the psyches of her characters to analyze contradictory loyalties of geography, family, race, and career. Her exploration of small-town dynamics and police force politics is multidimensional and nuanced; I especially appreciated her refusal to offer stock (politically correct) answers to the questions she raises.
While I loved the Texas setting—very different from the Texas I'm familiar with, but still intriguing—the highlight for me was our protagonist. Darren is a flawed but empathetic character with an admirable sense of justice and exemplary self-awareness. His eyes are wide open to the racism around him and how life in America is different for him as a black man, yet he refuses to play racial games or use his own race as either a weapon or a crutch. He sees color, but is not blinded by it. And through him we get to know more than just an African American police officer—we also see a man who loves his wife but maybe not as much as he loves his job; a man with a mother wound that has been neglected for far too long; and an individual whose vices sometimes get the better of him, but who will not go down without a fight. Watching Darren develop through the book was just as compelling as the twisty mystery at the novel's core.
In my amateur's opinion, this was an excellent pick for this year's Edgar Award; I only wish it were receiving more attention with the reading community! The book ends on a cliffhanger and I'm looking forward to seeing what's next for this series.
My Rating: 5 Stars!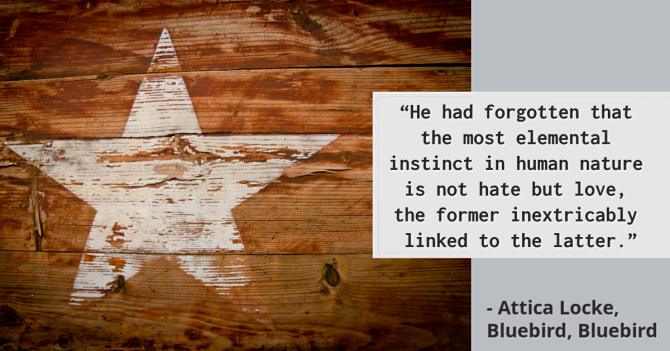 ---
OTHER BOOKS I CONSIDERED FOR THIS CATEGORY
Below is a roundup of Nominees and Winners for various book awards in 2018. Next to each title I've noted the award the book was nominated for or won, as well as a brief description of that award. Many of these titles would have caught my attention based on their own merit; others never would have crossed my radar (and likely would not have appealed to me) if they were not in the running for an award. But all seem like contenders for Award-Winning books that I would actually want to read!
Hello, Universe, by Erin Entrada Kelly — 2018 Medal Winner of the Newberry Award (given each year by the Association of Library Services to Children to the author of the most distinguished contribution to American literature for children)
We Are Okay, by Nina LaCour — 2018 Medal Winner of the Michael L. Printz Award (given each year to a book that exemplifies literary excellence in young adult literature)
The Hate U Give, by Angie Thomas — 2018 Honor Book for the Michael L. Printz Awards
Piecing Me Together, by Renée Watson — 2018 Author Award Winner of the Coretta Scott King Award (given annually to outstanding African American authors and illustrators of books for children and young adults that demonstrate an appreciation of African American culture and universal human values)
Dopesick: Dealers, Doctors, and the Drug Company that Addicted America, by Beth Macy — Shortlisted for the Andrew Carnegie Medal for Excellence in Fiction & Nonfiction (given in recognition of the best fiction and nonfiction books for adults published in the U.S)
The Great Believers, by Rebecca Makkai — Also a finalist for the Andrew Carnegie Medal for Excellence in Fiction & Nonfiction
There There, by Tommy Orange — Another finalist for the Andrew Carnegie Medal for Excellence in Fiction & Nonfiction
The Friend, by Sigrid Nunez — Winner of the National Book Award (whose mission is "to celebrate the best of American literature, to expand its audience, and to enhance the cultural value of good writing in America")
Florida, by Lauren Goff —Finalist for the National Book Award
Milkman, by Anna Burns — Winner of the 2018 Man Booker Prize (awarded each year for the best novel written in the English language)
Prairie Fires: The American Dreams of Laura Ingalls Wilder, by Caroline Fraser — 2018 Winner of the Pulitzer Prize for Biography (given annually to a distinguished biography, autobiography or memoir by an American author)
Less, by Andrew Sean Greer — 2018 Winner of the Pulitzer Prize for Fiction (given annually to works published in book form by an American author)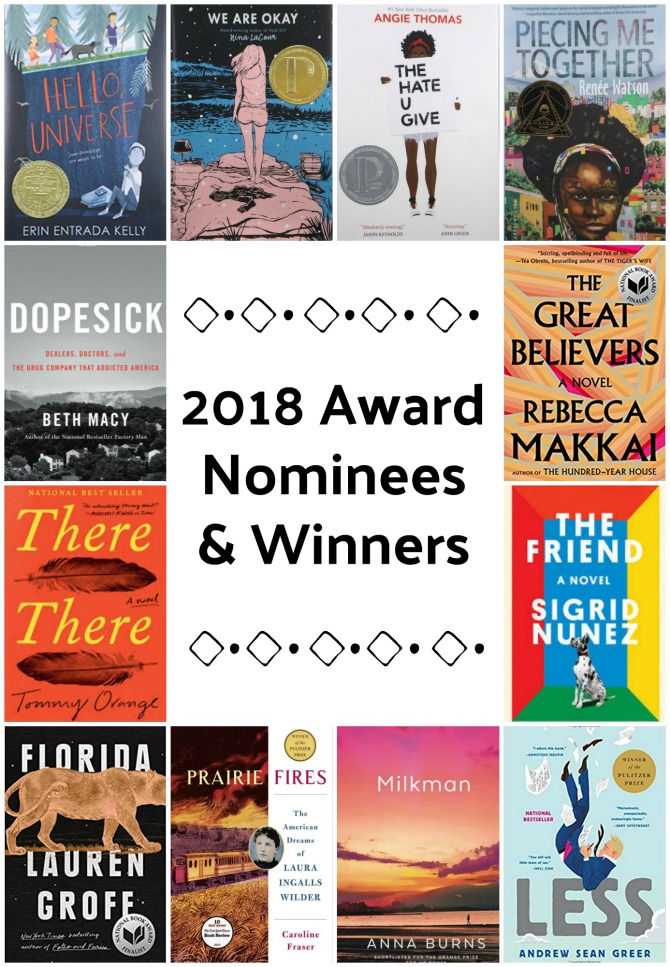 What are your thoughts on award-winning books? Have you read any of these? What did you think?