It's been said that 10,000 hours of dedicated practice in a skill is sufficient to make someone an expert. If this is true, I'm fairly sure I've logged enough reading time over the years to qualify as an Expert Reader. While I would never claim to have fully mastered every intricacy of the bookish life, my decades as an unapologetic bookworm have taught me a thing or two about what it means to have a "fulfilling" reading life.
Maybe you, like me, have settled into a healthy groove in your own reading life. Or maybe you don't necessarily identify as A Reader or feel the need to make any changes in your approach to finding, reading, and engaging with books. If you identify with either one of those scenarios, this blog post might not be for you. HOWEVER, if you do want to make improvements in your reading life and are unsure where to start, I would be honored to be your guide in helping you become a happier reader.
In this three-part series I will be sharing all of my best ideas for taking one's reading life to the next level. Beginning today, and in two future posts, I'll be summarizing all of my tips and tricks for accessing an "enhanced" approach to books and reading. Many of these ideas are ones I've adopted for myself; others are tactics that I know work well for other satisfied readers.
Part One of this series (that's today!) will be filled with ideas for getting to know yourself as a reader; this will help you identify what you want from your books, where to look for book recommendations, and how to determine which books to pick up next. Part Two in this series will focus in on reading itself—the how and where of your reading, along with some hacks for boosting you book count. Part Three of the series will be dedicated to what happens after you've done your reading and want to go further: I'll have with ideas for engaging with texts, improving recall of what you have read, documenting your books, and interacting with fellow readers.
My goal with all of these posts is not to impose any rules onto you or your reading life, nor do I want to cause you to question your approach to books and reading if you are not seeking to make changes. Rather, my hope is that those of you who are desiring to get more from your reading may identify some new strategies that will breathe enthusiasm and satisfaction into your reading life.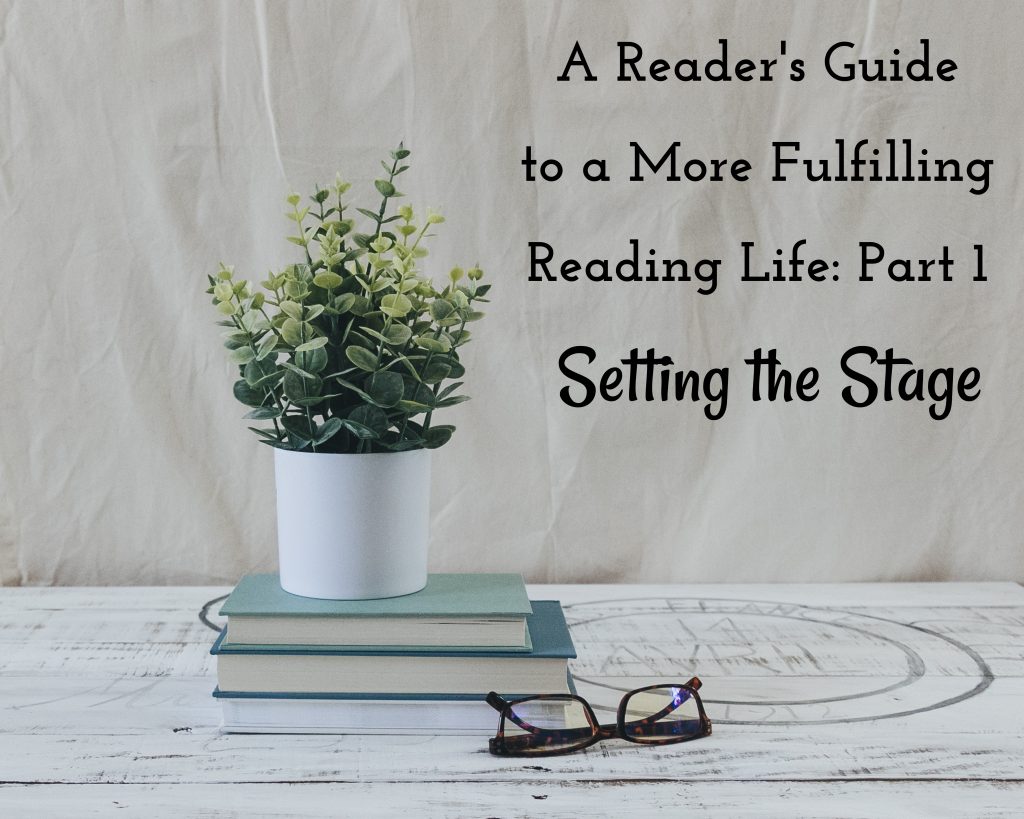 Step One: Get the Lay of the Land
(Just a note about this step: I found it helpful to process through these ideas in my journal, but your own reflection doesn't have to be written down. Think through your answers while out on a walk; talk about them with a friend or spouse or parent; you might even consider starting a digital or physical scrapbook of reading memories.)
Before you can know where you're going, you need to look back at where you came from. This is true in most things in life, including in the area of reading. In order to get the most fulfillment from your reading, you'll want to reflect on your history as a reader. (Similar to the one I did here.) What were you earliest experiences with books? Did you enjoy reading as a child? Who introduced you to your earliest books? Were these good or bad experiences? Who were the adults (parents, teachers, mentors) who formed your initial views of reading, and were these impressions positive or negative ones? How did you feel about the books you read in school? These questions are just idea-starters, intended to get your memory juices flowing as you take a walk down a bookish memory lane. Your answers to these questions and others like them will inform the type of reader you are now and set you up for the types of reading experiences you want to have moving forward.
Once you've examined your history with books and reading, it's time to think about what you want from your current reading life. Some questions to ponder: WHY do you read—is it to escape, to learn, to expand your perspective, to connect with others through reading, to relax? (There are no right or wrong answers here!) How do you want to feel after reading a book—inspired, informed, frightened, intrigued, warm and fuzzy? (You'll likely have more than one answer to this one, as few of us hope to experience the same feeling from every book we read.) Is diversity in your authors and their subjects something that is important to you? Would you rather read contemporary novels, classics, or a mix of both? What are your "Venus Flytrap genres" (books you are always drawn to but never like) and your "Catnip Genres" (books you are sure to love). Do you prefer plot-driven or character-driven novels, fast-paced or slow-paced, lots of dialogue or heavy prose? Answering these questions will help you focus in on the types of genres you want to be reading. For instance, if you primarily read to learn and feel informed, you'll probably choose mostly nonfiction books. If you read to escape and like spine-chilling books, thrillers will be your best bet. If you primarily read in order to connect with others, you'll have the most success choosing current bestsellers that everyone else is talking about.
Beyond genre preferences, you likely have a handful of bookish loves and loathes. What are some common tropes, themes, or types of characters that you hate seeing in fiction or simply can't get enough of? Are there any painful or otherwise triggering subject matters or themes you need to avoid? What is your preferred book length? How do you feel about experimental writing styles or formats, or other polarizing features such as open endings, narrative style, or alternating timelines? You might have a hard time listing these off the top of your head; to guide your answers, look back over the books you've read in the past year or two. What did you love about the books that were favorites, and what disappointed you in the books you didn't enjoy?
One other thing to consider beyond WHICH books to choose is HOW you will read them. Are you strictly a book-in-hand reader, or are you open to other types of reading such as e-books or audiobooks? Perhaps, like me, you enjoy a mix of both but prefer certain genres for each format. I've found that the way I've consumed a book can make or break a reading experience for me—there's nothing worse than listening to an audiobook narrator whose accent spoils a novel, or attempting to slog through a memoir in print that would be better enjoyed as an audiobook read by the author.
If you're like most readers, your answers to all of these questions will be varied. Few people want to read ONLY one type of book or are committed to reading entirely one way or for exclusively one reason. These answers simply set you on the right path for choosing more books you will enjoy. However, don't be afraid to step outside of your comfort zone! Some of my favorite books are titles I never would have expected to enjoy based on my general preferences and previous reading successes and failures. Let your history and preferences inform your book choices, not limit them.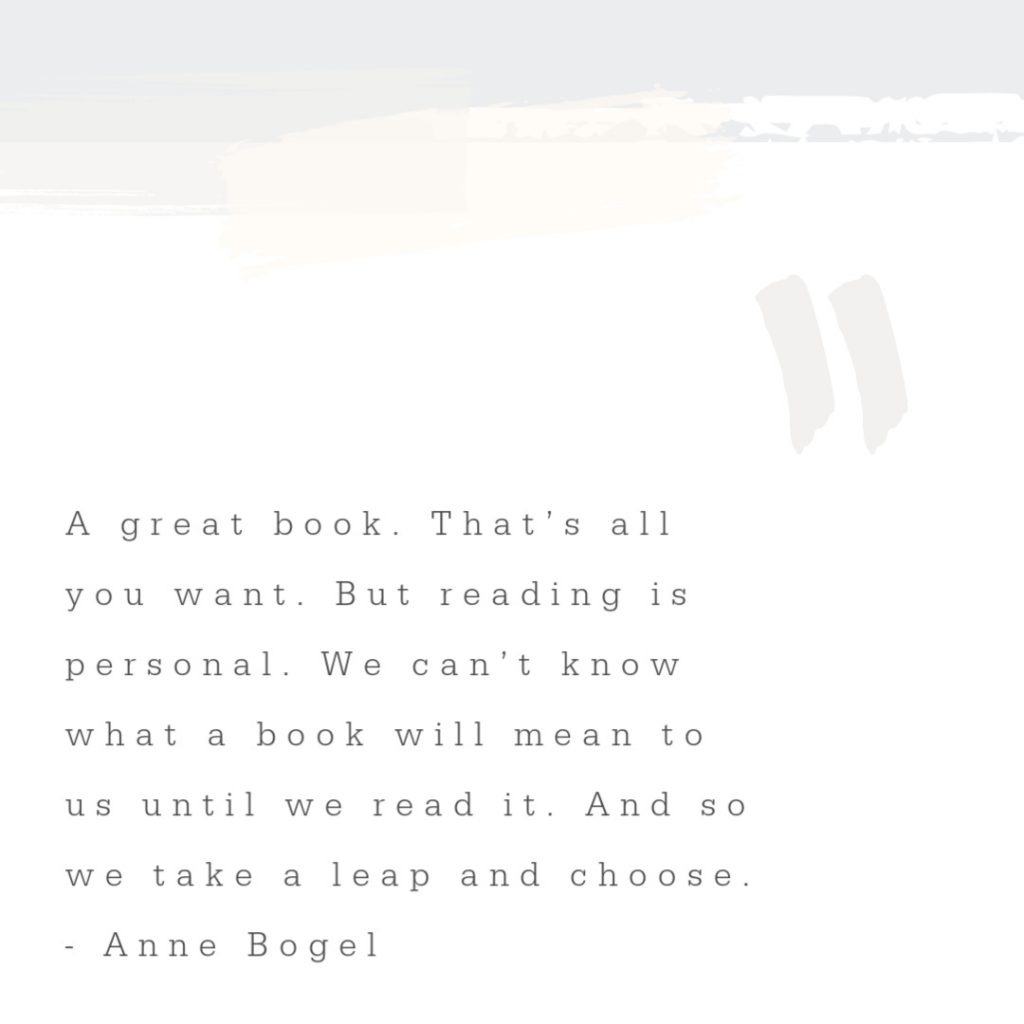 Step Two: Finding the Right Books for You
I believe there is a book for every reader, but not every book is for you. Just because somebody else loves a book doesn't mean you will—and that's okay! There are no rights or wrongs with the books we enjoy or dislike! One of the best ways to find books you'll like is through recommendations—either personal recommendations from friends, your local librarian, or other bookish communities, or general recommendations from book reviewers. Many readers rely on reviews within the Bookstagram community for recommendations. I personally love getting recommendations through book podcasts (favorites are What Should I Read Next, Currently Reading, and Sarah's Bookshelves Live) and from fellow book bloggers. My most trusted sources for books are reviewers who are unafraid of sharing negative opinions in addition to positive ones, and reviewers who give thorough reasons for why they did or did not like a book.
When relying on others for bookish guidance, it's good to be clear on whether or not a fellow reader's tastes align with yours. It's helpful to find one or two bookish twins within your reading circles—these are people whose preferences are similar to yours and who reliably like (or dislike) the same books as you. Just as helpful as having a bookish twin is identifying a bookish anti-twin. . . if there is a reviewer or reading buddy whose tastes are opposite of your own, you will know to steer clear of the books they love and to give the books they don't love a try!
Other ways for finding your next great read include perusing the bestseller lists, the New Releases shelf at your library, or lists of popular books on Goodreads, Amazon, or wherever you like to purchase books. But remember that just because a book is popular does not mean it will be a good fit for you; before committing to a book, read through some reviews to know whether or not it aligns with your personal reading goals and preferences.
It will be important to keep track of the books you want to read, so decide on where and how you will document books on your TBR (To Be Read) list. You can do this through an app like Goodreads, in a book journal, on an Amazon books list, or in a photo album on your phone containing screenshots of book covers. If remembering when and where you received a book recommendation is important to you, be sure to use a method that allows you to make note of your sources. (This step will be helpful in identifying book twins or book anti-twins, if this isn't something you have not already done.)
Step Three: Knowing What to Read Next
By this point you have established a robust TBR. Now it's time to choose a book from the list to begin reading. You have a variety of approaches to choose from: you can rely on bookish serendipity (simply picking a book at random and running with it) or availability (reading the next book available at your library or the most convenient books sitting on your bookshelf or Kindle) or your current mood. If you are a planner, you might want to write a list of books you will read next and work your way down the list. My own method combines each of these approaches: I have a long list of books on hold at my library, so I read these whenever they become available. When I'm at a break between library holds, I work my way down the list of books I've prioritized for the current season (these are books I own or that are backlist titles that are easily available at the library without a wait).
If you're still feeling overwhelmed by book options, consider putting a few constraints in place. For instance, you might consider starting a book challenge (here are some ideas to get you started) or committing to reading only books you already own.
One other option is to put together a book flight: gather four or five books that have captured your interest (either from the library or from your shelves); read the first few pages of each book, and settle on the most intriguing one as your next cover-to-cover read.
Keep in mind that there are some books that simply aren't for us, and there are other books that aren't for us right now. Books land differently with us depending on a variety of factors, from our current circumstances, life stage, or environment to our mood and mental space when reading. Certain books will also work better in different seasons: for instance, I like to read lighter books in summer (think: thrillers, chick-lit, YA) and heavier, more serious books in fall and winter. Take these factors into consideration before picking up your next book.
Step Four: Book Acquisition
Okay, by the time we've reached this final stage you've identified what types of books you want to read, you've made a list of specific titles you want to dig into, and you've prioritized which books will be next up on your bookshelf. The final step is getting those books into your hands.
Format is key here: are you an audiobook listener? Then you will want to get an Audible account or download the Libby and Hoopla apps to access audiobooks through your local library. Do you like reading ebooks? If so, subscribe to emails with daily Kindle deals so that you can buy books from your TBR when they go on sale. If you read primarily in print, take a trip to your local library or bookstore, or maybe to your own bookshelves (because they're likely filled with books you haven't gotten around to reading just yet).
Is owning books important to you? If so, be selective about which books you purchase (nobody wants a bookcase overflowing with more books than you could possibly read. This goes for physical AND digital bookshelves—just because you have the Kindle space doesn't mean you need to clutter up your digital TBR with books that aren't a good fit). If you tend to be an overbuyer when it comes to books, consider putting a pause on your book purchases until you've worked your way through the books you already own. (If none of those books appeal to you, it might be time to donate them . . . if you're not interested in reading them right now, they don't need to be taking up space on your bookshelf.)
If you are primarily a library user, I'd encourage you to utilize your library holds. Not only does this help you prioritize which books you will read next by locking you into your library's time frame, it also makes a convenient way to keep track of your TBR list. (This is my preferred method: as soon as I hear about a book I want to read, I place a hold on the ebook or audiobook on Libby or Hoopla.)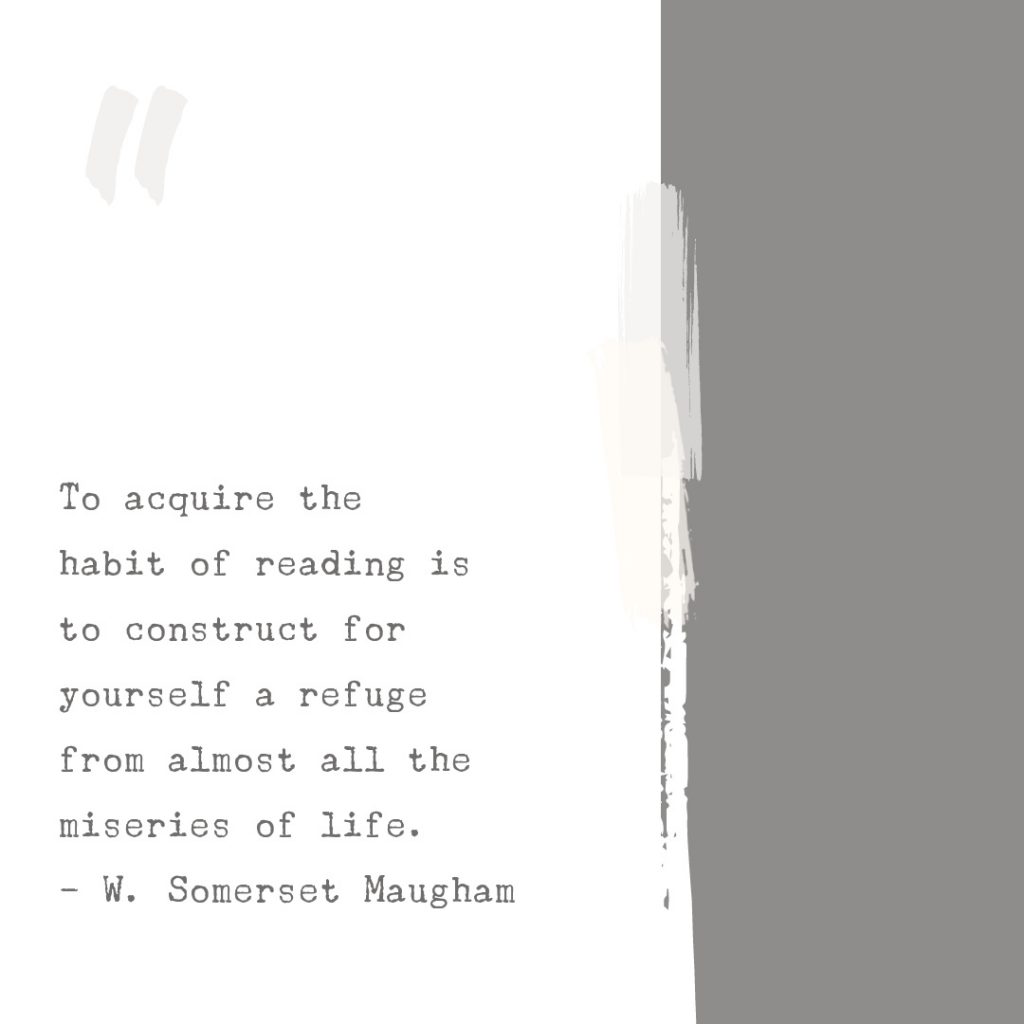 I hope this post has been helpful in guiding you through the process of getting to know yourself as a reader and using that information to inform your bookish decisions. There is so much more I could include in this post, but these tips are plenty to get you started on your journey to a more fulfilling reading life. If nothing else, I trust that this guide is raising your awareness of what you want from your reading and how you can make your vision a reality.
You can find Part Two of this series on reading logistics here and Part Three on what happens after reading here.