For some readers, the reading experience concludes with the final sentence of a book. There is absolutely nothing wrong with this approach: a reader is simply a person who reads, and there is nothing inherently good or bad about limiting one's bookish experiences to the straightforward reading of books.
For many of us, though, the end of a book is just the beginning of a rich connection to the text and the interactions we might foster with the book, our own reading lives, and the broader reading community. This next level of bookish delight is possibly my favorite aspect of being a reader and if you, too, are looking to access a richer after(reading)life, this third and final installment of our Reading Life series was written with you in mind. These strategies have the potential for making your reading more enjoyable and the books themselves more memorable, and they just might be the key to putting the fun (and functionality) back into your lackluster reading.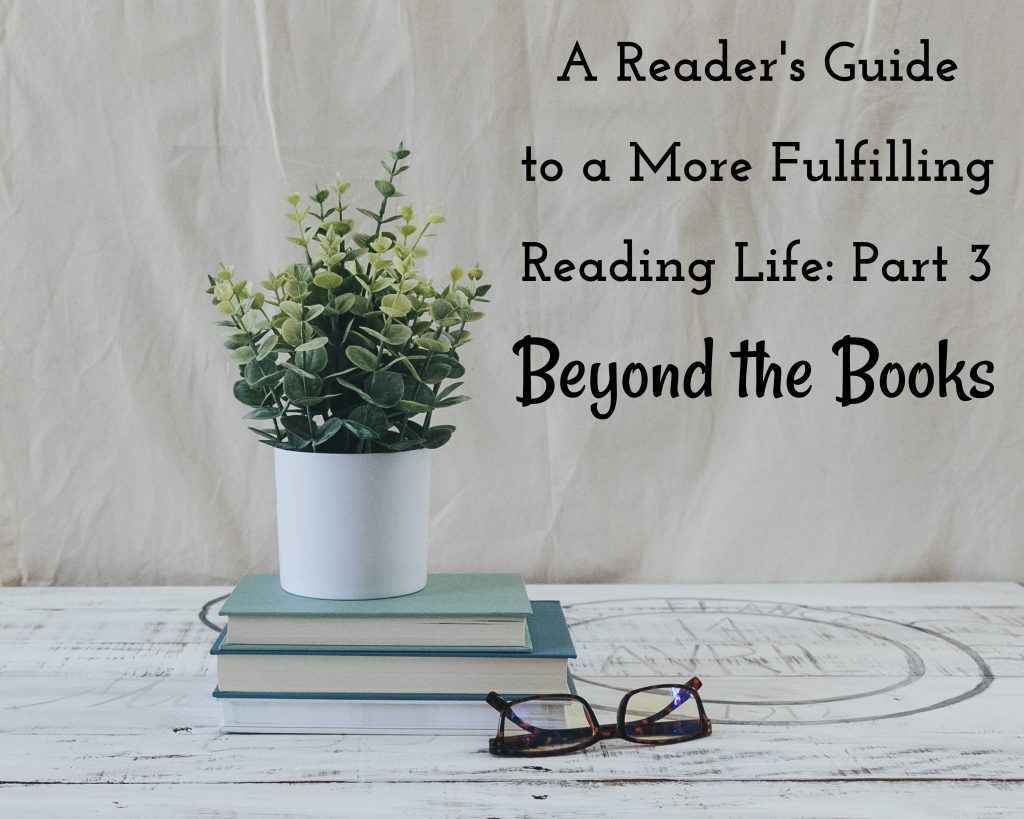 Investing More Deeply In Your Reading Experiences
One of my personal reading frustrations is a lack of retention of what I have been reading. I still have a lot of room for improvement in this area, but I've identified several tricks that help me retain more of what I have read.
Highlight and make notes in books. (This ease of highlighting and preserving notes is one of my favorite aspects of reading on a Kindle.)
When reading a classic or well-known book, read a commentary or study guide (like SparkNotes) alongside the primary text.
Follow along with a print or ebook version while listening to an audiobook. (If you don't want to pay for or borrow the full book, you can read the first several pages on an Amazon or Goodreads book preview; this will help you get your bearings with a novel, or allow you to visually understand a nonfiction book's format via the Table of Contents.)
Reread your own highlights and notes once you've finished a book. Jot down any additional reflections (or a full summary)—either in the book itself, or in a book journal.
Listen to a podcast interview with the author.
After finishing a book, read through book reviews. . . or write your own! (And now you know the REAL reason why I share book reviews on my blog.)
Some other ideas that may not increase retention of a specific book, but will enhance your appreciation for a book or author:
Read through the backlist titles of an author whose work you have enjoyed.
Pair the book with a compatible title. I love reading a nonfiction book alongside a novel addressing similar themes or time periods. I also enjoy reading back-to-back books addressing a theme, trope, or subject matter from different perspectives.
For another take on book pairings, read a classic novel alongside a contemporary retelling.
Identify and read the favorite books of an author you love; consider how these titles may have informed the author's work.
Book Tracking
For some readers, keeping track of completed books zaps the joy out of one's reading life, but for many of us, the recording of books is almost as fun as the reading itself. There are as many methods for book tracking as there are readers. Before deciding how to record your books, consider which metrics you want to track. Some ideas for what to include are: Book Title, Author, Page Count, Publication Year, Genre, Read-Alike Titles, Author's Ethnicity/Gender, Your Book Rating (artistic merit, enjoyability, overall), Source of Recommendation, Book Setting/Themes/Point of View, Trigger Warnings, Favorite Quotes, Date Started/Finished.
Here are a few popular tracking methods you might try. (I utilize most of these methods myself.)
Record your books on a spreadsheet.
Record books on Goodreads or StoryGraph.
Create a Pinterest board for your completed books. (I create a new board for each year, with books categorized by star rating.)
Keep a written list—in a designated book journal, a general journal, or your calendar or planner. Include as few or as many details about the book and your impressions of it as you would like.
Keep a list in Evernote or other digital notes app.
My two biggest tips for tracking books are 1) don't feel pressured to track so much data that tracking your books becomes a chore and 2) record your book as soon as you finish reading, before even beginning another book.
Reviewing these records after a few months or years of tracking will help you notice patterns or gaps in your reading and can inform your book choices moving forward.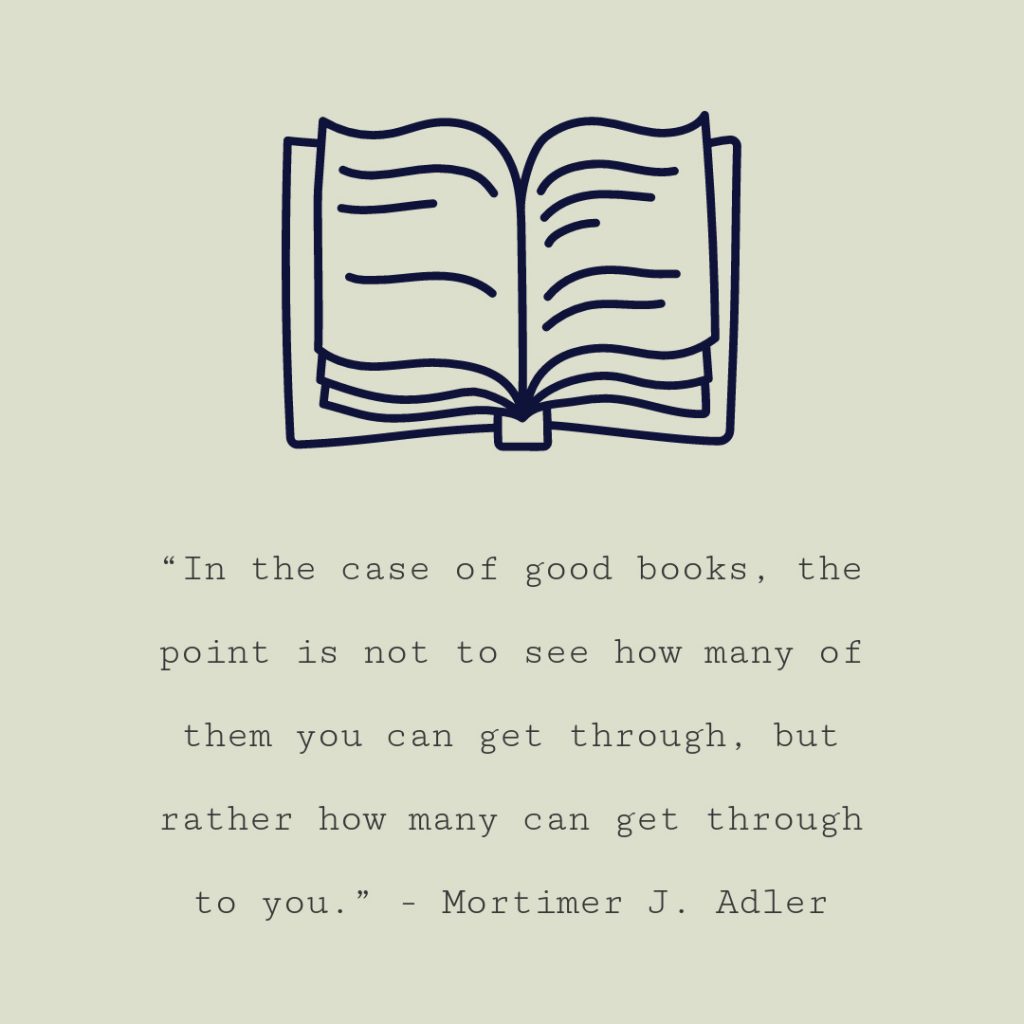 Reading in Community
As an introvert whose main reason for reading is the fact that it's a solitary sport, this is not my area of expertise. For many, though, participation in a reading community is a highlight of the reading life. Here are a few ideas for connecting with fellow readers.
Join or start a book club. (Laura Tremaine provides a great tutorial in this podcast episode, in which she walks book clubbers through factors to consider when just getting started.)
Start a Bookstagram account or a book review blog.
Host a book swap: gather a group of friends and invite each participant to bring a book they've enjoyed. Listen to each guest share about their contribution, then exchange books.
Read aloud with your kids; consider starting a book club with fellow parent/child readers. (You can do this virtually with the homeschoolers at Read-Aloud Revival.)
Give books as gifts. (I love to gift books I've personally enjoyed, but you could also give a book you are hoping to buddy-read with the gift recipient.)
While I don't participate in too much formal bookish community, I do love talking to friends and even strangers about what they are reading. Don't be afraid to bring up the topics of books at your next dinner party, or on the subway, or anywhere else readers might be spotted!
Bookish Experiences
This last category is really taking the book love to the next level! Participating in these will solidify your status as a genuine Book Nerd—what could be better?!
Embark on a bookish tour: visit libraries or book stores across the country, or make a pilgrimage to a historic author's birthplace or museum,.
Take a reading vacation: pack a stack of books and head to a destination where you will have nothing to do but READ. (This is my dream vacation, by the way!)
Subscribe to a book-themed subscription box.
Watch a movie or show that is based on a book you've loved. (User discretion advised, as we all know the book is almost always better than the movie.) Combine this with a community element by having a viewing party with others who have read the book.
Attend an author book signing or a public poetry reading.
Read a play, then attend a live performance.
Attend a family storytime at your local bookstore or library, or host a storytime for kids in your neighborhood.
Proudly sport your bookish gear (socks, bags, shirts, bumper stickers. . . if you want it, they make it!).
Update your bookish accessories: buy a new Kindle cover or splurge on a fancy bookmark.
Organize your bookshelves (physical and digital ones).
Invest in beautiful copies of your favorite classics and find creative ways to incorporate them in your home decor.
Create a reading nook in your home.
Establish book-related family traditions: begin celebrating book-themed holidays, participate in a family-wide reading marathon, choose one night each week as screen-free reading night, or make books a part of your gift-giving rituals. (We give each kid a new book and pajamas on Christmas Eve, and I buy our family a new book for nearly every token holiday. Six years into having kids, we've amassed a great collection of books for Thanksgiving, Halloween, Easter, and Valentine's Day.)
Start a quote journal for preserving favorite lines and quotes.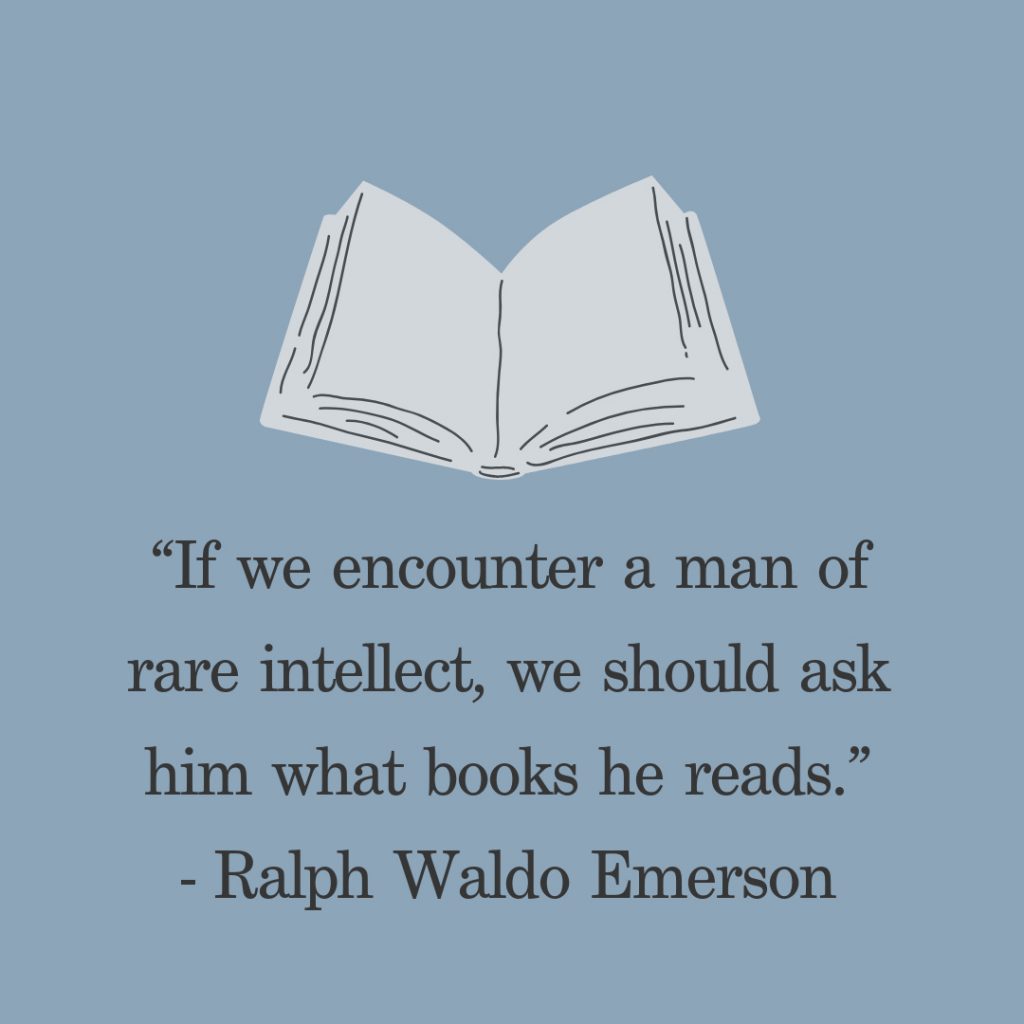 I have had so much fun with this series, and while this marks the official end of my guide to a more fulfilling reading life, I have no doubt I will continue to share more inspiration for the bookish life as I continue to grow in my own reading journey. As blog readers and fellow book enthusiasts, you play a key role in that journey—thank you for being a part of it!