It's another book review day! I liked all of these books, and LOVED a few of them. Let's get right to the reviews!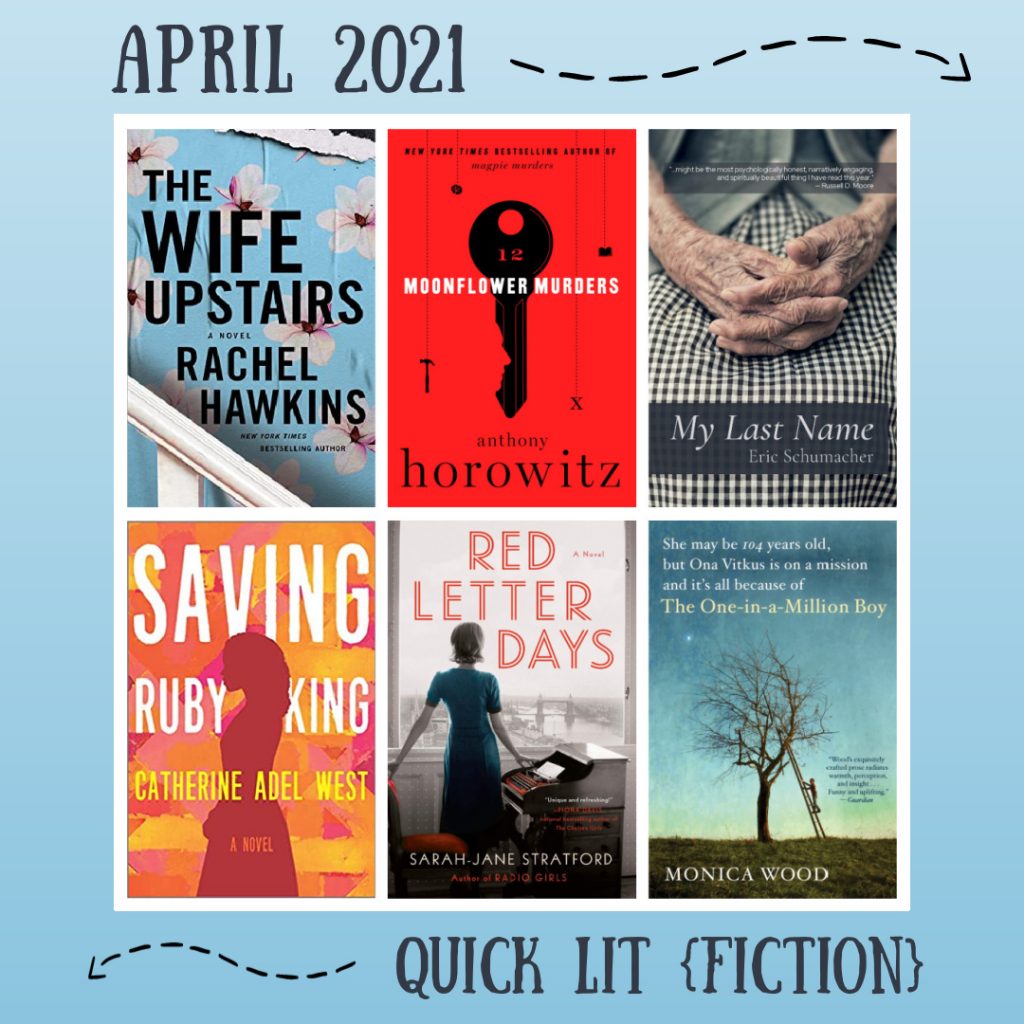 The Wife Upstairs, by Rachel Hawkins: In this modern-day Jane Eyre retelling, our Jane—a recent arrival to Birmingham, Alabama—knows she is out of place in the upscale community of Thornfield Estates, where she spends her days walking the dogs of her elite clientele, occasionally stealing jewelry from the snooty housewives she privately envies. Jane had a difficult upbringing and is desperate for a new life—a life that seems to fall in her lap when she catches the eye of Eddie Rochester.
Rich, handsome, and recently widowed, Eddie is eager to move on after the tragic death of his wife, Bea, in a boating accident last year. Jane and Eddie soon fall for each other, but Jane finds herself haunted by the idea of Eddie's deceased wife: Bea's rags-to-riches story and the success of her southern lifestyle brand seemed too good to be true, and Jane fears she will never live up to Bea's memory. Soon, it becomes apparent that Jane has bigger things to worry about. . . like whether or not her new love will accept her if he learns of her past and, more significantly, whether SHE can trust the mysterious Eddie Rochester.
Having read quite a few mediocre reviews, I was surprised by how much I enjoyed this book! The story is fast-paced, with mounting suspense and plenty of southern charm. The mystery is more obvious than I generally prefer in this type of novel, but the loose ties to the classic Jane Eyre story fully compensated for the more formulaic aspects of the novel. I was impressed with Hawkins' ability to capture the essence of Jane Eyre without following the source material too closely: the parallels are believable, and there are enough unique plot twists that I was never fully sure where this version would take me.
If you need a likable protagonist to root for in a story, this book probably isn't for you. Also, heads up for A LOT of profanity. But for suspense fans who are looking for a touch of literary classics in their mysteries, this novel is sure to be a hit.
My Rating: 4 Stars.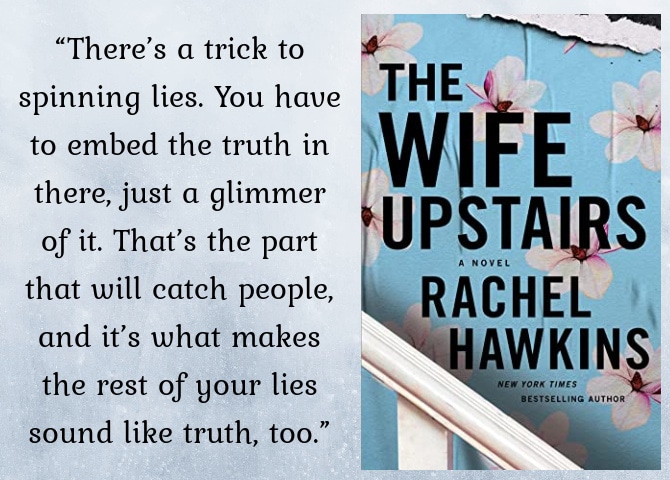 ---
Moonflower Murders, by Anthony Horowitz: When I read Anthony Horowitz's Magpie Murders a couple of years ago, it was unlike any book I'd ever read: an entire Christie-esque cozy whodunit encapsulated within a present-day murder mystery. It immediately became one of my favorite books of the past several years, and I was thrilled to learn of this follow up. I was skeptical that Horowitiz could pull off this unique premise a second time, but I needn't have worried: Moonflower Murders is every bit as delightful as Book One of the series.
Our story begins with Susan Ryeland, a retired book publisher who has left her fast-paced life in England to run a small hotel on a Greek island with her boyfriend Andreas. Though life is good, Susan misses London, and an opportunity to return home presents itself when the Trehearnes come to stay in her hotel. They, too, run a hotel—Farlingaye Hall off the coast of Suffolk—but for the past several years their inn has been marred by the memory of a murder that took place on the same day and in the same place as their daughter Cecily's marriage. That murder became the basis for author Alan Conway's novel, Atticus Pund Takes the Case.
Eight years after the original murder occurred, Cecily read Conway's novel and believed it contained clues proving that the man in jail for the Farlingaye Hall murder was innocent. But shortly after making this discovery, Cecily went missing, and her parents suspect her disappearance is connected to what she read in Atticus Pund Takes the Case. The author of that book has since died, so the Trehearnes have come to Susan (the book's editor) hoping she will be able to help them. Susan agrees, and her investigation takes her back to London and into the Atticus Pund novel in search of the real culprit in the Farlingaye Hall murder, as well as the truth of what has happened to Cecily.
Midway through this story we are given the full text of Atticus Pund Takes the Case, an homage to the Golden Era of Detective Fiction complete with a Hercule Poirot-like detective, a quaint village setting, and red herrings galore. I found I enjoyed this book-within-the-book even more than the present-day story: it would work perfectly as a stand-alone, but the subtle and insightful parallels to the contemporary mystery made it even more of an engaging read. I particularly loved the peek behind the curtain of the publishing world that comes through Susan's commentary on editing the mystery and its various strengths and weaknesses.
The complex premise of this novel might seem intimidating, but trust me when I say it comes together beautifully. It is atmospheric and equal parts cozy and suspenseful, with a handful of puzzles that all have satisfying (but not too easy to spot) resolutions. I listened to the wonderfully produced audio, which comes in just under 18 hours—longer than what I am usually willing listen to, but worth every minute.
My Rating: 5 Stars!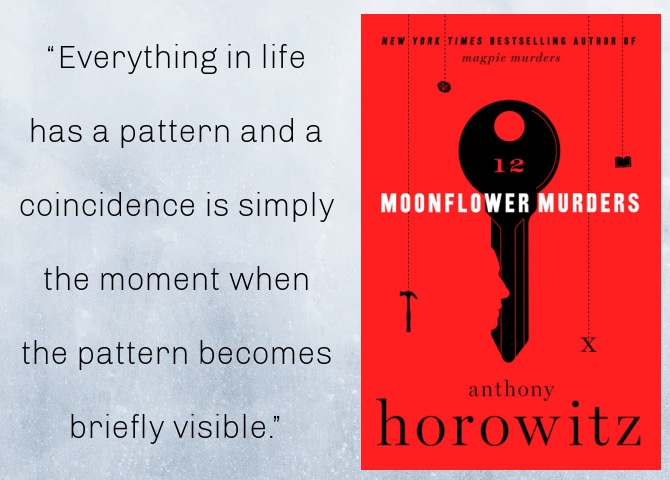 ---
My Last Name, by Eric Schumacher: Lottie Barnes is a ninety-five-year-old woman living in assisted residential care where, she reflects, "I seem to receive more assistance and do less living these days." As her mind succumbs to dementia, Lottie struggles to remember the names of her caregivers or even her own name, yet her long-ago memories remain as vivid as ever. Stories from her past flash through her mind and across the page, and we witness scenes—some hard, some beautiful—from Lottie's difficult childhood, touching marriages, and foray into motherhood.
The issue of dementia is one nearly all of us have witnessed to some extent, yet few authors tackle the subject, and almost never with the dignity seen in My Last Name. This is a stunning novella that captures the essence of a life well-lived and a mind and heart that remain precious despite their decline. Schumacher does not sugarcoat the harsh experience of losing one's mind, but the book does not wallow in sadness or pity; instead, My Last Name celebrates life's sweeter moments and the lessons that can be gleaned from good times and bad. I loved getting to know Lottie through the brief stories of her fascinatingly ordinary life, and was touched by the ways that the Gospel is threaded into the narrative. The last few lines are absolute perfection.
My Rating: 5 Stars!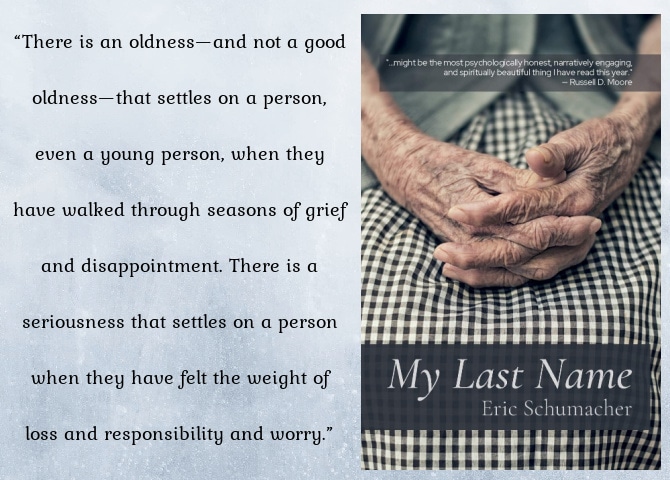 ---
Red Letter Days, by Sarah Jane Stratford: In the spring of 1955, Phoebe Adler is a young screenwriter living in Greenwich Village, where she earns just enough money to pay the rent on her shabby apartment and cover the medical expenses for her older sister, who has spent most of her life in nursing care. Phoebe's life takes a sharp turn when she is erroneously named as a Communist and subsequently blacklisted. Fearing for her safety, the future of her career, and the wellbeing of her sister, Phoebe escapes to London where she hopes she can continue to write. There, she befriends fellow American Hannah Wolfson, a successful television producer whose writing staff is made up of blacklisted expatriates seeking asylum overseas.
Phoebe is eager to join the writing staff of Hannah's successful show, The Adventures of Robin Hood, but it soon becomes clear that leaving America did not release Phoebe from the relentless Communist witch hunt. Both Phoebe and Hannah continue to pursue love, integrity, and success in their professional and personal lives—but these pursuits come at a cost they may be unable to pay.
Though I was aware of the phenomenon of McCarthyism and Hollywood blacklisting, it isn't a subject I have read much about, and I was intrigued by the book's premise (particularly in our current climate of cancel culture, which seems frighteningly similar). Viewing this time period through the stories of two woman was especially interesting, and I admired the courage and humor of both Phoebe and Hannah (who was inspired by the real-life creator of The Adventures of Robin Hood, Hannah Weinstein).
Unfortunately, the remarkable heroines and stellar premise could not compensate for the book's mediocre prose. There are some sparkling moments of dialogue, but a majority of the book falls under the category of "showing, not telling." I have a friend who likes to watch movies by fast-forwarding through the action just to get to the dialogue, and I felt like that was the approach Stratford took in writing this novel: skimming over the details of the story in Wikipedia-like exposition to get to the few witty conversations between. I don't regret reading this book, but I wouldn't put it high on my list of recommendations.
My Rating: 3.5 Stars (Rounded down to 3 stars on Goodreads).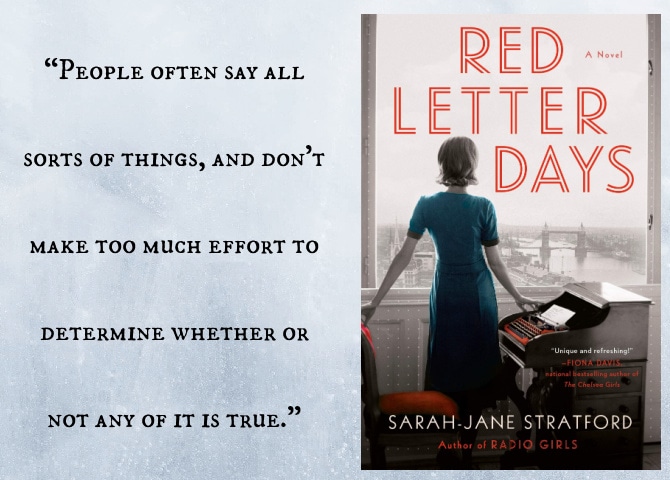 ---
Saving Ruby King, by Catherine Adel West: When Alice King is found murdered in her home on Chicago's South Side, the crime is dismissed by police as a senseless act of violence, but her death sends shockwaves through the King family and their broader church community. With Alice's passing, her daughter Ruby is left defenseless against her abusive father, Lebanon. Ruby's best friend, Layla, wants to help, but Layla's father Jackson (their church's pastor) insists on keeping the friends apart. As the story unfolds, we hear from the viewpoints of Ruby, Layla, Lebanon, and Jackson, as well as from Calvary Community Church, whose walls have borne witness to generations of secrets, trauma, and abuse. (And yes, you read that correctly, the church itself is one of our narrators—and a fantastic one, at that.)
Thought at its heart a mystery (really a pairing of mysteries), this is an intricately layered story of faith, family, friendship, and loyalty amid the racially divided landscape of Chicago across three generations (beginning in the 1960s and leading up to the present day). The various themes, stories, and perspectives play well together, building off of one another to forge an unforgettable story of tragedy and, ultimately, redemption. The topics of racism and unhealthy church dynamics are both prevalent within fiction these days, but few books navigate these issues with the nuance and hope that are woven into Saving Ruby King.
This book provides one of the most thoughtful and empathetic examinations I have read on the topic of generational trauma and the varying manifestations of abuse; our characters are flawed yet fluid, and if not always likable, their behavior is either well-intentioned or at least understandable. Through their experiences we are given profound insights into how abuse can continue to be tolerated within a family and a community, despite the best intentions of loved ones. We see what can happen when loyalties and motives are misguided or misplaced, but from the center of these imperfections, we are given a picture of friendship at its finest.
My one qualm with this book is that the protagonists read very young, despite being in their twenties—something that confused me and gave the novel a YA feel, though I believe it is intended to be adult fiction. Small caveat aside, this is an incredible debut novel; I look forward to reading more from Catherine Adel West. I've enjoyed hearing her interviewed on a few podcasts and learning about how much of this novel is built on her own experience growing up the daughter of a pastor and her connections to the black church and her own faith.
My Rating: 5 Stars!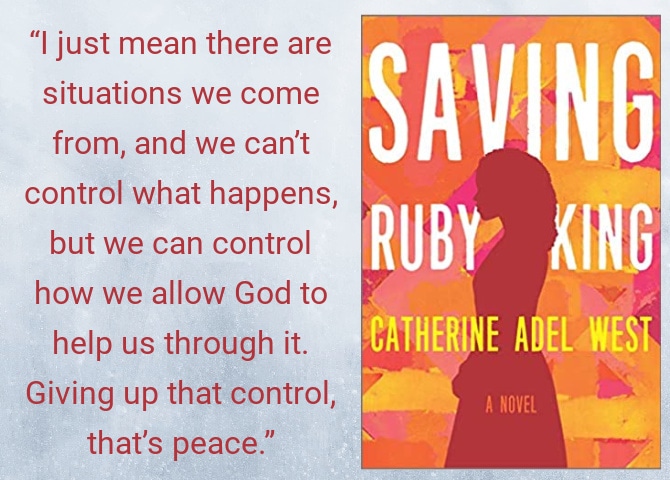 ---
The One-in-a-Million Boy, by Monica Wood: Curmudgeonly Ona Vitkus is 104 years old and healthy as can be, but without a friend in the world. That is, until an 11-year-old Boy Scout begins helping out around her house and begins taking an interest in her life, which he begins to document via a series of tape recorded interviews. The boy, who is a walking encyclopedia, has a passion for memorizing Guinness world records, and together he and Ona embark on a mission to get Ona a place within the book. Then, one Saturday, the boy fails to show up at One's house. In his place is the boy's father, Quinn.
Quinn is a musician and was mostly absent from his son's life, but now that his child is gone, Quinn is determined to make up for his parental shortcomings by fulfilling his son's obligations to Ona. Neither Quinn nor Ona is initially happy with this arrangement, but they soon begin to bond, united by their joint love for a boy neither of them truly knew but whose brief life left an unshakable legacy.
This is a quiet story, but a sweet one. It is a tale of unexpected friendship, of loss, of the ways that we grieve, of parenthood and marriage, of aging (or never getting the chance to age), and of redemption that can be found in every hidden corner of life, arriving in the most unforeseen places and always just on time. Through Ona's long life and the boy's short one, we explore the value and purpose of our time here on earth and how a seemingly inconsequential or insignificant existence can resonate through the lives of those around us.
The book's structure is unique, alternating between Quinn's story of struggle and striving, and the boy's interviews with Ona, whose life was no more hopeful than Quinn's; these interviews were my favorite parts of the novel, as they offer windows into the heart and character of the remarkable young boy, even though we never meet him directly (or even learn his first name). His light shines brightly between the dimming beacons of Ona and Quinn, and his tragic story (rather counterintuitively) manages to offer hope in what might otherwise be a bleak book. The result is a story that is sentimental but not saccharine, offering positive messages, memorable characters, and a thoughtful reflection on the things that are most important.
My Rating: 4.5 Stars. (Rounded up to 5 stars on Goodreads.)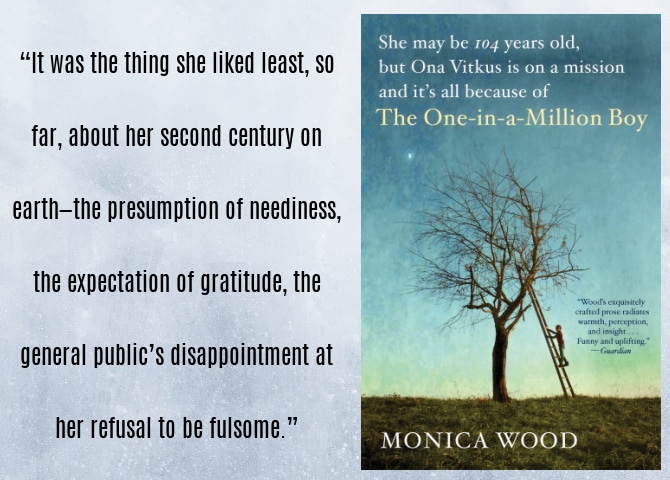 ---
In case you missed it, you can read part one of this month's Quick Lit (with reviews of the nonfiction titles I've read recently) here.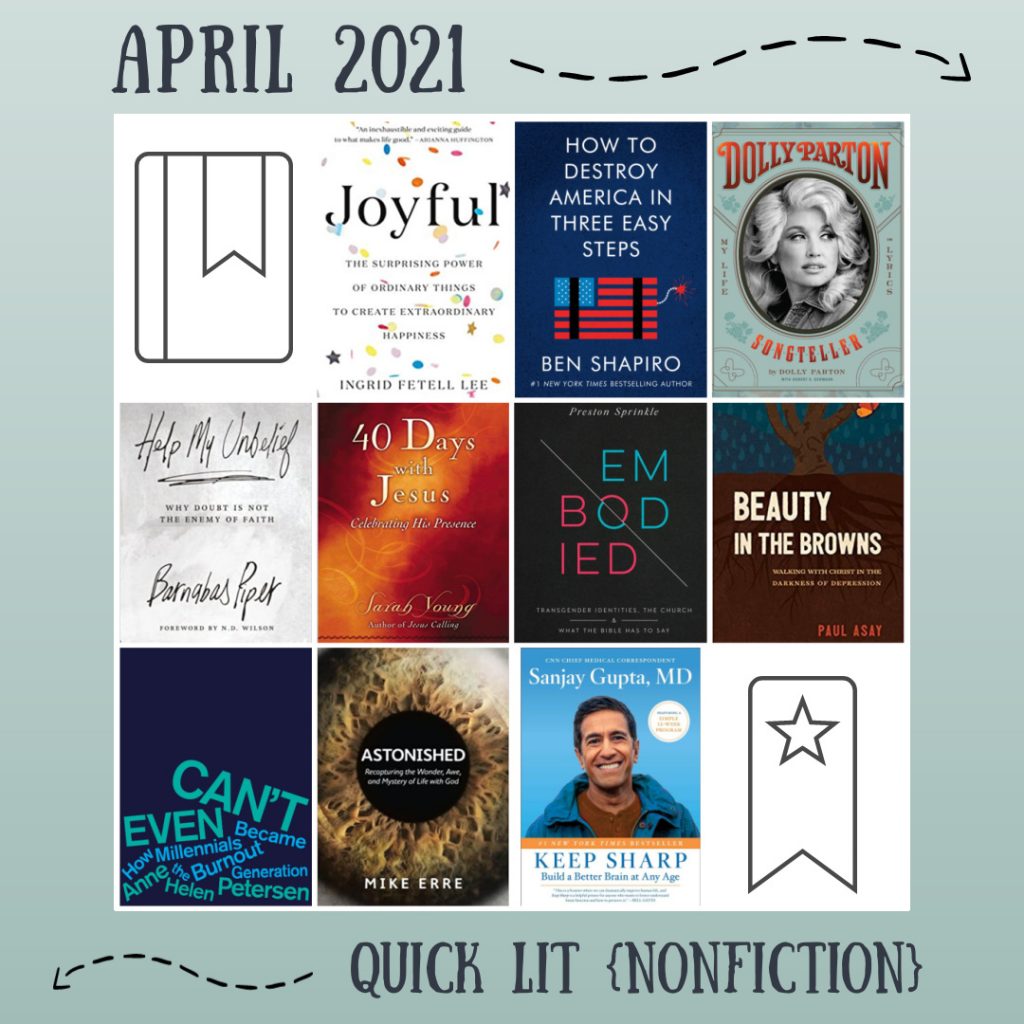 What have YOU been reading lately?