I'm excited to share reviews of eight recent novels with you today. This roundup includes some fantasy, a few thrillers, a couple of genre-bending contemporary books, and a classic I'd been meaning to read. Let's get to the reviews!
The Good Sister, by Sally Hepworth: Twin sisters Fern and Rose have always been close, the bond between them strengthened during a trauma-filled childhood and years of Rose serving as protector and advocate for Fern, whose sensory issues make it difficult for her to navigate the world on her own. Now in their late twenties, Rose is married and hoping to start a family while Fern enjoys her job as a librarian, where she spends her days recommending books, reading with children, and avoiding bright lights, loud noises, or anything outside her usual routine.
When Fern discovers that Rose is having difficulty becoming pregnant, Fern takes it upon herself to conceive a baby for her twin. First, she must find a father, and when a handsome but apparently homeless potential suitor shows up at the library, Fern's plan is put into action. But as her mission moves forward, Fern begins to see that everything she had assumed about herself, her sister, and her past was built upon a lie. As we alternate between Fern's story and journal entries from Rose disclosing secrets of their past, we as the reader are also left to wonder which of these unreliable twins is to be believed.
This book was not at all what I suspected from a psychological thriller. Though an ominous tone is present from the earliest pages, the first portions of the book read like the sweetest of romantic comedies. I was reminded a lot of The Rosie Project, and loved the charming dynamic between Fern and her new beau, an app designer she calls Wally. As the story moves forward, suspense builds and I began to question the reliability of both of our narrators as well as the seemingly altruistic nature of their sisterhood. This is more than a mystery or rom-com or family drama: it is a complex exploration of sisterhood (from the beautiful to the messy to the dysfunctional), of mental illness, and the measures we are willing to take to get what we want and to help meet the needs of those we love.
I should not have been surprised by the twists the story takes, as the book contains plot devices and tropes I've read countless times before, but I was absolutely caught off guard by the ending. I'm on the fence as to whether I appreciated these particular twists or merely felt tricked, but regardless of my opinion of how the story unfolded, it gave me quite a bit to think about regarding the reliability of our memories, the motives behind our relationships, and our perceptions of the connections we hold with those around us.
The book's library setting is a fun component to this novel, and I enjoyed the book references and recommendations sprinkled throughout. But it is the character of Fern who is the absolute standout in the book! I adored this quirky character, from her love of structure and her literal interpretation of her world, to her offbeat humor, her enthusiasm for books, her outlandish outfits, her complete disregard for social norms, and her kind and generous spirit. Though she is clearly on the Autism spectrum, Fern is not given a label in the book, an intentional choice by the author: Sally Hepworth is the mother of two children who are neuro atypical, and their personalities inspired the character of Fern. In an interview with Amazon Book Review, Hepworth stated, "I didn't want to make a character because they were autistic or because they had a sensory processing disorder, but more in spite of it. The fact that Fern is possibly on the spectrum is the least interesting thing about her. She's this beautiful heart-warming character who is a fantastic librarian, a wonderful sister, beloved by everyone in her community. So this was really my attempt to represent the community I am a part of in a way that is not just accurate but a bloody good representation of the wonderful traits of people on the Spectrum as well as they challenges they face." Hepworth succeeds in this aim, and I couldn't possibly have loved Fern more.
This is a menacing story that left me feeling a bit squirmy, but also unexpectedly warmed my heart. I have to admit, though, that while I've always wished for a sister of my own, this novel helped me see the value in the complete lack of sisterly "love" in my life: maybe I'm better off without a "good" sister looking out for me . . . .
My Rating: 4 Stars.
---
Brave New World, by Aldous Huxley: File this one under Books I Should Have Read In High School, but never did. It's a dystopian novel, a genre I tend to dislike, so I wouldn't have picked it up as an adult if not for Luke's urging. (He finished it last month and insisted I read it ASAP so we could discuss.)
Set in the not-too-distant future, Brave New World describes a caste-based society where people are genetically engineered and physically and psychologically controlled (through both explicit coercion as well as subliminal messaging) by the government to conform with expected societal and hierarchal norms. In this new world, promiscuity, brainwashing, and medication keep citizens compliant and unaware of their own manipulation.
Our protagonist, Bernard Marx, suspects there is more to life than he has been allowed to experience, and he is given a glimpse at the "old" way of existence on a visit to a New Mexico Indian reservation. There he meets "savages" whose lives are difficult but who have also been exposed to all that Marx and his compatriots have been missing.
I can't say that I enjoyed this novel, as the writing style wasn't to my taste and the subject matter was difficult to stomach. However, I am very glad that I read it. Huxley's words, written nearly one hundred years ago, were frighteningly prophetic. From his predictions on the trajectory of social mores and technological dependence, to his projections related to governmental structures and genetic engineering, much of what Huxley foreshadowed either describes today's society (albeit in exaggerated form) or is recognizable as a reality we might experience in a plausible future.
Huxley speaks powerfully on issues of censorship, happiness, the malleability of messaging vs absolute truth, and what may happen when we concede our own thinking and free will to outside authorities. We see the slippery slope that begins with abandoning faith and freedom for the sake of temporal happiness, and ends in complete depravity and a loss of all that gives us reason to live. Brave New World is a cautionary tale that we in the 21st century would do well to heed.
My Rating: 3.5 Stars (Rounded down to 3 stars on Goodreads.)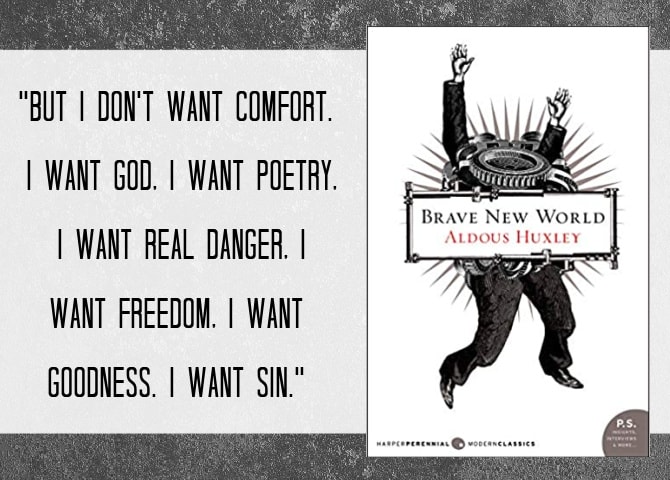 ---
The Plot, by Jean Hantz Korelitz: Facing imminent irrelevance as an author after failing to live up to his first (semi)successful novel, Jacob Finch Bonner makes a living teaching other aspiring novelists in a little-known MFA program. When an unlikeable student named Evan Parker shares the plot of his forthcoming novel, Jake can't help but envy the incredible premise that is sure to bring Parker instant wealth and fame.
Years later, Jake learns that Parker died having never written that promising book. Recognizing Parker's plot as too good to pass up, Jake takes it upon himself to craft a novel from that story—and as predicted, the wildly twisty plot skyrockets to the top of bestseller lists and makes Jake as its author a literary phenomenon. Unfortunately, the knowledge of his less-than-ethical plot thievery prevents Jake from relishing his success. Then Jake's worst nightmare comes true: he receives a message from someone claiming knowledge of what he has done. With his career and reputation on the line, Jake embarks on an investigation to identify and take down his antagonist, whatever the cost. Soon Jake finds himself living out a plot even the most imaginative author couldn't have predicted.
Woven into the contemporary story are excerpts from Jake's own bestseller, which begins to tie into the main storyline in some shocking ways. It takes a confident writer to tackle this book-within-a-book format, especially one that claims to be a runaway bestseller; while I don't know that the "killer novel" itself would merit the acclaim it receives in this book, it works wonderfully alongside the primary story.
I loved the meta nature of the book, the commentary on authors and their craft, and the wry humor that comes out in these discussions, and I was deeply impressed with the writing style. Korelitz's exploration of literature and the writing craft brazenly invites the reader to look carefully at the merits of the book before us, and I found little to fault and much to admire in both the story and the telling of The Plot. Ironically, for a book titled The Plot, I did struggle with some aspects of the story that didn't quite make sense to me; at times the author tries so hard to be clever that it results in glaring discrepancies within the story, but I was mostly willing to overlook these for the sake of a good twist (of which this book has plenty).
I read this just after finishing Who Is Maud Dixon? and couldn't get over the parallels: both are books about authors behaving badly, diving into themes of story and authorship, identity and creativity, and the life of a desperate writer set upon success. Both are literary and filled with unlikeable characters that I enjoyed rooting against. I ended up liking Maud Dixon more than The Plot, but both are quality thrillers that I'm happy to have read and I ended up enjoying the pairing.
My Rating: 4 Stars.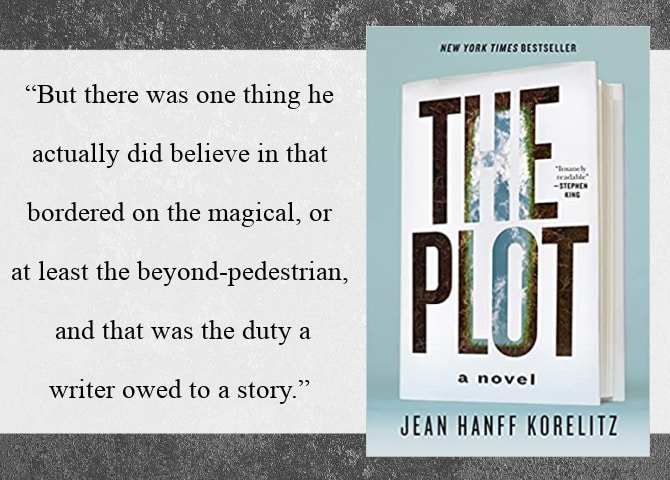 ---
The Magician's Nephew, by C.S. Lewis: Luke and I introduced Charleston to the Narnia series earlier this year through The Lion, The Witch, and The Wardrobe. He enjoyed that book enough to continue with the series, so we dove back in with this series prequel. The book explores Narnia's creation story and introduces Aslan, whom two British children, Diggory and Polly, encounter when being transported into this other world in the year 1910.
I'm so glad we read The Lion, The Witch, and The Wardrobe first, as that book is much more accessible and therefore (for me, at least) more enjoyable (I suppose there's a reason it's the most popular of the Narnia books). It pains me to give a Lewis book anything other than a stellar rating, but I found this story a little slow and the allegories a touch too on the nose. Of course I appreciated the Christian themes and the humorous writing style, and I did enjoy the chance to learn about Narnia's origins, plus the various character and story tie-ins to The Lion, The Witch, and The Wardrobe. I'm certainly glad we read this book with Charleston, but it is probably my least favorite in the series. (This was a reread for me and I enjoyed it less on this second reading, so perhaps my ambivalence had more to do with my mindset while reading than the book itself.)
My Rating: 3.5 Stars (Rounded up to 4 stars on Goodreads.)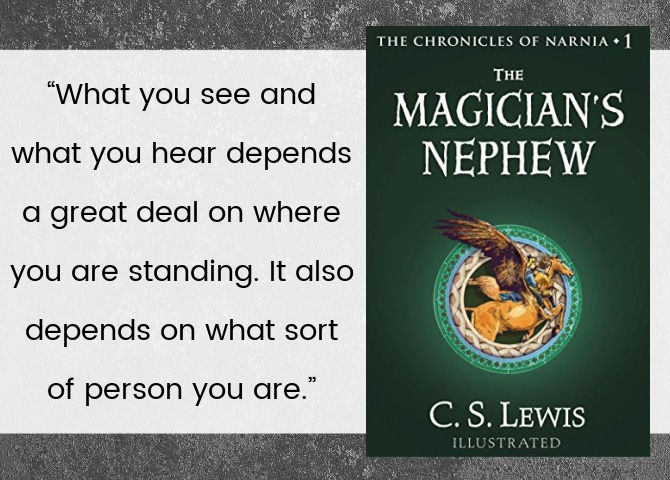 ---
Hostage, by Clare Mackintosh: Flight attendant Mina is honored to be aboard the first direct commercial flight from London and Sydney. But 20 hours in the air is a long time . . . long enough to forever alter the lives of everyone on board. When Mina receives a threatening note demanding she comply with on-board terrorists or be responsible for the murder of her young daughter, Mina is forced to make a decision no mother should have to make: will she risk the life of her child for the sake of her passengers? Mina's relationship with 5-year-old Sophia is complicated, the dynamic between Mina and her estranged husband even more so; is she willing to put hundreds of lives in jeopardy out of her love for her broken family?
When one passenger is killed and the threat becomes more immediate, Mina realizes she must act quickly. Meanwhile, back in London, Sophia and her father face their own locked-room situation while awaiting their unknown fate. What follows is a perilous, multi-layered fight for family, love, and a quest to do what is right.
For obvious reasons, this would not be a good pick for an airplane read, but from my safe position on land, I loved this fast-paced thriller. Through anecdotes from several of the passengers (all with difficult pasts, all more complicated than they first appear) as well as in backstories of our protagonists, we dip into a number of intriguing topics including domestic abuse, addiction, body size prejudice, racial profiling, climate change, and adoption/infertility. The book asks us to question our assumptions about terrorist profiles and activism, as well as our ideas on the inner workings of a family. In Mina and her husband and child, we get a wonderful insight into a family who is flawed but still motivated by love. I was especially drawn to the dynamic between Sophia (a remarkable young protagonist with a broad vocabulary and a unique view of the world) and her mother and father, who struggle at times in their role as adoptive parents to a special child.
The sheer number of characters and perspectives gets a little confusing, as do some of the plot twists and descriptions of the action, but thankfully it mostly comes together in the end. Mackintosh is the queen of "holy cow, did that just happen?" final pages, and the Epilogue here offers that in spades. This bombshell ending, combined with the book's engaging characters and themes and its fascinating behind-the-scenes look at life aboard an airplane (for passengers, pilots, and flight crew) made this a book I can easily recommend. But as stated earlier, do NOT pick this up to read on (or soon before hopping on) a plane!
My Rating: 4 Stars.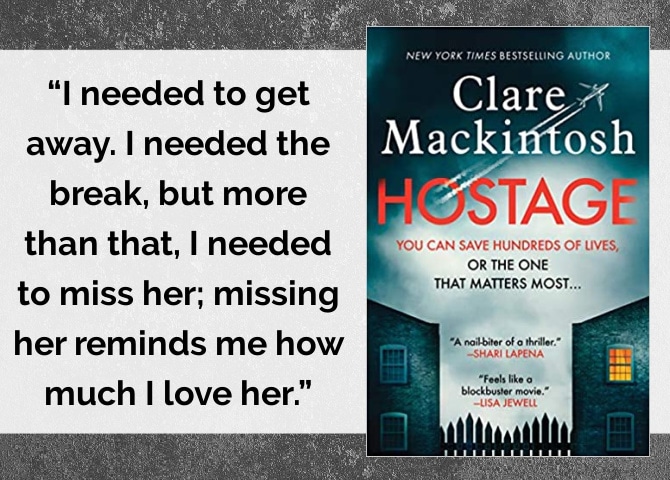 ---
The Maidens, by Alex Michaelides: Therapist Mariana Andros is still grieving the recent tragic death of her husband when she receives more frightening news from her niece, Zoe, who is studying at Cambridge University: Zoe's closest friend Tara has been murdered, and Zoe is certain the killer is the school's beloved Greek Tragedy professor Edward Fosca. Mariana immediately rushes to assist Zoe in solving the murder, with the intention of putting the obvious culprit behind bars. But soon more deaths take place, all of the victims members of Fosca's secret society of female students known as The Maidens. Relying on her experience within the world of psychology, and spurred on by love for the niece she loves like a daughter, Mariana immerses herself in a toxic world of sinister campus societies, Greek rituals, and a terrifying trail of victims, abuse, and warped understanding of symbols, history, and mythology.
This book is a slow burn and I had difficulty connecting to the story at points, but was intrigued by the merging of psychological study (and its limitations) with Greek mythology and a more traditional campus mystery, all bound together by the tale of a horrific serial killer on the prowl. The book is steeped in difficult themes including the nature of victimhood, the limitations of psychological analysis, and the ways we can be blinded by love and loyalty and tradition. The story is disturbing on many levels, made more haunting by the eerie tie-ins to Greek mythology and the seemingly serene (but ultimately sister) campus setting.
The novel's ending comes out of nowhere, and though I generally love being caught off guard with a twist, this one was a little too outlandish (and disturbing) for my taste. The book left me questioning the characters and the entire plot, and not in the best way. Still, if you are a fan of psychological thrillers verging on horror, or enjoy books featuring university settings that unite subject matter with story, you'll likely eat this book up. Also great for anyone intrigued by the world of psychology, particularly group therapy—including its merits AND its drawbacks.
I haven't read Michaelides' popular debut novel, and though this subsequent book wasn't the best thriller I've read recently, I enjoyed it enough to give The Silent Patient a shot.
My Rating: 3.5 Stars (Rounded down to 3 stars on Goodreads.)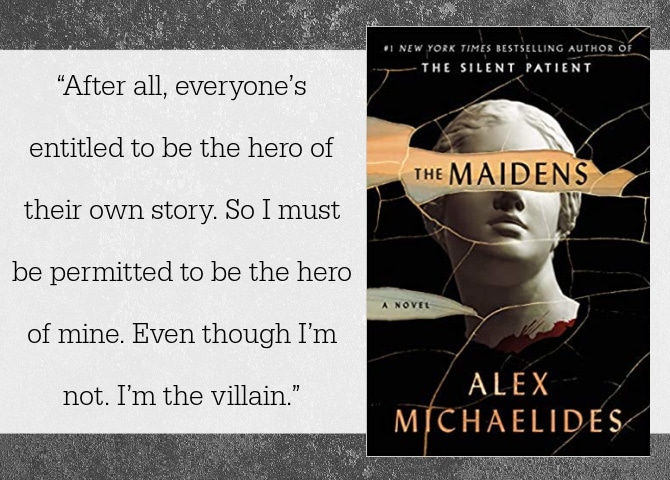 ---
The Door in the Dragon's Throat, by Frank E. Peretti: Archaeologist Jake Cooper and his teenage children, Jay and Lila, arrive in the Middle Eastern country of Nepal to explore a mysterious hole known as The Dragon's Throat. According to local legend, a cursed door lies inside the foreboding desert cavern, and all who try to open it will face certain death. Sustained by their faith in God's protection, the Coopers descend into the depths of the Dragon's Throat to discover what lies behind the door. Their journey is one marked by adventure, terror, and all manner of spiritual forces, bringing the Coopers face to face with an enemy only the Lord can vanquish.
I read this book as a child and was excited to introduce Charleston to this series, and to this author Luke and I both love. The story was more frightening than I remember but I loved the strong sense of place, the blending of spiritual and historic themes, and the kid-friendly introduction to spiritual warfare. Though heavier than what we would normally read with Charleston, our whole family appreciated this Indian Jones-style story of good vs evil and are looking forward to reading more in the series.
My Rating: 4 Stars.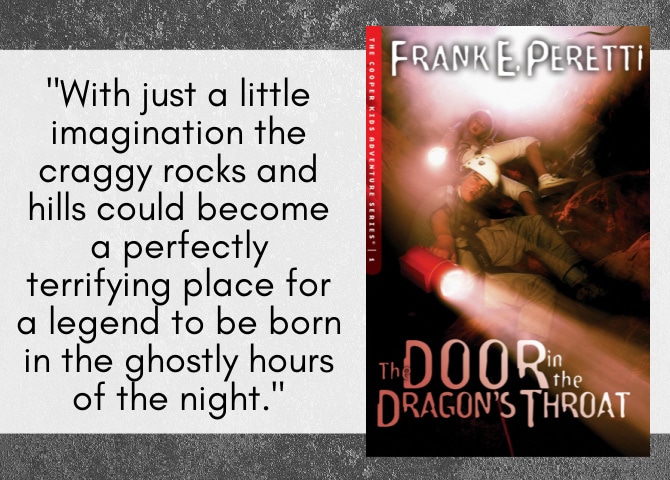 ---
Good Company, by Cynthia D'Aprix Sweeney: Actors Flora and Julian have been married (quite happily) for more than twenty years, but their relationship changes in an instant when Flora stumbles upon her husband's wedding ring—the ring Julian claims to have lost early in their marriage. That summer when the ring went missing, Julian and Flora were barely making ends meet, scraping together enough acting work to support their daughter Ruby and keep their theater company (Good Company) afloat. Life was hard but happy, filled with theater and family and especially friendship with their best couple friends, actress Margot and her doctor husband David.
Fifteen years later, both couples have relocated to Los Angeles where all three actors have traded live theater for television work. On the cusp of Ruby's high school graduation, the dynamic between the families has shifted and is on the precipice of shifting once again. But the uncovering of old secrets and long-stifled grievances has left their marriages and friendship in the balance. Will this be a summer of coming back together, or is everything they lived for about to fall apart? What follows is a thoughtful meditation on the complexities of friendship and marriage, binding loyalties and disruptive egos, creative ambition and relational connection. This is a story of parenthood in its many forms; of found family; of the roles truth and perception play a part in the bonds we forge; and of the transformative power of memory, forgiveness, and love.
This book doesn't have the best reviews, but I inhaled it. The plot is thin, but I appreciated the character-driven story that was a refreshing palette-cleanser after reading a long string of action-heavy thrillers. I especially enjoyed the book's setting that toggles back and forth between the theater world of New York and the shallower Hollywood scene; the dichotomies between these two places and worlds are fascinating and their juxtaposition provides a unique commentary on acting in its various forms.
The story of two couples and their evolving connection over many years reminded me quite a bit of The Dearly Beloved (a personal favorite). As with that book, the characters in this novel are its strong point: our protagonists are nuanced and believable, and quickly earned my devotion in spite of (and sometimes because of) their flaws. The author unpacks each character gradually, adding more and more layers with each chapter and scene and enhancing my empathy for them with every passing page.
Sadness plays nicely alongside hope within this story, with insightful commentary and gorgeous prose throughout. The narration is fluid, transitioning back and forth in time and between characters. This was occasionally difficult to follow but made for an intriguing reading experience that mimicked my own thought life and perceptions of history. Like all the best books, this one evokes its share of emotions and personal reflection.
My Rating: 5 Stars.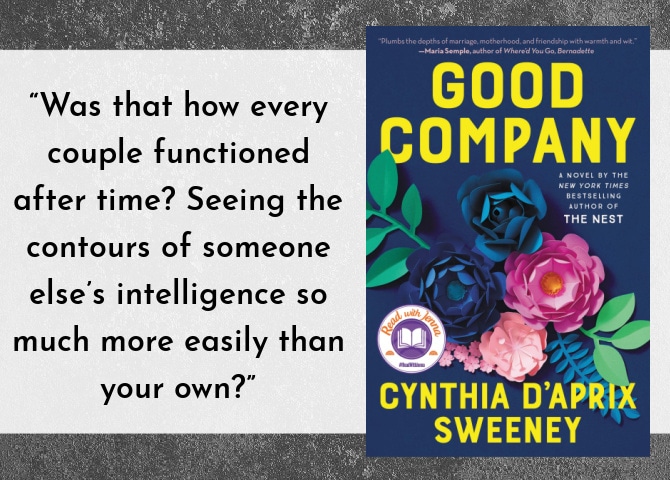 ---
In case you missed it, you can find my post featuring this month's nonfiction reviews here.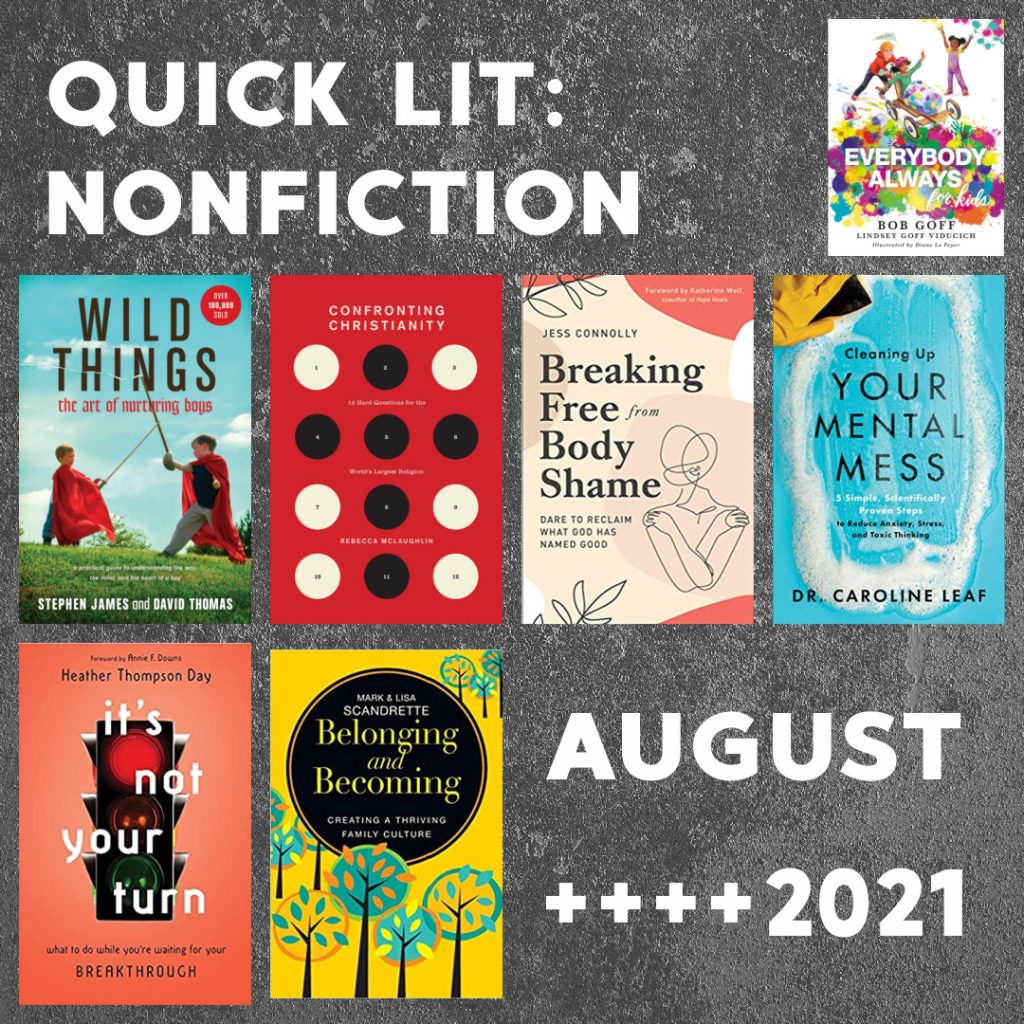 I'd love to know what you have been reading lately. Do we have any overlap? If so, what did you think? Please share your thoughts with me in the comments!