Winter is a heavy accumulation season for our family, and for Charleston in particular, thanks to the compounding factors of Christmas and his January birthday. (Poor family planning on my part, I know.) Consequently, Charleston has added a number of exciting new items to his arsenal of toys and accessories in the past few months. In the spirit of spreading the news about awesome products, I thought it would be fun and possibly helpful to share some of them here.
A number of these items might look familiar, because I featured several of them in my Preschooler Gift Guide before Christmas. At the time, they were merely items that were on Charleston's Christmas wishlist; now, we have first-hand experience with each of these Gold Star products and can enthusiastically recommend them.
Whether you're looking for birthday gifts for a young friend or family member, or want some gift ideas for your own child, I can tell you that each item on this list has received Charleston's personal stamp of approval. All of these items get used or played with almost daily in our home. And an added bonus is that all but one can be found on Amazon for less than $30!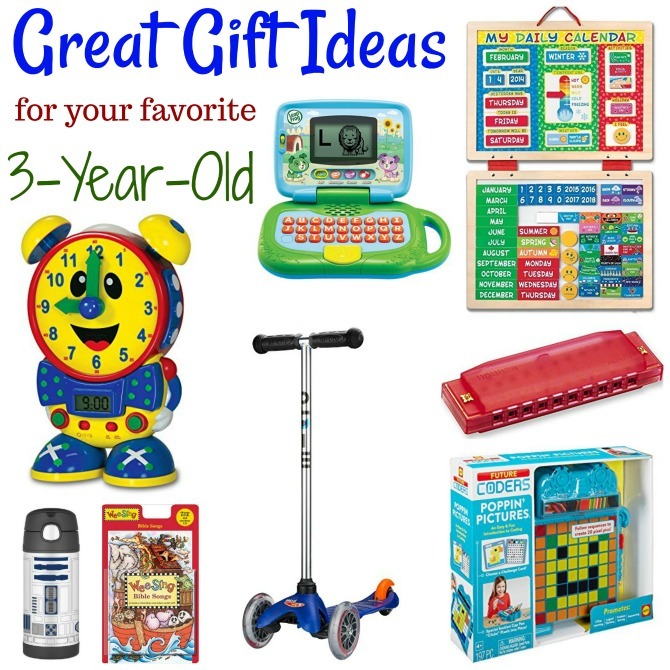 I bought Charleston this calendar as a Christmas gift because I thought it was cool. (It's the teacher in me.) I had no idea he would get such a kick out of it! It's the first thing he wants to play with each morning and it's been a fantastic learning tool, helping him master the days of the week and his numbers, and also giving him a better understanding of our family's schedule and which activities fall on certain days. My only complaint is that there are limited daily activity magnets; I wish there were magnets for things like church, grocery shopping, or swim lessons. Our work-around is to use the Special Activity magnet for those things and spend some time talking about what that day's "special" activity will be. This has been known to backfire when Charleston responds to our day's plans with, "that isn't special at ALL." Have I mentioned that my child has entered the sarcastic threenager stage?
This $5 toy was an immediate hit with Charleston on Christmas morning, and it's remained one of his favorite toys in the subsequent months. He's a big fan of instruments of all types (namely, his dad's drum set and guitar), but this is the only instrument small enough (and quiet enough) to tote around the house and even in the car. I'm not claiming that he has any skill with this one just yet, but I sure do love his enthusiasm.
I'm not usually a fan of toys that talk or have screens, and this toy's entire premise is that it features a talking screen. However, the toy's good features—and Charleston's enjoyment of them—outweigh its faults. I do like that it is less mindless and more intentionally academic than a tablet, and Charleston has demonstrated noticeable improvements with recognizing his alphabet as a result of playing with it. The Leaptop is durable and compact, and Charleston loves that he can sit in the office and do work on his personal computer alongside Mama and Daddy as we work on our own laptops.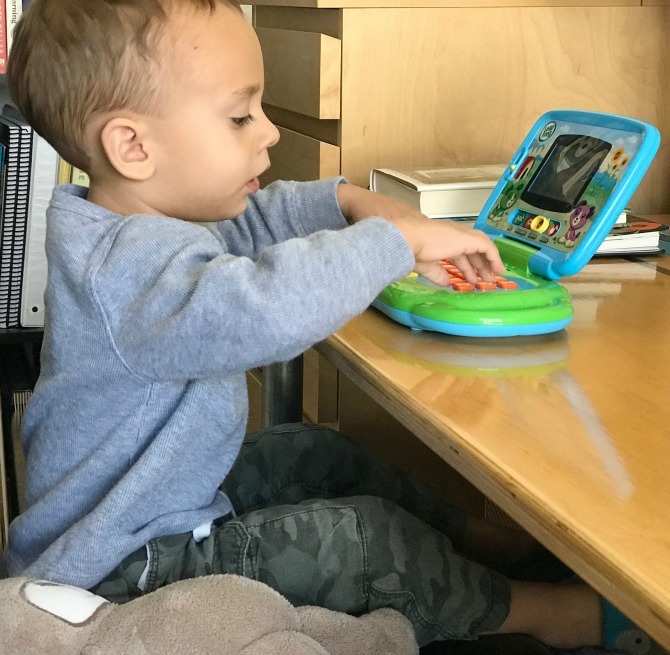 This is another toy whose academic value more than compensates for its noisiness. The adorable clock features an analog clock and digital screen, and it's both a functional clock and a teaching tool. Charleston has fun playing with the Quiz Time features, and though he's a bit young to grasp the concepts, I like that he's getting a good introduction to time-telling.
Like every Christian child of the 80s, I grew up on Wee Sing Bible songs. While I truly loved them as a kid (I still do), I was unsure if they would appeal to Charleston, who has wider access to ("cooler") music than his mom did thirty years ago. I decided to take a chance on the CD, and am so glad that I did. We keep it in our car and Charleston adores the songs. He's memorized many of them, and their lyrics have led to some fruitful spiritual discussions.
This is the one item on this list that isn't under $30 (it's currently around $80 on Amazon), but I had to include it here because it's been the biggest Gold Star of Charleston's year. It was his Santa gift at Christmas, and while I had a feeling he would enjoy it, I had no idea he would want to spend all day, every day scootering. It's truly his favorite activity, and he's gotten really good at it. I would definitely recommend a scooter as a first mobile toy, as it's easier for kids to master than a bike or skateboard, and it's relatively safe. I got Luke an adult version for his birthday, and we've been borrowing Luke's dad's scooter as well, so now our whole family can scooter together. And we all know that a family that scooters together, stays together.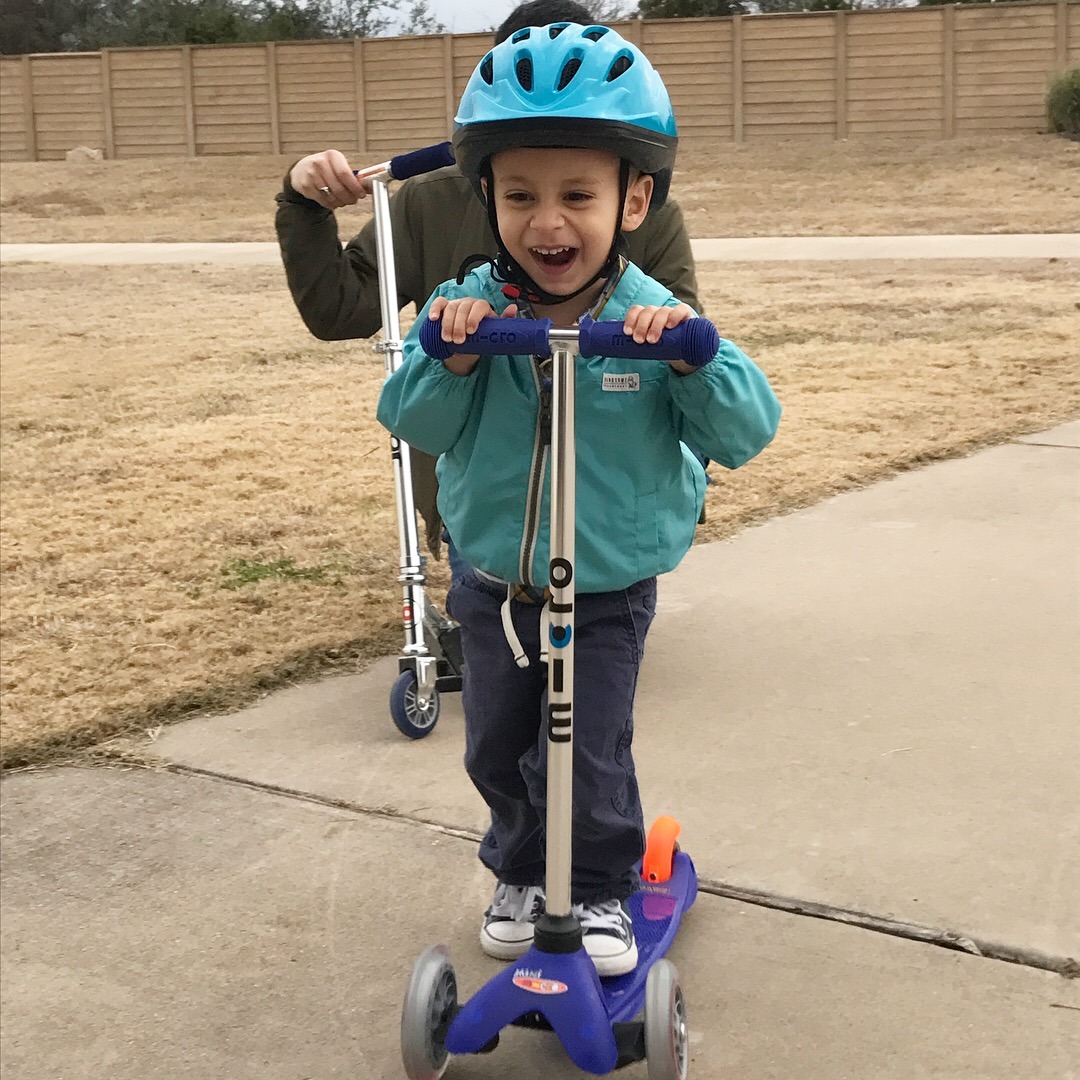 This cute little thermos was a Christmas gift from a couple of years ago that we began using recently, once Charleston had officially graduated from his sippy cups. We now keep this water bottle in his backpack for car trips and mornings at church or Bible study. It's durable and spill-proof, and the vacuum seal keeps his water cold. Best of all, the unique design guarantees it won't get mixed up with another child's during child care. Charleston has always been a great water drinker, but this would be a great motivating option for kids who have trouble staying hydrated.
Charleston received this creative toy from my Aunt and Uncle for Christmas. My initial thought was that it would be too advanced for him for at least a couple of years, but he insisted on playing with it right away, and with some assistance, he's able to decode the pattern cards to create his own tile patterns. The toy teaches pattern recognition and problem solving skills in a fun and creative way, and the tiles and cards store nicely in the adorable robot-shaped package. This would make a fantastic and unexpected gift for any kid, but especially one whose dad is a professional programmer. (Luke has been very excited to introduce Charleston to some real coding.)
Bonus Gold Star: "Fancy" Bananas
This item is NOT a gift idea, but it is a huge Gold Star for Charleston, and it's my #1 recommendation for parents seeking new snack or meal ideas. "Fancy bananas" have become Charleston's go-to breakfast (with a yogurt smoothie on the side for added calcium and protein), and it's one of the few foods he consistently and enthusiastically finishes. We have a few variations, but the basic formula is this: banana + nut butter (almond or peanut work great) + granola (or other cereal) + sprinkles. The key is to cut the banana into slices before slathering each banana coin with toppings, creating a plate full of bite-sized banana treats. I love that Charleston's getting multiple nutrients (fruit, healthy fat, and grains) in one food, and the sprinkles—while adding zero nutritional value—up the fun value enough to make it a highly desirable meal or snack.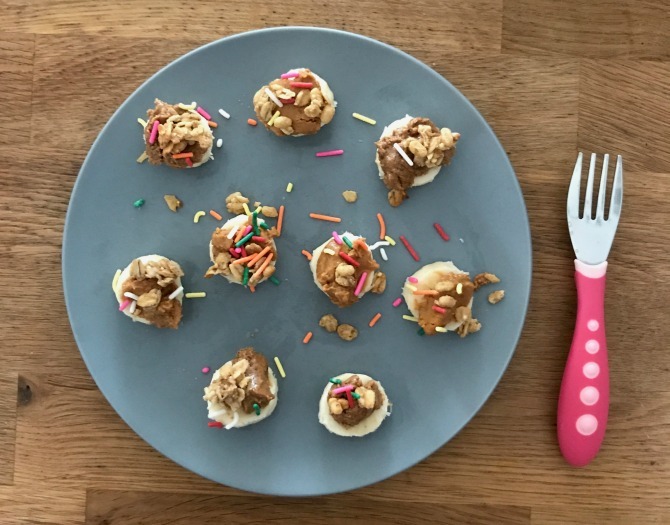 ---
If you have a preschooler, does your child have and enjoy any of these products? What are some other favorites you'd recommend?