Happy Black Friday! Are you ready to dive into the "official" Holiday season?! I know that many people have been in full-on celebration mode for weeks now, but I have a hard time feeling Christmassy until after Thanksgiving. Now that I've spent the appropriate amount of time giving thanks, I'm ready to break out the Christmas tunes and start making a dent in my shopping list. Actually, I take that back: this weekend we are headed to the mountains for family camp, so the shopping will have to wait for a few more days. But I have a feeling many of you will be doing some heavy shopping today (if you haven't already!) and I hope you are finding these gift guides helpful in all of your gift-buying endeavors.
In case you missed it, last Friday I shared ideas for the ladies on your gift-giving list, and on Monday we looked at some gift ideas for the gentlemen in your life. Today I'm sharing gift inspiration for your favorite preschooler, all inspired by gifts we are buying—or have requested from grandparents—for Charleston this Christmas, as well as a few items we already own and love. It kills me to title this a gift guide for "preschoolers" because Charleston is still only two and while he might be ready to be called a preschooler, I still feel like he's my baby! But he will be three in January, so these items are all things he can grow into through the next year. Most of these items would likely be appropriate for an older two-year-old, through around age five.
With that, here are some gifts that your preschooler will want, items they need, gifts they can wear, and books to read.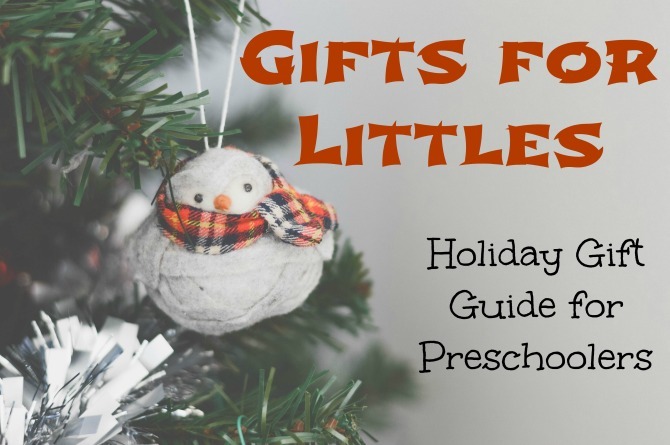 // WANT //
We try to keep toys to a minimum in our house, partly because I don't like spending my whole day cleaning up neglected toys, and also because Charleston tends to be overwhelmed by too many toys—the more he has, the less he plays with them. That said, we are very intentional about the toys we bring into our house. We prefer toys that are higher quality, have multiple uses, and/or contribute to his development in some way (whether that's encouraging physical development, teaching academic skills, or promoting creativity). These gifts all pass the test.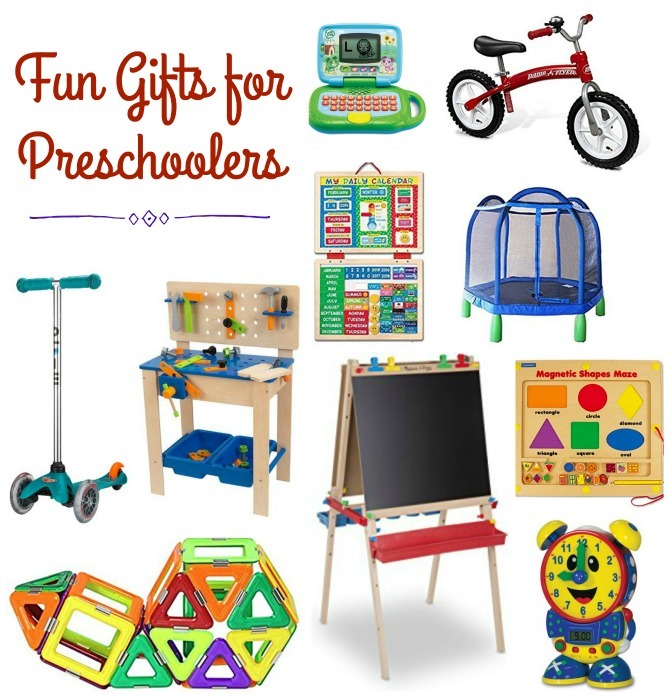 Leapfrog My Own Leaptop // Charleston often sees Luke and me on our computers and wants his own! This educational toy has four learning modes, including ABCs, Messages, Games, and Music. Little ones can send and receive pretend emails, learn letters and animal names, and sing along with 16 songs. Fun Fact: Charleston saw me working on this guide, and the Leaptop was the one item he was most curious/excited about.
Radio Flyer Balance Bike // Charleston's older friends all learned to ride with these balance bikes. There are many options on the market, but this just might be the classiest.
Melissa and Doug Magnetic Calendar // This interactive calendar is a fun way to teach kids about months, seasons, and days of the week.
Sportspower My First Trampoline // We already own this item (we bought it for Charleston with his birthday money last year) and I had to include it in this guide because we love it so much! The trampoline has a relatively small footprint but is big enough to hold two or three kids, and it has been a great way for Charleston to burn off steam in the yard when we don't have enough time to head to the playground. Throw in some balls to make for a fun ball pit!
Micro Mini Original Kick Scooter // Every kid needs a scooter! I did some research and this model appears to have the best reviews, plus it's available in numerous colors. Charleston is asking Santa for a scooter this year, so I will be sure to pass on my info to the Big Guy!
KidKraft Deluxe Workbench // For the little boy who always wants to help Daddy with his tools. I love the built in storage bins.
Melissa & Doug Deluxe Magnetic Standing Art Easel // This easel includes a chalkboard, white board, and 39 letter and number magnets. Great for the artistic preschooler.
Lakeshore Magnetic Shapes Maze // The kids area in our library has several of these, and they are always a huge hit. This one emphasizes shapes, but other mazes teach colors, letters, and numbers.
Magnetic Tiles Building Blocks // These are a fun spin on traditional blocks, and they won't hurt quite as much as Legos when you step on them . . . .
The Learning Journey Telly The Teaching Time Clock // Cute, fun, and educational. I appreciate that it teaches both digital and analog time.
---
// NEED //
Obviously, "need" is a relative term, especially with little ones. But there are some essentials that are fun to have and totally gift worthy.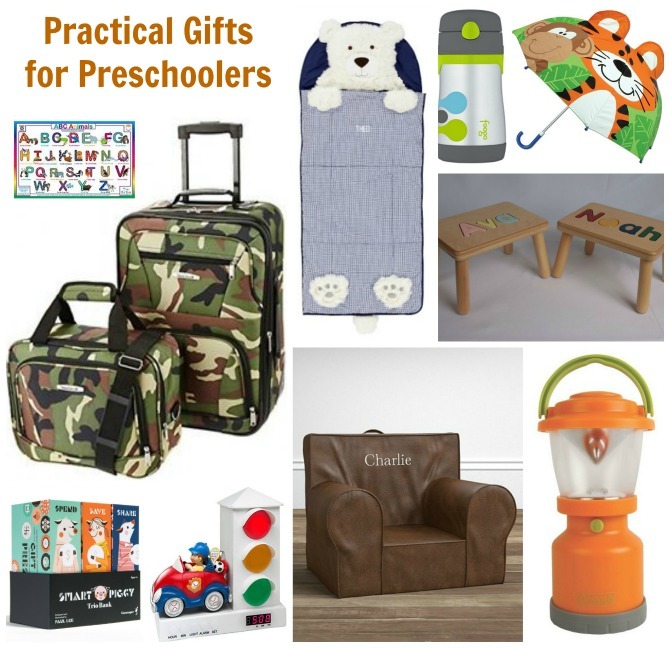 Shaggy Head Sleeping Bags // Every kid needs a sleeping bag! These ones from Pottery Barn Kids look so cozy, and the soft animal head serves as a pillow. Personalization is available.
Thermos Foogo Water Bottle // A preschooler can never have too many waterbottles; Charleston tends to use many at once (one for water, one for milk, one for smoothies). This one is vacuum sealed and contains a straw that can be removed for easy cleaning.
Stephen Joseph Pop Up Umbrella // An umbrella might seem like a strange gift, but the cute designs on these guarantee your preschooler will love it. Comes in numerous styles (if it weren't so small, I would totally get the owl one for myself).
Tot Talk Educational Placemats // My brother and I had similar placemats when we were growing up, and they made meal time much more fine. Comes in numerous styles including some that would be great for older kids, like sign language and cursive.
Rockland Luggage Set // This luggage is designed for adults, but perfect for kids. We bought this exact set for Charleston last Christmas and it is one of his favorite possessions. Not only does it work great for traveling, but he has fun filling it with his toys and pulling it around our house. It has held up well and is very high quality for the price. It's available in nearly every color and pattern you can imagine.
Stoplight Sleep Enhancing Alarm Clock // This clever clock, which comes in several different cartoon varieties, is perfect for kids transitioning out a crib and still learning the concept of "appropriate" awake times.
Personalized Wooden Step Stool // Preschoolers love to be independent, which can be challenging when they aren't tall enough to reach the bathroom or kitchen counter. We've started to add stepstools to each room in our house, and I know Charleston would love to add a customized one to the mix.
Smart Piggy Trio Bank // This piggy bank is a great way to teach kids the value of money. The Spend, Save, and Share boxes each open up and include a ledger for tracking balances. This is one of the most clever items I've seen!
Trailblazer Anywhere Chair // These kid-sized chairs from Potter Barn Kids are adorable and look super comfy. They come in dozens of colors and patterns and can be personalized with the kid's name. (I could hardly contain my excitement when I realized the stock image of the chair I liked the most was emblazoned with the name Charlie!)
Coleman Adventure Mini Lantern // Fun for around the house, but also sturdy enough for actual camping. We definitely could have used this on our camping trip earlier this month.
---
// WEAR //
You probably don't need my help coming up with clothing ideas to buy for your preschooler. You can find cute kids' clothes anywhere, and clothing preferences—even for preschoolers—vary widely by child and according to gender and geographic location. The items I am sharing are a little more unique, making them special enough that your kiddo will actually be excited to open up one of these items on Christmas morning. I've tried to keep this list gender neutral.
Fleece-Lined Hat // Not just for warmth: Charleston loves playing dress up with his beanies.
Babiators Original Aviators Sunglasses // We have gone through quite a few pairs of kid sunglasses. These have flexible rubber frames and shatter resistant lenses.
Hannah Andersson Striped Organic Cotton Pajamas // Is there anything cuter than a kid in PJs? These striped pajamas come in a plethora of colors and styles, from footie pajamas to two-piece short sets.
Faux Fur Lined Parka // Possibly my favorite item in this entire guide!
Where the Wild Things Are T-Shirt // These Out of Print tees are so fun and great for the young reader. There are shirts inspired by dozens of children's classics, from The Hungry Caterpillar to Goodnight Moon. I'd like one of each (for myself) please!
Flik Flak Kids Watch // Flik Flak is the kids line from Swatch, and their watches (available in numerous styles) are cute, sturdy, and even machine washable.
TOMS Shoes // I'm not the biggest fan of TOMS shoes on adults, but they are the perfect kid shoe: durable, comfortable, and they go with almost anything. This boat shoe style is especially fun.
Ugg Kids Slippers // These meet all my requirements for kids' slippers: stylish, warm, and rubber-soled. Luke has the adult version of these slippers, and I have a similar pair on my wishlist this year.
Cowboy Boots // Charleston received a pair of cowboy boots from his grandparents last Christmas and they are, hands down, his favorite item in his closet. Whenever he wears them we always get tons of compliments on our little cowboy.
Converse Kids' Chuck Taylor All Stars // Like TOMS shoes, these are comfortable and easy to style. Charleston has a pair in navy and I'd happily add a pair in another color to his shoe collection. (Can you tell I have a thing for kids shoes?!)
Hunter Rain Boots // I LOVE my Hunter boots and am excited that they come in kids sizes, too.
---
// READ //
You honestly can't go wrong with gifting books to kids (or adults, for that matter). I may limit toys in our house, but my motto is that you can never have too many picture books! If your child has a favorite author or series, use Christmastime as an excuse to round out their collection. Books that align with your child's favorite movie or TV show are always a hit, too. And don't be afraid to buy some totally new books; you never know which ones might become instant family favorites. I'm not including any "classics" in this round up because most family libraries already include these titles, but check out these "Best of the Best" Picture Books lists (here and here) to see if you have any gaps in your child's library that could be filled.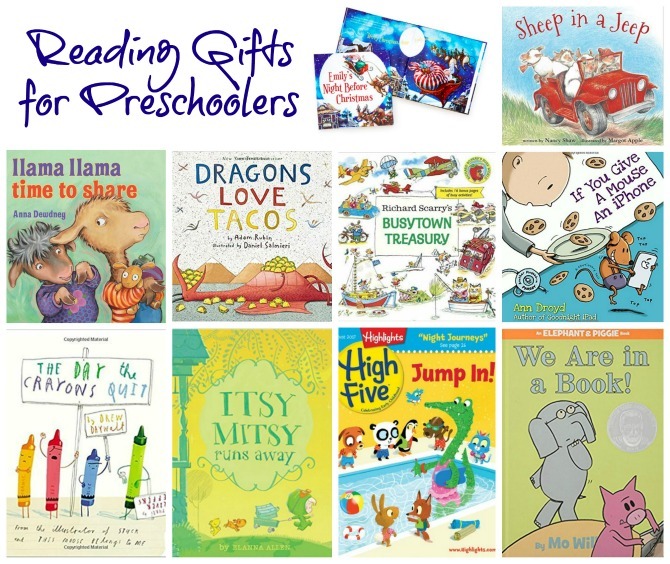 Personalized Night Before Christmas Book // The traditional story (which every family needs to own) with your child's name included. A personalized 12 Days of Christmas is also available.
Sheep in a Jeep, by Nancy E. Shaw // Great for practicing rhyming sounds. This is the first in a fun series.
Lllama Llama Time to Share, Anna Dewdney // A friend introduced us to the Llama Llama books and it immediately became Charleston's favorite. We have been using the library to make our way through the whole series.
Dragons Love Tacos, by Adam Rubin // I haven't read this one but it pops up at the top of many Favorites lists and looks super cute.
Richard Scarry's Busytown Treasury // Picture book treasuries are a great way to add multiple books to your collection at once; they're also perfect for long car rides. Check out this roundup for some other good picture book treasuries your preschooler would enjoy.
If You Give a Mouse an iPhone, by Ann Droyd // This is a fun riff on the classic book. (If your child doesn't have the Laura Numeroff books, include one or two of those in the gift, too!) We have Goodnight iPad which is also by this author, and Charleston likes it even more than the original book.
The Day the Crayons Quit, by Drew Daywalt // A hilarious book that adults will enjoy as much as the kids.
Itsy Mitsy Runs Away, by Elanna Allen // We picked this one up at the library and Charleston didn't want to give it back! I don't know how it isn't more popular.
Highlights High Five // Magazine Subscriptions make fantastic gifts! Check out this list of other great magazines your kids might love. We subscribed Charleston to the Thomas and Friends magazine last year and he really looks forward to getting a new issue every few months.
We Are In a Book (An Elephant and Piggy Book), by Mo Willems // We haven't gotten into this series yet, but I hear we're in for a treat!
---
That's a wrap for this year's family-inspired gift guides! I'm not quite done with sharing gift inspiration, though; I have one or two more guides planned for the next few weeks, so stay tuned!
If you are looking for gift ideas for toddlers, check out the toddler guide I created last Christmas. We now own and love many of the items in that guide, and a number of them would work well as gifts for a preschooler, too. Be sure to check out the experience gift ideas at the bottom of the post!