I read a LOT in the past month. And I read a lot of really diverse books. Here's a look at six of them.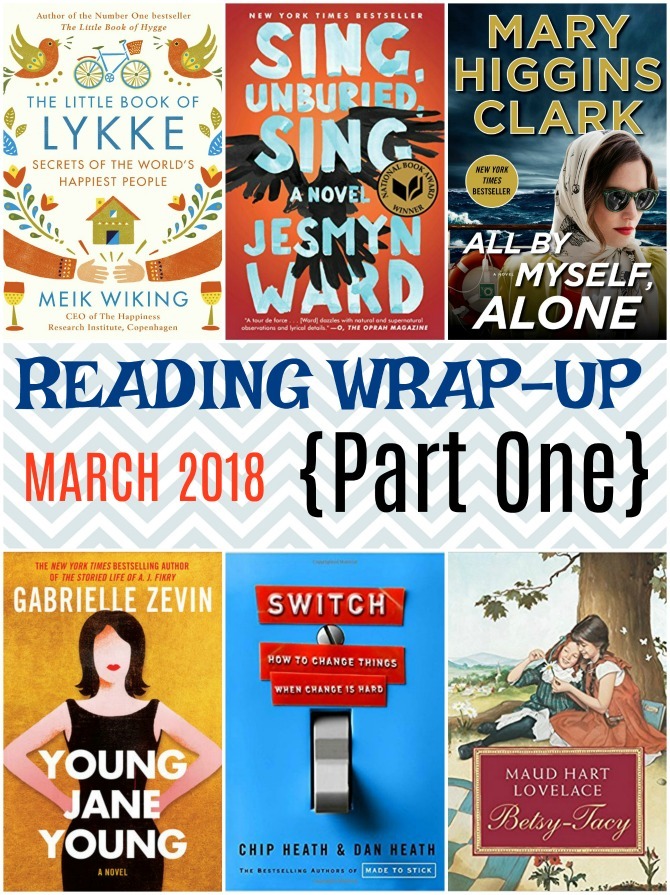 All By Myself, Alone, by Mary Higgins Clark: The maiden voyage of the glamorous Queen Charlotte ocean liner is a highly anticipated event, especially given the many high-profile passengers who are scheduled to be on board. Among them is the octogenarian aristocrat Lady Em, who intends to wear a priceless emerald necklace aboard the ship. After only three days at sea, Lady Em is murdered and the necklace goes missing. Who among the list of suspicious passengers is to blame? Is it the jewel expert who was recently embroiled in a financial scandal? The disgruntled personal assistant? The ship's ambitious captain? Or someone else?
There was a time when Mary Higgins Clark was one of my favorite go-to authors. Now that I'm a more seasoned reader, I'm less forgiving of her plastic characters and stilted dialogue. I have a hard time staying away from a cozy whodunit, though, and Madam Clark never disappoints in the plot department. This was yet another easy but entertaining read.
My Rating: 3.5 stars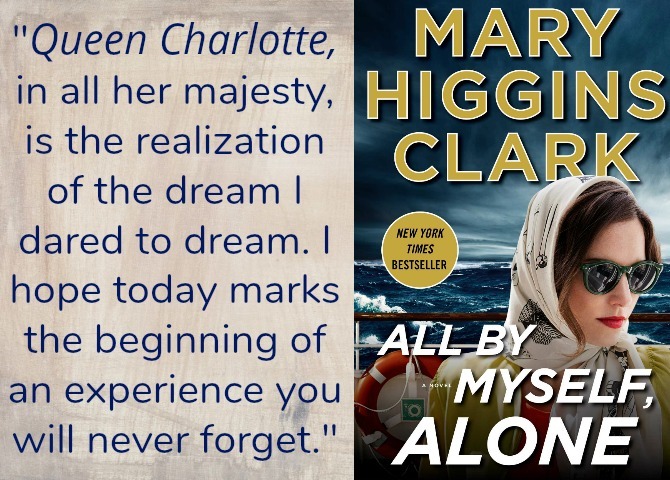 ---
Switch: How to Change Things When Change Is Hard, by Chip and Dan Heath: Change is hard, whether we are trying to bring about change in others, in our businesses, or even in ourselves. We know why we need to change, yet that knowledge isn't a big enough catalyst to promote the changes we want to see. In Switch, Chip and Dan Heath use a metaphor of an elephant and a rider to explain the psychology behind change: the elephant is our emotional side and the rider is our rational side; it would seem that the rider (intellect) is directing the elephant (emotions), but the elephant is powerful and is ultimately the one in charge. In order to procure change we must learn how to direct the rider AND motivate the elephant so that our emotions and intellect are in alignment. Once we've done this, we must take the final step of creating environments that are conducive to change rather than preserving the environments that are confounding our efforts.
I LOVE the framework described in this book, which helped me better understand the psychology and rational within other books I've read on habit change. The Heath brothers provide many actionable steps and numerous case studies illustrating successful implementation of these strategies. I found some of the in-depth examples to be tedious listening (I read this in audio form) but that was likely the fault of the reader, who was pretty terrible. I appreciated that this book could just as easily be applied to individual habit change as well as change within a corporate or household setting. I haven't been able to stop thinking about this book—and implementing its principles—since I read it. I'd like to return to it in print form soon.
My Rating: 4 stars.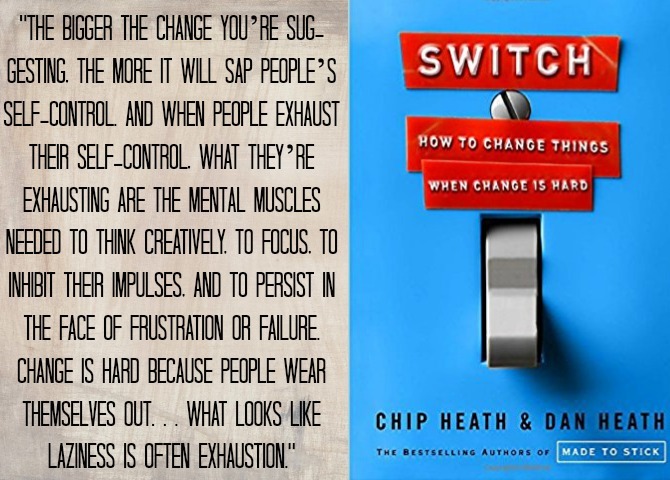 ---
Betsy-Tacy, by Maud Hart Lovelace: Hill Street is home to many children, but spunky and imaginative Betsy longs for a playmate her age. When shy, sensitive Tacy moves in next-door, she receives an invitation to Betsy's fifth birthday party, and the two quickly become inseparable. Together they have grand adventures, from playing dress-up to going on magical rides in the milkman's wagon, and they help each other navigate new life, death, and the dreaded first day of school. Both girls are endearing characters, and their relationship is wonderfully tender and sweet.
I did not grow up with this (semi-autobiographical) series from Maud Hart Lovelace, but I can see why it has won the hearts of the many who did. The book reminded me a lot of the Grandma's Attic stories, which were childhood favorites of mine. I'm eager to continue with this series to see Betsy and Tacy grow up together, and if I ever have a little girl of my own, this will be an easy pick for a mother/daughter read-aloud.
My Rating: 4 stars.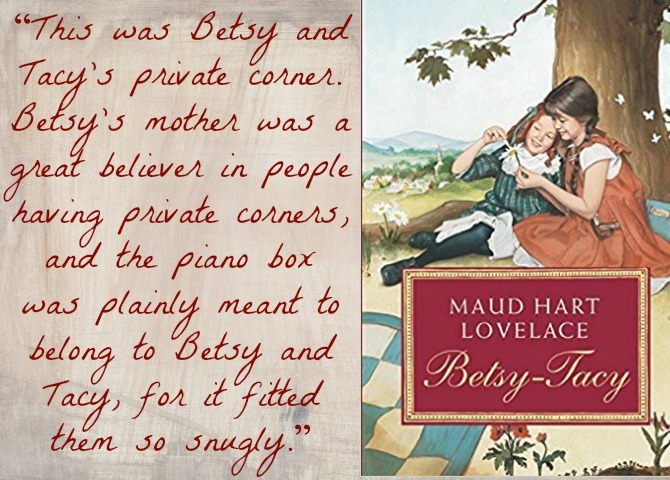 ---
Sing, Unburied, Sing, by Jesmyn Ward: When a book gains as much attention as this one has in the past few months, I pay attention. The recipient of numerous awards and subject of many prominent book clubs, Sing Unburied Sing is the story of a family in crisis. Thirteen-year-old Jojo is on the cusp of becoming a man. He looks up to his African American grandfather, Pop, emulating his every move. However, his own (white) father, Michael, is mostly absent, having spent the last three years in prison. When Michael is released, Jojo and his toddler sister join their drug-addicted mother, Leonie, on a road trip to pick him up. Their trip is a fraught one, filled with fear and violence, not to mention the literal ghosts that have come along for the ride, haunting the minds of Leonie and Jojo as they, the ghosts, yearn to have their own tragic stories acknowledged.
Here's the thing about this book: I totally get why it's a hot pick right now. It hits on many relevant—and important—themes, including systemic racism, generational trauma, poverty, and addiction. Stories like this one are unfortunately more common than contemporary literature would suggest, and they need to be told. And Jesmyn Ward is indeed a powerful storyteller: her writing is gritty and atmospheric, bleeding with meaning and emotion. The story is a modern one but her poetic, metaphorical style reflects that of black folklore. I definitely appreciate the artistic merit of this book.
Unfortunately, I didn't personally care for it. At all. I couldn't connect with the characters (although I did love Jojo), I wasn't pulled in by the story, and the ghosts were just too weird for me. The book reminded me of a mix Lincoln in the Bardo (one of my least favorite books of 2017) and Song of Solomon (a book that resonated much more deeply). I'm glad books like this one are being written and are garnering attention, but this one in particular just wasn't for me.
My Rating: 2 stars.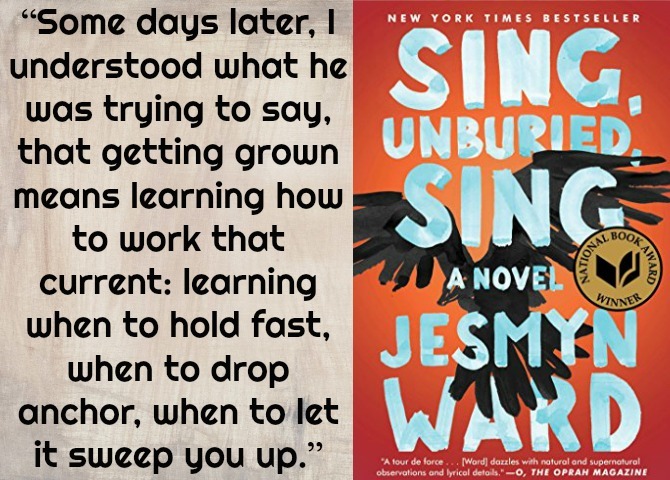 ---
The Little Book of Lykke: Secrets of the World's Happiest People, by Meik Wiking: From the author who brought us the book that made hygge a household term, we have here a book about happiness. As CEO of the Happiness Research Institute in Copenhagen, and a citizen of the "happiest country in the world," Meik Wiking is certainly qualified to write this book. In it he explores the six factors that explain the majority of differences in happiness across the world (togetherness, money, health, freedom, trust, and kindness) and identifies ways to cultivate these qualities in our own lives, regardless of where we live, in our personal pursuit of happiness.
I loved the sociological and cultural components of this book. Waking provides insights into the habits and lifestyles of the Danish people and of numerous international cultures; these stories and statistics are fascinating. Wiking's suggested happiness habits (like taking more walks, spending more time with people, etc.) aren't anything we haven't all heard before, but they are still good reminders of things we can and should be doing if we'd like to be happier. I also enjoyed Wiking's warm and humorous writing style.
Now for what I didn't love: much of the book reads like a socialist manifesto. I'm not on board with the idea that socialism is the answer to a society's happiness, and I had a hard time with the negative attitudes directed towards the American way of life. I am also skeptical of any book about the topic of happiness that is written from a secular viewpoint, as I don't believe that lasting happiness can exist outside of the context of faith. If you're looking for a fun cultural study, this book will be a good fit, but don't expect to find the true answers to happiness here.
My Rating: 3.5 stars.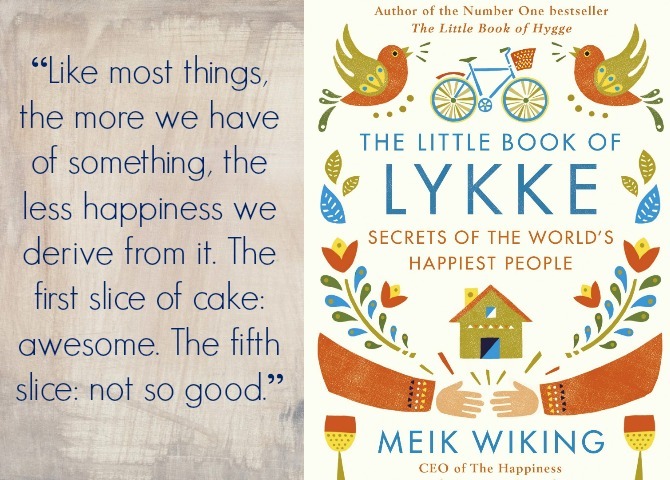 ---
Young Jane Young, by Gabrielle Zevin: More than a decade ago, Aviva Grossman was a college intern volunteering for the reelection campaign of a Florida Congressman. Lonely and socially awkward, Aviva entered into an adulterous relationship with her boss and detailed the affair on her anonymous blog. The was soon discovered by the media, but the Congressman was left unscathed while Aviva's life seemed to be over. By the time the scandal had settled down, Aviva had escaped to a different state, changed her name to Jane, and made her best effort at a fresh start.
Flash forward to the present day: the Congressman is still in office, "Jane" is running for office herself, and Aviva's (Jane's) now-thirteen-year-old daughter Ruby has discovered the hidden secrets of her mother's past. Ruby takes it upon herself to find answers—even if that means destroying the lives and careers of her mother and the man she believes to be her father.
At its surface, this is a devastating story, but it reads like a comedy. Zevin's writing style (which I also adored in A.J. Fikry) is sharp, insightful, and completely unexpected, blending a spellbinding plot with laugh-out-loud humor and thought-provoking themes. The novel is told from the perspectives of four women—Aviva/Jane, Aviva's mother, Jane's daughter, and the Congressman's wife—and all four women are strong, witty, and utterly compelling characters. Each of them is flawed and makes a series of poor decisions, yet I liked and empathized with all four of them. Their experiences caused me to think differently about an issue (public scandal) that I am quick to make critical or biased assumptions about when I come across it in the news.
I'm not a fan of novels that are overtly about hot-button political issues, and the feminism in Young Jane Young is fairly blatant; I do consider myself a feminist (though my conservative views and adherence to traditional gender roles might leave many staunch feminists uncomfortable with my embracing that term), but the novel's strong antipatriarchal tone was a little tough for me to stomach. Still, a great and timely read.
My Rating: 4 stars.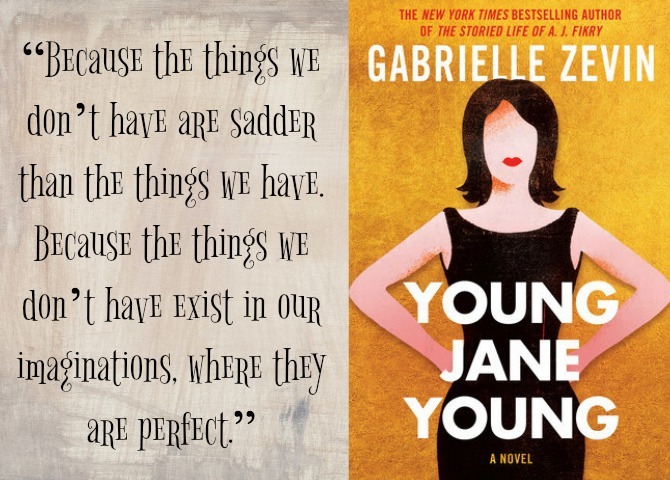 ---
Since I read more books than usual in the last few weeks, this month's Quick Lit will be divided into THREE parts. My next installment will be headed your way next Monday.