After many years of intense pumpkin fever, our societal love for this ubiquitous fall gourd seems to have cooled. Critics claim that pumpkin mania has jumped the shark. However, my personal love affair with pumpkin is still going strong. From pumpkin-scented candles to adorable board books with pumpkin in the staring role, I just can't get enough.
One of my favorite ways to celebrate pumpkin is with food. I've made pumpkin smoothies, pumpkin pancakes, pumpkin cookies, pumpkin muffins, pumpkin oatmeal, pumpkin hot chocolate, and even pumpkin chili. I'm always on the lookout for more unique ways to cook with pumpkin, and today I'm sharing five creative recipes that have caught my eye.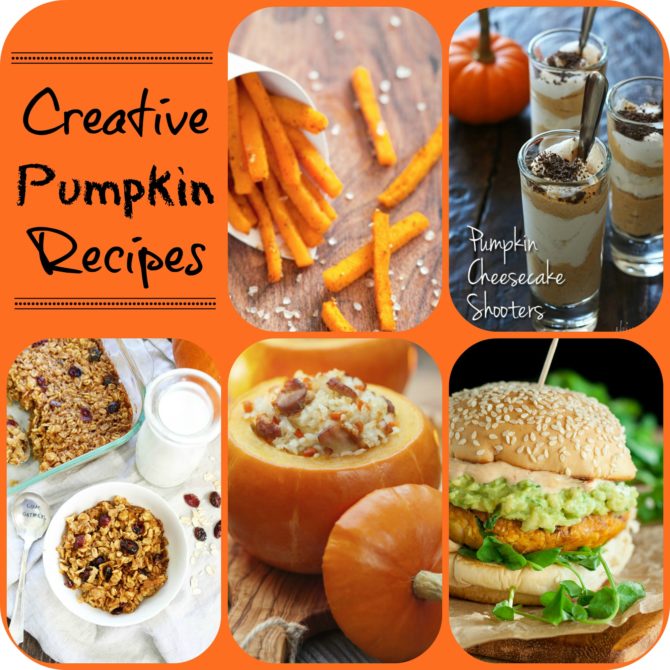 My guess (hope!) is that these taste like sweet potato fries. Such a fun twist on a classic, and super simple!
These shooters contain layers of graham cracker, cheesecake, and whipped topping. The recipe comes from one of my favorite cooking blogs, so I know they must be good.
I frequently make pumpkin oatmeal, but I haven't tried it in baked form. This looks like the perfect recipe to bring to a brunch potluck. Any dish that is pumpkin-flavored or gluten free is always a hit at the breakfast gatherings I attend.
I've been wanting to try baking a dish directly into a small pumpkin. These baked pumpkins are stuffed with sausage, couscous, apples, and cranberries. You can't get much more fall-flavored that that!
These gluten-free, vegan patties are made with beans, pumpkin, oats, and a potpourri of spices. I don't have any experience making veggie patties, but this recipe seems easy enough for even me.
---
I'd love to hear about the pumpkin recipes you're cooking this fall. Leave me a comment with a link to your favorite pumpkin treat!
Save
Save
Save
Save