For as long as I can remember, October has been my favorite month. It's kind of strange, really, because I'm generally a summer girl through and through. But October has a lot going for it: the weather is warm, but not sweltering (at least that's generally the case here in Southern California); the school year still feels new and fresh, but we're far enough into the year to have settled into a comfortable routine; beautiful fall decor fills our stores and our homes; Christmas is just around the corner, but not so immediate that we need to start stressing about holiday shopping; and while Halloween isn't my favorite holiday (that award goes to Thanksgiving), it's definitely a lot of fun!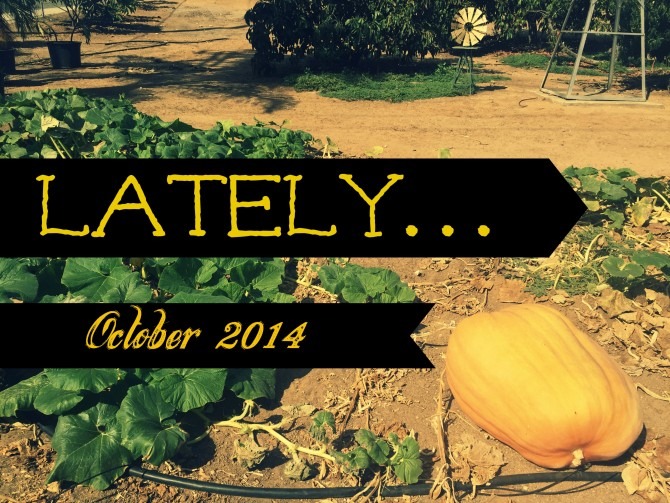 This year, I feel more delighted by October than ever before. Here are a few things I have been reading, watching, listening to, and enjoying this month.
What I've Read and Am Reading. . . .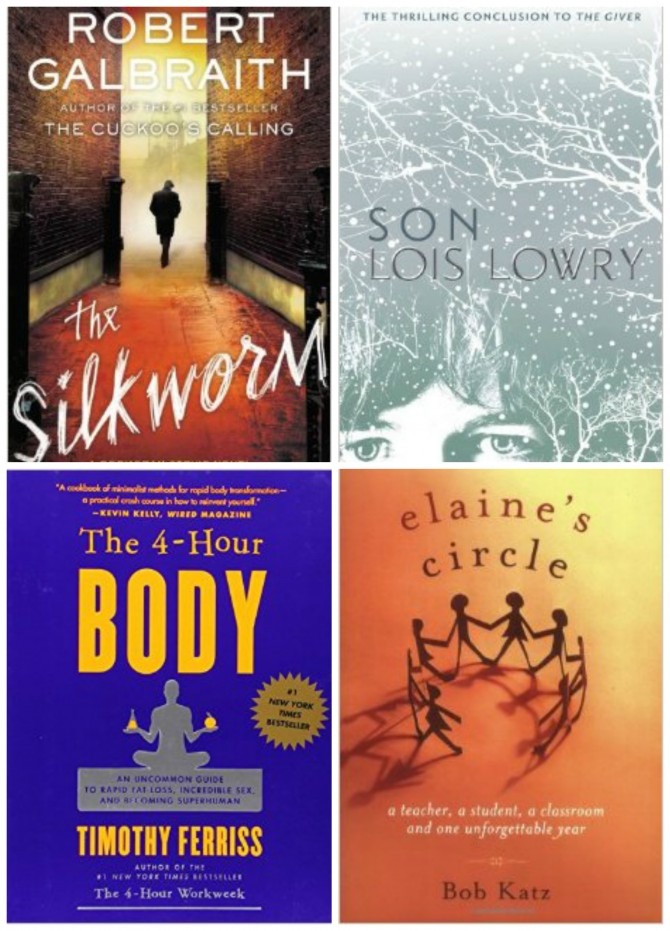 The Silkworm, by Robert Galbraith: I read Robert Galbraith's (aka J.K. Rowling's) first Cormoran Strike novel earlier this year, and though it was no Harry Potter, I enjoyed it enough to read the second book in the series. In this novel, Detective Cormoran Strike is enlisted by a concerned wife to locate her missing spouse, the once-popular novelist Owen Quine. Strike discovers that the author has not only been murdered, but that his death is somehow connected to the disturbing and malicious manuscript of his latest book. Strike and his assistant Robin must navigate a vindictive world of publishing and narcissistic authors to determine Quine's killer and exonerate his wife.
Complex but captivating, this novel carries the descriptiveness and character development of a Harry Potter novel, but with much more adult themes and language. I enjoyed the mystery, but felt the book would have benefitted from quite a bit of condensing—it was far too much novel with not enough plot. I am drawn to Strike's character and am curious to see his relationship with Robin evolve as the series continues. My Rating: 4 stars.
Son, by Lois Lowry: This final sequel to The Giver (my favorite YA book) tells the story of Claire, birthmother to young Gabe (a central character in The Giver). After her child is taken from her—and then disappears from the society—Claire herself leaves the society, embarking on a long journey to be reunited with her precious child. This was by far my favorite of The Giver sequels. I was happy to return to Jonas' society, and Lowry does an excellent job of weaving Claire's story in with the framework of the original novel. Unfortunately, the middle portion of the book loses the momentum of the first chapters, and I couldn't connect with the secondary characters that Claire meets after leaving the society. The book's final chapters are much better, drawing together each of the series' books to form a cohesive and satisfying conclusion.
This book was particularly special to me now that I am pregnant with a son. Claire's plight resonated with me, and I was touched by the bond she shares with Gabe. Like the other sequels, Son doesn't quite measure up to the greatness of The Giver, but it comes pretty close. My Rating: 4 stars.

The 4-Hour Body, by Timothy Ferriss: My husband has listened to Tim Ferriss's podcast for a while now, and when he mentioned that he was considering trying out Tim's 4-Hour Body Program, I decided to check out the book from the library to see what this program was all about. Though I'd initially intended just to skim the book, I was so intrigued by Ferriss's premise and methods that I've been working my way through the entire 600-page tome. Ferriss promises that following his program will result in fat loss, better sex, increased strength, improved sleep, and much more. Though I don't approve of all of Ferriss's (extreme!) methods, I'm fascinated by his willingness to experiment with his own body. The results he has attained seem to speak for themselves, and his personal anecdotes are accompanied by numerous studies and thorough scientific research. I have zero plans to implement Ferriss's suggestions myself—at least not while I'm pregnant!—but I've been taking notes on some tips that I think Luke might want to try. This book isn't for everyone, but I'm enough of a science junkie to find it entertaining, and skeptical enough to take every one of Ferriss's suggestions with a heavy dose of salt. My Rating (So Far): 3.5 stars.

Elaine's Circle, by Bob Katz: Elaine Moore is a veteran teacher who strives to create a community of learners among her 4th-grade students. When one of her students, ten-year-old Seamus, is diagnosed with terminal brain cancer, the class rallies around him, eager to ensure that he remains "part of the circle" even when his plummeting health keeps him from attending school. This true story is equal parts uplifting and heart-wrenching. I was deeply inspired by Moore's teaching methods and her unwavering belief that "Children can handle the truth, even hard truths. What they can't handle is not knowing." This book should be required reading for all teachers. My Rating: 4 stars.
What I've Been Listening To . . . .
I generally listen to mostly podcast and audiobooks, but lately I've been in a music mood. I've read that at this point in my pregnancy, my baby is able to hear what's going on in the outside world, so I'm hoping to make a little music lover out of Baby Jernejcic!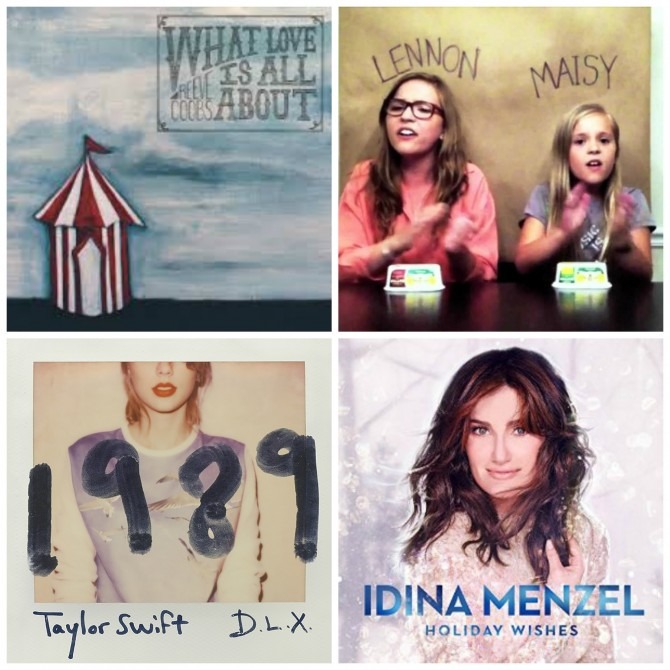 Reeve Coobs: I was introduced to Reeve Coobs just last week through Emily Freeman's "Artists Who Influence" series, and I immediately fell in love with her album What Love is All About. Reeve has a rich voice with a folksy vibe that's easy to listen to (and sing along with!). Her music is evocative but relaxing. . . absolutely perfect for fall.
Lennon and Maisy Stella: These talented young sisters were another new discovery this month (also courtesy of Emily Freeman). Lennon and Maisy have been performing together since older sister Lennon was five and received her first guitar from her father. The sisters, who are currently stars on the show Nashville, now play numerous instruments and sing in stunning two-part harmony. Though they don't have a full album, I've been frequenting their You-Tube channel and am blown away every time I listen to one of their songs. (Here's my favorite.)
Taylor Swift – 1989: I've been a Taylor Swift fangirl since her Teardrops on My Guitar days, and have become more enthralled with each subsequent album. Though her upcoming album appears to be a huge departure from her usual work, I have high hopes for another great set of songs. Luke and I pre-ordered the album, and the two pre-released songs ("Out of the Woods" and "Shake it Off") have been on constant repeat: basically, I can't make it through a car ride without listening to each song at least twice! I don't think I've ever been so excited for an album release! And how great is the Shake It Off video?!
UPDATE: A third track from the album, "Welcome to New York," was released early last week, and I didn't care for it at all, but now the whole album is out and I am in love. This might be my favorite Taylor album yet!
Idina Menzel – Holiday Wishes: Every Christmas, Luke and I each buy a new Christmas album. Though Christmas is still a ways away, I've already picked out this year's selection: Idina Menzel's Holiday Wishes features almost all of my holiday favorites, and her distinct voice gives each song a Broadway flair. I'm holding off on actually ordering the album, because otherwise it will become all-to-easy to break my "no Christmas music until after Thanksgiving" rule, but I have definitely cheated a few times by "previewing" the album on Spotify.
What I've Been Watching. . . .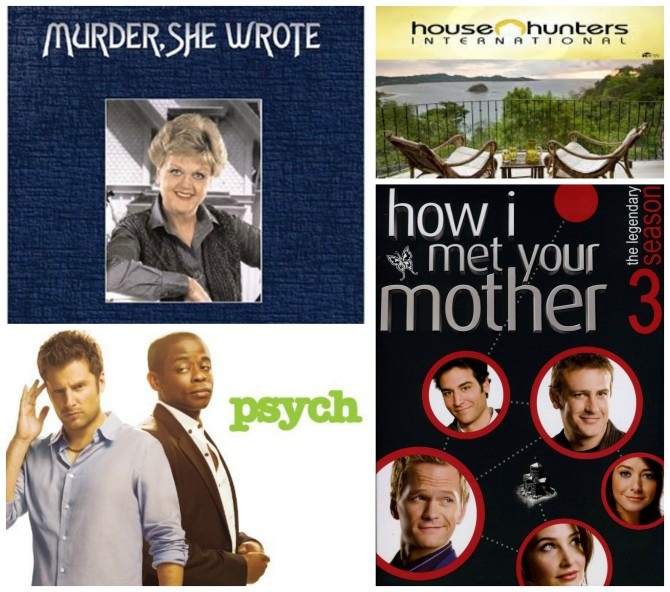 I seriously don't like to remember what television life was like pre-Netflix! Luke and I are currently on Season 3 of How I Met Your Mother (just as good the fourth time through!), and we just finished season 7 of Psych. The musical season finale is pretty awesome, and though I'm looking forward to season 8 coming to Netflix, I'll be sad to see the series end. I'm not sure what our next "longer" Netflix show will be; we need to decide between Once Upon a Time and Chuck.
I hardly ever watch television when Luke is not around, but over the past few months, my go-to show for when I'm home alone has been Murder, She Wrote. This was a favorite show of mine when I was a kid (is it weird that I watched this when I was five?!), and I still love everything about the show: Angela Lansbury's warm-yet-witty performance, the over-the-top story lines, and even the 80s' clothes! I had just finished up Season 3, and before jumping into a new season, I decided to browse the other available shows on Netflix to see if I wanted to try something new. I was thrilled to discover Netflix's recent introduction of several HGTV shows. Since living without cable for almost six years, this is the only channel I've missed, so I'm beyond excited to be reunited with some of my favorite home-centric shows. House Hunters International is definitely at the top of my to-watch list; the homes, destinations, and prices featured on that show never cease to fascinate and astound me!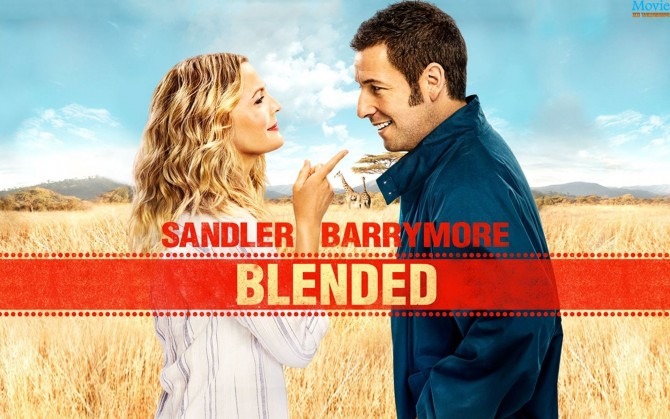 The one movie we rented this month was Blended. It's the story of Lauren, an organization-obsessed divorced mom raising two boys, and Jim, a sporty widower raising three tomboyish daughters. Following a disastrous blind date, the two keep bumping into each other and a series of strange circumstances leads to their sharing an African vacation at a resort geared towards blended families. Amid the magic of their South African getaway, Jim and Lauren find themselves serving as surrogate parents to one another's children and, in the process, falling for each other.
This movie was incredibly cheesy, as well as predictable, and yet I thoroughly enjoyed it. I've never felt Drew Barrymore was a great actress, but she is undeniably adorable and I tend to enjoy her movies; and she and Adam Sandler are great together. I was blown away by the South African resort where much of the film takes place, and hope that it is a real resort because I REALLY want to go there! Sweet romance, beautiful setting, and cute kids redeemed this over-the-top cheese fest for me. My Rating: 4 stars.
What I've Been Enjoying. . . .
Pumpkin Everything! As happens every October, I just can't get enough pumpkin! I went a bit overboard this year with buying mini decorative pumpkins, and we currently have more than twenty adorable orange orbs adorning nearly every available surface of your home: they are on our dining table, on top of our dresser, lining our mantle, and even perched atop our stacks of DVDs. We missed out on our annual trip to the pumpkin patch this year (carrying a 10-pound pumpkin for several blocks just doesn't seem appealing when you're six months pregnant), but I plan to pick up a few larger pumpkins from the grocery store so that we can keep up with our pumpkin carving tradition. It's hard to believe that this is the last year we'll be carving pumpkins sans kids!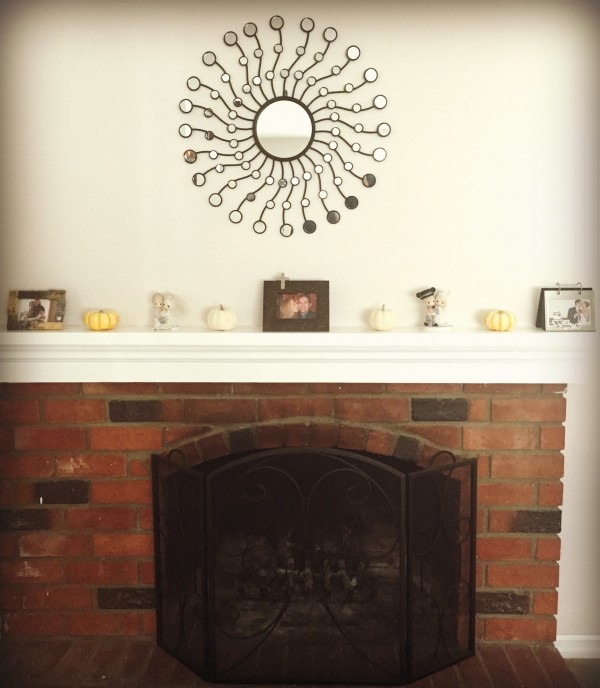 I've also been consuming my weight in Libby's canned pumpkin, adding it to almost every possible food item! Here are some of my favorite ways to eat pumpkin these days:
Pumpkin Oatmeal – I follow this recipe with a few modifications: I use gluten-free oats, sub pumpkin pie spice for the cinnamon, and double the pumpkin for a higher pumpkin-to-oats ratio. I've been quadrupling the recipe to make a big pot once a week; once it's cooked, I portion the oatmeal into individual containers so that I have breakfasts for the week. A bowl of pumpkin oatmeal with a side of scrambled eggs and some fruit makes for a hearty, fall-friendly meal (and one that meets with the approval of my nutrition-minded midwives).
Pumpkin Hot Chocolate – I'm not a coffee drinker, so this is my personal take on the ubiquitous pumpkin spice latte. I mix two cups of almond milk with a packet of hot chocolate mix, a dash of pumpkin pie spice, and a few heaping spoonfuls of pumpkin puree. After a few minutes in the microwave, I've got a delicious drink that rivals any Starbucks concoction!
Pumpkin Protein Pancake – This is one recipe I enjoy throughout the year. I mix one egg with two tablespoons of Gluten Free Bisquick, a dash of pumpkin pie spice, and a spoonful of pumpkin puree. This could probably make a few smaller pancakes, but I prefer to make one big one and top it with Greek yogurt (or sometimes pudding) for a seasonal dessert.
Birthing Classes: Long before I got pregnant, I knew that I wanted to have a natural birth with as few medical interventions as possible. This conviction is what led us to the decision to give birth in a birthing center rather than a hospital; an epidural will not be an option for me, so I'm already working on getting my body and mind in shape. Luke and I are preparing for the big event by taking classes in The Bradley Method. We attended our first class last week, and are so happy with our choice of instructor and class. I learned more about childbirth in two hours than I've learned from several books, and I'm already feeling much more at peace about delivering our baby. Luke and I are both looking forward to our next several classes, and even to the strange daily exercises. (Although I've begun doing my assigned squats, and they are A LOT harder than I expected! Good thing I'm starting to work on them now!)
Candy Corn: I'm normally not much of a candy eater, but the appearance of Candy Corn on grocery shelves gets me every year. Though I'm trying to keep my diet as clean as possible these days (I have a probably-irrational fear of gestational diabetes), I've been allowing myself a few pieces of this decadent treat every evening. If there's a better way to celebrate October, I can't think of one!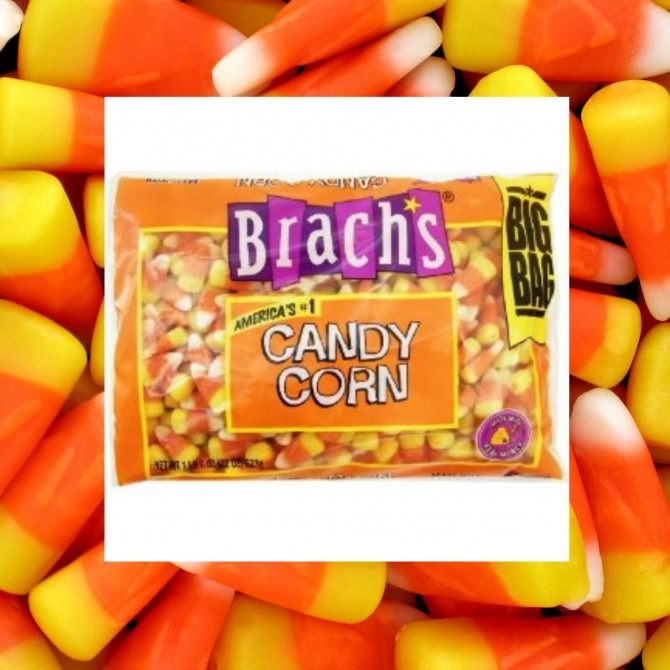 I hope that you are enjoying this wonderful month and all it has to offer! Leave me a comment to let me know what you've been reading, watching, listening to, and enjoying lately!
+     +     +     +     +     +
I'm linking up with Leigh Kramer where a community of bloggers is sharing what we've been into in the month of October.