We have an eclectic assortment of books here today. Let's get right to those reviews!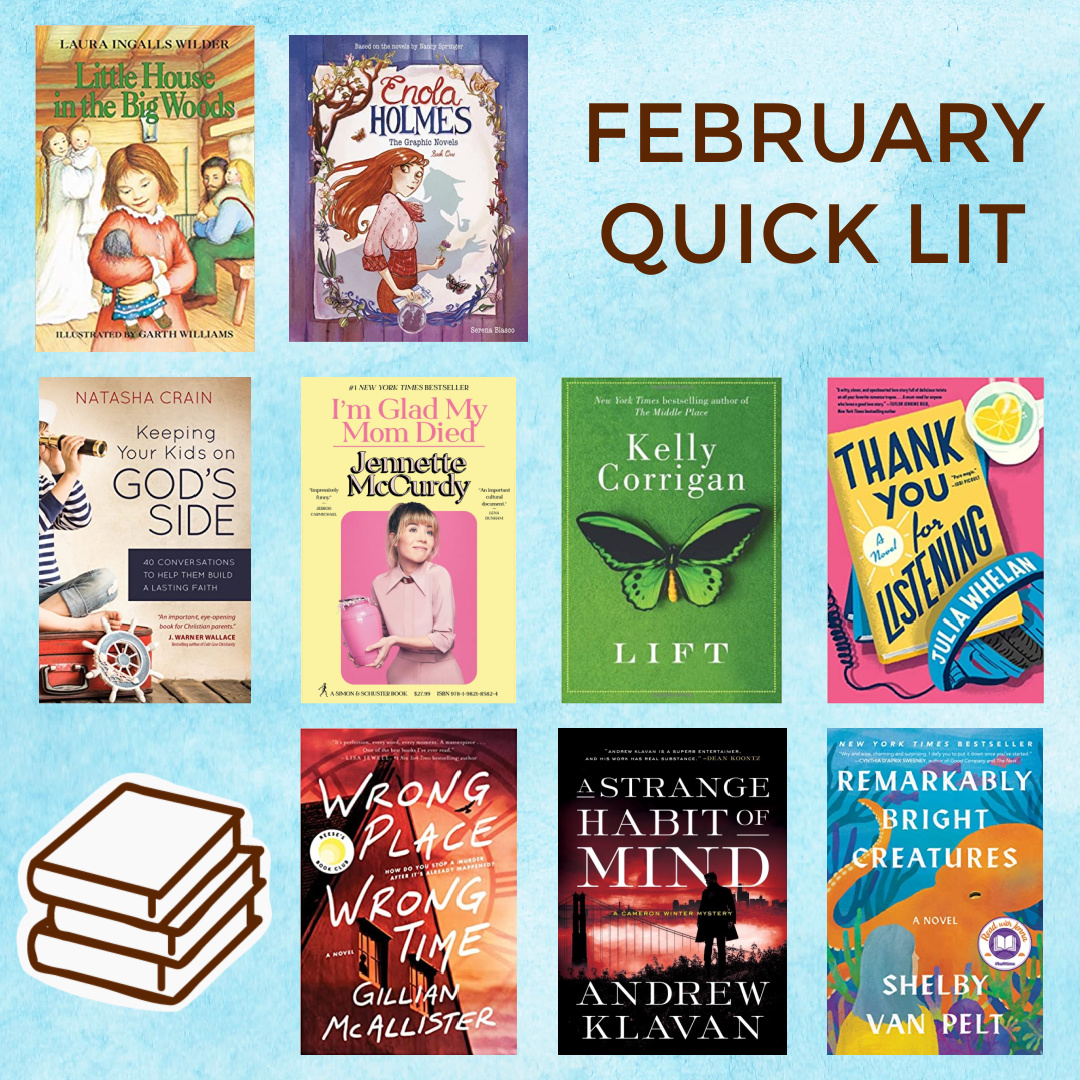 FICTION
Enola Holmes: The Graphic Novels, Book One, by Serena Blasco: I enjoy dipping into graphic novels every once in a while as a change of pace for my reading life, and this book was a delightful choice. Inspired by the Enola Holmes novels (which I have not read), this collection of three mysteries tells the story of Sherlock Holmes' 14-year-old sister, Enola. When Enola's mother disappears from the family's country manor and Enola's older brothers determine to ship her off to boarding school, Enola emulates her mother's disappearance, adopting various disguises and employing masterful skills of subterfuge to avoid capture. While evading her brothers is her primary pursuit, Enola also moonlights as an amateur sleuth specializing in the discovery of missing persons including a kidnapped young boy, a teen thought to have run away with her lover, and even Dr. Watson!
Enola is a remarkable young protagonist: spunky, quick-witted, kind-hearted, clever and quirky—just what we would expect from the sister of one of literature's most renowned sleuths. The mysteries presented in each installment are complex and a whole heap of fun, and the ongoing arc of Enola's search for her mother (and her brothers' search for her) is just as engaging.
I often will find myself enjoying the essence of a graphic novel but not caring for the illustrations; here, the illustrations are beautiful and enhance all aspects of the reading experience. I especially loved the illustrated spy portfolios lifted from Enola's notebook that include various insights into the characters, historical notes, and secret codes.
This is written for a middle grade audience, and I would recommend it for readers on the older end of that age bracket (maybe 10 and up?) since some of the stories can be difficult to follow and many of the most fun Holmes references and history-based jokes would be lost on younger readers; there is also some questionable feminist ideology and allusions to cross-dressing that may not be suitable for the littles. But I have a feeling Charleston will love this in a couple of years.
My Rating: 4.5 Stars (Rounded to 4 Stars on Goodreads) // Book Format: Print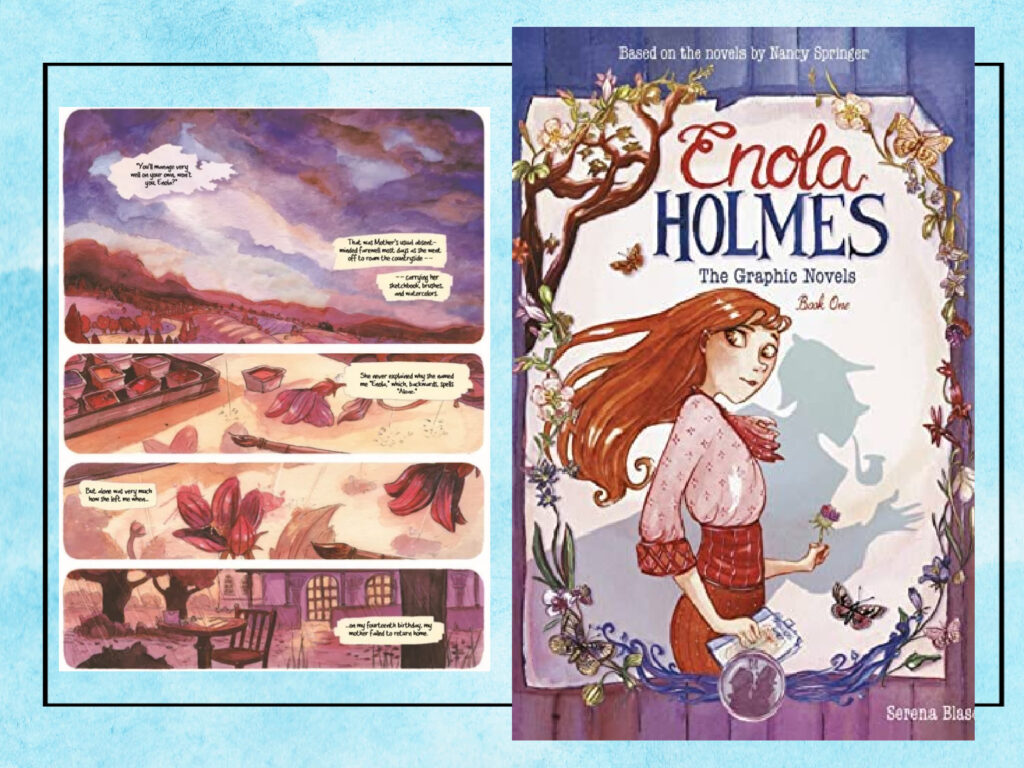 ---
A Strange Habit of Mind, by Andrew Klavan: In this follow-up to When Christmas Comes (a favorite book of 2021), English Professor and former spy Cameron Winter is lured back into the world of espionage and subterfuge when a former student commits suicide under mysterious circumstances. Feeling some responsibility for the young man's plight, Winter looks into the situation and discovers the student's tumultuous relationship with the sister-in-law of Gerald Byrne, an eccentric tech billionaire with an unconventional family life and a trail of unsuspecting victims in his wake. Winter takes it upon himself to expose Byrne's corruption, but in doing so he must confront the burden of his own sins that have weighed on him for far too long.
If you're familiar with Andrew Klavan, you won't be surprised by my saying that this book is so much more than its premise. Klavan is a deep thinker whose unique philosophy, artist's spirit, and spiritual perceptiveness are not only laced into this story, they practically consume it; this is not an overtly Christian book, nor is it explicitly conservative, but Andrew Klavan is both of those things and his values are apparent on every page. I appreciate the lack of woke ideology prevalent in so much contemporary fiction, but Klavan's efforts to swing the other way verge into some uncomfortable territory (his thoughts on race and especially his bizarre understanding/deification/objectification of women are particularly squirmy) and at times the ideology is a little heavy handed. Though I disagreed with aspects of the worldviews presented in this book and could have done without the preaching, I appreciate Klavan's willingness to explore such third rail topics as conspiracy theories, vigilante justice, power differentials in romantic relationships, and the transference of childhood emotions onto adult entanglements.
Winter's relationship with his therapist plays a key role in this story, and their dynamic and the ethics that come into play in this type of relationship gave me a lot to think about, as did the exploration of covert assassination tactics (this fascinated and terrified me!), and the level/types of power wielded by the wealthy, the media, and politicians. I had so many thoughts as I read this and was glad that Luke read it, too, and we could discuss.
I did not like this book as much as book 1 in the series—partly because the plot was not as interesting to me, but also because Winter came across as far less likable. His false humility and arrogant chivalry grated on me: whereas aspects of his character intrigued me in the first book, here I felt mostly confused and occasionally even repulsed. I'm interested to see what Klavan does with the protagonist as the series continues, though; and I WILL be reading more—this mashup of mystery and literary fiction is a personal favorite and I enjoy seeing the world through Andrew Klavan's incomparable eyes in these books.
My Rating: 4 Stars // Book Format: Kindle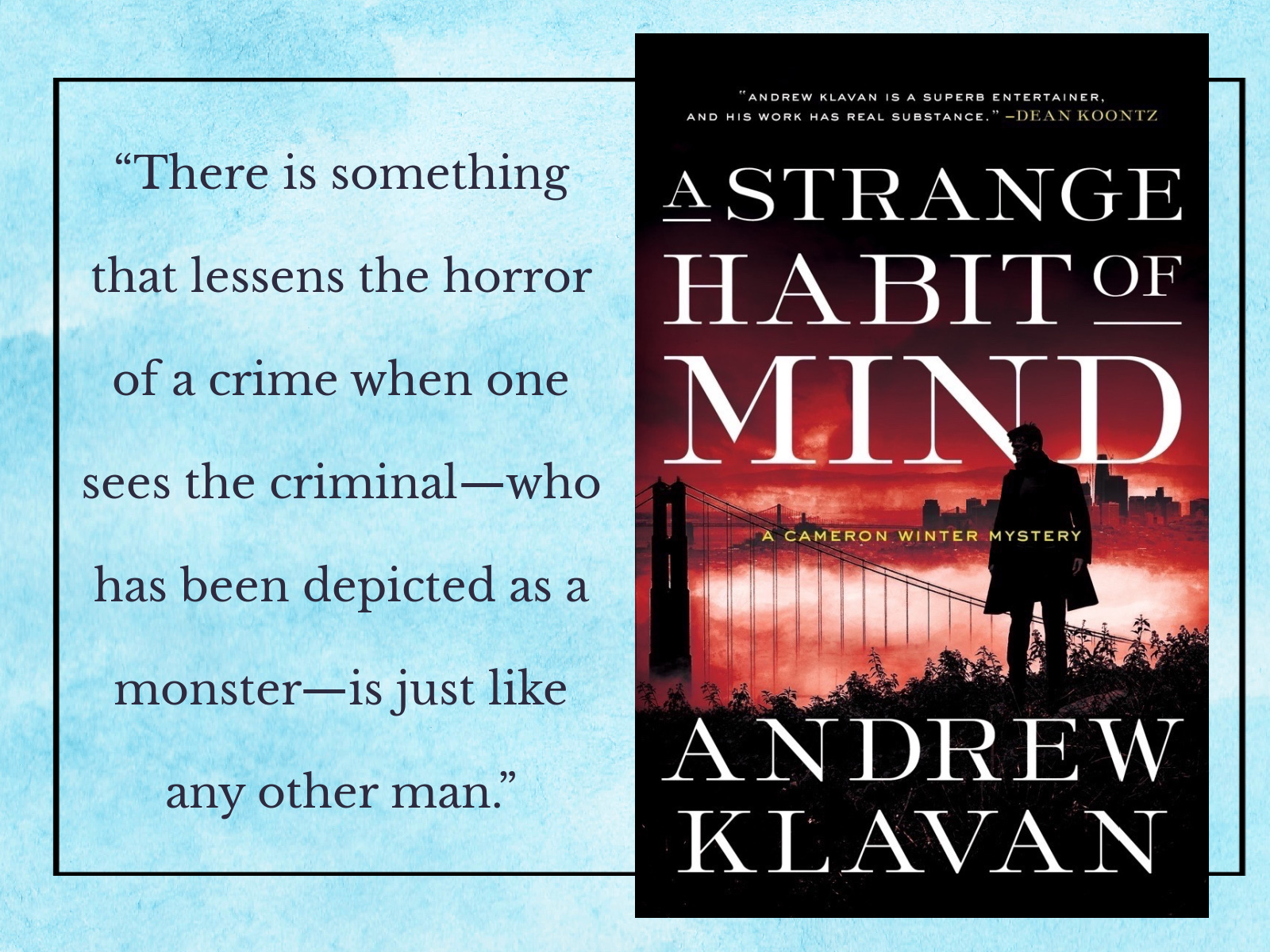 ---
Wrong Place Wrong Time, by Gillian McAllister: Jen's life as a hardworking lawyer, happily married to the love her life and mother to a brilliant teenage son, is fairly mundane. But her world is literally flipped on its side late one October night when she witnesses her son Todd commit a brutal murder. Todd is arrested and Jen goes to bed grief-stricken; when she wakes up it's one day earlier, and each day after that, she awakens further into the past. Jen knows she's been given a gift: the chance to undo her son's crime, and also to relive the mothering moments she missed out on the first time. In reliving her life she gets a whole new understanding of her son and her marriage as everything she'd presumed true is called into question.
This book was on tons of Top 10 lists at the end of 2022, and I was a little worried it would be spoiled for me by the hype, but it actually exceeded expectations! It is a mashup of some of my favorite reading themes and tropes: speculative fiction (in the form of time travel); British characters and setting; commentary on how life changes slowly without our notice (this thanks to the time traveling theme); a subtle romance and less subtle love story between a mother and her child (with gasp-worthy, heart-in-my-throat, stomach-plummeting reflections on parenthood, what it's like to watch a child grow up—"They, mother and son, are a zipper, slowly separating as the years rush by."—and the lengths to which we will go to protect our children); and a mystery/thriller that is propulsive but in no way gory, and just the right level of dark.
This rewind concept is not an easy one to pull off, but McAllister succeeds with hardly a misstep. (There are a few story threads I thought didn't make sense, but even these came together in the end.) What might have felt gimmicky serves the story well, moving it forward rather than distracting from what is going on. We get some scientific explanations (just enough to make the time traveling believable or, at the least, understandable) but the story and characters don't get bogged down by sciency theories.
This is the first novel I finished this year, but I am certain it will land a spot on my list of favorite books for 2023! My one qualifier is that I wish I had read it in print, as I did a lot of rereading of previous chapters and this was difficult to do on Kindle. Readers who listened to the audiobook have good things to say about that format, but I can't imagine trying to hold the various storylines in my head without a visual aid!
My Rating: 5 Stars // Book Format: Kindle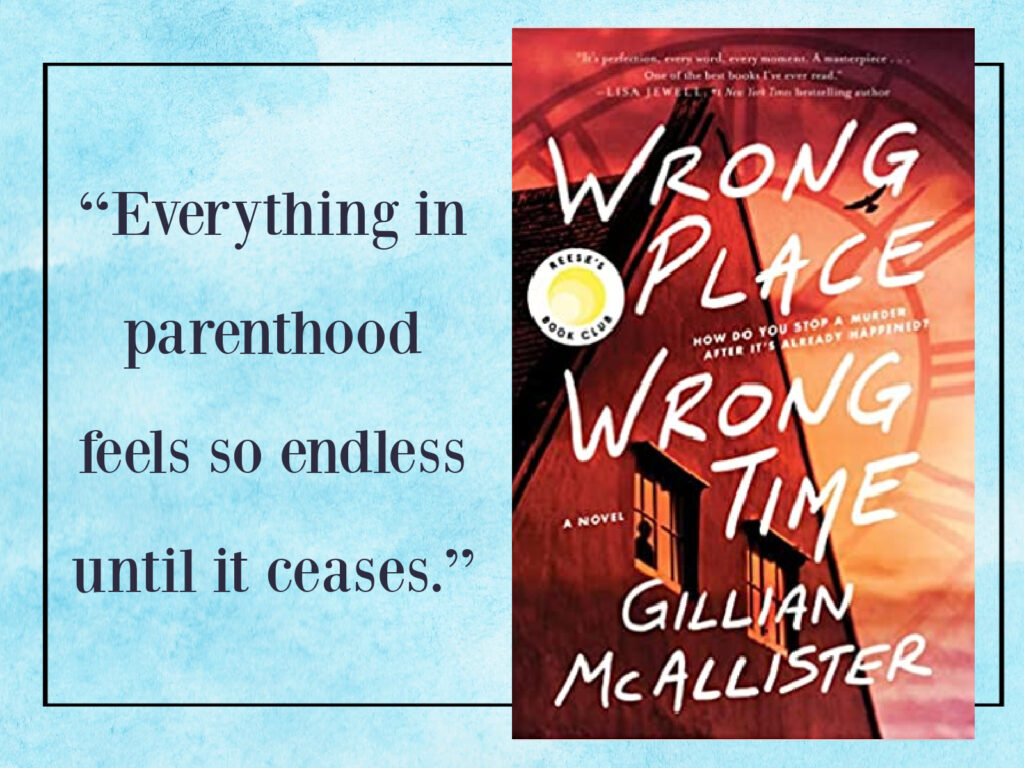 ---
Remarkably Bright Creatures, by Shelby Van Pelt: Marcellus is a remarkably bright being with a keen understanding of human nature, a healthy perspective on the purpose and meaning of life, a mischievous sense of adventure, and a wry sense of humor. He also happens to be an octopus, serving out a life sentence at the Sowell Bay Aquarium on the Washington Coast. Marcellus tends to be a loner, but finds an unlikely friend in Tova, the seventy-year-old cleaning woman who took on the night shift at the aquarium after the recent death of her husband. For Tova, life as a widow has been especially hard, reopening the wounds that never fully healed after the mysterious death of her teenage son, Erik, over thirty years ago. The brilliant Marcellus has deduced what happened the night Tova's son disappeared, and he has his three hearts set on helping her unearth the truth.
Please don't be put off by the fact that this book is narrated by a sea creature. Yes, it does contain a dose of magical realism in the form of Marcellus's narration, but it is so much more than a fantasy or animal story! This is a beautiful tale of friendship and found family, a thoughtful meditation on grief in its various forms, and most of all a story of unexpected kindness, second chances, and rediscovered hope. This is at times humorous and occasionally heartbreaking, exceptionally endearing, and sentimental but not sappy. We are gifted some of the most delightful and memorable characters I've read in quite some time: Tova and Marcellus are both amazing, and the various side characters are also quite wonderful. I enjoyed the mystery elements to the story, even though I found them somewhat predictable, and the octopus trivia is so much fun—although I now very much want my own pet octopus! (I dare you to come away from a reading of this book WITHOUT a hankering to adopt an octopus of your own!) This is a book with extremely broad appeal that I've recommended numerous times since reading, and that will definitely be on my list of favorite books of the year. 
My Rating: 5 Stars // Book Format: Kindle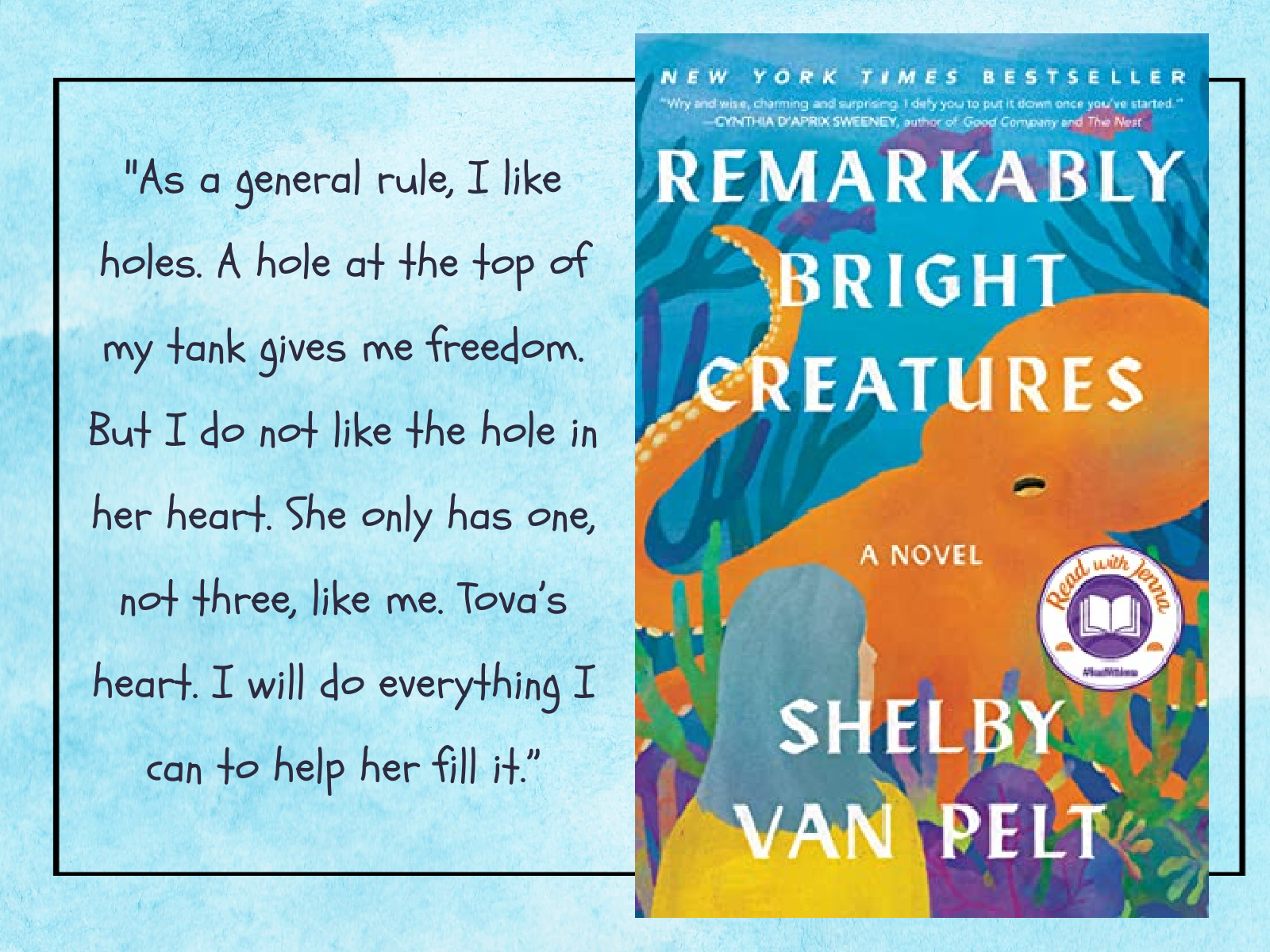 ---
Thank You for Listening, by Julia Whelan: Sewanee Chester is an actress whose film career was derailed after a tragic accident. She now works as a successful audiobook narrator with one big stipulation in her work: she refuses to narrate romances. But when a best-selling romance author makes an offer Sewanee just can't refuse, she finds herself back in the romance world, this time opposite the industry's hottest male narrator, Brock McNight. Brock and Sewanee have an instant chemistry, but Sewanee's affections lie elsewhere: namely, with the mysterious stranger with whom she recently shared one magical night in Las Vegas. Between her complicated love life, a beloved grandmother whom Sewanee is losing to dementia, and a rocky relationship with her (star actress) best friend, Sewanee doesn't believe in dreams coming true. But this project and this new man in her life just may change that.
I've struggled to enjoy fiction on audio in the past year. (Case in point: I listened to just 10 novels in 2022, compared with 26 in 2021 and a whopping 82 in 2020). But I've always loved Julia Whelan's narration and was excited to listen to this novel that was both penned and narrated by the author. And I'm glad I gave it a chance! The story is predictable, but sweet, and I loved the behind-the-scenes glimpses into the world of audiobooks (a world Julia Whelan knows better than anyone!). The exploration of the nature of Romance novels vs Women's Fiction, and of various romance tropes (which are intentionally woven into the story, even serving as many of the chapter titles) was insightful and ridiculously fun. I always appreciate good banter between romantic interests, and we're offered that in droves here. And the themes of acceptance and growth are handled beautifully.
The steam level in this book isn't as high as in many romances, though there is some on-page intimacy that for sure made me uncomfortable, especially as I was listening and couldn't simply skim. And even though the actual bedroom scenes are limited, the innuendo throughout the book is incredibly strong; I'm sure that this was intentional on Whelan's part, a wink at the over-the-top nature of romance novels, and this (mostly) made the suggestive content seem funny rather than sultry.
In her afterward Whelan makes it clear that this book is in no way autobiographical (I know, that made me sad too), save the experience of a grandparent with dementia. Those scenes between Sewanee and her grandmother ("Blah Blah") are so tender and beautifully written, I could sense her heart in those parts of the book.
One big dislike in this novel: the names are just ridiculous. Especially the grandmother's pet name of Blah Blah, whose moniker distracted from the story. I've found the outlandish name are prevalent in romances, though, so I'll (perhaps generously) assume this too was meant to be poking fun at the genre. But even as Whelan gives the side eye to some aspects of fictional romance, this really does seem like a love letter to that genre, to audiobooks, and to everyone who struggles to accept—but still wants to believe in—the existence of a happily ever after.
My Rating: 4 Stars // Book Format: Audiobook (followed along on Kindle)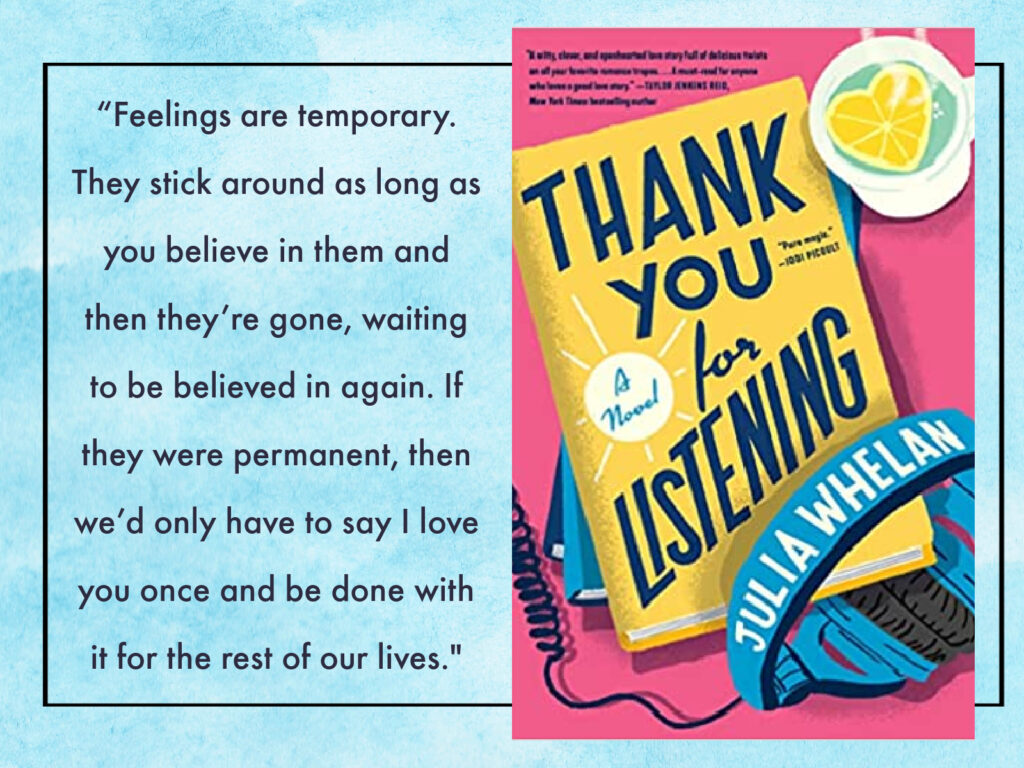 ---
Little House in the Big Woods, by Laura Ingalls Wilder: There's always some risk involved when rereading a beloved book, especially one that played a hugely formative role, as the Little House books did for me. This series was read and reread in my childhood home; to this day, whenever I think of "the past", my mind harkens to the days of Laura and Mary. I often played Little House with my friends (I was always Mary, of course, because she was most like me—the oldest, possessing a head full of blonde curls, and the "good child" [this last similarity was admittedly aspirational on my part]). I even dressed as an Ingalls daughter one year for Halloween.  So you can imagine how excited but also nervous I was to introduce this series to Charleston and to reread it for the first time as an adult.
What a relief to find that this first book in the series is not only as good as I had remembered it, but better! Through the simplest, most calming narration, we are given a realistic and entirely imaginable portrait of pioneer life in the mid-nineteenth century. The vivid descriptions of homestead life and work—from cleaning a gun or making cheese—nestle nicely alongside Pa's harrowing stories of journeying through the woods; the family's rare adventures into town or to grandmother's house for a dance; and various everyday activities that seemed extraordinary to the Ingalls sisters, for whom a piece of candy was a once-a-year treat and a simple rag doll was a dream gift come true. I love that the storytelling meets children where they are and holds their hands in a walk back into a simpler time that modern children could hardly fathom but are able to imagine through the pages of this book. I also love the simple values and lessons we are given—about family, and morality, and resilience.
Something I missed in reading these books as a child, but can't help but marvel at as an adult, was the strength and courage exhibited by Ma, Pa, and other adults. Their lives were incomprehensibly difficult, yet they worked hard to create a lovely life for their children, one filled with sweet memories and youthful delights and the most important lessons they would need. They are heroes and wonderful role models for me as a modern parent who could stand for a reminder of my own modern privilege every once in a while.
I have no doubt these books paint a rosy picture of a time that was hardly so innocent or easy as the books make them seem, but I have no problem suspending some disbelief for the sake of this heartwarming depiction that has delighted generations of children and is now continuing to delight my own children.
My Rating: 5 Stars // Charleston's Rating: 3.75 Stars // Book Format: Print
---
NONFICTION
Lift, by Kelly Corrigan: In a gut-wrenching letter to her young daughters, memoirist Kelly Corrigan documents for her children the moments she's certain they won't remember. "You won't remember how it started with us, the things that I know about you that you don't even know about yourselves," she begins. "We won't come back here. You'll remember middle school and high school, but you'll have changed by then. You changing will make me change. That means you won't ever know me as I am right now—the mother I am tonight and tomorrow, the mother I've been for the last eight years, every bath and book and birthday party, gone. It won't hit you that you're missing this chapter of our story until you see me push your child on a swing or untangle his jump rope or wave a bee away from his head and think, Is this what she was like with me?" We get glimpses into their birth stories, and medical scares, and the instances that informed Corrigan's motherhood even before the births of her children. There's heartbreak and too many passages that will have every parent nodding in solidarity,
I connected to this book on nearly every level. I picked it up because I adore Kelly Corrigan's writing—her knack for sharing small snippets of life that somehow encapsulate the whole thing, vignettes that illuminate life's panoramas. Having not read a summary ahead of time, I did not realize this was a love letter to Corrigan's children; this is especially close to my heart, as I write love letters to my own children every month. Like Corrigan, I yearn to capture who they are, and who I am, and how our family works and is and loves at a moment in time. Mostly, I'm certain I fail. But Corrigan modeled how this can be done, with writing that is factual and also sentimental, sharing just enough of herself while still centering her audience (her daughters). Included are the types of reflections I imagine any adult child would hope to read: a parent's love and devotion, earnest apologies for all the missteps, and insights into situations that may not have made sense to a child at the time.
I'm surprised by the negative reviews; I found the short length perfect, and though this isn't necessarily inspiring, it's earnest and relatable and a poignant reminder of the beauty and brevity of motherhood.
My Rating: 5 Stars // Book Format: Kindle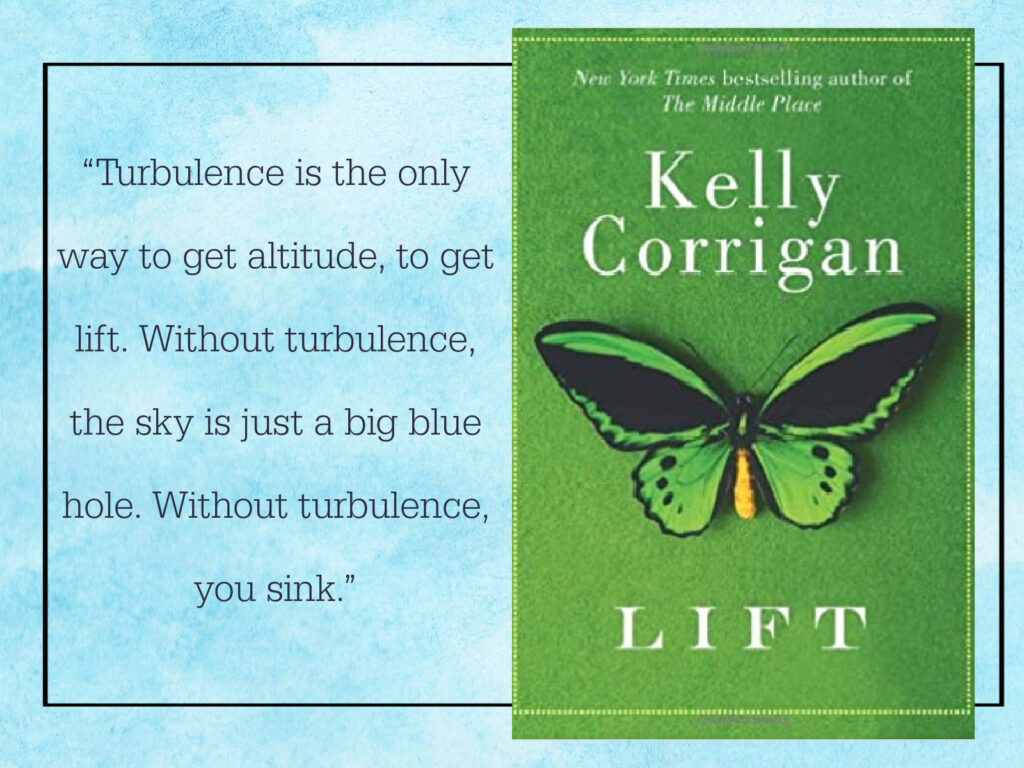 ---
Keeping Your Kids on God's Side, by Natasha Crain: I hope you aren't tiring of reading reviews of books on apologetics, because I certainly am not tiring of reading them. This one is backlist from Natasha Crain (one of my favorite apologists) and is written with the aim of empowering kids (via their parents) to respond to tough questions about Christianity.
Today's youth are leaving their Christian upbringings at unprecedented rates; as parents, our role is to provide our kids with a solid Christian foundation, one that is based on more than simplistic answers and admonitions to "just believe because the Bible says so." Keeping Your Kids on God's Side encourages parents to talk with our kids about the challenging aspects of Christianity that may become stumbling blocks when they begin making their faith their own: issues such as why God allows evil, how to reconcile evolutionary science with the story of Creation, evidence for the Bible's authenticity, and the nature of objective truth. These are really difficult subjects, and Natasha offers thoughtful answers with evidence and information from a range of sources.
While written with parents in mind, this book is an excellent resource for any Christian (parents or not) wanting a comprehensive guidebook for responding to specific arguments from atheists and other skeptics. The format is easy to follow, and the explanations are robust but not overly complicated.
As much as I appreciated this book (and learned a great deal [even having previously read several similar books], especially in the final section about science and the Bible), I do feel it was mis-marketed and inaccurately titled. This is not a collection of actual conversations to have with kids; there are no suggested scripts or prescribed methods for walking through these questions with kids. I would love to have this in guidebook form as a way of working through the material in a more educational and systematic way.
That said, I do recommend parents read this book in order to build up your own understanding of these issues so that you are prepared for kids' spontaneous questions as they arise, which they inevitably will. We parents are the gatekeepers of our children's growing faith lives, and that means engaging their difficult questions. I love that Natasha does not downplay kids' and parents' doubts or misgivings and trusts them (and us) with the whole truth of God and the Bible, even when that truth isn't always easy to understand. Books like this one help to us raise up thoughtful Christians who have solid intellectual understanding of the faith we profess.
My Rating: 4.5 Stars (Rounded to 5 Stars on Goodreads) // Book Format: Audiobook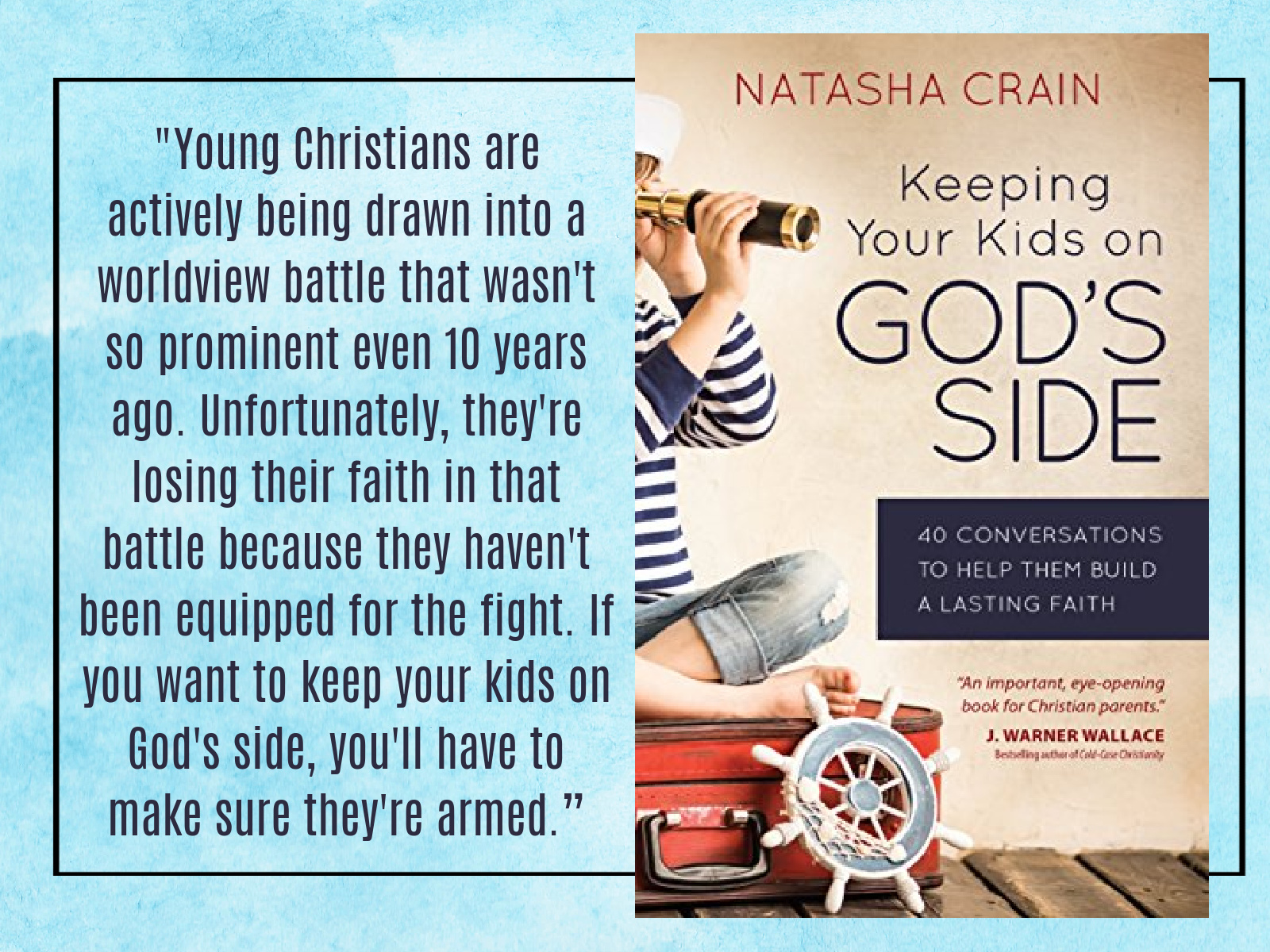 ---
I'm Glad My Mom Died, by Jennette McCurdy: This was not a book I had intended to read. For one thing, I found the title to be a huge turnoff. I'm also not the biggest fan of celebrity memoirs, at least not those that seem salacious or that are about celebrities I'd never heard of (both true for this memoir). Somehow, though, I did wind up borrowing this from the library—mostly out of curiosity over all the buzz. And now, having listened, I can understand why this book has gotten so much attention.
Jennette McCurdy was six years old when she went to her first acting audition. Unlike many child stars, whose parents concede to the children's desires to go into acting, Jennette was not interested in performing. But she WAS interested in pleasing her mother, an ambitious stage mom set on making her child a star, whatever the cost. Jennette complied with her mom's manipulation and obsessiveness, taking on roles that didn't interest her (landing her a lead on the show iCarly, which pushed her into the spotlight) and engaging in an eating disorder of her mother's making. On its surface, Jennette was a beautiful, popular, and successful Hollywood starlet. Unknown to the world were the family secrets of her mom's hoarding, the family's poverty, and the emotional and sexual abuse to which Jennette and her brothers were subjected at their mother's hands.
In this essay collection, told in vivid vignettes, Jennette offers an unfaltering look at her life as a young star: from the unsavory aspects of child acting and Hollywood manipulation, to the gruesome details of her various addictions (anorexia, bulimia, alcoholism, and codependency), and most of all, into the deeply unhealthy dynamic she held with her mother. It's not a spoiler to mention that Jennette's mom died of cancer when Jennette was in her early twenties; only after her mother's death did the actress come to terms with the full dysfunction of their relationship and her mother's mental illnesses. The book is divided into two parts, Before (her mom died) and After, with the earlier parts of the book simply showing what life with Mom was like and the latter half unpacking her mom's narcism, their toxic relationship, and its rippling effects into Jennette's adult life.
As you can imagine, this is a VERY difficult book, touching on nearly every trigger you can imagine: eating disorders, sexual and emotional abuse, sexual assault, mental illness, child poverty, substance abuse, cancer and the loss of a parent—it's all here, and more. The narration is stoic and the tone of the book is detached, making it both easier to read and also more heartbreaking as we experience the level of detachment required for the actress to make some sense of and peace with her past.
Though an unpleasant read, it is incredibly well written: honest (but not manipulatively scandalous), insightful, and introspective, with a strong narrative drive that dips down into the details of the story in all the most interesting places. My heart broke for young Jennette and all that she went through, and her experience has me viewing child acting in an entirely different light. (Sadly, this memoir will forever taint my perception of movies and shows staring young actors.) And though she doesn't come across as an especially sympathetic or likable adult, I can understand her jadedness and resentment, and I admire her resilience. 
Jennette's bulimia takes center stage in the final third of the book. I have never read such a detailed and honest account of eating disorder behavior, and related to much of her experience. (I have never struggled with bulimia, but there is a surprising amount of overlap between her eating disorder and my own experience with anorexia.) The depth to which she explores her journey is shocking and disturbing, yet her story of recovery is inspiring and hopeful.
I can't say this was a favorite memoir, but it was most definitely a memorable one. As a parent, I am glad I read this book and see it as an important cautionary tale of how NOT to relate to my children.
My Rating: 3.75 Stars // Book Format: Audiobook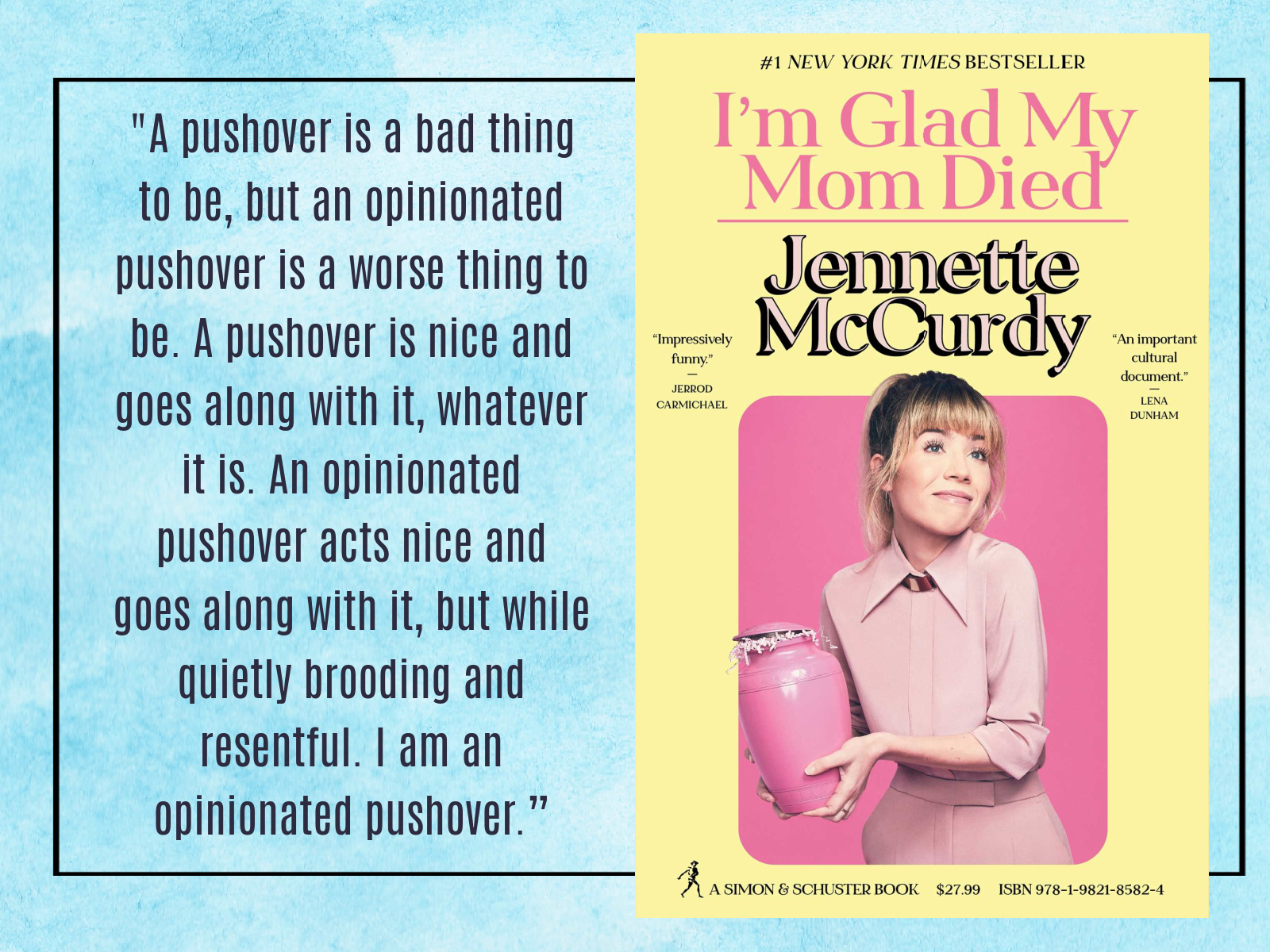 ---
Have you read any of these books? If so, please share your thoughts; I love hearing opinions from my fellow readers!