The month of December abounds with goodness and joy and all things magical, not the least of which is the many Best Of lists filling our feeds in these closing days of the year. I am 1000% on board with a good recap, especially in the world of books, so here I am today with my very own contribution to the great collection of The Internet's 2021 Reading Roundups and Reflections. (You can see each of my past recaps here: 2020, 2019, 2018, 2017, 2016, 2015, 2014, and 2013.)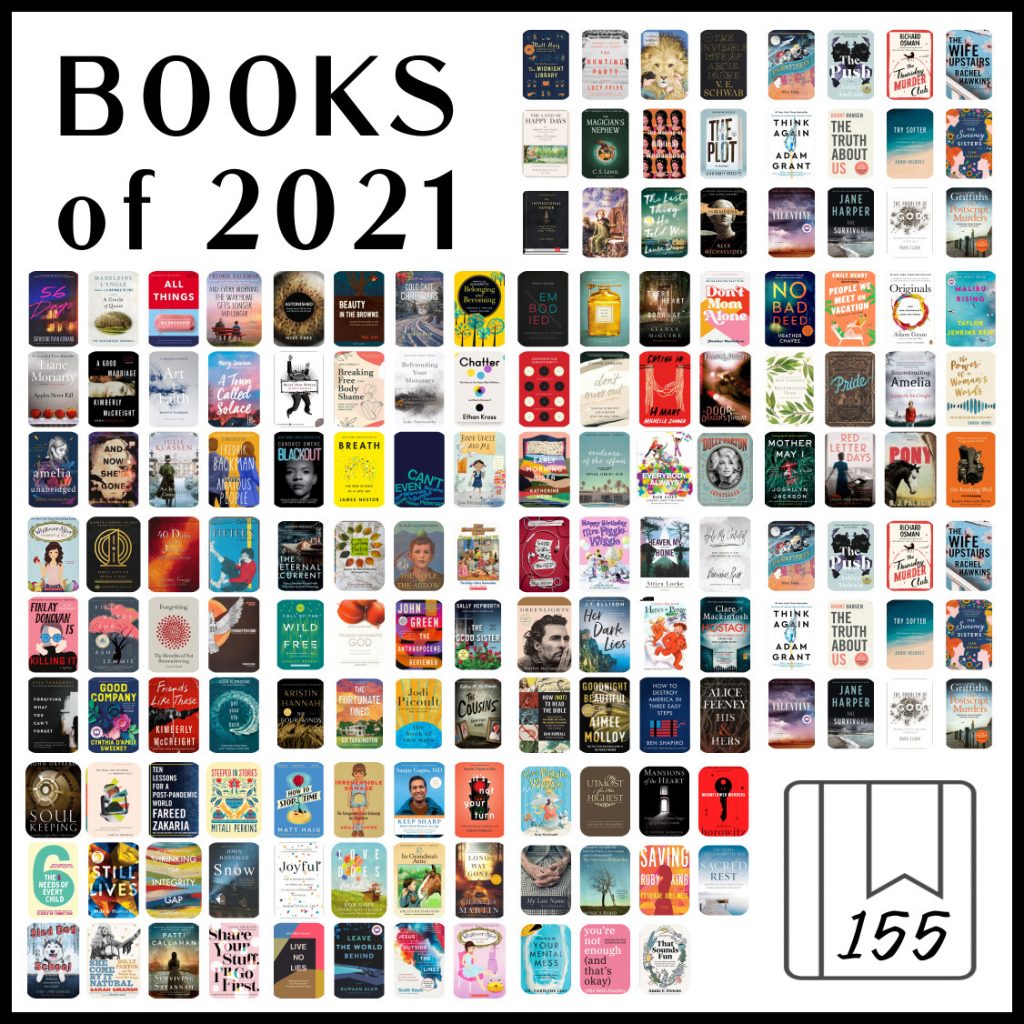 My reading life looked a lot different in 2021 than in past years. I was more intentional with my book selections and with carving out specific times to read each day. As a result I derived much more enjoyment from reading in 2021, and the books I read held greater significance and impact—at the time when I read them and now, looking back over a year of books.
I use a December-November calendar for recording my year's books, so all of the stats ahead reflect a full year of reading, even though 2021 is not quite over. I finished fewer books this year (155 in 2021 compared with 168 in 2020, 170 in 2019, and 205 in 2018). There are a few reasons for this: 1) I'm busier these days and have less time for reading; 2) I was quicker to quit books I was not enjoying (I had more DNF's [Did Not Finish] this year than ever before); and—the most notable explanation—3) I cut way back on the number of audiobooks I listened to this year. Case in point: in 2020, I listened to 124 books (comprising 74% of my total books); this year I listened to 69 audiobooks (just 45% of my overall book count). This has been a goal of mine for many years now, and I'm excited that 2021 was the year I finally made this goal happen (thanks to less listening time overall, and more of that designated listening time dedicated to podcasts and Adventures in Odyssey).
Other significant changes to my reading life in 2021 included more print books (though I still do more reading on my Kindle than in print) and quite a few read-alouds with the kids. This year's reading had a fairly even split between fiction (83 books) and nonfiction books (73), a balance I'm happy with and hope to continue next year.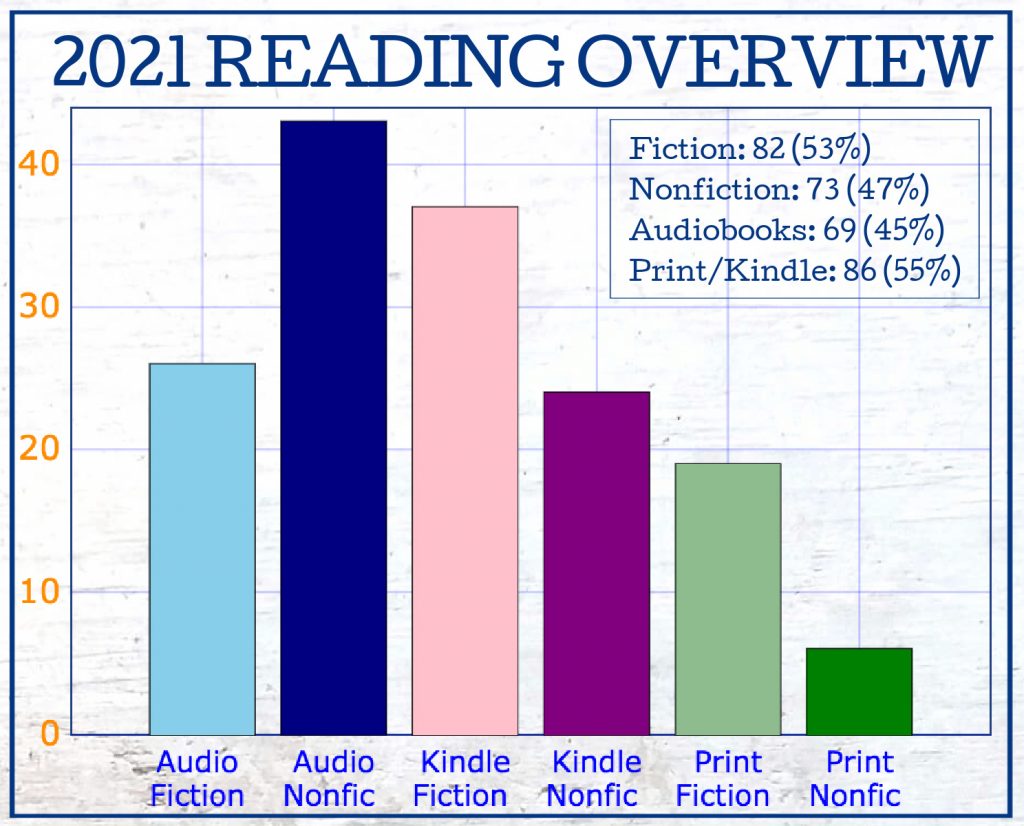 Overall, I really enjoyed the books I read this year, with a whopping 54 books earning 4.5 or 5 stars, and only 14 books earning less than 3.5 stars (my threshold for books I consider a success and worthy of my endorsement). My star ratings skewed much higher this year than in the past, possibly because I have become a little more lenient with my stars but also because I've gotten better at picking books I know I will enjoy, and quitting books I'm not liking without feeling the need to see them through to the end.
You can see an overview of how each of my 2021 books ranked on this Pinterest Board. A few things I'm noticing from this year's favorite books is that most of them were NOT audiobooks, and that I tended to rate nonfiction books higher than fiction.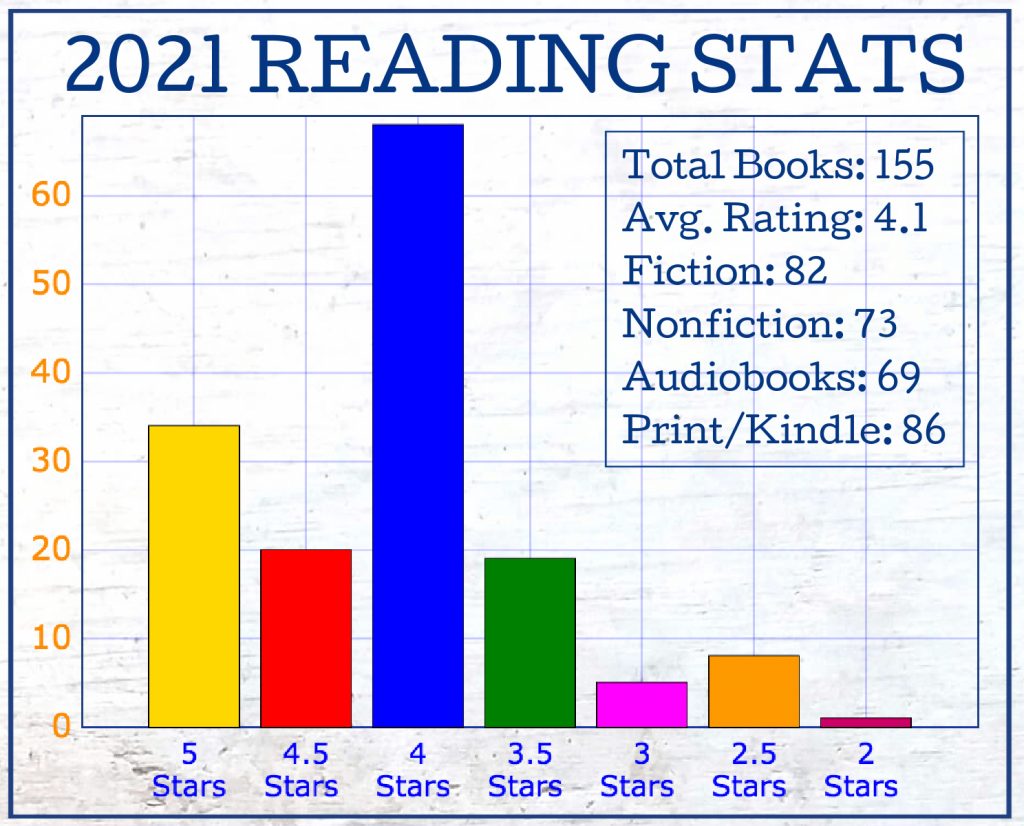 I had a VERY tough time narrowing down my list of favorite books from the year, but I managed to pare my favorites down to just ten fiction and ten nonfiction books (all read in 2021, though not many were published this year). In compiling this list, I selected books that made an impact at the time of my reading AND that have stuck with me; these aren't necessarily the books that I loved the most or rated the most highly upon reading them, but every book on this list is one I've found myself thinking about or recommending again and again.
While I read fairly widely this year, there's a lot of uniformity among my 2021 favorites. Nearly all of my nonfiction faves fall under the umbrella of Christian Living, and my fiction favorites are Mysteries/Thrillers or Contemporary Literary Fiction. Despite their similarities, each of these books stands out in its own way, and each one informed or enriched my life in 2021.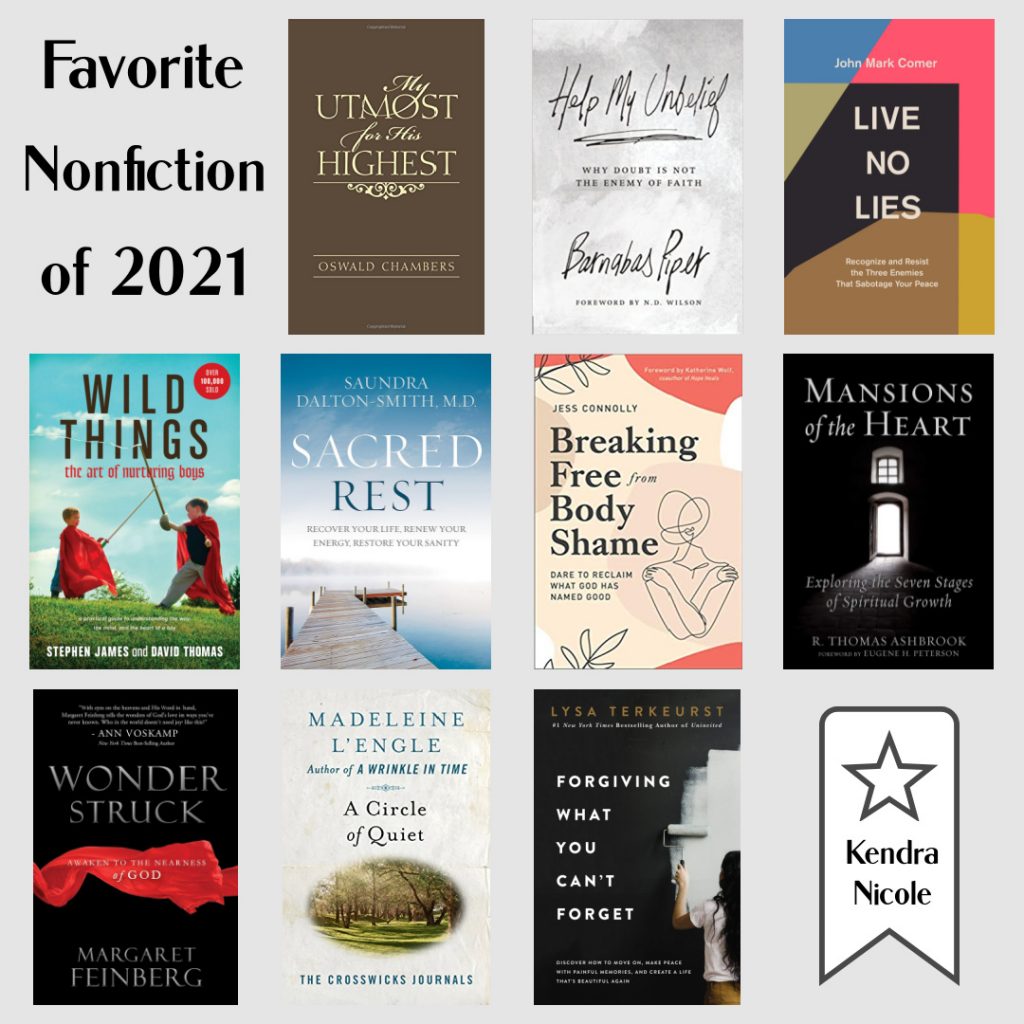 NONFICTION TOP 10
#1 Favorite Nonfiction: Live No Lies: Recognize and Resist the Three Enemies That Sabotage Your Peace, by John Mark Comer—This insightful book from one of my favorite contemporary teachers and thinkers opened my eyes to the spiritual war we are waging and offered guidance for resisting our enemies of the devil, the flesh, and the world. In addressing spiritual formation and cognitive science, as well as cultural trends, Biblical history, and the church's place within society, Comer united a number of my favorite subjects and showed how they are all moving parts of the same whole that is living as a believer in a fallen world. The takeaways I gleaned from this book have worked their way into countless conversations, blog posts, and thought processes since I read it, and it's the one book I want every single one of my Christian friends to read. (Original Review)
Mansions of the Heart: Exploring the Seven Stages of Spiritual Growth, by R. Thomas Ashbrook—An excellent roadmap for understanding spiritual growth and the ultimate goal of a life with Jesus. This is a great resource for those just beginning on their faith journey and curious as to what's ahead, as well as seasoned believers who want to become even more united with Christ. I don't know if I've read any other book that has inspired my pursuit of Jesus the way this book has. I just finished it this month and am already making plans for a reread. (Original Review)
My Utmost for His Highest, by Oswald Chambers—There's a reason this is the best selling devotional of all time! I began every morning in 2021 with Chambers' reflections, and each day's writings met me exactly where I was and bolstered my spirit for the day ahead of me. A beautiful blending of the grace found within the Gospel message, and uncompromising motivation to move forward in the sanctifying work that occurs as we pursue Jesus. (Original Review)
Breaking Free from Body Shame: Dare to Reclaim What God Has Named Good, by Jess Connelly—I desperately needed this book, and I honestly cannot think of another woman who DOESN'T need to read Jess's encouragement to stop obsessing over our bodies. Body shame is holding our generation of women captive and this book offers a disruptive glimpse at what is possible if we set aside our body insecurities and obsessions and walk in the body freedom God wants to bring to us. This message is easier said than believed, but since reading this book I have been working to embrace the powerful and beautiful message that my body is NOT a project to be fixed or a problem to solve, but a masterpiece created by the Divine Artist Himself. (Original Review)
Sacred Rest: Recover Your Life, Renew Your Energy, Restore Your Sanity, by Saundra Dalton-Smith—Prior to reading this book, I was unfamiliar with the seven different types of rest: physical, mental, spiritual, emotional, sensory, social, and creative. This book helped me identify areas where I was experiencing deficiencies, and it offered a Biblical framework for understanding and embracing the rest that I need. (Original Review)
Wonder Struck: Awaken to the Nearness of God, by Margaret Feinberg—I read several books on wonder in 2021, and this one was my favorite resource for exploring my word of the year. With profound teaching and beautiful storytelling, Feinberg illuminates ten areas where we can awaken to God's wonder. This book set a pitch-perfect tone for my year of Wonder. (Original Review)
Wild Things: The Art of Nurturing Boys, by Stephen James and David Thomas—As a mom of two sons, I am continually amazed and puzzled by just how different boys and girls can be. This—my favorite parenting book of the year—helped me understand the biological differences between my boys and my girl, shed light on their behaviors and developmental stages, and offered actionable strategies to address boy-specific issues that I can expect with my sons. (Original Review)
A Circle of Quiet, by M'Adeleine L'Engle—This humorous and insightful essay collection from a beloved children's book author explores faith, parenting, writing, and womanhood in ways that felt remarkably current, despite having been written fifty years ago. This is one of the best memoirs I've read and I'm itching to read the next in the series. . . but also putting it off, because I'm relishing the feeling of looking forward to it! (Original Review)
Help My Unbelief: Why Doubt Is Not the Enemy of Faith, by Barnabas Piper—In a time when deconstruction (and subsequent abandonment of the Christian faith) has become a frightening trend, Piper offers permission to bring our questions to God while also leading us closer to the Lord's loving embrace. Piper sidesteps unhelpful clichés and trite answers, offering compassion and guidance for doubters and skeptics and pointing them to the truth. (Original Review)
Forgiving What You Can't Forget: Discover How to Move On, Make Peace with Painful Memories, and Create a Life That's Beautiful Again, by Lysa TerKeurst—In this heartfelt book, Lysa TerKeurst uses her own powerful story of forgiving unfathomable hurt to guide readers into lives of wholeness, peace, unity with God, and healthy relationships with others. This is a must-read for anyone who has struggled to forgive people in their lives, but even for those of us who don't need support with this particular issue, this book is an inspiring and redemptive portrait of grace in action and the spiritual healing that application of Biblical principles can bring. (Original Review)
NONFICTION RUNNERS UP:
Get Your Life Back: Everyday Practices for a World Gone Mad, by John Eldredge: Eldredge borrows from sacred and secular practices to provide guidance in the path towards healing and restoration. I read it at the start of the year and it made a fantastic January read that set me up for healing in 2021. (Original Review)
Confronting Christianity: 12 Hard Questions for the World's Largest Religion, by Rebecca McLaughlin: The most authentic, relevant, and insightful book on apologetics that I read this year. I've recommended this to several friends who are new to the Christian faith. (Original Review)
Belonging and Becoming: Creating a Thriving Family Culture, by Mark and Linda Scandrette: A unique and helpful resource for families seeking intentionality and purpose. (Original Review)
Irreversible Damage: The Transgender Craze Seducing Our Daughters, by Abigail Shrier: I hate that a need for this book exists, but am thankful for the author's insights into one of the most alarming trends occurring in teens today. (Original Review)
The Good and Beautiful God: Falling in Love with the God Jesus Knows, by James Bryan Smith: I loved this book that unites spiritual formation with theological exploration. Smith succeeded in helping me fall more in love with God through the words of this book. (Original Review)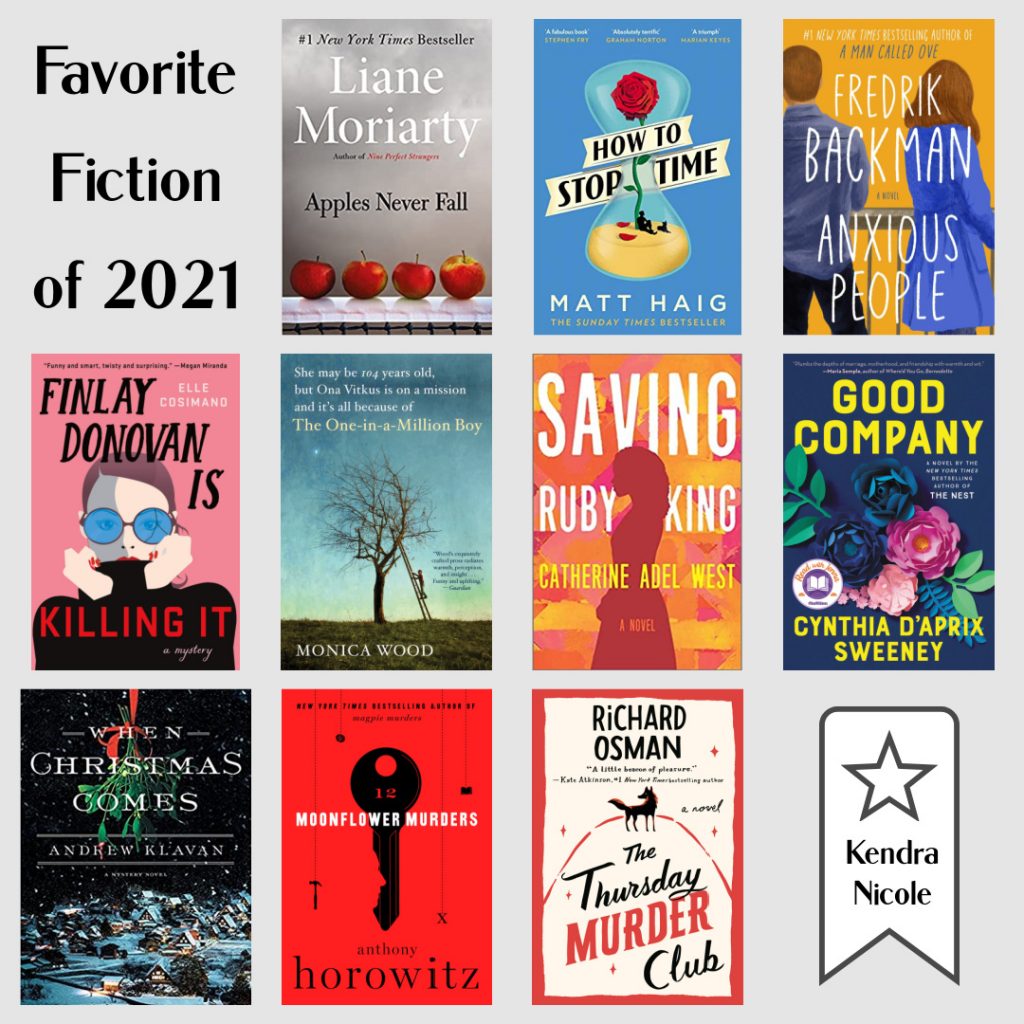 FICTION TOP 10
#1 Favorite Fiction: Anxious People, by Fredrik Backman—An apartment full of unsuspecting house hunters suddenly find themselves in a life-or-death situation when a failed bank robber bursts into a high-rise Open House and takes the viewers hostage. This almost-but-not-quite crime scene provides the community and context for an assortment of quirky but lovable characters to sort through their issues, grapple with their hurts and hangups, and find solace amidst unlikely companions. This book is funny, suspenseful, heartwarming, redemptive, and insightful. I read it in February and spent the rest of the year (unsuccessfully) chasing after another book that could meet its match. This novel is about as perfect as they come; pure delight! (Original Review)
Finlay Donovan Is Killing It, by Elle Cossimano—This story of a divorced mother of two who accidentally stumbles into a job as a hired assassin is uproariously funny while also offering a clever mystery and very sweet romance. I've pushed this book into the hands of many friends (with wildly differing tastes in books), and all of them have loved it! (Original Review)
How to Stop Time, by Matt Haig—If a philosophical treatise and a time-travel romantic comedy were to give birth to a book, this would be the result. Though he looks to be an ordinary 41-year-old, our protagonist is hundreds of years old, and due to a rare genetic condition he likely has many centuries ahead of him. His quest for love and purpose is thought-provoking and highly entertaining. I liked this even more than Haig's more popular (and also excellent) Midnight Library. (Original Review)
Moonflower Murders, by Anthony Horowitz—This second book in Horowitz's Magpie Murders is two books in one: we get the contemporary crime-solving story of a literary detective and retired publisher, as well as the manuscript of a vintage English mystery whose story contains clues to the "real" mystery at play. Brilliantly crafted, and excellent on audio. (Original Review)
When Christmas Comes, by Andrew Klavan—I came for the author but stayed for the story, the exquisite prose, and one of my new favorite fictional protagonists. The story of an intuitive, weathered English professor who is brought in for his insights into an apparently open-and-shut murder within a close-knit military town is atmospheric, uniquely plotted, and unexpectedly redemptive. (Original Review)
Apples Never Fall, by Liane Moriarty—I haven't met a Liane Moriarty novel I didn't like, and this one featuring four complicated siblings, their eccentric parents, a suspicious stranger, and an unexplained disappearance is Moriarty at her finest. Mysterious, funny, and completely unputdownable, with an ending that I adored. (Original Review)
The Thursday Murder Club, by Richard Osman—This witty story of four incongruous friends who solve crimes from the comfort of their retirement community is a cozy mystery with substance. After Anxious People, this was my second favorite novel of the year for its memorable characters, puzzling plot, and touching insights into the lives of its aging protagonists. (Original Review)
Good Company, by Catherine D'Aprix Sweeney—A wife's unfortunate discovery of her husband's long-buried secrets leads into a complicated saga of two families, set within the theater world. This tale of friendship, marriage, and motherhood caught me by surprise. Layered characters, gorgeous prose, and deft interplay of nostalgia and hopefulness make for a challenging but ultimately beautiful read. (Original Review)
Saving Ruby King, by Catherine Adel West—This intricately layered story of one woman's murder and the aftermath that occurs within her church community is a hard-hitting tale of faith, family, friendship, and loyalty amid the racially divided landscape of Chicago across three generations. The themes here are challenging but handled with a gentle touch. In a sea of contemporary novels exploring the Black experience, this one definitely stands out. (Original Review)
The One-in-a-Million Boy, by Monica Wood—An eleven-year-old boy befriends a woman nearly one hundred years his senior, and when tragedy strikes, his memory provides the foundation for unexpected friendship between the elderly woman and the boy's deadbeat father. The immutable hope of optimism, kindness, and redemption shines through the pages of this quietly lovely novel. (Original Review)
FICTION BONUS PICKS:
Best Read-Aloud: The Ordinary Princess, by M.M. Kaye—Charleston and I both fell hard for this endearing modern fairy tale about a princess who defies stereotypes and embodies true nobility in the funniest of ways. (Original Review)
Best Novella: My Last Name, by Eric Schumacher—Have tissues ready for this tearjerker of a story about life, dignity, and connection as told through the memories of an aging woman slipping into cognitive decline. It's an absolutely exquisite read you can finish in an hour, but don't make my mistake of reading it in public. . . you will be a puddle of tears by the final page. (Original Review)
FICTION RUNNERS UP:
Who Is Maud Dixon, by Alexandra Andrews—A twisty bookish-themed psychological thriller that was actually worth the hype. (Original Review)
Fifteen, by Beverly Cleary—Classic YA that offers a fun window into teen life in the 1950s and had me yearning for a simpler time. (Original Review)
56 Days, by Catherine Ryan Howard—The pandemic thriller I didn't know I wanted to read, but kept me hooked from start to finish. (Original Review)
Long Way Gone, by Charles Martin—A heart-wrenching retelling of the prodigal son story. Nobody can craft a story with Biblical themes like Charles Martin. (Original Review)
Pride, by Ibi Zoboi: I was SO impressed with this creative Pride and Prejudice retelling, starring characters of color in a present-day Brooklyn setting. (Original Review)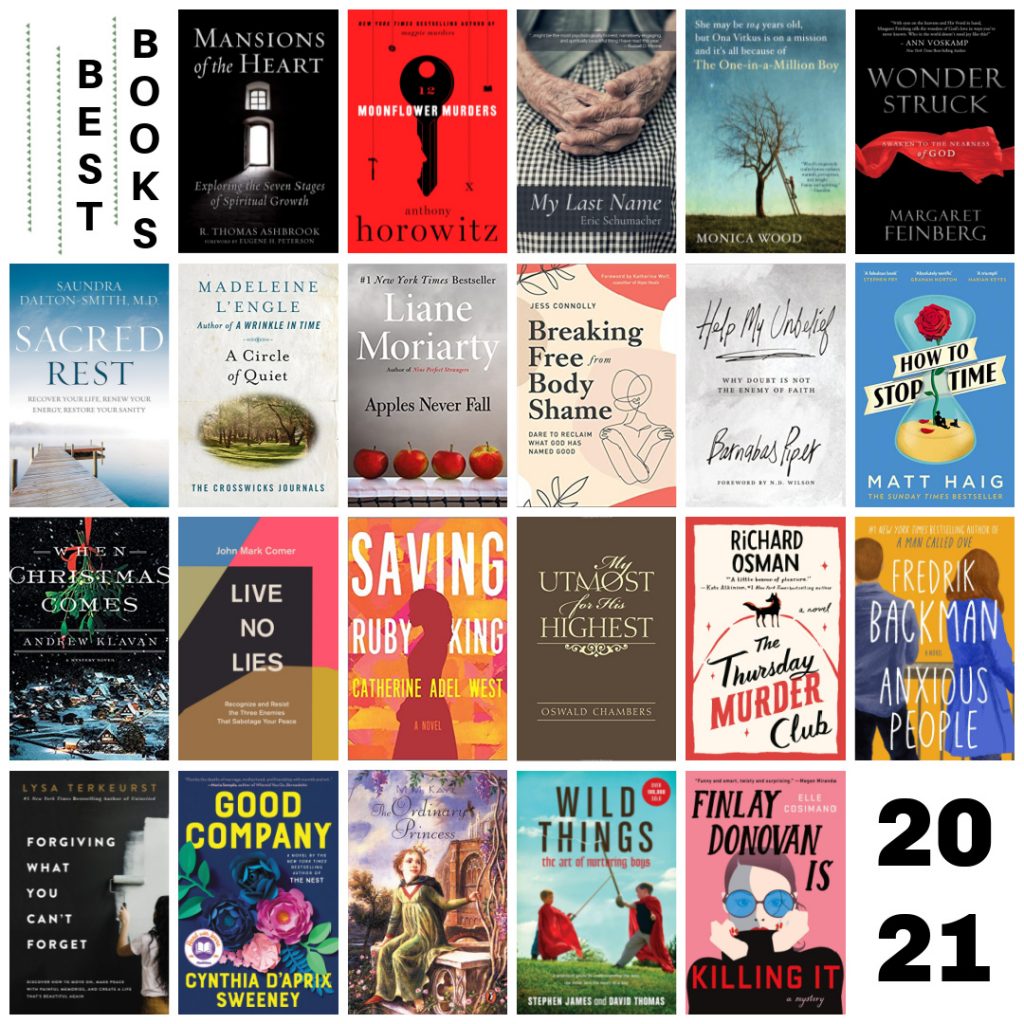 And that puts the bow on top of the gift that was my year of reading in 2021. If you're looking for more book talk, check out my list of 100 Things About ME as a Reader, as well as my Reader's Guide to a More Fulfilling Reading Life (Part 1, Part 2, Part 3).
Now it's your turn: what did your reading look like in 2021? What were your favorite (or least favorite!) books of the year?