When I first started listening to podcasts nearly ten years ago, I had trouble finding enough content to fuel my listening hobby. I had no idea that one day in the near future, the podcasting world would explode, and listening to podcasts would become mainstream and even—dare I say it?—cool! (Thanks, Serial!)
My personal podcast-listening queue continues to grow at an impressive rate; in fact, four of the five shows I'm sharing today have entered my radar just since January. These five shows fuel different needs: a few are educational, one is pure entertainment, and a couple of them offer both wisdom and fun. I'm so excited to tell you more!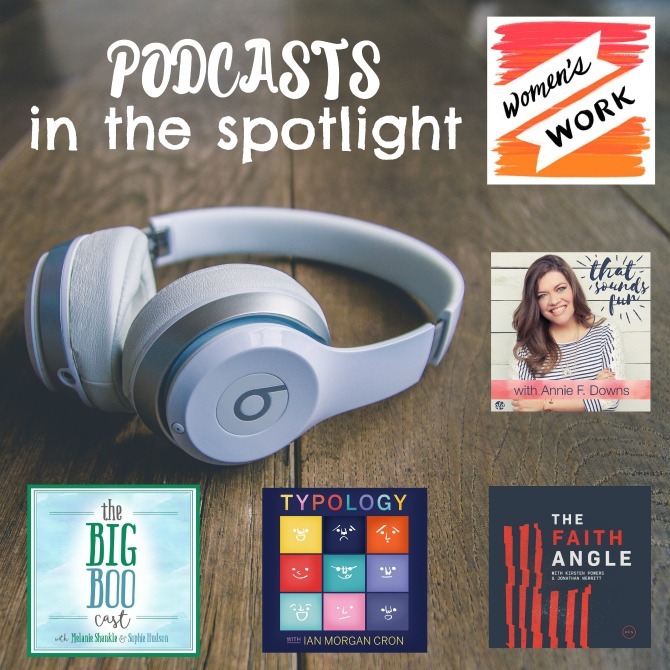 This show has been around for years (more than a decade!), and I'd heard both hosts interviewed on other podcasts, but it wasn't until a friend recently cited The Big Boo Cast as her Number One, NEVER-miss show that I downloaded it for myself. It's been worth it!
Podcast Description: "Authors / speakers Melanie Shankle and Sophie Hudson – also known as Big Mama and BooMama on their blogs – talk about all the important stuff: faith, family, friends, football, fashion, and food. Plus, of course, their hair."
Why I Listen: I follow a lot of highly produced shows, so the low-key nature of this one is a nice change of pace. Listening to Melanie and Sophie chitchat about all the simple things feels like I'm participating in some highly entertaining eavesdropping at my local Starbucks—and I admit that I love me some eavesdropping. The women don't touch on anything too serious, but their love for the Lord is evident in their positive attitudes and genuine friendship.
Tune In If. . . You enjoy Southern accents, silly girl talk, and everyday stories that leave you laughing until your ribs hurt.
Episodes to Get You Started: Episode 93 // Episode 96 // Episode 100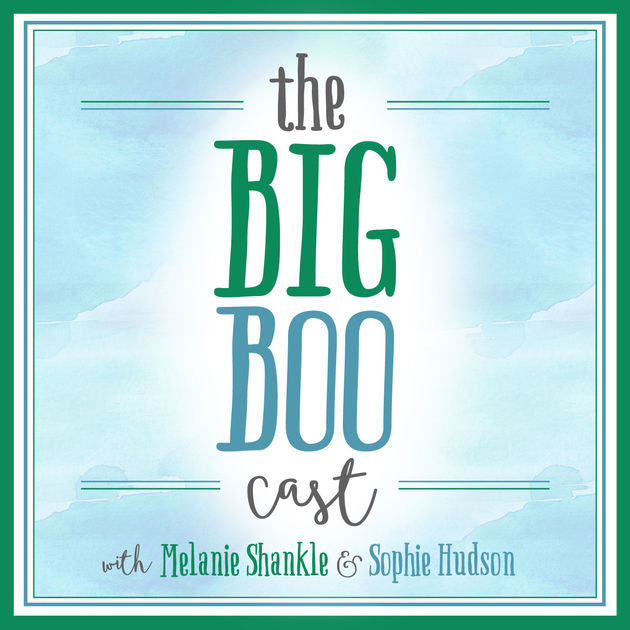 ---
This show is only a few episodes in, so I can make no promises about its staying power or continued relevance, but so far I'm impressed! Every single episode has been a huge eye-opener for me, and I look forward to each week's new show release.
Podcast Description: "What does it mean to live as a person of faith in this crazy moment in American history? That's the question behind The Faith Angle, a provocative podcast from journalists Kirsten Powers and Jonathan Merritt. From bathroom bills to conservative Christian cake bakers to Pope Francis' impact, the duo will explore the issues that matter to people of faith. Each episode features an explainer on this issue, discussion of relevant headlines, and a lively interview with a thought leader. Think of it as 'a survival guide for the faithful in Trump's America."
Why I Listen: I like listening to faith-based shows, but I also like the occasional change of perspective to keep the echo chamber effect at bay. The Faith Angle offers a healthy compromise within a single show: as Christians, the hosts share many of my beliefs, but they are also much more liberal than me, and they certainly aren't afraid to voice opinions that would rub many Evangelicals the wrong way. I've appreciated their willingness to cordially engage guests (on both ends of the political spectrum) whose views they obviously don't share. Our nation (and even my own podcast feed) could benefit from more of these friendly bipartisan conversations. Their balanced approach has already opened my eyes to a number of ideas I'd previously been unwilling to consider.
Tune In If. . . You are 1) a Christian who is uncomfortable with aspects of the Church, OR 2) a believer who wants to know why others might have their misgivings with the Christian faith, OR 3) you aren't a Christian and are looking for a nonthreatening introduction to some alternative Christian views. This is also a great political podcast for people who have been afraid to listen to the polarizing political discussions dominating most political shows in recent years.
Episodes to Get You Started: Episode 01. Trumvangelicals and the Divided States of America with Guest Eric Metaxes // Episode 02. Holy Misogyny! The Truth About Sexism in the Church with Guest Rachel Held Evans // Episode 03: Christians, Guns, and the Mass Shooting Epidemic with Guest Propoganda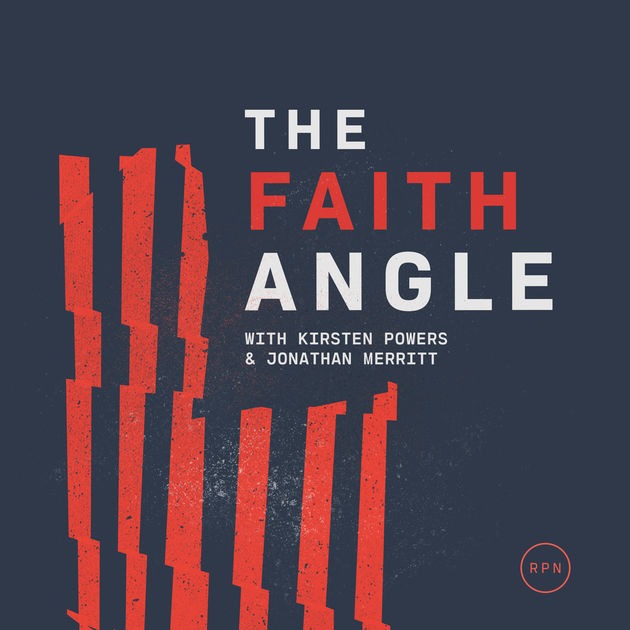 ---
This is another show that was recommended by a friend, and it immediately shot to the top of my Favorites list. It's been an added bonus that my best friend and I both listen, as it's inspired some fun dialogue! I'm always excited to finish listening so the two of us can text about our thoughts!
Podcast Description: "Christian author and speaker Annie F. Downs shares with you some of her favorite things: new books, faith conversations, restaurants, travel stories, musicians not to miss, interviews with friends. Pretty much, if it sounds fun to Annie, you're gonna hear about it."
Why I Listen: Annie is a fun host who I KNOW would be my BFF if we were to meet in real life. She's enthusiastic and optimistic, but not afraid to touch on personal struggles and places of pain. Annie's love for God is evident and contagious, and her genuine faith makes its way into every aspect of her show. She's also an amazing interviewer and I've loved every one of her guests (who tend to be different than the guests I see featured on other Christian podcasts, probably because she follows a strict policy of ONLY interviewing her friends). Like me, Annie is OBSESSED with the Enneagram, so I love that we get to learn more about the personality type of every one of her guests. As an aside: Annie is an Enneagram 7 (the Enthusiasts) which explains A LOT about her show, including its title!
Tune In If. . . You enjoy interview shows that are uplifting, fun, and educational.
Episodes to Get You Started: Rhythms: Sabbath + John Mark Comer // Episode 66: Cory Asbury // Episode 68: Tauren Wells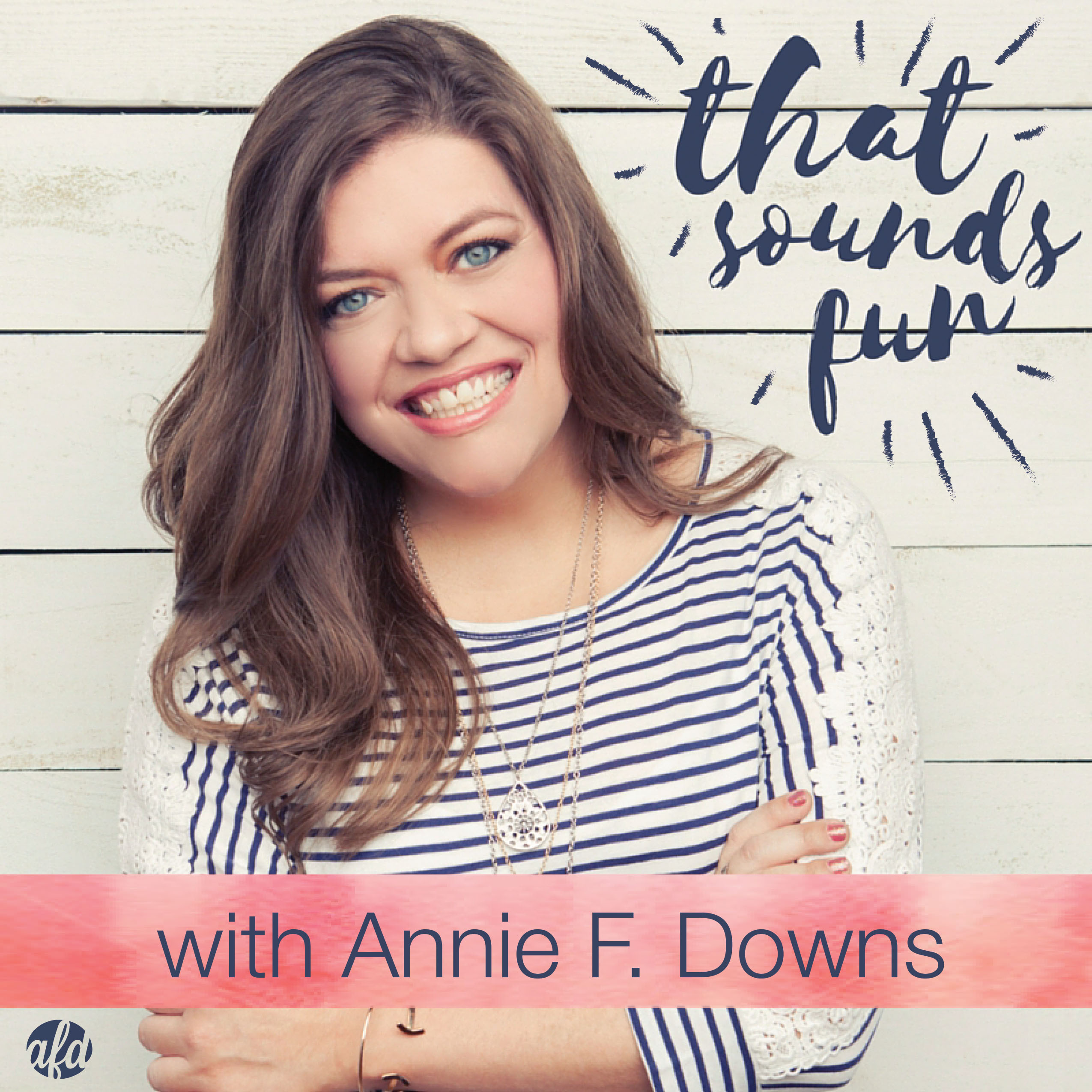 ---
From an Enneagram-adjacent podcast (That Sounds Fun) to one entirely dedicated to my favorite personality framework! I loved the book The Road Back to You and was sad when the book's promotional podcast came to an end. Thankfully, the Enneagram talk continues in this show hosted by author Ian Morgan Cron. (Cron's coauthor, Suzanne Stabile, also started an independent podcast, but I don't enjoy it as much as this one.)
Podcast Description: "Who are we? Why do we act, think and feel the way we do? How can we become our best, most authentic selves? Welcome to Typology, a podcast that explores the mystery of the human personality and how we can use the Enneagram typing system as a tool to become our best, most authentic selves. Hosted by author, speaker and counselor, Ian Morgan Cron, Typology features interviews with thought leaders from every sphere of life, including renowned Enneagram authors and teachers, psychologists, theologians, artists, business leaders, neuroscientists, philosophers, and more. In other words, we'll be talking with people who are trying to become the best version of themselves in the world."
Why I Listen: We've already established that I love the Enneagram and consume as much content as I can related to the subject. Beyond all the Enneagram insights, I enjoy Ian Morgan Cron's warm and often humorous interview style. I love how he applies the Enneagram to his guests' experiences, but talks about more than just their personality types. My favorite episodes have been those where Ian helps guests learn their type for the first time, as it's given me guidance as to how to help my friends learn their types following a similar line of questioning.
Tune In If. . . You're an Enneagram enthusiast and are looking for more information on the model, or if you're new to the Enneagram and want an easy introduction to the latest personality craze.
Episodes to Get You Started: 023: Science Mike hacks the Enneagram // 032: Reading People through the Lens of the Personality with Anne Bogel // 036: Exploring "The Shack" with the Enneagram and author Paul Young, pt 1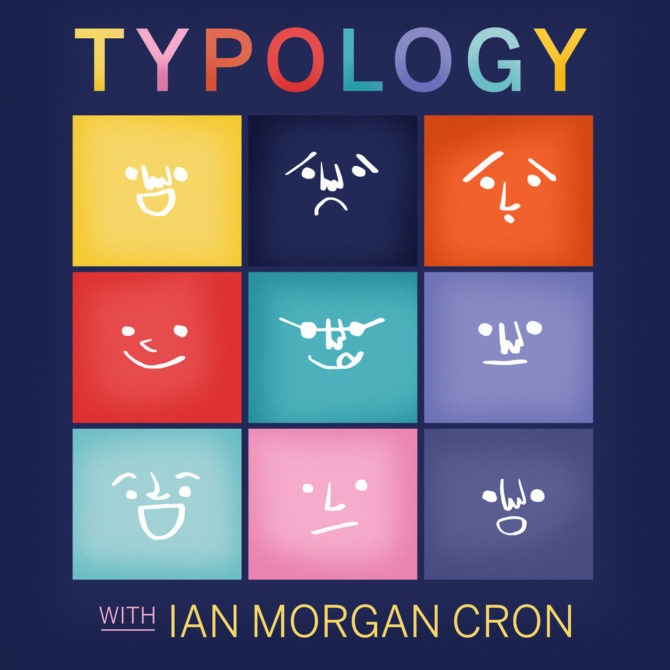 ---
I'm a huge fan of Tsh Oxenreider and everything she puts her name to, including her original podcast in all its various iterations. But I admit, I wasn't too excited about Women's Work: the premise didn't sound all that interesting to me and I worried it would be weirdly feminist. I decided to give it a few shows before writing it off; we're now more than a dozen episodes in, and I'm still listening. Tsh has done it again!
Podcast Description: "More than a business show, this is a story show… Let's listen to some of the women who make our world a better place and contribute to the greater good. Author and podcaster Tsh Oxenreider asks women—from all walks of life, who do all sorts of work—why they love what they do."
Why I Listen: As I mentioned, I started listening because I'm a Tsh fangirl, but I've kept listening because it's fascinating! It has been incredible to learn about careers I didn't know existed, including a few I wouldn't mind trying out myself. (True story: the interview with a female priest was a catalyst for my current campaign to convince Luke that my going to seminary needs to be written into our family plan.)
Tune In If. . . You enjoy learning about how people spend their days, especially people who are passionate about their careers and excellent at what they do. This is a pro-woman podcast, but by no means is it geared towards an exclusively female audience.
Episodes to Get You Started: Ep. 9: Priest // Ep. 10: Storytelling Strategist // Ep. 11: Book Cover Designer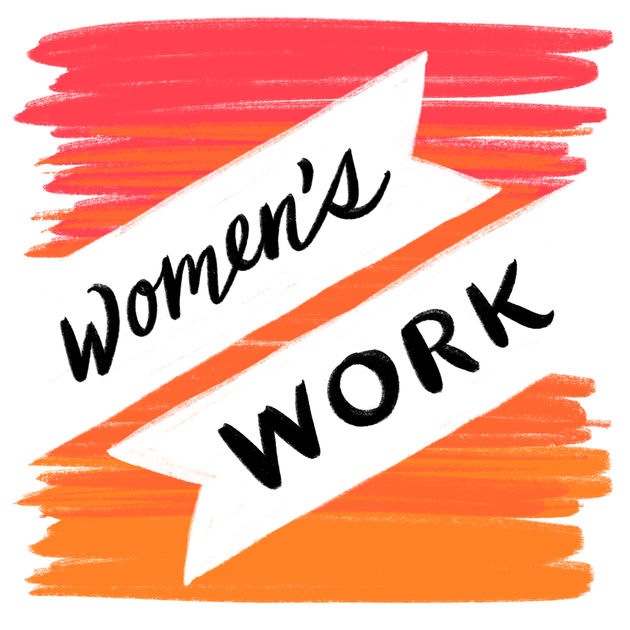 ---
Do you listen to any of these podcasts? I'd love to know what you think! I'd also be eager to hear about any other podcasts you've been introduced to lately—I'm always eager to add a new show to my queue!