It's been less than a month since my last Lately post, but we've packed that month with far more than four weeks' worth of activity. Not surprisingly, this December has been dominated by all-things Christmas: decorating, Christmas parties, shopping and wrapping. . . it's been a bit of a blur, but also so fun. This is always my favorite time of year, and this Christmas, Charleston is at the perfect age to make the season more magical than ever. Here's a look at the seasonal (and some not-so-seasonal) things that have been making my December a joyous one.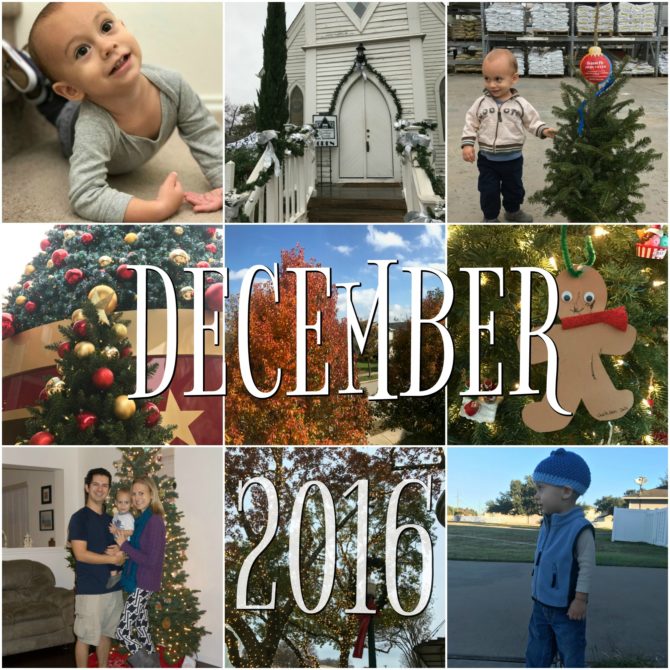 // Reading Lately //
I'll start with the not-so-good: I had high expectations for Glennon Doyle Melton's latest memoir, but it ended up being my least favorite thing I read all year. I'm hesitant to speak negatively about somebody's personal story, and I'll go into more detail in my next round up of Quick Lit reviews, but for now I'll say that I just couldn't get on board with either the message or the tone of the book. I followed up Love Warrior with Jojo Moyes' recent collection of short stories, and though the stories were light and kind of fun, they definitely weren't great.
Now for my latest reading successes: I read my first Tana French novel and it was all I hoped it would be; I'm happy to have found a new mystery series to devour! Another book I loved this month was A Man Called Ove, which I finally got around to reading (listening to) after reading numerous rave reviews. It took me a while to get into the story, but by the end I understood why this novel is loved by so many. It even made it onto my list of favorite books in 2016 (which I'll be sharing next week!).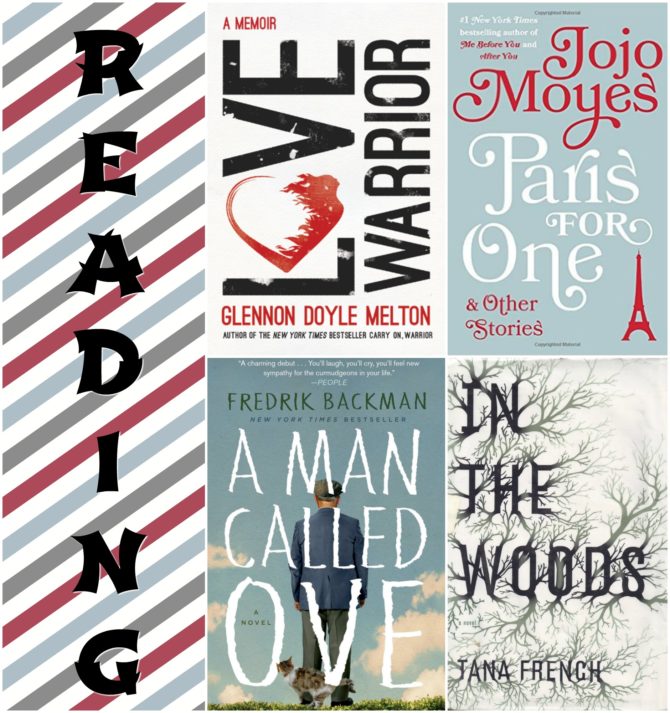 // Christmas Music I'm Enjoying //
I don't usually listen to a lot of music, but that definitely changes at Christmas time, when I just can't get enough. This December I've been listening to all my old favorites, as well as a few new albums: Pentatonix is always amazing, and this year's Christmas album just might be my favorite of theirs. I especially love their rendition of "Hallelujah;" I'd never considered it to be a Christmas song, but it totally works! Another 2016 release I'm loving is Christy Nockels' The Thrill of Hope. The music is beautiful, and after hearing her explain the meaning behind some of the songs in this podcast interview, I have a much deeper appreciation for the lyrics.
I've also been enjoying a variety of Spotify Christmas playlists, specifically this Simple Advent playlist, which led me to (re)discover the gorgeous songs on this album from Sara McLachlan. I just can't stop listening to her rendition of "Greensleeves" and her "The First Noel/Mary Mary" medley.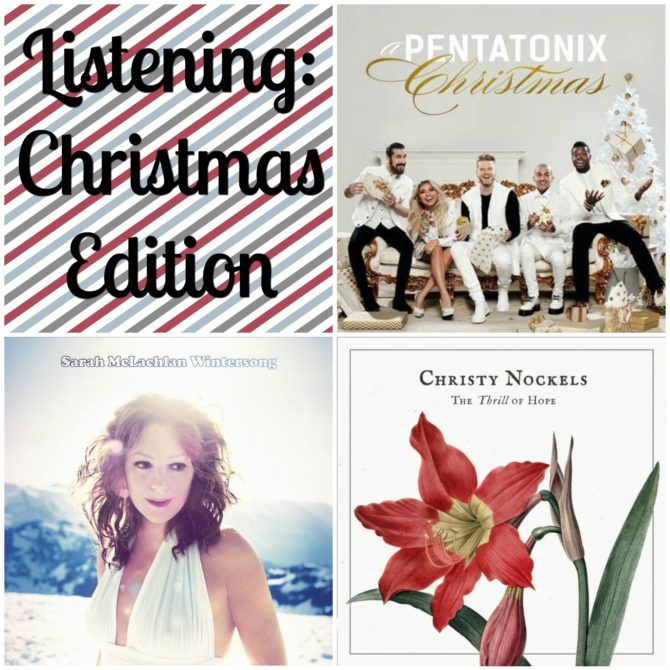 // Happenings and Highlights //
The day after Thanksgiving, we went to Home Depot to pick out our Christmas tree. The parking lot setting might not have given us the big experience of going to pick out a live tree, but Charlie certainly didn't care and had the time of his life running around the tree lot while we chose our tree. I've been surprised and thrilled with how much he has gotten into all-things-Christmas, from the lights and decorations to the music and themed books. Every time he sees something he deems Christmasy (a reindeer on the neighbor's lawn, some garland wrapped around the front desk at the gym, etc.), his face lights up and he shouts "Merry Christmas!" It's been so magical to experience Christmas through his eyes!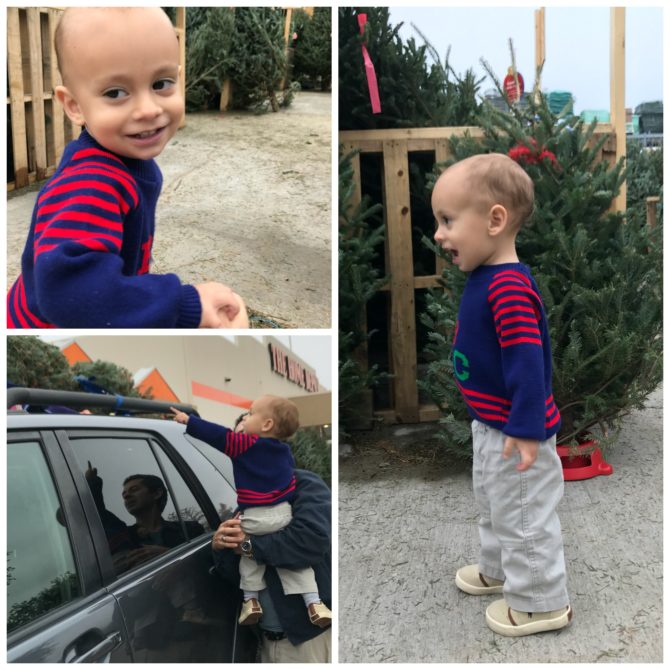 Every Christmas we get a new ornament that reflects a significant event from our year, and it's so special to walk down memory lane as we pull each past ornament out of its box. This year's ornament was the annual ornament from the Austin Capitol (representing our move to Texas). We had fun decorating our tree as well as the rest of our house, both inside and out. It was challenging with a toddler underfoot, but Charlie's presence made the process a lot more memorable. Our home has been Christmasified for a few weeks now, and Charlie is still enamored with our tree. He'll spend long stretches of time walking around the tree, pointing out his favorite ornaments and asking us to play the battery-operated ones that make noises. I was worried he would try to pull things off the tree or run into it with his toys, but he's been great at looking but not touching.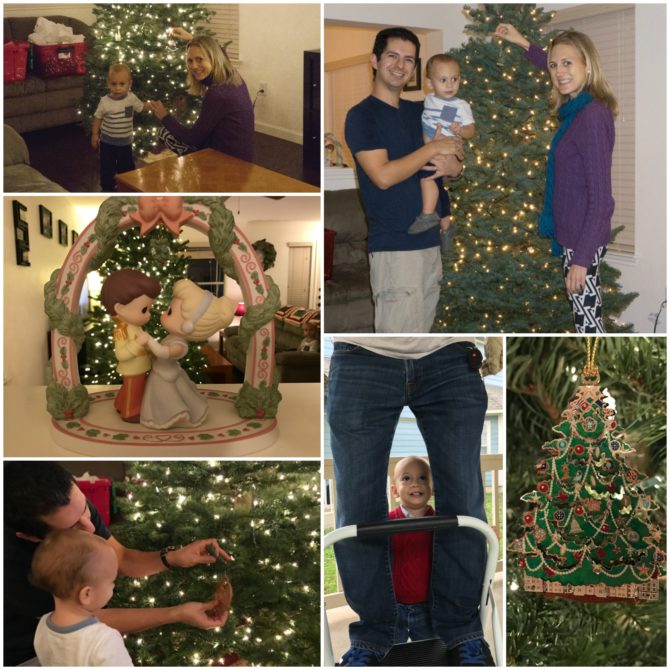 We attended a few community Christmas events, including the tree lighting in our own town of Cedar Park and that of nearby Georgetown. I've become smitten with Georgetown's quaint downtown area, and their tree lighting was a pure delight—the perfect event to set the tone for our holiday season. Later in the month we went back to Georgetown for their Christmas Festival; the rainy weather put a damper on the festivities, but it was still fun to walk around the Courthouse Square, check out the craft show, and eat at a unique new-to-us restaurant.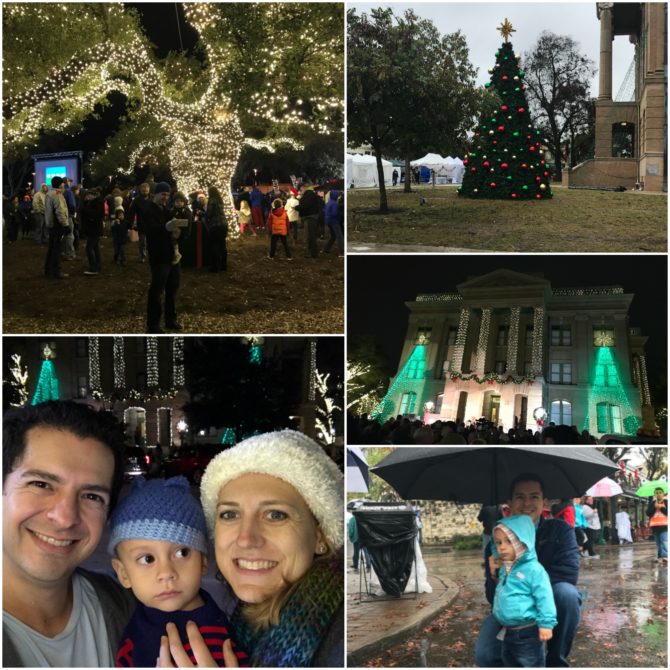 We took Charleston to see Santa, and it wasn't the greatest experience. He cried the second we placed him on Santa's lap, and even when Mama and Daddy got in on the lap-sitting action, he still wasn't too happy. He'd had a rough morning, so I think his tears can be attributed to his mood at the moment and not to an aversion to Santa. He hasn't stopped talking (positively) about Santa since the visit, so I don't think we scarred him to badly.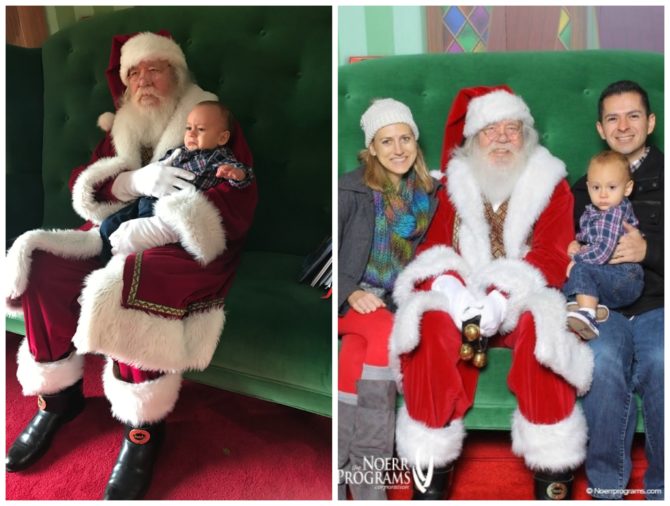 Luke's brother was in town for work, so we had a fun day in Austin with him and my sister-in-law. We drove along Highway 360, which is lined with trees that individuals have decorated for Christmas, and we took a short hike up to the scenic overlook. We went to lunch at Gordough's, a restaurant where everything is served on or accompanied by a donut. I can't eat gluten, but everyone else said the donuts were amazing, so if you're looking for a unique Austin restaurant to try, this might be your place. After lunch we went to the Capitol to see the Christmas decorations. The outside wasn't decorated, other than a tree, but both the House and the Senate Chambers had beautiful trees filled with ornaments from all of the Texas districts.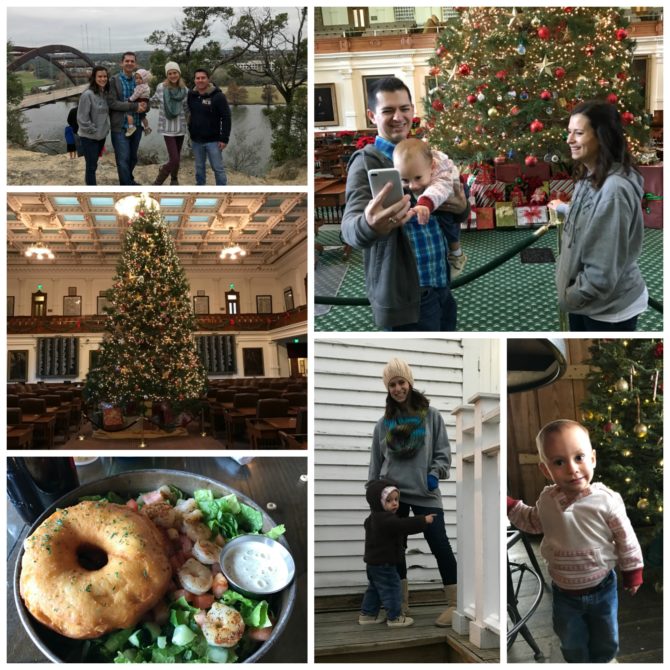 // What I'm Loving //
The Recolor App: This coloring app offers all the fun of an adult coloring book without the hassle of physical pens and books (I have enough kids coloring supplies around my house, I don't need to add my own!) I haven't upgraded to a subscription version, but even the free version offers several images and a wide variety of colors to choose from. My favorite "nursing Charlie diversion" lately has been coloring on this app while listening to podcasts or audiobooks on my headphones—multitasking at its most enjoyable!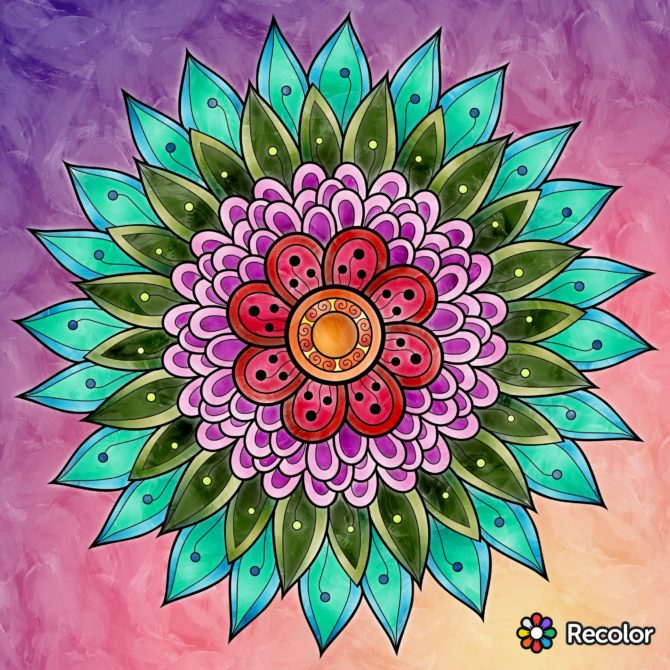 Advent Traditions: This year we're repeating the same Advent traditions we began last year: reading each day from Ann Voskamp's Unwrapping the Greatest Gift and adding a daily ornament to our Melissa and Doug Advent tree. The book is still too advanced for Charlie but he does enjoy looking at the pictures and choosing a Christmas sticker from our sticker sheet-turned-bookmark when we finish the day's reading. He LOVES picking out a magnetic ornament for the Advent tree each evening. I'll be sort of sad when Christmas is over and we don't have this as part of our bedtime routines. We might need to start Advent-style countdowns for all the holidays!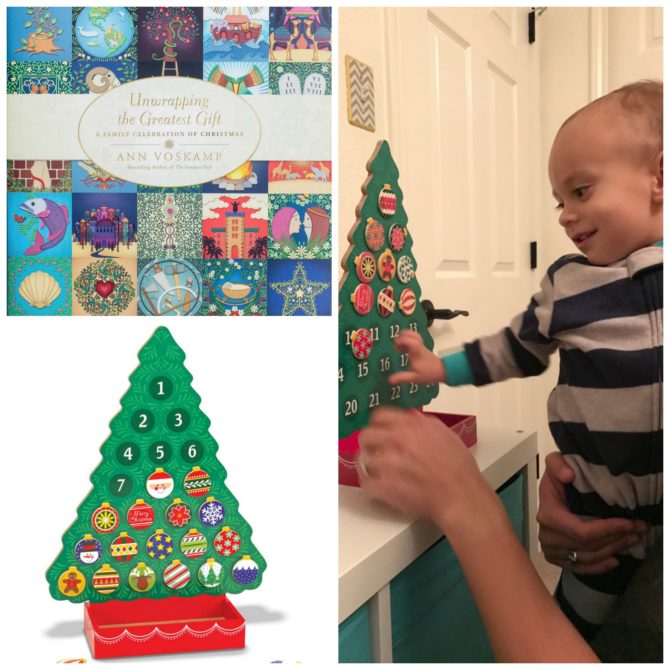 My New Piercing: I've been wanting to do something "risky" (for me!) and am not ready to commit to a tattoo, so I settled on getting a third hole in each of my ears. I love how it looks and am looking forward to having fun with some unique ear stackings once I can change these earrings out.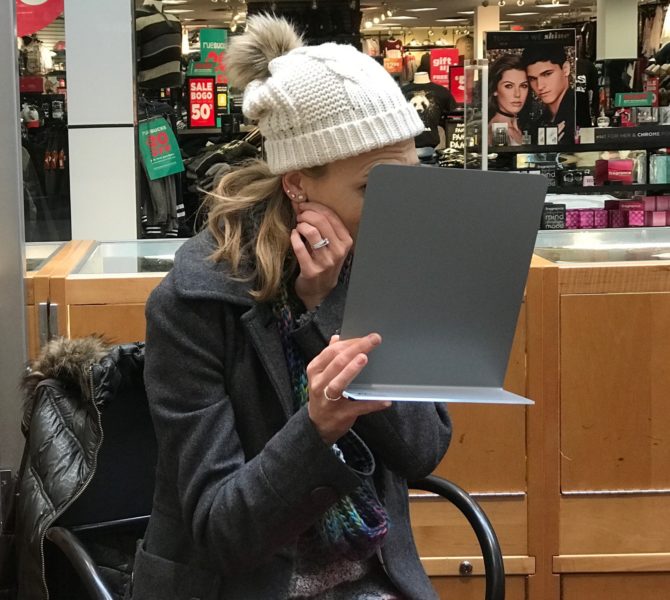 Our Family Christmas Cards: We cut it close with getting our family photos done in time, but they turned out beautifully and I am thrilled with this year's Christmas cards! A perk to getting out Christmas cards this year is that all of our friends now know our Texas address, which means we're getting cards in return!
In addition to sending out our cards, we kept one for ourselves and framed it. I also have a framed copy of last year's card, and I have them displayed together. I hope to keep up this tradition in the future; it will be neat to be able to look back over many years of Christmases!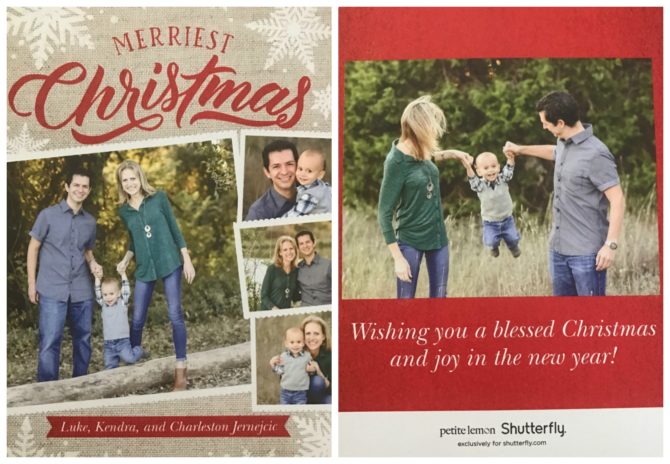 // Looking Forward To //
Christmas is this weekend (you know, in case you hadn't heard)! We're keeping things pretty simple: tomorrow we're serving at and then attending the Christmas Eve services at our church, and tomorrow evening we'll let Charleston open his Christmas & Pajamas gift before setting out some milk and cookies for Santa. Christmas Day will be spent at home, opening and enjoying our presents and possibly watching some Christmas movies before going to see Christmas lights in the evening. And next week we're driving out to California to celebrate a belated Christmas with our families and ring in the new year on the West Coast!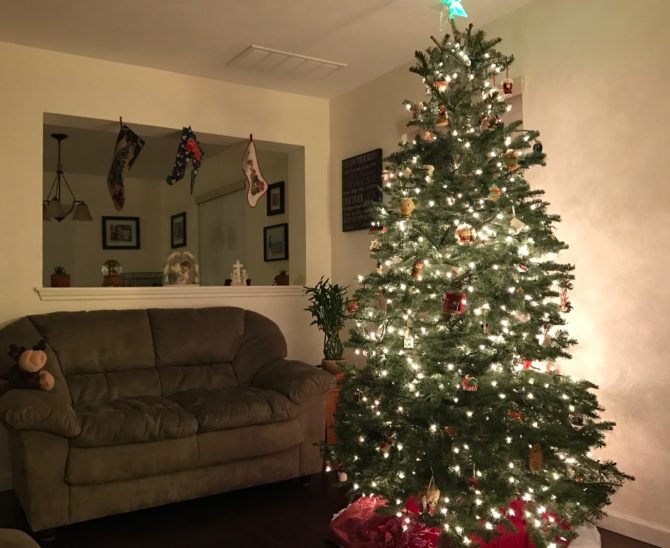 Save
Save
Save
Save
Save
Save
Save
Save
Save
Save
Save
Save
Save
Save
Save
Save