One of the greatest gifts a parent can give a child is a love of reading. I am endlessly grateful to my own parents for setting me on the path toward becoming a lifelong reader. I grew up seeing both of my parents prioritize reading for pleasure, and we did a lot of reading together as a family. Many of my earliest memories involve intimate reading sessions with beloved picture books; we even had an entire room of our house dedicated to reading! Our "reading book room" was turned into a nursery when my brother came along, but fortunately books continued to be a mainstay in our home.
As I grew older and started to read on my own, my favorites progressed from picture books to chapter books. By the time I reached second grade, I was plowing through my school's library shelves much more rapidly than our school's standard limit of two books per week, and I was granted special permission to return to the library on an as-needed basis to satisfy my literary appetite. Large portions of my elementary school years were spent with my nose in a book, and I accumulated dozens of favorites.
I had the chance to revisit many of these favorites during my time as a teacher, but there are quite a few that I have not read since I was a child. When contemplating a book to read for this twelfth and final book of my 2016 Reading Challenge, I had a plethora of options but immediately knew which one I would choose.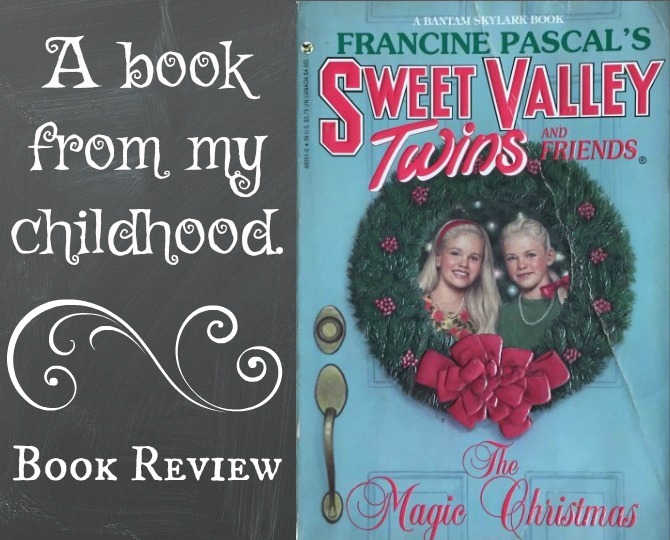 I vividly remember when The Magic of Christmas first came on my radar. I was at eight years old and at a friend's house for a Christmas party with my Girl Scout troop. We had just completed our book-based gift exchange, and though I have no recollection of the book given to me in the exchange, I remember that the friend sitting next to me received The Magic of Christmas. After reading the book description on the back of her copy, I couldn't wait to read the whole book. I begged my parents to buy it for me, and was thrilled when a copy showed up under our tree Christmas morning. I started reading that afternoon, and a few chapters in, I knew that I had discovered a new favorite.
The story begins when 12-year-old twins Elizabeth and Jessica Wakefield receive a pair of matching antique dolls for Christmas. They are surprised to have been given such childish gifts, but that night they discover that these dolls are no ordinary playthings. In a magical moment, the girls are transported to an enchanting world in which their dolls are twin princes named Dorin and Adair. In this fantastical kingdom filled with mermaids, unicorns, and other mythical creatures, Elizabeth and Jessica must work together to help the princes defeat the evil sorcerer Medwin and reclaim their kingdom. Along the way, each girl learns to appreciate her twin, and together they discover the power of sisterly love.
In many ways, The Magic Christmas was an unexpected favorite book: I never read any of the other Sweet Valley books, nor did I have a particular affinity for fantasy novels. But something about this exciting story resonated with me, and it became a personal tradition for me to read the book every Christmas. I don't know when this tradition stopped (probably in high school?) but I held onto my copy of the book, and was happy to pick it up again this Christmas season.
There's a certain risk involved when returning to a favorite book: will the novel live up to my (possibly idealized) memory of it? Or will the passage of time, and the consumption of hundreds of other books, cause me to question how a book ever became so beloved? I was relieved to find that The Magic of Christmas held up pretty well. The writing is not fantastic, particularly compared with present-day Kid Lit, which has really upped its game in the last twenty years. But the story is engaging, and the primary theme of valuing others' differences is more relevant than ever before.
Of course, I did view some aspects differently as an adult. I can fully understand why my younger self felt such a kinship to the serious, responsible character of Elizabeth, but as a 32-year-old, I find sassy and spontaneous Jessica the more endearing twin. My advanced age (well, advanced compared to eight!) also made me realize that the Wakefield twins act much older than their twelve years, but I suppose that's the case with most children's books; a novel about preteens acting their age is not something any of us wants to read!
Though The Magic of Christmas was not entirely the same book that I remembered, I am so glad that my challenge inspired me to reunite with this childhood favorite. I could not have asked for a more delightful reunion, and I just might reinstate my tradition of reading this book every year!
My Rating: 5 stars (it would likely be a star lower if I'd read this book for the first time as an adult, but for nostalgia purposes alone, this book deserves every star I can give it!)

OTHER BOOKS I CONSIDERED FOR THIS CATEGORY
Many of the children's books I now consider favorites (Harry Potter, The 21 Balloons, Caddie Woodlawn, The Giver, Anne of Green Gables) did not enter my reading life until I was much older. But I clearly found plenty of books to love in my younger years. Here are some of the books I remember reading and loving when I was a child. It's surprising how many of them are series books—of course, I read all the books in each series!
The Cam Jansen Books, by David A. Adler
The Indian in the Cupboard, by Lynne Reid Banks
Superfudge, by Judy Blume (This one always made me laugh!)
A Little Princess, by Frances Hodgson Burnett (The first book I stayed up all night to finish.)
Dear Mr. Henshaw, by Beverly Cleary
Blue Willow, by Doris Gates (I thought it was so cool that the author shared a first name with my mom.)
The Bobbsey Twins Books, by Laura Lee Hope
The Nancy Drew Mysteries, by Caroly Keene
From the Mixed-Up Files of Mrs. Basil E. Frankweiler, by E. L. Konigsburg (This book made my entire 5th-grade year.)
Pippi Longstocking, by Astrid Lindgren
Number the Stars, by Lois Lowry
Mrs. Piggle-Wiggle, by Betty MacDonald
The Baby-Sitters Club Series, by Ann M. Martin (I read this entire series, but The Baby-Sitters Remember was a clear favorite; like The Magic Christmas, it's one book I reread almost every year.)
Island of the Blue Dolphins, by Scott O'Dell
Grandma's Attic Series, by Arletta Richardson (Our whole family LOVED these books.)
The Boxcar Children Books, by Gertrude Chandler Warner
Charlotte's Webb, by E. B White
The Little House books, by Laura Ingalls Wilder (If my memory serves me correctly, these were the first chapter we read as a family. We read through the whole series a number of times, but Farmer Boy was our family favorite.)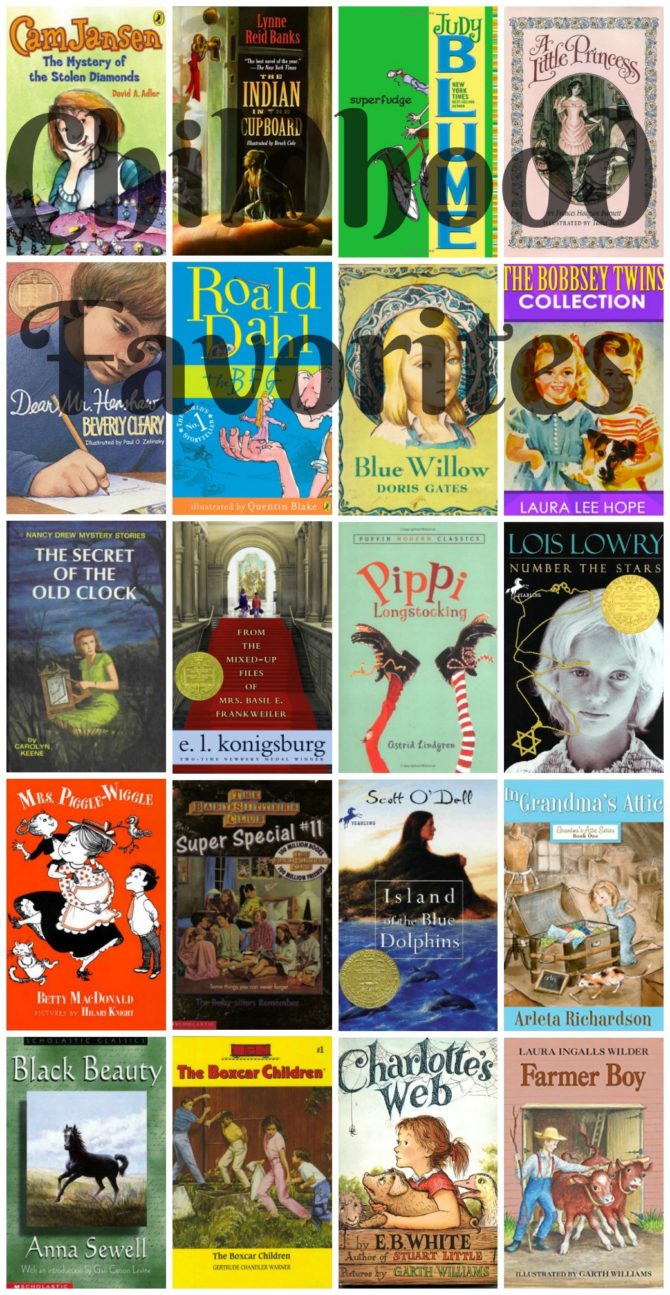 How about you: what books from your childhood stand out the most? Which would you like to revisit, and which are better left in the past? Are any of my childhood favorites on your list too?
Save
Save
Save
Save
Save
Save
Save
Save
Save
Save
Save
Save
Save
Save