I am so excited about the arrival of summer, my absolute favorite time of year! I am loving the warm weather, longer days, delicious fruit, and everything else this season has to offer. The changing of our physical seasons seems to have ushered in a new season of parenting as well. My days with Charlie are looking so different now that he is older. We spend less time soothing, more time laughing and playing, and (surprisingly) more time at home as we are working to regulate his naps (and as I find it harder to schlep my active little one around with me wherever I go). Regardless of how we spend our time, I love our days together. . . even when he's grouchy, one look into his beautiful eyes and I'm reminded of how blessed I am to be able to call him my son. Beyond being a mommy to my favorite little man, here is what I've been up to so far this summer.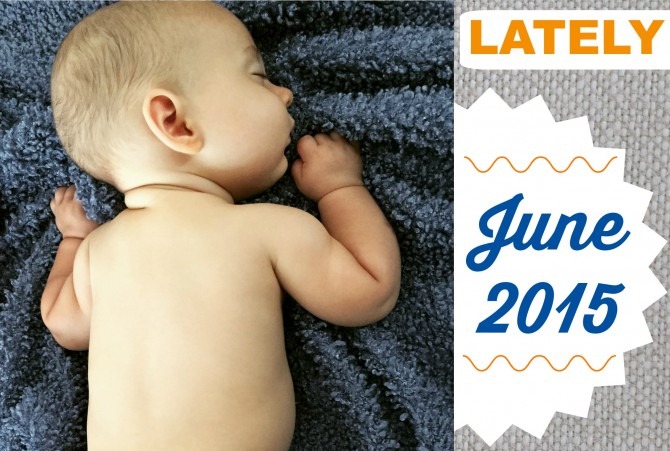 ON MY KINDLE. . .
What Alice Forgot, by Liane Moriarty: To the rest of the world, 39-year-old Alice Love is an overcommitted mother of three and soon-to-be divorcée. But after taking a fall from her bike in the middle of a spin class, Alice has no recollection of any of this. In fact, the last ten years of Alice's life have been washed from her memory, leaving her to believe that she is still 29 years old, blissfully married, and expecting her first child. Slowly and painfully Alice must piece together the last decade of her life, reconciling the easygoing, happy-go-lucky woman she believes herself to be with the hardened, Type-A woman she has become. Completely improbable—and somehow, also hauntingly believable—What Alice Forgot is entertaining and deeply thought provoking (how would my 21-year-old self view my current life? What would the Kendra of today have to say about my life a decade from now?). Moriarty's characters are well-drawn and painfully relatable, and her writing transcends the bounds of the genre to address an array of themes, including death, infertility, elusive memories, and the progression of relationships over time. This would be an excellent novel for book club discussions! My Rating: 4.5 stars.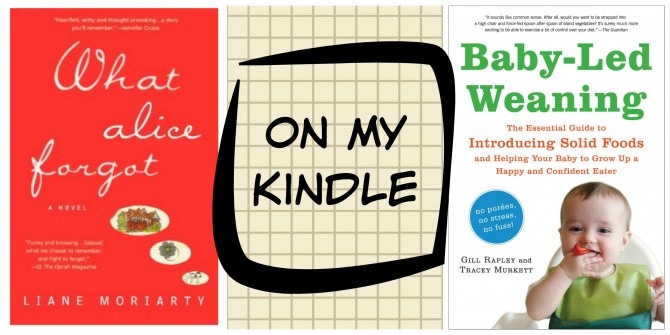 Baby-Led Weaning: The Essential Guide to Introducing Solid Foods – and Helping Your Baby to Grow Up a Happy and Confident Eater, by Gill Rapley and Tracey Murkett: We plan to take a baby-led weaning approach to introducing solids to Charlie. I already attended a Baby-Led Weaning class and have read several articles about the subject online, but I have appreciated having all of the information consolidated in a single book. I haven't finished this one yet, but I'm finding it very useful and hope to do a full review in the coming weeks.
IN MY EARS. . .
Lethal, by Sandra Brown: Honor Gilette is a young widow who will do anything to protect her 4-year-old daughter Emily from the accused murderer who shows up one day in her front yard. Before they know it, Honor and Emily find themselves joining this stranger in running from the law. In this fast-paced novel, it's hard to distinguish the good guys from the bad, and nothing is as it seems. This was the first book I've read from Sandra Brown, so I had no idea what to expect, but I was decently impressed. Though the characters weren't very original, I enjoyed the novel's numerous twists and layers of intrigue, and the story held my interest up until the very end. Even Luke, who heard bits and pieces of the book as I was listening to it, commented on how engrossing it was. I could have done without the implausible romantic storyline and explicit sex, but overall it was a light and enjoyable read. My Rating: 4 stars.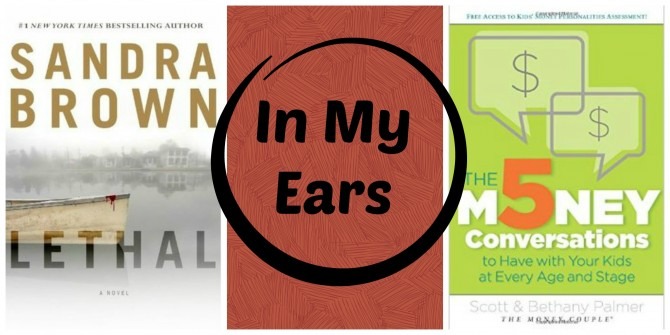 The 5 Money Conversations to Have with Your Kids at Every Age and Stage, by Scott and Bethany Palmer: In this helpful book, financial advisers Scott and Bethany Palmer describe five money personalities: saver, spender, risk taker, flyer, and security-seeker (<— that one's me). They explain how each of us—adults and children—possesses a unique set of attitudes and perspectives related to money, and how children should be parented differently according to their money personalities. They then offer advice for parents in dealing with various money-related issues that arise with children from ages 5 through 18 and beyond. I loved this book's personality-based approach to finances and found the explanations and suggestions very valuable, even in just understanding my personal relationship with money. I plan to return to this book in the future as we navigate future money conversations with our own children. My Rating: 4 stars.
Remember Me, by Sophie Kinsella: When Lexi Smart wakes up in the hospital after an accident, she doesn't recognize herself: she is a successful businesswoman with perfect looks, a seemingly idyllic husband, and a reputation for walking all over those who get in her way. But Lexi has zero recollection of the last three years, or how she became this new, not-so-improved version of herself. Prior to listening, I didn't realize that this book has the exact premise of What Alice Forgot, and by a weird coincidence (both became available from the library after months on my Holds list) I found myself reading them simultaneously. Beyond their similar introductory chapters, the two books proved to be quite different from each other. Remember Me has a much more playful tone, less relatable characters, shallower plot development, and a whole lot more swearing. It was a fun, light listen that I might have appreciated more if I didn't feel like a cheesier, inferior version of Moriarty's book. My Rating: 3 stars.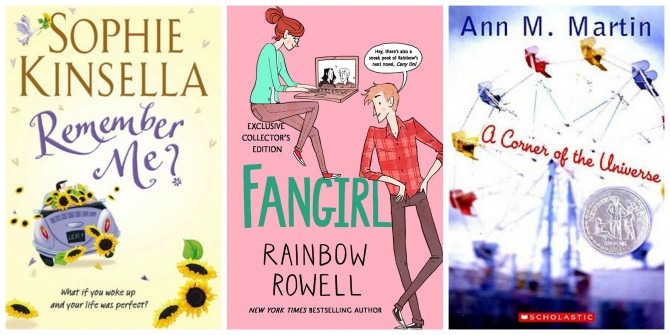 Fangirl, by Rainbow Rowell: The Simon Snow fantasy series has taken the world by storm, and nobody is a bigger fan than Cath Avery, whose life revolves around writing Simon-inspired fan fiction. When Cath reluctantly goes away to college she struggles to reconcile her fangirl persona with the mature college girl everyone seems to expect her to be. This simple coming-of-age novel is predictable and uninspired. There are a few nicely written passages, and the Harry Potter allusions are kind of fun, but overall I continue to be baffled by the Rainbow Rowell hype. My Rating: 2 stars.

A Corner of the Universe, by Ann M. Martin: I was quite the Baby Sitters Club junkie in my younger years, so I was eager to read something a bit different from one of my favorite childhood authors. In the summer of 1960, Hattie Owen's uneventful little world is rocked when she is introduced to Uncle Adam, her mother's younger brother whose "mental problems" had previously kept him from being a part of Hattie's life. While others find Adam's quirky behavior off-putting, Hattie is drawn to this young man who "lifts the corners of her universe." On the surface, this is an entertaining novel with a sweet story and some positive messages, but I believe it was written for the wrong audience. (Warning: spoilers ahead.) The book's simple narration and streamlined plot distinguish Corners of the Universe as a novel befitting a young audience (and in fact, the book is marketed as such); however, some of the themes are absolutely inappropriate for young readers. The book concludes with Uncle Adam's suicide—in itself, this is problematic for a children's book, but I was utterly horrified by the fact that his actions are deemed "brave" by the protagonist. This is definitely not a message I would want to send to impressionable young readers. The only thing more appalling is that this book was deemed worthy of the Newberry Honor. My Rating: 2 stars.
WHAT I'VE BEEN WATCHING. . .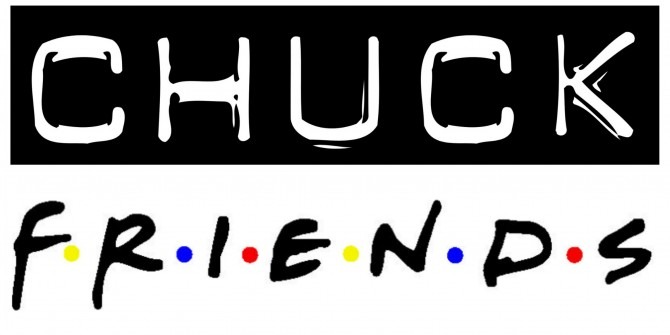 A busier schedule lately, combined with a lack of anything too appealing coming to RedBox, resulted in our watching ZERO movies this month. We are still working our way through Chuck (we're up to Season Four and still loving it!), and for those times when we don't feel like committing to a an hour-long show we've been watching episodes of Friends. I never watched Friends when it was on the air, and Luke figured it was time to introduce me to this iconic show. We're only a few episodes into Season One, but so far, I'm not too impressed by the stilted acting and shallow story lines (I'm guessing they get better?). And though it's pretty tame by today's standards, I've been surprised by some of the sexual innuendo, which is almost too blatant to be funny. I'm not giving up on the show yet, though; it's been interesting to get some context behind many of the Friends jokes I've heard people reference over the years, and I have enjoyed laughing at the 1990s fashion.
AWESOME FASHION FINDS. . .
My wardrobe these days could not be more basic: leggings and Target t-shirts are where it's at for this new mom! If I'm feeling extra fancy, I might swap out those leggings for some denim shorts. . . but to be honest, just making it out of my comfy pajama shorts feels like a success most days. Beyond my basic ensemble, I have been donning a few fun new clothing items lately.
Bobeau Wrap Cardigan: Two Christmases ago, Luke gifted me the red version of this cozy, stylish cardigan. It immediately became my go-to sweater, and it was especially fantastic during pregnancy. When Charlie was born I realized that the sweater's drapey-ness made it an ideal nursing cover, and in the last few months it's gotten more use than ever! It's obviously a popular item because Nordstrom still sells this sweater in several different colors. I picked up the gray-and-white-striped version during Nordstrom's recent half-yearly sale, and I'm wishing I'd ordered a couple more!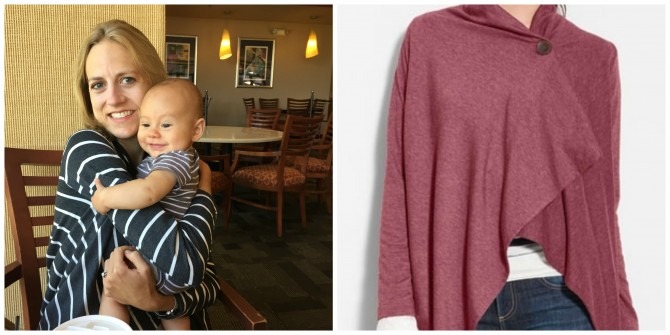 Baby Teething Necklace: Cute and baby friendly?! Count me in! I discovered these necklaces a few years ago and actually gifted them to a few of my mommy friends before joining the Mom Club myself. Charlie hasn't officially started teething yet, but he definitely likes to put things in his mouth, so I figured it was time to treat myself to some chew beads of my own. Most of my jewelry is on hiatus until Charlie has moved beyond the grabby phase, so wearing this necklace has been extra special for both of us.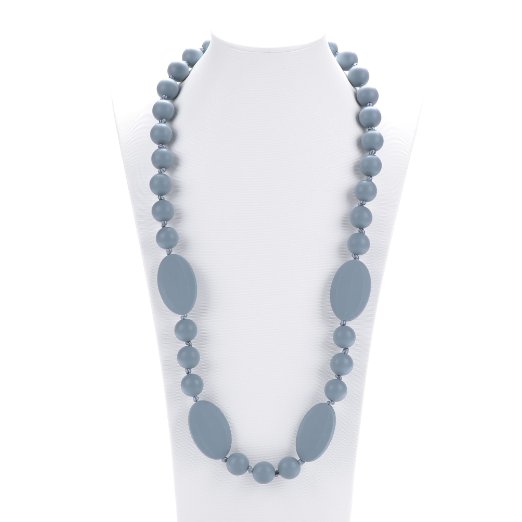 Tieks: I first spotted these adorable turquoise-soled shoes on a church friend, who raved about their comfort and versatility. My shoe-crush continued to grow as I began noticing Tieks on other women, but as someone accustomed to Payless prices I knew I would never bring myself to pay for a pair of these high-end shoes. However, my parents knew of my Tiek-envy and bought me a pair for my last birthday! My Tieks are easily the most comfortable pair of flats I've ever worn, and they've rarely left my feet this summer (evidenced by my Tieks tan line!). The first pair I received actually had a slight crack in the sole, but the Tieks company happily replaced them, and their customer service reps were wonderful to work with. I can't say enough good things about these shoes or this company!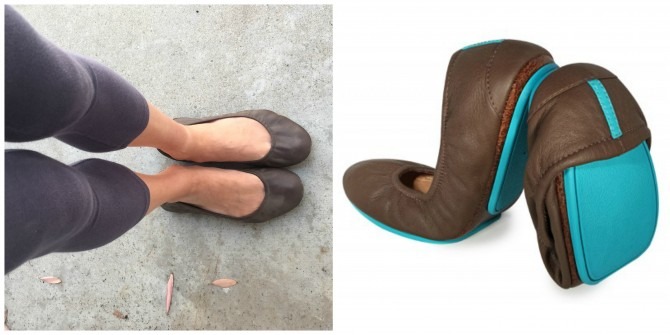 ENJOYING THESE DAYS. . .
Charlie's Updated Wardrobe: While we're on the topic of clothing . . . Charlie has been sporting a whole slew of cute new outfits lately! When I was pregnant I received a TON of new and hand-me-down baby clothing, and I spent the week before Charlie's birth sorting through all of it. I boxed up everything that we wouldn't be needing for a few months, and filled his dresser with the newborn clothing. When Charlie started to outgrow his newborn clothes around the 4-month mark, I realized that I didn't have any 3-month clothing. At the time it struck me as a bit strange because I had so many clothes in every other size, but I didn't put too much thought into it and just bought a few essentials that would tide us over for a few months, when the 3-6 month clothing would fit. Fast forward to a couple of weeks ago when I decided to reorganize Charlie's dresser . . . and discovered an entire drawer full of 3-month clothes! The same week, one of Luke's former coworkers passed on several boxes of hand-me-downs, adding even MORE fun outfits to Charlie's wardrobe! So we went from having a bare minimum of outfits to more clothes than Charlie will be able to wear before he grows into the next size! It's a good problem to have, and I'm having way too much fun playing dress-up with Charlie—I definitely use every diaper changing as an excuse for a new outfit!

Brain Training: I've been on a roll with my idea machine project and really do feel like it's been effective in expanding my creative capabilities. Spurred on by our efforts at mind development, Luke decided to add some brain training exercises to his daily mind-stretching routine. I'm joining him in trying out two brain training apps: Elevate and Peak. Both apps were designed by cognitive scientists and promise to sharpen mental acuity and improve analytical skills. I don't know that I've been using the apps long enough to see any results, but I do enjoy the daily "workouts" (which are really just games). Peak seems to be more focused on visual/spatial skills while Elevate is heavier on the word games; not surprisingly, our favorites are in line with our strengths, with Luke preferring Peak and me favoring Elevate.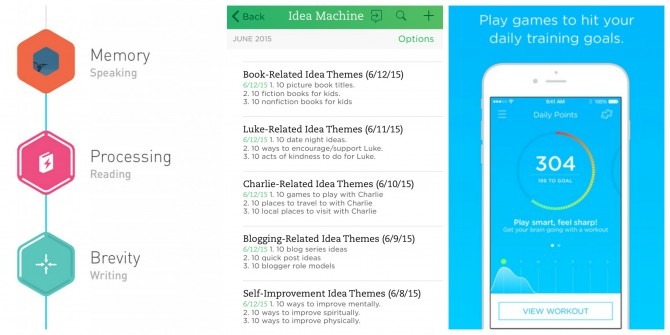 Being Pampered: Part of my Mother's Day gift from Luke and Charlie was a gift certificate for a massage, and this month I got to put it to use. After five months of baby-wearing and very little sleep, a little pampering is exactly what my sore and tired body needed! 

MONTHLY HIGHLIGHTS. . .
Family Weekends in Arizona: We haven't made our big move yet (or even selected a house), and Luke's job will be keeping us in Southern California for at least another couple of months. But we're trying to make the most of the exploration phase! Our search has resulted in two long weekends in Arizona, and while these trips weren't exactly restful, it was still fun to get away as a family. We found ourselves really liking Arizona: the people are friendly, the scenery is beautiful in its own desert-y way, and the lack of traffic is refreshing. It was definitely hot while we were there, but the 59-cent McDonald's ice cream helped to mitigate some of the heat-shock.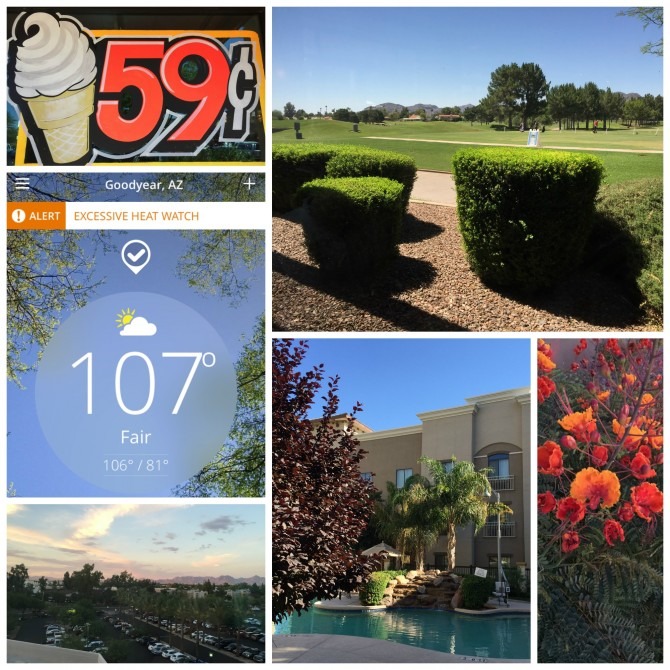 Luke's First Father's Day: I think I was more excited about Luke's first Father's Day than he was: when I asked him if he felt special to be honored as a dad, his response was, "I'm a dad every day. Why do I need a day to celebrate it?" I admire his attitude, but I still had fun showing him a little extra love on his special day. We have a running joke about whose name Charlie will say first, so part of my gift to Luke was a copy of Jimmy Fallon's Your Baby's First Word Will be Dada. I also gave him a metal print of his favorite picture with Charlie. I love the way it turned out, and it looks great on the wall of his office cubicle!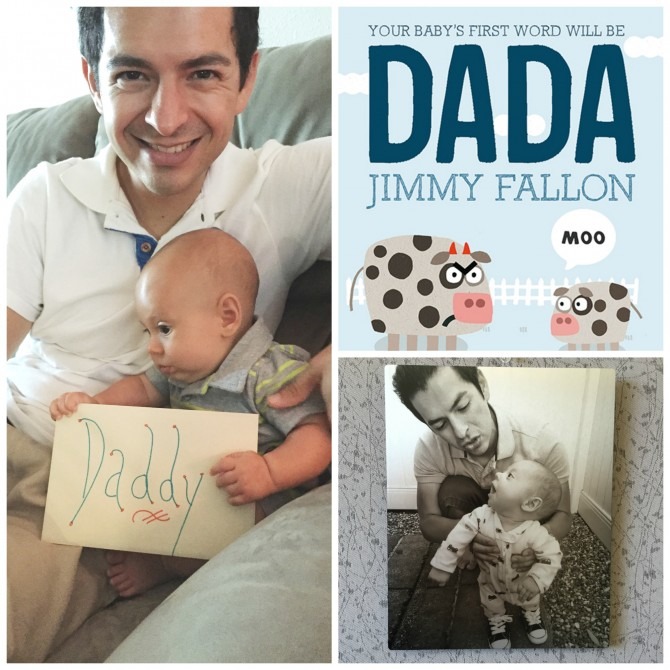 How has summer been treating you? I'd love to know what you've been watching, reading, wearing, or enjoying lately! You can also head over to Leigh Kramer's site where I'm joining a community of bloggers in sharing what we're into this month!