A couple of years ago, I would have cited J.K. Rowling as one of my favorite authors. I am a huge Harry Potter fan, and since Rowling was the woman responsible for these superb books, I assumed that everything she wrote would be golden. Then I attempted to read The Casual Vacancy, and was so bored I decided to throw in the towel after only a few chapters. This disappointing tome had me questioning my status as a Rowling fangirl; could Ms. Rowling have really only been a seven-hit wonder?
Last summer, when it was revealed that up-and-coming crime novelist "Robert Galbraith" – author of The Cuckoo's Calling – was none other than J. K. Rowling, I was intrigued. What would prompt an established author to tackle an entirely new genre under a pseudonym? It was a gutsy move, and I had to admire Rowling for her determination to abstain from resting on her own laurels. But my lackluster experience with Casual Vacancy had left me feeling a bit gun-shy about tackling this hefty novel. Nevertheless, my curiosity got the best of me, and I decided to give this very un-Potteresque book a try.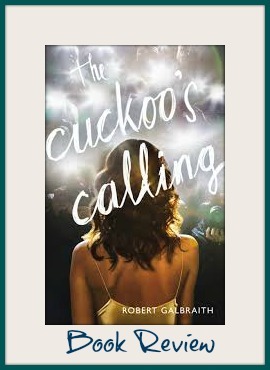 The central figure in The Cuckoo's Calling is Private Detective Cormoran Strike, the estranged son of a rock star, and a war veteran who lost his leg in Afghanistan. Having recently broken up with his longtime girlfriend, Strike is living on a camp bed in his office and trying to subsist on the income from his almost nonexistent caseload. Strike's luck begins to turn when he is hired by John Bristow to investigate the death of Bristow's adopted sister, a supermodel named Lula Landry. When Landry fell to her death months earlier, police had ruled it as a suicide, but Bristow insists that there is foul play involved. Strike's investigation leads him into the sordid worlds of drug-addicted celebrities, multimillionaire supermodels, and stodgy lawyers, all of whom have their own opinions about Lula and her death. With the assistance of his enthusiastic secretary, Robin, Strike is determined to find justice for Lula, as well as peace of mind for himself.
My primary impression of The Cuckoo's Calling is that it is nothing special: the writing is decent, and the conclusion is unexpected and satisfying, but apart from its authorship, this novel would not stand out from the abundance of crime novels lining book store shelves. Cormoran Strike is a mildly intriguing figure, though I found many aspects of his character to be a bit cliche. (I have yet to read about a private investigator who ISN'T struggling to pay his bills and does NOT have a complicated love life.) Another downside to the novel is that it is entirely too long: I think we have all come to expect verbosity from Ms. Rowling, and when an overabundance of words is being used to describe potions and spells, I am more than happy to indulge Rowling's loquaciousness; but the length of Cuckoo's Calling stems from a tedious storyline (and a few too many f-bombs), and it detracts from what could easily have been a quick read.
Rowling has confirmed that a second Cormoran Strike novel is in the works, and I'm curious to see what she does with the series. Sadly, I think it's safe to say that those of us looking to fill a Harry Potter-sized void in our literary lives will have to look elsewhere.
My Rating: 3.5 out of 5 stars.