For as long as I can remember, October has been my favorite month. I have no idea why this is: October doesn't fall within my favorite season (summer) and it doesn't contain either of my favorite holidays (Thanksgiving and Christmas). I suppose it has something to do with the fact that there's a hint of the holiday season in the air, but none of the busyness that surrounds the holidays themselves. The prevalence of fall decor also contributes to my October love, as does the beautiful weather we tend to have during our Southern California autumns. (It's hotter than normal this year, but I'm certainly not complaining!) Here are a few of the other lovely moments and pastimes that have been filling my October days.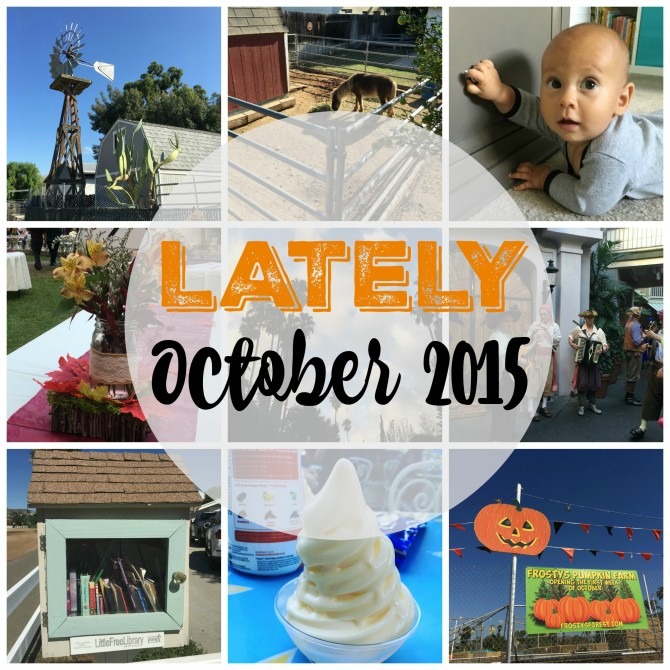 Reading Lately . . .
My book club's selection for October was Love Does.  It's not a book I would have picked up on my own, but I ended up loving it and have been recommending it to everyone I know. I'm currently slogging my way through The Martian, which is our club's book for November. Though it's a book I'd been dying to read, I'm having a really hard time getting into it; to be honest, I probably would have abandoned it after the first chapter if I wasn't reading it for our club. Hopefully I'll feel differently as I get further into it.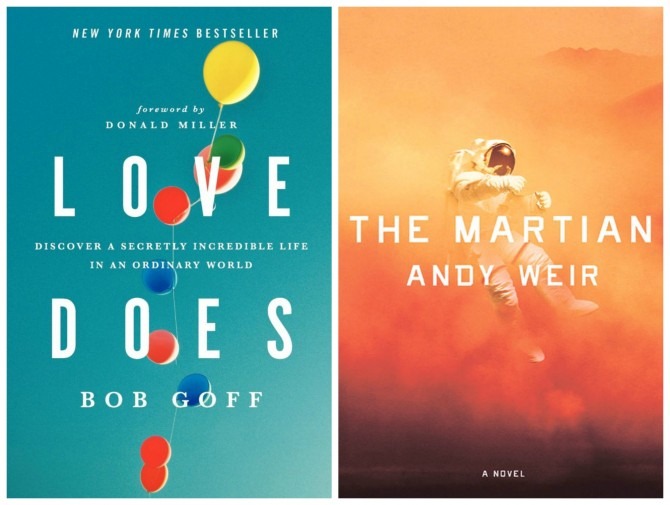 Latest Listens. . .
My audiobook selections have been a bit hit-or-miss lately. I really enjoyed Station Eleven (though I would recommend reading rather than listening to this one), but I was disappointed with Judy Blume's latest adult novel. I'm listening to Kitchens of the Great Midwest right now, and though it's not at all what I expected, I'm liking it a lot.
As for nonfiction audiobooks. . . I'm glad that I listened to Dan Harris's memoir/introduction to meditation, though it definitely wasn't a favorite. Strong Mothers, Strong Sons was on my Reading Resolutions list for this year. It was an insightful "read" and one I plan to return to in print version in the future. As always, I'll be sharing more thorough reviews of this month's reads in my reading wrap-up in a few weeks.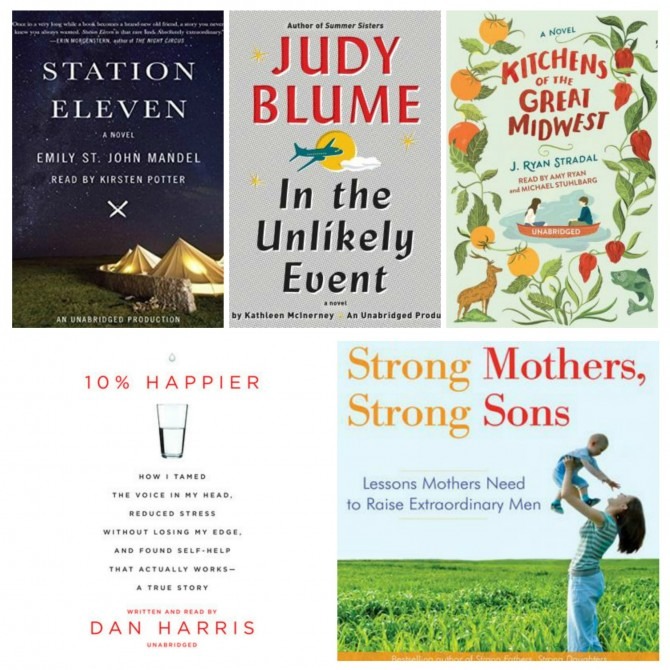 In addition to audiobooks, I've been checking out a few new podcasts including an awesome new one from pastor Mike Erre. Our church was shocked and saddened by his abrupt resignation last month, so I'm glad to have a new avenue for getting my weekly "Mike fix." Mike's not one to shy away from controversial topics (case in point: hist first episode is titled "Why Gay Marriage is Good for the Church") and I'm interested to see if he pushes the boundaries even further now that he's not tied to a particular church.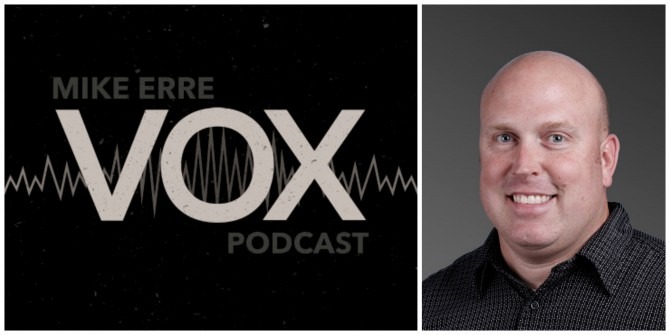 Because I listen to so many books and podcasts, I don't generally listen to a lot of music. However, I've noticed that periodically subbing in music for talk radio does wonders for my mood and my soul, so I've been making an effort to incorporate more music time into my days. Charlie and I have been singing and dancing along to the Glee station on Pandora, and when a song popped up from a cappella artist Peter Hollens, I was blown away! I had previously never heard anything from Hollens, but I immediately sought out more of his music and have fallen in love with his style. His cover of Hallelujah is my new favorite version of this song, and his original song about the birth of his son is just about the sweetest thing I've ever heard! (<– Have the tissues ready when you watch this video, especially if you are a new parent.)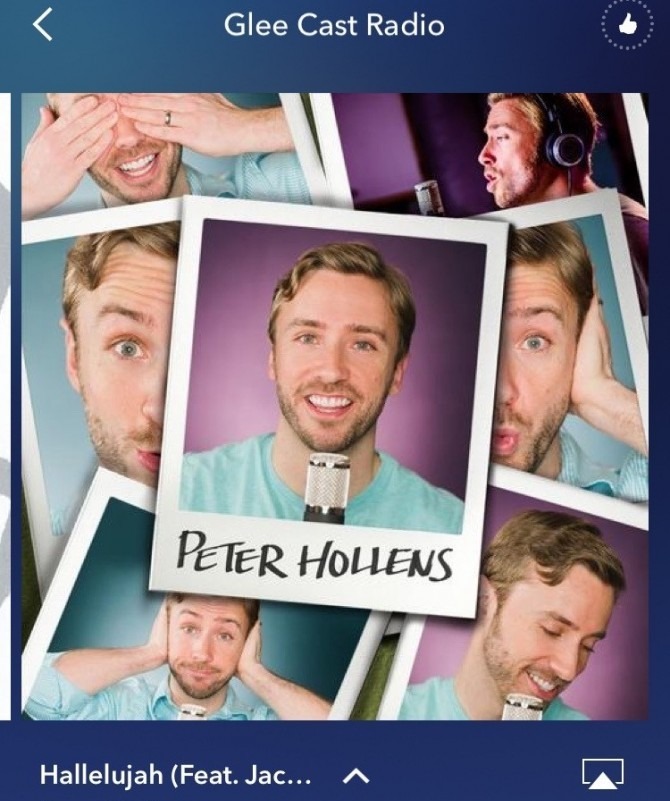 On the Small Screen. . .
Friends: We finally made it through all ten seasons of Friends (and it only took us five months)! Though I was slow to warm up to it, I have to admit that I am sad to see the show "end." (Which is a totally irrational emotion, considering Friends has actually been over for more than a decade!) So, for my final thoughts: I am glad that we watched it, if for no other reason than to gain an appreciation for its impact on many subsequent shows. The stories definitely improved with each season. . . or perhaps it's just that the outfits and hairstyles became less distracting as the show entered the new millennium. Whatever the reason, I grew to love the characters and looked forward to our evenings with them. (Please tell me I'm not the only one who "makes friends" with the characters in their nightly shows. . .) I was happy with the way the series wrapped up: I still don't care for the Ross + Rachel pairing, but at least we weren't left with any pesky loose ends. My Rating: 4 stars.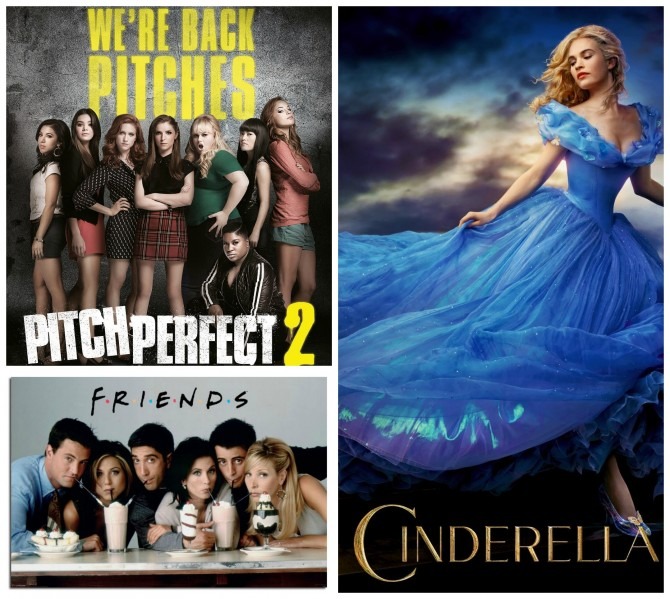 Cinderella: Fairytales are having a moment right now, and I, for one, am totally totally on board with the trend! I was especially excited to see the latest live-action rendition of Cinderella, as she is my favorite Disney princess. The film isn't particularly remarkable in any way, and I definitely prefer Ever After to this version, but I adored the gorgeous scenery, elaborate costumes, and visual nods to several of Disney's animated films. I didn't find Lily James to be the best fit for the title role, but the rest of the characters were perfectly cast, and I was particularly impressed with Cate Blanchett's performance. My Rating: 4 stars.
Pitch Perfect 2: After a 4-month stretch without watching any movies, we really let our hair down and watched TWO this month! (Courtesy of RedBox, of course; we saw no need to get all crazy and actually GO to the movies!) Our second movie of the month was the much-anticipated follow-up to everyone's favorite a cappella tribute. From a purely objective perspective, Pitch Perfect 2 has a lot working against it: in addition to the potential for falling prey to "lackluster sequel syndrome," the film suffers from a comedic style that is cheesy and pretty crude, as well as a storyline that is thin to the point of nonexistence. And yet, against all odds, I thoroughly enjoyed it! I loved every single musical mashup and even laughed at the corny jokes. It doesn't quite measure up to the original, but it comes pretty darn close, and it has me excited for Pitch Perfect 3! My Rating: 4 stars.
Latest Sweet-Tooth Indulgence. . .
Dole Banana Dippers: I picked up a pack of  these chocolate-covered bananas bites at Costco last month, and they are amazing! My favorite way to eat them is mixed into a parfait with Greek yogurt, cottage cheese, and Honey Nut Cheerios (which are now gluten free!). I'm sure these would be super easy to make myself, but you can't beat the convenience of the prepackaged bites. Just a head's up: if you try these, pull them out of the freezer a few minutes before you plan to eat them—they taste better after thawing out a bit.

What I'm Savoring. . .
Embracing the Autumnal Spirit: As much as I appreciate fall decorations in others' houses, I'm not really one to go all out with seasonal decor in my own home. However, I'm commemorating the season with some small pumpkins that I've scattered around our house, along with a cute pumpkin-themed succulent I found at Trader Joe's. I also bought a multipack of pumpkin spice Glade candles; I put one in every room and they are making my home smell AMAZING!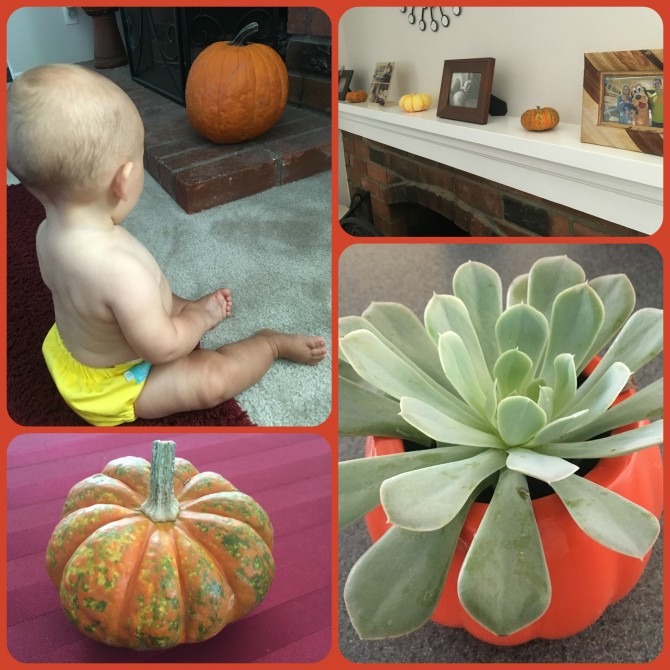 Project I'm Excited About. . .
Becoming an Even BETTER Idea Machine: I have more than four months invested in becoming an idea machine (you can read all about it here) and I can definitively say that writing ten ideas each day has done wonders for my creativity and general brain fitness. After compiling more than 140 lists based on my own prompts, I've decided to seek out some additional inspiration. Claudia Altucher's Become an Idea Machine contains 180 idea prompts, and I am planning to spend the next six months generating ideas based on her suggested themes. Luke has agreed to join me in this adventure, and instead of independently coming up with ten ideas apiece, the two of us will be working together to amass twenty ideas within each theme. I'm curious to see how this goes: it might be more difficult because we are coming up with twice as many ideas, but my hope is that our individual ideas will play off each other to spark one another's creativity.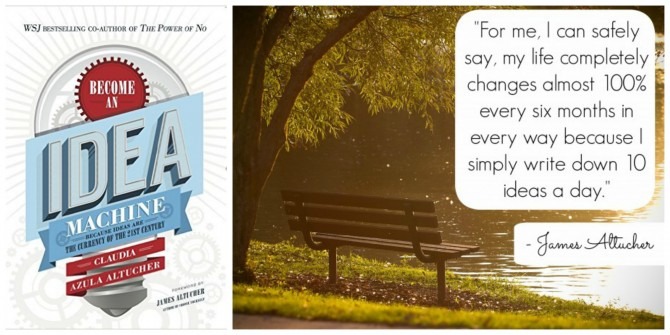 My Favorite New Kitchen Toy. . .
Aroma Rice Cooker: We've talked about getting a rice cooker for years, but I could never justify the purchase of one more not-totally-necessary appliance. I was finally swayed by a desire for an easy way to steam vegetables for Charlie. We settled on this 8-cup cooker from Aroma and it's worked out beautifully. I've been using it almost daily to steam zucchini, carrots, broccoli, and other veggies for Charlie, and I've begun using it to cook our grains as well. I've never really had too much trouble cooking rice or quinoa on the stove, but this is certainly easier and the results have been fantastic! I haven't tried cooking beans or oats in the cooker yet, but plan to try those out soon.

App That I'm Loving. . .
Goodreads: I've been a Goodreads member for years and have used the Goodreads iPhone app for almost as long. It's a great place to keep track of the books I've read and to check out my friends' reviews of various books. (Fun fact: I never start a book without reading several reviews first.) I have never been particularly enthralled with the app itself, but its latest updates have taken the app to a whole new level. When reading up on a book you can now see its ratings breakdown as well as lists of similar titles and links to other books within the same genres. The app is incredibly user-friendly and I'm loving the streamlined design. Even Luke—who designs phone apps for a living—is impressed. Great work, Goodreads! (P.S. If you are a Goodreads user, I'd love if you'd add me as a friend!)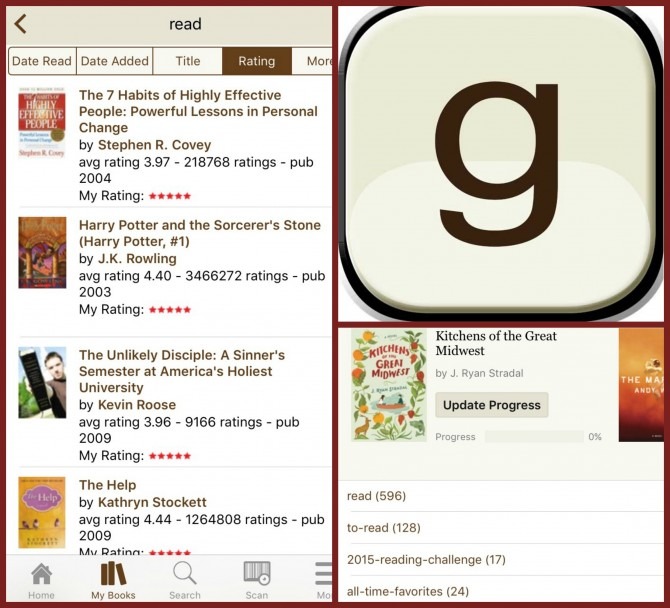 Melting my Heart. . .
My dad and his brother each had their own little rocking chair when they were growing up. My dad's wooden chair became mine when I was born. It sat in my bedroom throughout my years at home, and it came to live in our house when we found out I was pregnant. Now Charlie is finally the perfect size to fit in it. He gets such a kick out of sitting in his Opa's little chair, and my heart practically bursts with joy at the thought of its being used and loved by a third generation. As I've gotten older I've put less and less emphasis on "stuff," recognizing that moments and memories are so much more important than actual things. However, items like this are priceless: this one little chair holds so much meaning and history, and I cherish both the chair and all that it represents.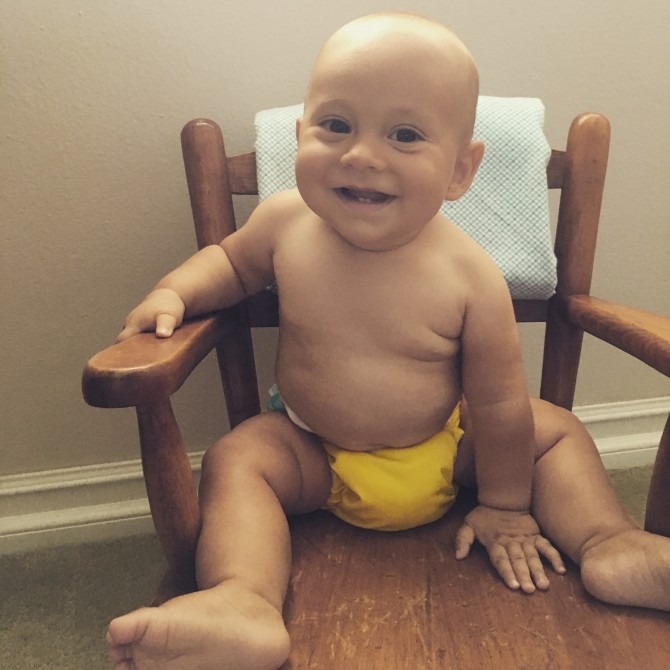 I hope that your month has been filled with an abundance of beautiful memories and fantastic finds. Let me know what has you smiling this month, and head over to Leigh Kramer's blog to check out what other bloggers have been up to and into lately!