Books find their way to me in various ways, and my reasons for choosing to read them can vary. Today's book reviews include a twist on a childhood favorite; the first in a cozy mystery series (for which I'm a true sucker); a book from an author I heard interviewed recently on a podcast; the sequel to a book I read last month (that I didn't think I'd be reading, though I'm glad I did); and a book that several of my favorite book reviewers have been raving about. How do you decide which books to read? Perhaps today's post will inspire your next reading decision!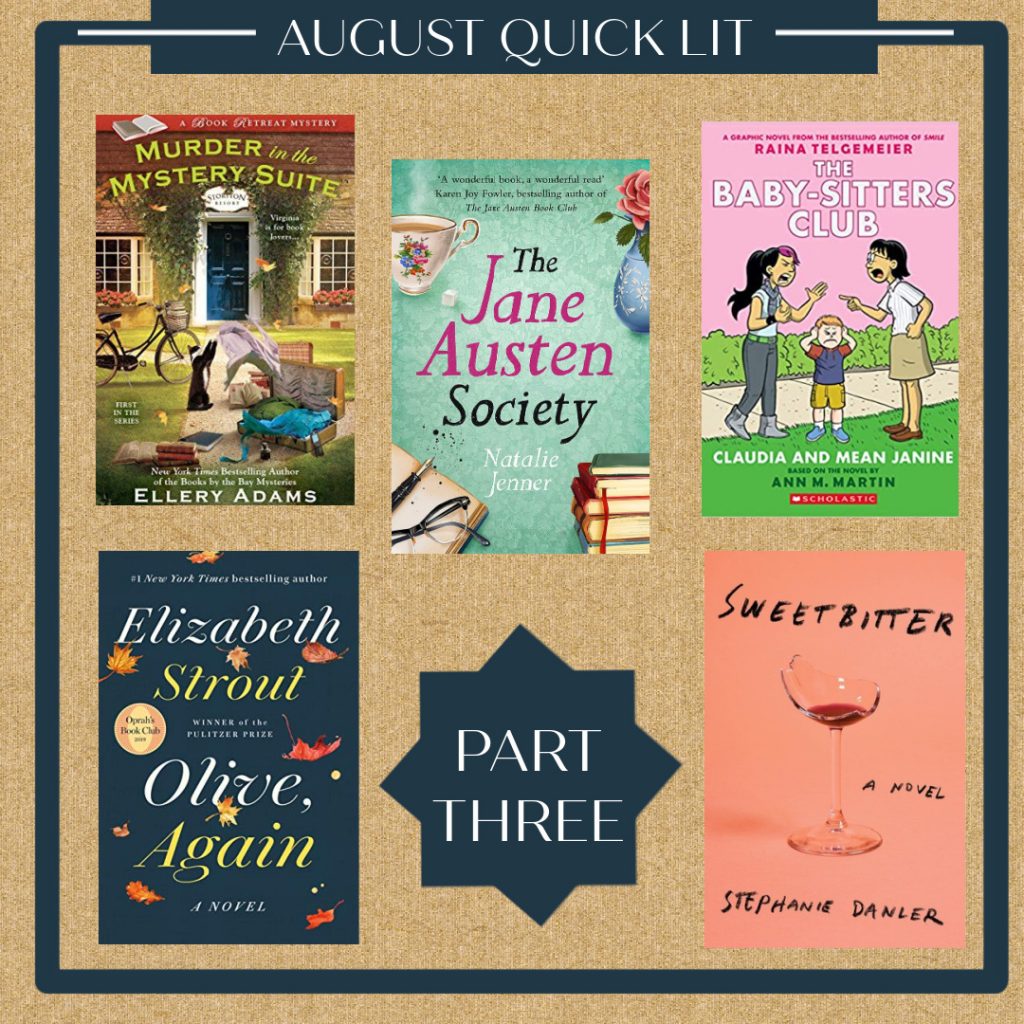 The Mystery Suite, by Ellery Adams: Stortyton Hall is a charming reader's retreat center tucked into the hills of western Virginia. Jane Steward, the retreat center's manager, hopes to bring new visitors to the Hall with a Murder and Mayhem event celebrating the mystery genre. Unfortunately, what is meant to be a fun week celebrating literature's finest detectives turns into a real-life whodunit when guests begin dropping like flies.
This book checks off every cozy mystery box: a quaint village, quirky yet endearing characters, hidden family secrets, a mysterious manor, and red herrings galore. There's even a cat! I loved the bookish theme and references to many of my favorite titles, and I found the idea of a reader's retreat completely enchanting. Jane is a delightful heroine, and while the mystery is pretty far-fetched, I enjoyed playing sleuth alongside our amateur detective, and was happy to be surprised by the ending. This was my first Ellery Adams novel, and I look forward to reading more from her and particularly from this series.
My Rating: 4 Stars.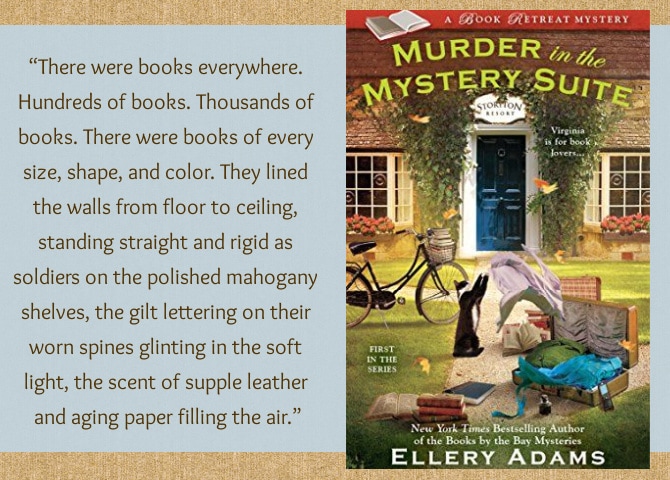 ---
Sweetbitter, by Stephanie Danler: Though it's been made into a tv show, I was unfamiliar with this book before hearing the author interviewed on a podcast. Partly inspired by the author's own experiences in the New York restaurant scene, this coming-of-age novel tells the story of twenty-two-year-old Tess, a midwestern girl who is determined to make a new life for herself in Manhattan. After arriving in the city, Tess stumbles her way into a job as a back waitress at a prestigious restaurant, where she is quickly introduced to the glitz and grime of he restaurant business. From arrogant chefs to strict server protocols, and an after-hours life dominated by sex, drugs, and alcohol—Tess is immersed in it all.
Though she is initially disliked by her fellow restaurant workers, Tess's participation in their hedonistic lifestyle leads her to slowly work her way into their tightly knit tribe. Tess aggressively pursues relationships with two of the staff members, Simone and Jake, whom she idolizes. But the sweetness of this new lifestyle—and the allure of her two friends—slowly begins to turn bitter as life in New York starts to take its toll.
I can understand why this novel received rave review from critics: the prose (particularly the food descriptions) is vivid, and the reflections on young adulthood are painfully insightful and exquisitely conveyed. The book definitely brings the intriguing, often-glamorized underbelly of the restaurant world to life. However, the story itself is ill-defined and uncomfortably awkward. Much of the content (perverse sex, over-the-top addiction, etc) was not at all to my taste and overshadowed what might otherwise have been a substantial exploration of youth and self-discovery.
My Rating: 2.5 Stars (Rounded down to 2 stars on Goodreads).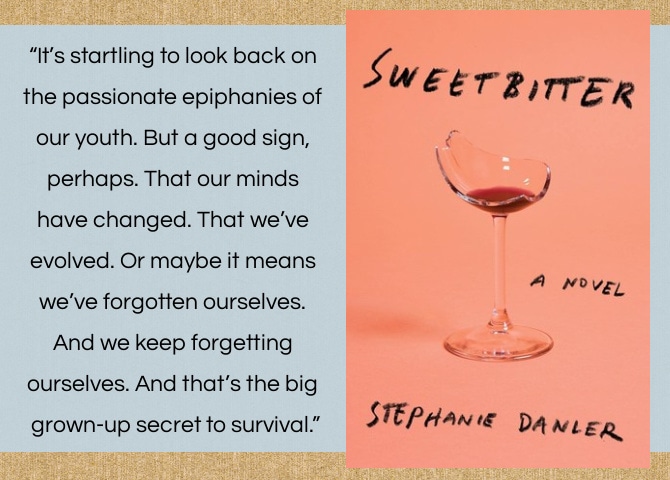 The Jane Austen Society, by Natalie Jenner: Just after the Second World War, in Jane Austen's former hometown of Chawton, an eclectic group of individuals bands together to preserve Jane Austen's home and legacy. The members of the group—which includes a Hollywood star, the local doctor, a young widow, a middle-aged laborer, a maid, and one of Austen's descendants—share a single commonality: their love for the famous author and her works. Austen's classic stories of love and courage carry each of them through their unique challenges and traumas, and this connection to her literature unites them in their support of the newly formed Jane Austen Society.
With the numerous characters and back stories, this book took some time to draw me in. It's primarily a character-driven novel, and while I did find each character intriguing and likable, it was hard to get to know any of them very well due to the multiple story threads vying for attention. The story and setting are charming, and I loved all of the Austen references, but thought the plot could have used a little more pizzazz. I did appreciate the thoughtful themes of friendship, grief, curiosity, and a devotion to story.
My Rating: 3.5 Stars (Rounded down to 3 Stars on Goodreads).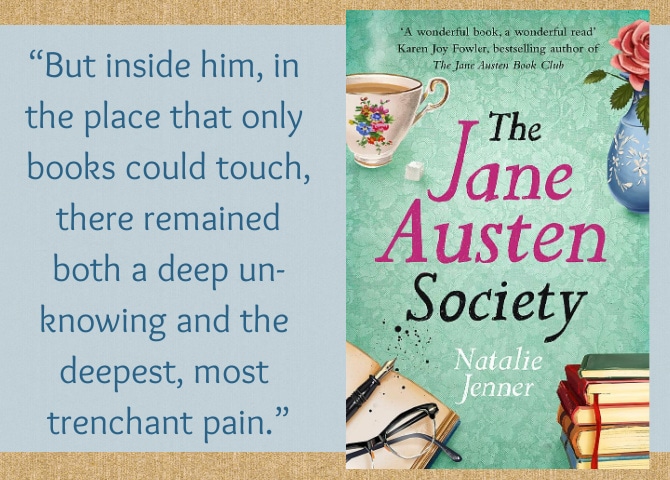 Olive, Again, by Elizabeth Strout: After letting Olive Kitteridge linger on my TBR for years, I finally read it last month. I didn't love it and had not planned on reading this follow-up read (at least not right away). However, I had forgotten that I'd placed a library hold on Olive, Again, months ago, before it even was published, and when the hold came through I figured I might as well read it while the first book was still fresh in my mind.
Similar to Olive Kitteridge, Olive, Again, takes the form of thirteen short stories that are interconnected but not continuous. We meet up with Olive, now in her seventies and navigating life as a widow and then, again, as a newlywed. Olive's stories are interwoven with those of other citizens of Crosby, Maine, including a teenager mourning the death of her father; a lawyer grappling with some difficult ethical choices; and even the siblings whose story is the focus of Strout's novel The Burgess Brothers. Through these stories, Strout explores everyday situations and ordinary individuals, somehow imbuing them with profound meaning and insight. We also become better acquainted with Olive, who is still prickly and remarkably petty, but slightly wiser, more empathetic, and much more self-aware.
While I didn't love every story in this collection, and am still not a big fan of Olive herself, I liked this book more than its prequel. The writing is just as strong—though at times uncomfortably raw—and Strout repeatedly astounded me with her ability to reduce complex themes into such simple observations. The stories here are slightly less depressing and highlight the resilience and hope of redemption for humanity. I especially loved the last story about Olive's life in a nursing home. It isn't always easy to read about aging, but I so appreciate Strout's taking some of the sting and taboo out of the life of an octogenarian, with its adult diapers and ailments and reflecting on past regrets.
My Rating; 3.5 Stars (Rounded to 4 stars on Goodreads).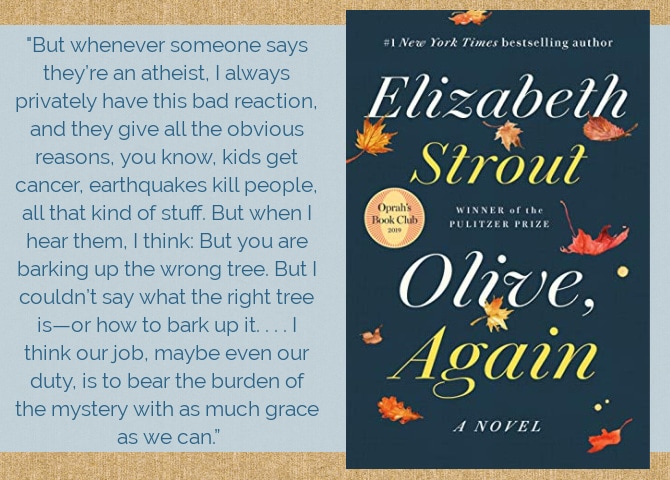 ---
Claudia and Mean Janine, by Raina Telgemeier: Like so many women my age, I devoured the Baby-Sitters Club books as a girl and have been excited by the resurgence of enthusiasm for this beloved series. When I discovered that the first few books had been made into graphic novels, I couldn't wait to get my hands on a library copy (which is why I picked up book 4, it was the first available).
While I don't recall reading this specific book from the original series, it seems to follow that novel fairly closely. Claudia is struggling to get along with her smart older sister, Janine, and their enmity intensifies when their grandmother winds up in the hospital following a stroke. Meanwhile, the sitters are hosting a summer day camp; Kristy overcomes jealousy over Dawn and Mary Anne's friendship to befriend the newer girl; and Mallory becomes part of the club.
This book was so much fun! I've grown to really enjoy graphic novels in the past couple of years, so it was exciting to enjoy familiar characters and storylines in a different format. The story translates quite well to this form, which manages to capture the entire story as well as the iconic cast of characters. I have always appreciated that the Baby-Sitters books touch on challenging issues (such as divorce, loss, and rivalry) without being "issues" books or pushing the edges of what I would deem appropriate for school-aged readers. This one has some incredibly touching moments and makes some very positive statements about family dynamics, loyalty, growing up, and even old age.
I don't know that this would appeal to those not already familiar with the series, as a great deal of my enjoyment was due to the nostalgia factor, but I like to imagine a new generation of young readers falling in love with the BSC through these graphic novels.
My Rating: 4 Stars.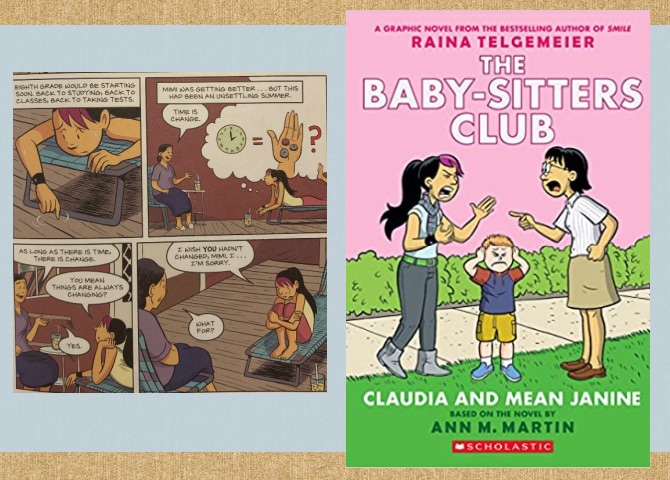 ---
If you've read any of these books, I'd love to know what you thought! What do you think I should read in the coming month? Please share your recommendations in the comments!