This year has been strange for me in that I've been feeling much more excited about the nonfiction I'm reading than the fiction. In the past, I've had to push myself to read nonfiction because I knew it was "good for me" (I like to have a balance in my reading life), but lately the opposite has been true. That's not to say that I haven't enjoyed the novels I've been reading, though, because I have. Here's a look at the six fiction books I read and enjoyed in the last month.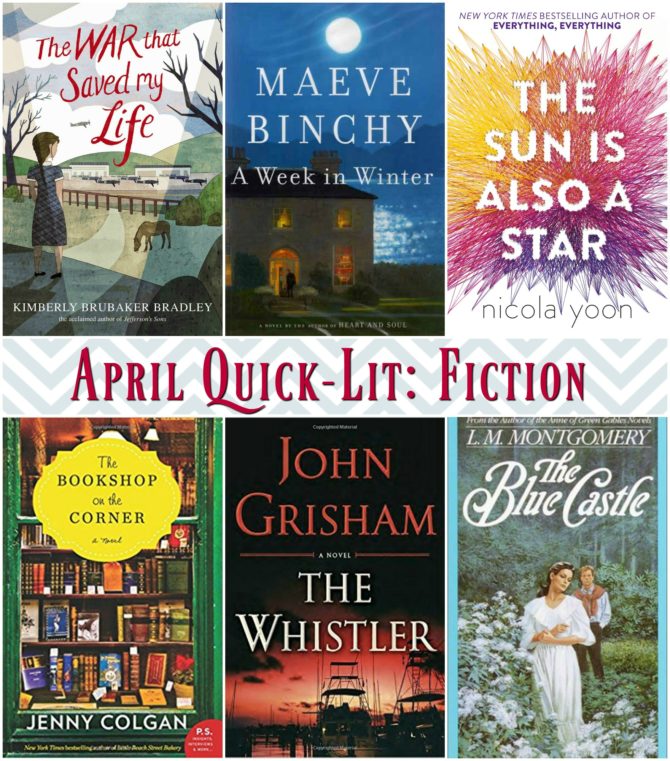 A Week in Winter, by Maeve Binchy: More a collection of short stories than a true novel, A Week in Winter features an unlikely collection of characters associated with a quaint inn located in a small seaside town off the coast of Ireland. Each chapter of the book delves into the background of one of these characters, beginning with Chicky Starr, a middle age spinster who, after spending two decades in New York, returns to her home country to transform a decaying mansion into a welcoming inn. As the book progresses we meet the guests who are staying at the inn for one week in winter, including an aging American movie star; a disdainful retired schoolteacher; a couple who are disappointed to have won this weeklong stay as the runner-up prize in a contest to win a week in Paris; and many more. During their time at the inn, each character has a unique revelation or is redeemed in some way.
A Week in Winter is a quiet book with a wonderful sense of place, a subtle touch of humor, and just the right amount of sappiness. At first I was confused by the lack of an overarching plot line, but once I realized that the book's primary focus was the characters themselves, I was able to fully enjoy each backstory without trying to anticipate what was to come. This was my first book by Maeve Binchy, and I enjoyed her calm and inviting narrative style. I'm looking forward to reading more from her. (And if I ever return to Ireland, I'll be sure to bring one of her books along to help set the vacation tone!)
I listened to this one, and it was perfect for audiobook: enough story to hold my attention, but not a lot of plot twists or confusing characters to keep track of.
My Rating: 4 stars.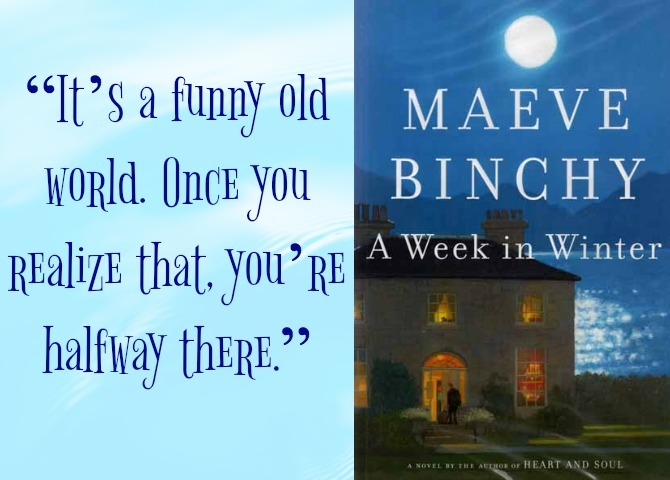 ---
The War That Saved My Life, by Kimberly Brubaker Bradley: Ten-year-old Ada has never left her one-room London apartment. Born with a twisted foot, she is unable to walk, but the reason for her confinement is not her disability itself, but her mother, who is too ashamed of her crippled daughter to allow her to be seen in public. When Ada's younger brother Jamie is sent to the countryside to escape the War, Ada teaches herself how to walk so that she can sneak away with him. The siblings go to live with a woman named Susan Smith who becomes their reluctant caregiver and, eventually, their friend. Under her nurturing, Ada and Jamie develop new physical skills, and despite the war going on around them, discover love and courage in ways their pre-war selves never had.
Though geared toward a middle-grade audience, I personally loved this book (and not just because it reminded me a lot of one of my favorite movies). It is heartwarming and engaging, and I adored the character of Ada. This is a heavy story but the author does a good job of keeping it kid-friendly without dumbing it down. This would be a great starting point for discussions about child abuse, trauma, and the less savory aspects of war.
My Rating: 4 stars.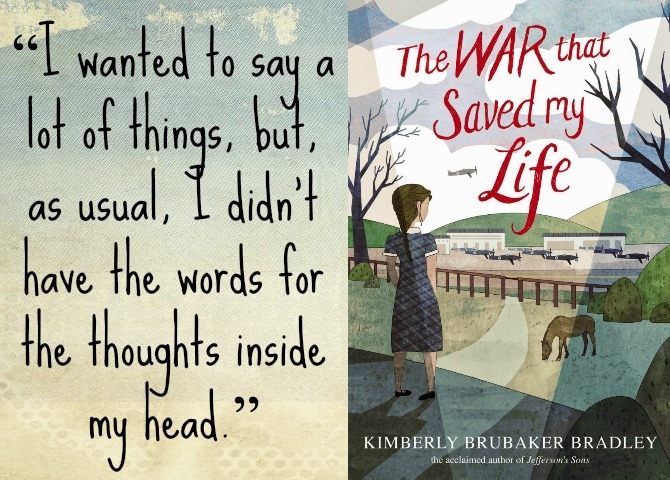 ---
The Bookshop on the Corner, by Jenny Colgan: Nina Redmond is a librarian and a book lover whose own life has always seemed dull compared with the adventures of her literary heroines. When her library in Birmingham, England, is downsized and Nina finds herself without a job, she makes the uncharacteristic decision to buy a van that she transforms into a mobile bookstore, and relocates to the Scottish Highlands. In her new life, Nina introduces her community to the wonderful world of books, and in turn discovers a few new loves of her own.
Though pretty predictable, this is a sweet story with an intriguing setting and one of my favorite protagonists that I've encountered in quite a while. I think that most of my fellow book lovers would agree that books about books are some of the greatest gems of the literary world, and this one is definitely recommendation-worthy. I particularly loved the author's introductory dedication/love note to bookworms everywhere.
My Rating: 4 stars.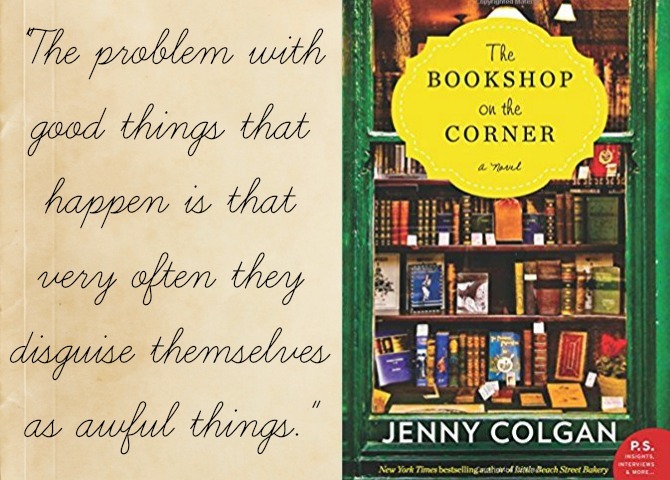 ---
The Whistler, by John Grisham: Lacy Stoltz is a lawyer and an investigator for the Florida Board on Judicial Conduct. When she and her partner are contacted by a shady ex-lawyer, they are presented with information about a crooked Florida judge who was apparently involved with the mafia-funded construction of a casino on Native American land. The case is beyond the scope of anything they'd previously encountered and proves to be more dangerous than Lacy could ever have anticipated.
I've read everything John Grisham has written, and there was a time when I would have named him as one of my Top Three favorite authors, but his last few books have failed to impress me. The Whistler is a decent novel with an intriguing premise and terrifying depictions of corruption that may very well be a reality in our judicial system. But despite its strong potential, the novel lacks the spark of Grisham's earliest books. I kept waiting for the action to pick up, but unfortunately the story remained relatively vanilla.
My Rating: 3.5 stars.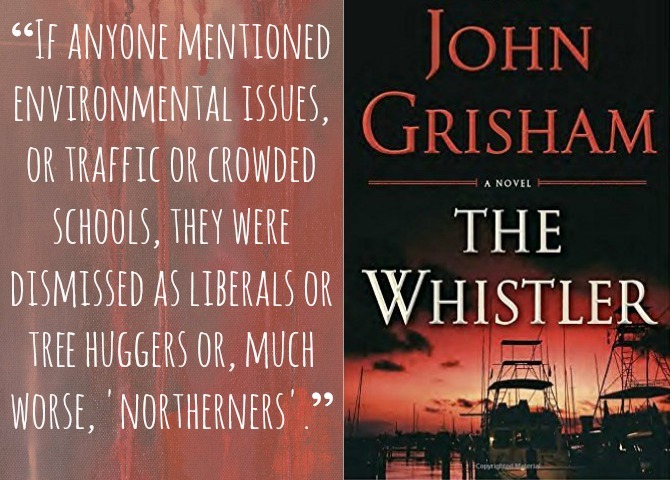 ---
The Blue Castle, by L.M. Montgomery: I read this as my "book written during the 1920s" for my 2017 Reading Challenge. My previous experiences with L.M. Montgomery were only through the Anne series (which I love) and I was curious to read this, the author's only title for adults. I'll be sharing a full review in a couple of weeks; for now I'll just say that it wasn't what I expected, but even without the presence of our beloved Anne Shirley, it was a wonderful book.
My Rating: 4 stars.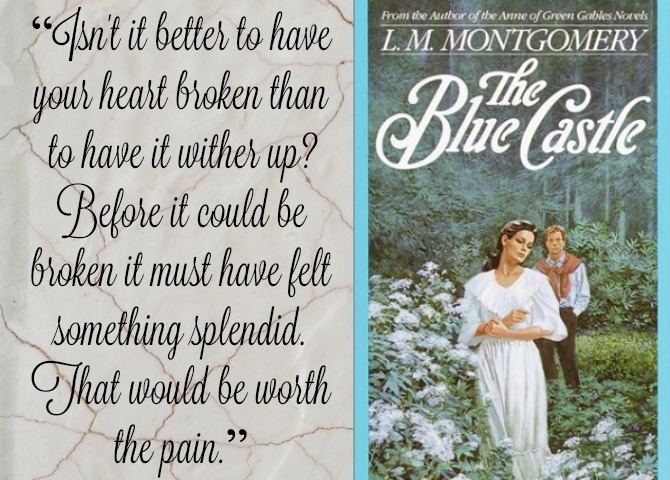 ---
The Sun is Also a Star, by Nicola Yoon: Two New York teenagers. One pivotal day. Will it be the first day in a lifetime of love for these two strangers, or will their moments together become a memory that stays with them when they go their separate ways?
Natasha is a practical, science-minded Jamaican whose family is twelve hours from being deported to their home country. Going against her belief that miracles do NOT happen, she is making some last-ditch attempts at finding a way for her family to stay in America. Natasha's efforts lead her to cross paths with Daniel, a Korean American who is on his way to interview for a pre-Med program that is his parents' dream for him, but is not at all in line with his romantic aspirations of becoming a poet. Their instant connection is an unlikely one, but Daniel is determined to convince Natasha that love is possible and that it is worth fighting for.
I'm generally not a fan of this sort of angsty teen romance. This one does contain more sentimentality and adult themes than I prefer in a YA book, but it's also smart and well-written. Daniel and Natasha are both engaging characters and I enjoyed their back-and-forth narration, which was particularly interesting since the characters come from such diverse backgrounds and have such different personalities. I struggle myself between knowing when to follow my head or heart, so I liked seeing this dichotomy explicitly depicted in their characters and stories.
The insights into surrounding characters' lives is another nice bonus, as is the discussion of topics like the butterfly effect, parallel universes, and the science of falling in love (all themes I love to reflect on); it was great to see these deeper ideas presented in a book for teens. I also like that the book gives flesh to the polarizing political topics of immigration and mixed-race relationships, which are obviously hot button issues right now, but frequently only addressed in an abstract way.
Despite all this good, there's no getting over the book's huge flaw (which is a problem with most romances): it confuses chemistry/lust with love. Both exist, but they are not the same thing, and I think it's dangerous to promote the notion that they are.
My Rating: 3.5 stars.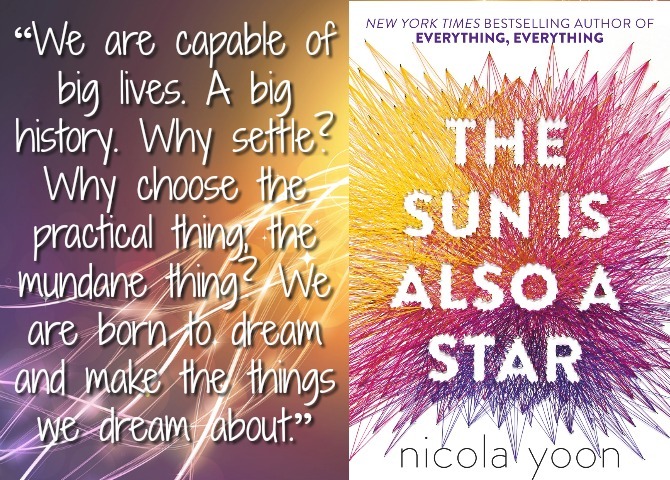 ---
On Wednesday I'll share Part Two of this month's Quick-Lit, with the nonfiction books I've read lately!
Save
Save
Save
Save
Save
Save
Save