I'm so excited about the reviews I'm sharing today: five books that I really loved, a few of which are candidates for my Favorite Books of 2020. Let's get right to the reviews!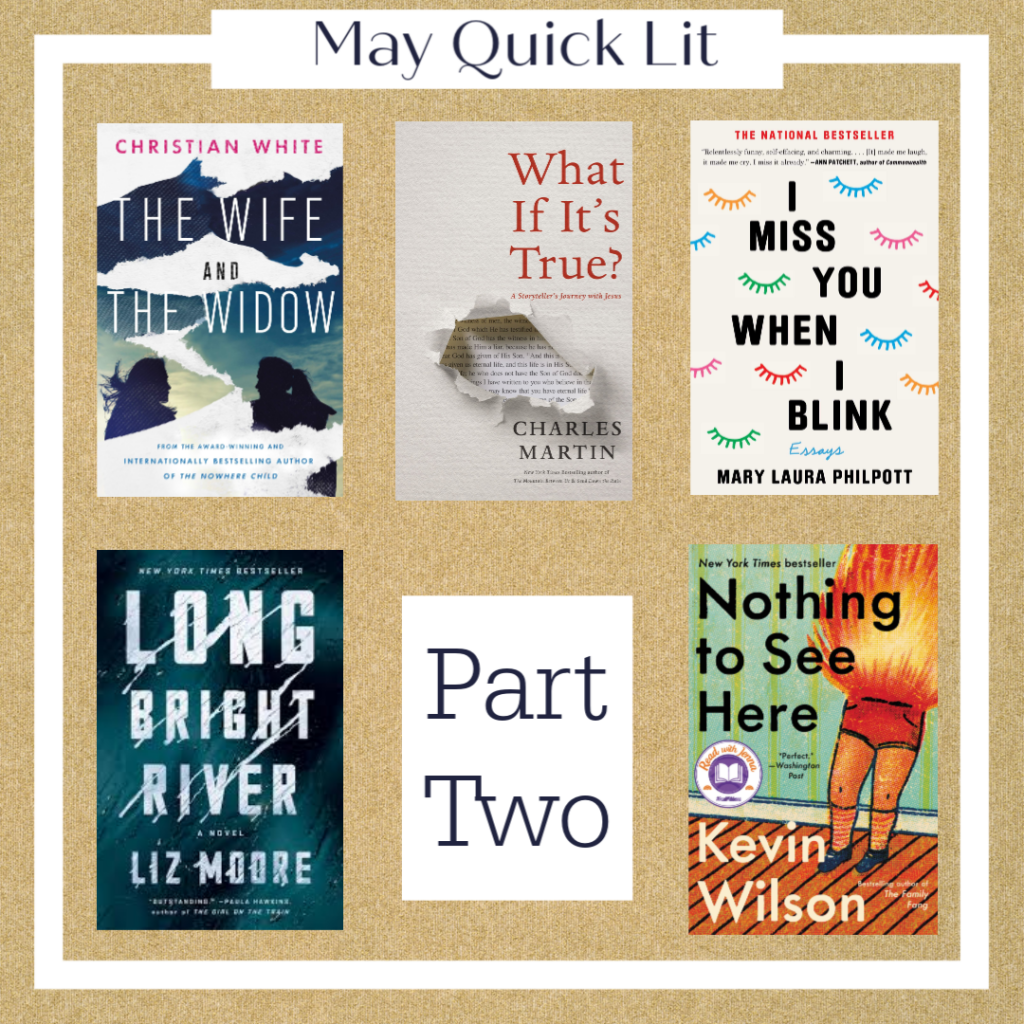 What If If's True: A Storyteller's Journey With Jesus, by Charles Martin: Years ago, while grappling with some tough theological questions, Christian romance writer Charles Martin turned to Scripture for answers. As he opened his Bible, he asked, "What if every single word of Scripture is absolutely true and I can trust it? How do I respond?" In What If It's True, Martin seeks to answer this question by examining how life would be different if he were to literally interpret and apply all of Scripture. Martin begins each chapter with a Biblical story brought to life through evocative reimaginings of the conversations, details, and emotions involved. These stories are followed by Martin's commentary, personal reflections, and his own conversations with God as he walks readers through such steps as forgiving others, seeking healing from generational curses, repenting of sin, and setting aside idols.
This book is unlike anything I've read before. It's part Christian Living, part memoir, part historical fiction, and 100% Bible study/application. I was impressed by the depth and scope of Martin's Biblical knowledge, his fervent passion for the Lord, and his vulnerability in sharing the ways he is being transformed by God's Word. Martin teaches boldly about some topics frequently avoided by Biblical teachers, not tiptoeing around the truths he knows his readers need to hear. He is also very clear about when he is sharing an opinion or his own perspective, and when he is imparting a black-and-white truth from Scripture.
The highlight of this book is the breathtaking storytelling. It is clear that this book was penned by a seasoned novelist, and Martin's recounting of familiar stories helped me to see and appreciate them in an entirely fresh way. I listened to this book over Easter weekend, and Martin's words provided a powerful addition to a spiritually significant time. If you are a novel-loving believer who is hoping for a theological shake-up that goes beyond your typical Christian Living book, I would highly recommend this one. I especially enjoyed the audio version, read by the author, and appreciated hearing Martin's heartfelt reflections in his own voice.
My Rating: 5 Stars.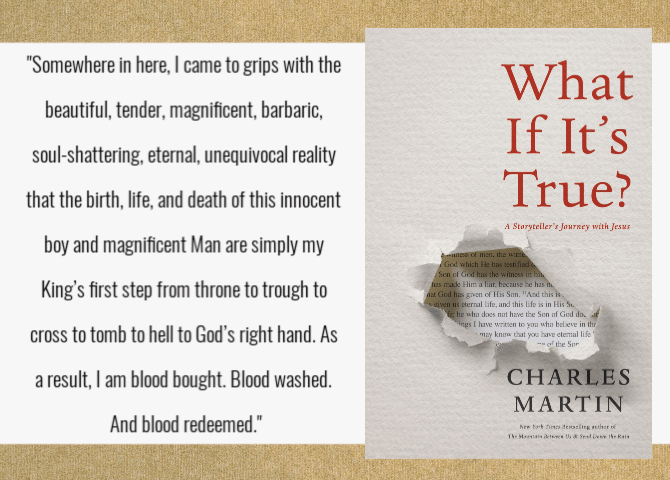 ---
Long Bright River, by Liz Moore: Mickey and Kacey are sisters who were raised in a household riddled with disfunction, addiction, and abandonment. Once inseparable, their lives now look vastly different: Mickey is a single mother and a police officer assigned to the Philadelphia neighborhood of Kensington; Kacey also inhabits this neighborhood, but a life of addiction has left her living on the streets. Though they've been estranged for some time, Mickey has continued to keep an eye out for her sister, so she takes notice when Kacy disappears. As she embarks on a search for Kacey (while also investigating several recent murders in the area), Mickey begins to fear for the life of her sister, the safety of her son, and the future of her police career.
This is a riveting police procedural as well as a literary drama that explores frightening themes of addiction, corruption, and uncomfortable family dynamics. Alternating from the present-day mystery to the girls' formative years and all that led to their separation, we get heartbreaking glimpses into life on the streets and inside broken homes. While Mickey and Kacey are both difficult characters to understand—let alone like—I sympathized with each of their plights and was eager to see each sister find redemption, justice, and peace.
Long Bright River is a long book and a sometimes-painful read, but with its tight plotting, intricate character development, and timely themes, it's a story that moves quickly without sacrificing emotional depth. This genre-bending novel will appeal to fans of literary fiction and suspense, and its passionate messages will resonate with readers long after the book is finished.
My Rating: 4.5 Stars.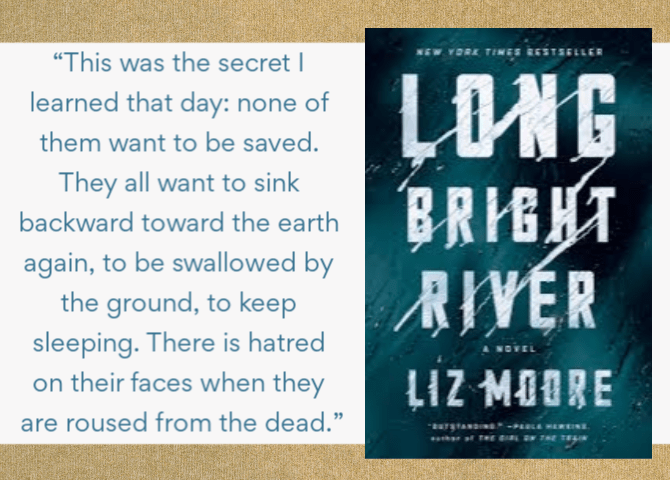 ---
I Miss You When I Blink, by Marie Laura Philpott: Mary Laura is a Type-A perfectionist who has spent her entire life pursuing the "right" next steps in life and, for the most part, having great success. From perfect grades to enviable careers and even a wonderful husband and children, she has checked off every box, and by her late thirties she was living what appeared to be a charmed life. But as many women have learned, no amount of drive or accomplishments can guarantee happiness, and Philpott soon found herself in a hole of angst and dissatisfaction she could no longer bootstrap her way out of. In this collection of personal essays, Philpott candidly reflects on motherhood, identity, perfectionism, career life, marriage, fulfillment, and the uneasy intersection of these realms.
I can't recall a time when I've related more with an author's words. Though Philpott's exact experiences (specifically career-related ones) are different from mine, we are personality twins, and her mind seems to work uncannily like my own. We even share the (wildly unpopular) belief that organized sports are utterly ridiculous! Philpott's essays on perfectionism and emotional "stuck"ness reflected my experiences in ways I've never quite been able to articulate, and her words helped me to understand myself at an entirely new level. At times this made for uncomfortable reading, but mostly it was very helpful—if only to show me where I've gone wrong in my thinking and how very unattractive rigidity and disillusionment can be!
Not every essay here is a winner, and I wish there had been more cohesiveness and finality to the collection. However, the standout essays (particularly those about the passage of time, the transition to motherhood, learning to pivot, and coping with superficiality) are some of my favorite things I've read. I appreciated Philpott's candor and admired her humor and self-awareness, and I'm thankful she shared those gifts with us in this book. This is a must-read for every Enneagram 1 in her 30s!
My Rating: 4.5 Stars.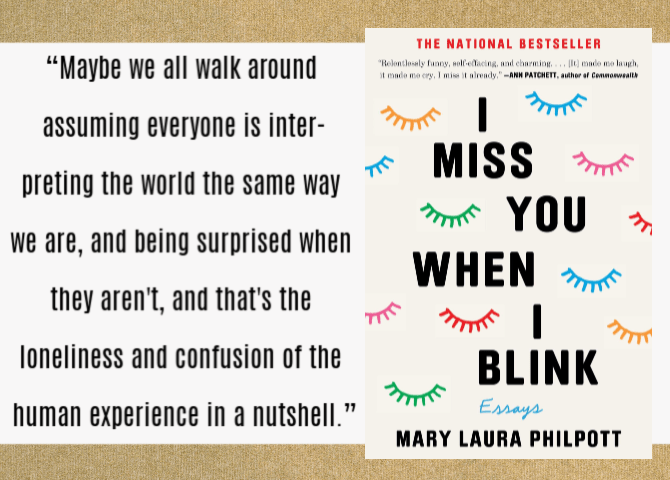 ---
The Wife and the Widow, by Christian White: The Wife is Abby, an island local whose husband manages holiday homes in their town off the Victorian coast. The Widow is Kate, whose husband John has been missing since he told her he was attending a business conference in London. Kate's search for John leads her to Belport Island where they have a summer home. Both Kate and Abby are soon forced to face devastating truths about their husbands, and what follows is an upending of the lives of everyone involved.
I can't write much about this book without giving away a key plot twist that takes place midway. However, I will say that the twist completely caught me off guard and had me jumping back to the beginning of the book for a second time through. This is a brilliant—if somewhat disturbing—mystery with a strong sense of place and excellently drawn characters. While parts of the story move a bit slowly, the build-up is worth it.
My Rating: 4 Stars.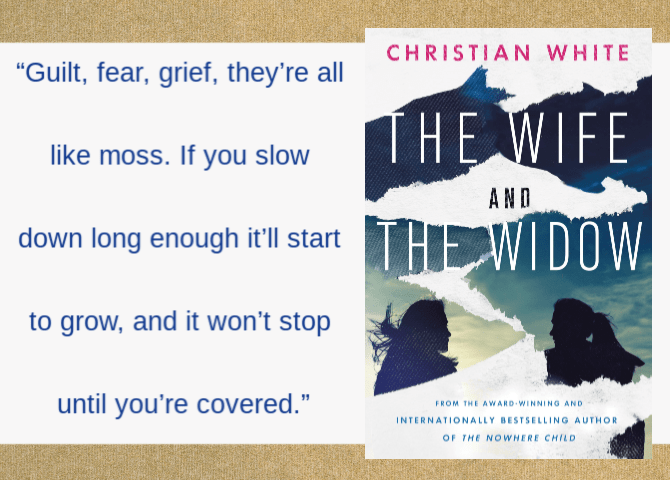 ---
Nothing to See Here, by Kevin Wilson: Lillian is living a dead-end life, spending her time between her two grocery store jobs and smoking weed in her mother's attic. There was once a time when Lillian seemed to have a promising future ahead of her, but that ended when her wealthy boarding school room mate and best friend, Maddison, got caught in the possession of drugs. Maddison's family paid Lillian off to take the blame, and Lillian was expelled, while Maddison went on to lead a life of power and wealth.
Maddison and Lillian have kept in touch through letters over the years, but Lillian is surprised when Maddison makes a bold request: she wants Lillian to come live with her family to care for her politician husband's twin children. These kids are not ordinary ten-year-olds: they have an odd affliction that causes them to spontaneously burst into flames whenever they are upset, and nobody seems to know what causes this phenomenon or how to stop it.
Eager to spend more time with her long lost friend, Lillian agrees to the offer. While the position is far from easy or glamorous, Lillian soon finds that she cares for these combustible twins. But it remains to be seen whether she can protect them (or herself) from power-hungry Lillian and her entirely ambivalent husband.
I had heard great things about this book, but the bizarre premise had me skeptical. However, I found that within the full context of the novel, the fantastical element didn't seem all that strange and served to spice up a story that might otherwise have felt a bit dry or a tad too ordinary. I really enjoyed Lillian's self-deprecating humor and insightful narration, and I came to love the characters of Bessie and Rowland (the twins). Though their presence is what makes the story memorable, they provide a useful backdrop for a story about misplaced loyalties, ambition, and the treatment of those who don't fit into socially accepted norms. This is a complex satirical piece masquerading as easy comedy, and it succeeds on both levels.
My Rating: 4 Stars.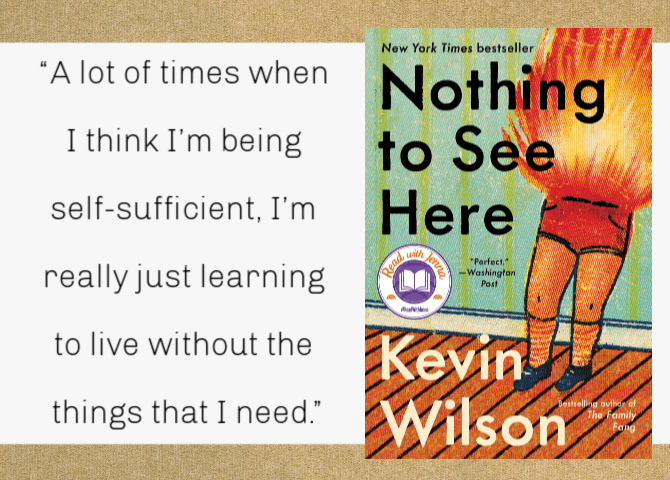 ---
I'm linking up with Modern Mrs. Darcy to share what we've been reading lately. If you're here from the link-up, thanks for stopping by! You can read Part One of this month's book reviews here.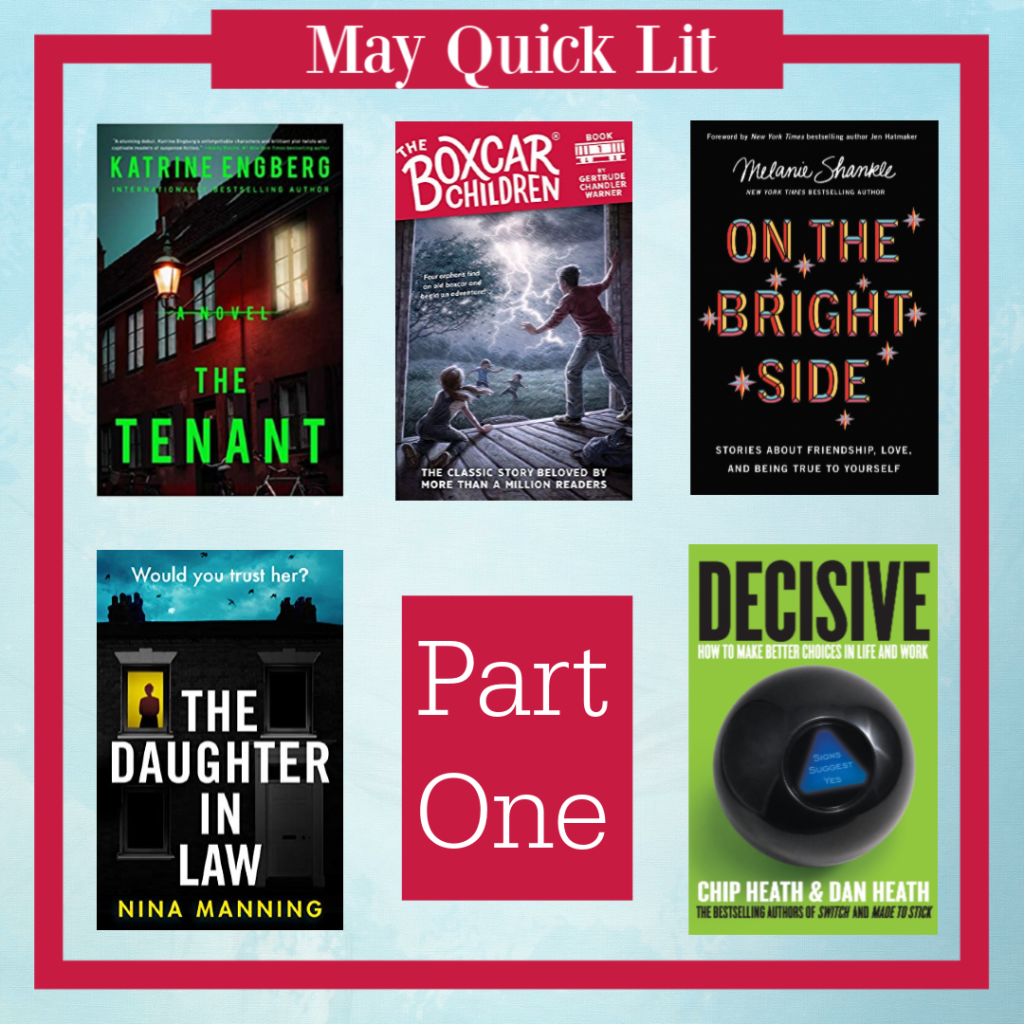 And check back next Wednesday for reviews of five other books I've read in the past month.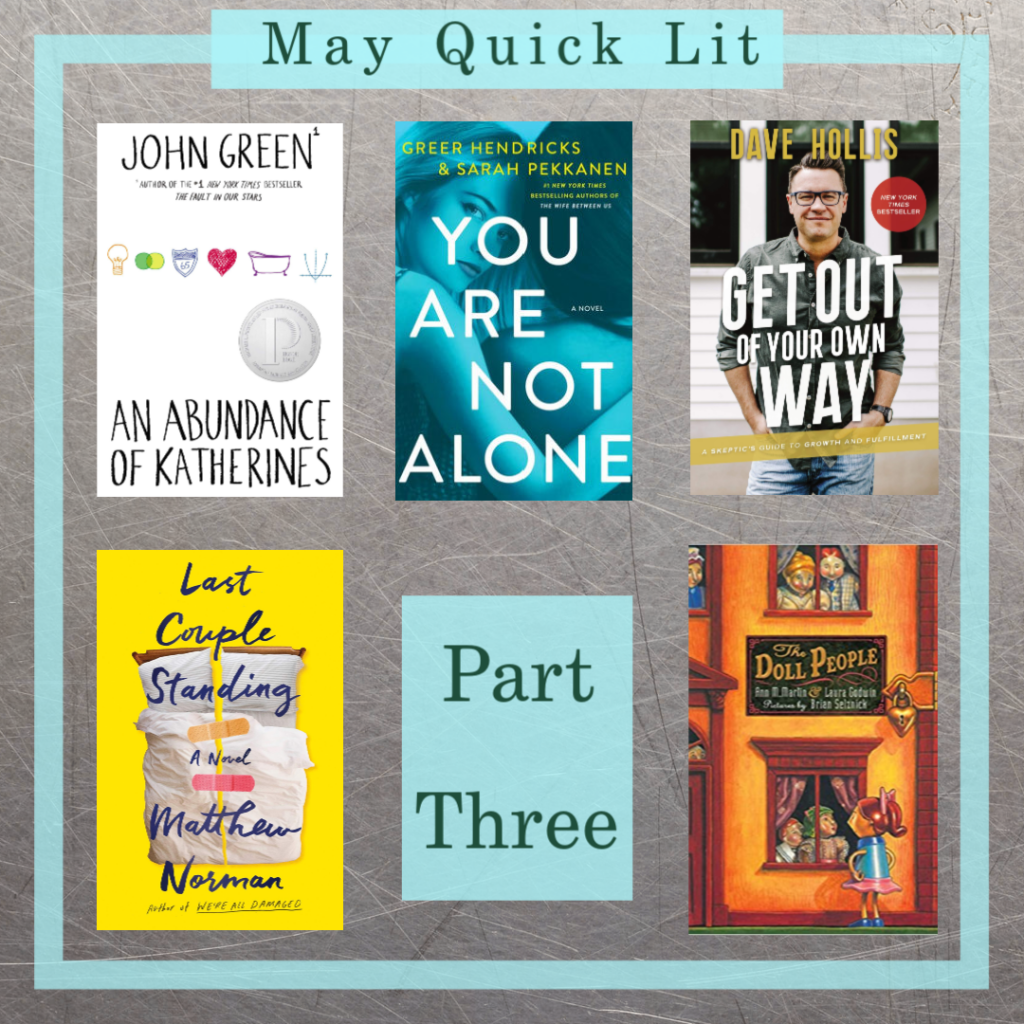 What is the best (or worst) book you've read lately?