It's been a while since my last Reading Wrap-Up, but my reading life has been as full as ever—which means that I have more than a dozen reviews to share with you! That's a lot of reviews, even by my very generous standards, so I decided to split this month's Quick Lit into two separate posts. Next week I'll share reviews of the novels I've read lately, and today I'm sharing my thoughts on the five nonfiction books I've read in the last couple of months. As you'll see, there were a couple of wins and also some pretty big misses.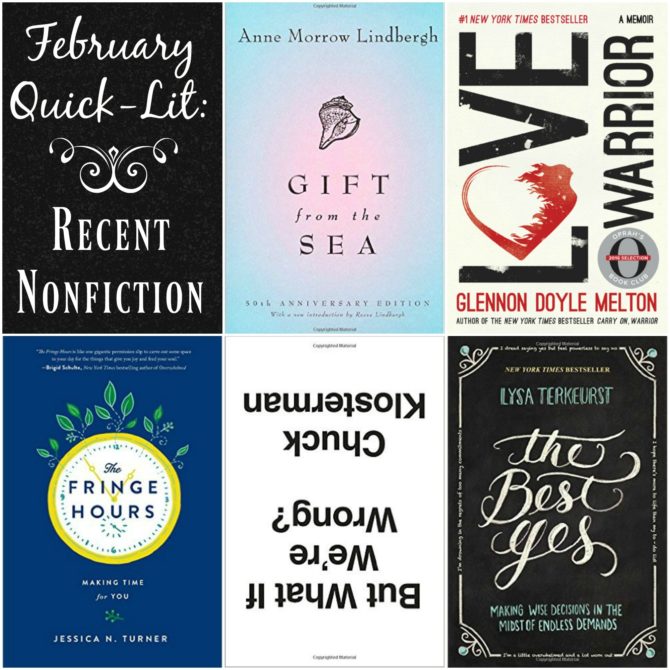 But What If We're Wrong?: Thinking About the Present As If It Were the Past, by Chuck Klosterman: None of us likes to be wrong, but as we reflect back on past impressions and beliefs, we are often able to recognize how wrong we have been about everything from religious convictions to our predictions on who will be elected president. In But What If We're Wrong, Chuck Klosterman extrapolates this idea to big-picture concepts, asking if we could be wrong about everything we currently hold true. Gravity, the concept of time, the importance of democracy, the most significant authors/artists/musicians—none of these are sacred. In Klosterman's view, we were wrong about these things in the past, so the likelihood of being wrong now is high.
I enjoyed this philosophical take on seemingly incontrovertible truths. There are flaws with Klosterman's reasoning (just because we were wrong in the past doesn't mean we must be wrong now, or that we will be wrong in the future) and his premise negates the possibility for absolute truth (something I personally believe in). But his postulations have me thinking differently about the world and have reminded me of how very small and ultimately insignificant my own views and even my life truly are.
My Rating: 3.5 stars.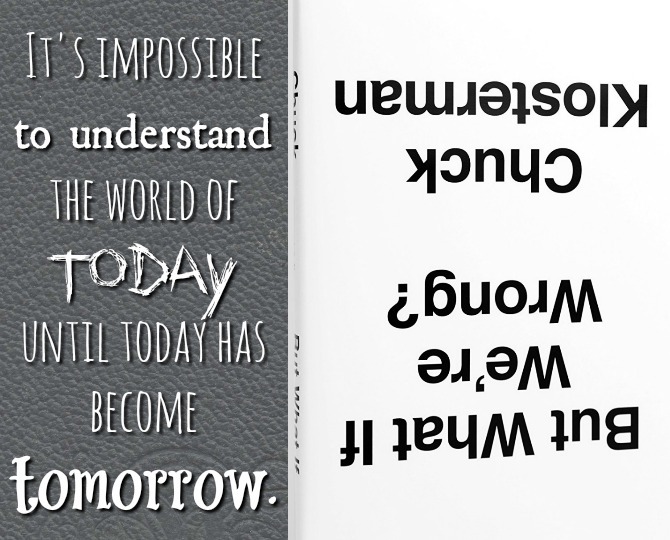 ---
Gift from the Sea, by Anne Morrow Lindbergh: This classic, written by the wife of Charles Lindbergh, has apparently been a favorite of women for decades, but I only started hearing people talk about it in the last couple of years. In the short collection of essays, Lindbergh shares reflections inspired by shells she has collected during a vacation by the sea. The themes Lindbergh addresses—the need for a slower pace, the value of solitude, the shifting nature of life and relationship—are those experienced by every woman, and I was amazed at how current this book feels, more than sixty years after it was written. I tend to view the 1950s as a much simpler, easier time, and Lindbergh has shown how incorrect I was in my assumptions!
There is so much great wisdom in this book. I came away from it feeling inspired by Lindbergh's words, and also by her intentional and reflective attitude toward her time at the sea. Lindbergh reminded me of the simple yet poignant methods God can use to teach us the lessons our souls are so desperate to hear.
My Rating: 4 stars.
---
Love Warrior, by Glennon Doyle Melton: In this soul-baring memoir, Glennon Doyle Melton—author of the blog Momastery—opens up about a lifetime of suffering and trauma, from her decades-long struggle with bulimia, to overcoming alcoholism, and, most recently, discovering her husband's porn addition and infidelity. After hitting rock bottom, Glennon embarks on a quest for healing—for herself, her family, and her marriage.
This memoir is shocking and uncomfortable, and I commend the author for her vulnerability and candor. I related to many aspects of her journey, particularly her battle with disordered eating and her struggles in adjusting to both the joys and rigors of motherhood. I also appreciated her commentary regarding the inappropriate ways to support an individual undergoing a trial, and I found her willingness to accept less-than-perfect story endings to be refreshingly realistic.
Despite its merits, I did not care for this book. The writing felt forced, cliched, and insincere (though I might have superimposed that tone due to my awareness that, since publishing this book about fighting for her marriage, Glennon has since divorced her husband and entered into a relationship with another woman). I also had a hard time stomaching the victim mentality that permeates Glennon's story. If Glennon were a friend sitting down with me over coffee to share her history, I would likely feel differently about her perspectives on her experiences; but her self pity does not translate well to the pages of a book and did little to garner my sympathies. I was particularly disappointed by the picture she paints of God and by her warped views of grace.
My Rating: 2 stars.
---
The Best Yes: Making Wise Decisions in the Midst of Endless Demands, by Lysa TerKeurst: In our culture that glorifies busyness and is bursting at the seems with appealing options and unrelenting demands, the simple act of making a decision can be daunting. Lysa TerKeurst understands the pressure women feel to constantly say YES!, but she also recognizes the value of saying no when necessary so that we are free to pursue God's very best. With wisdom and humor, Lysa uses personal anecdotes and passages of scripture to demonstrate her process for making wise decisions that are in our personal best interest and are most effective for furthering God's Kingdom.
The timely message of this book is very similar to that of Essentialism, but from a Christian perspective that I appreciated. Lysa clearly knows her Scripture and I had many great takeaways in reading her step-by-step guides for practically applying God's Word to everyday decisions. I found her scripts for saying no particularly helpful, and was grateful for her admonition against using "nos" as a weapon (which was my biggest complaint about Essentialism). The book is well laid out and I loved the Cliff Notes style guide at the end of the book providing highlights from each chapter. A few of the chapters felt unnecessary (or perhaps just too long?) and I could have done without all the diet talk, but overall I loved this book and will be taking its powerful message to heart.
My Rating: 4 stars.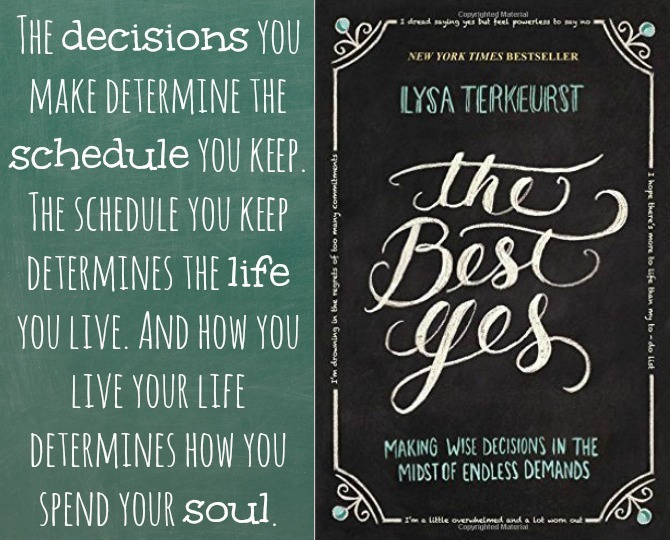 ---
The Fringe Hours: Making Time for You, by Jessica N. Turner: Jessica Turner is a self-proclaimed woman with "too many hobbies." She's a crafter, a blogger, an author, an avid reader . . . and she is a mother to three, with a full-time job outside of the home. In order to pursue her hobbies, Jessica must be diligent about how she manages her time, energy, and resources. In The Fringe Hours, she helps other women do the same. The book begins by making a case for the importance of making time for oneself, helping readers overcome some of the obstacles that are holding them back. The remainder of the book provides concrete examples of how she manages to "do it all" and how her readers can, too.
I admire the author for all she has accomplished and though the ideas presented in this book aren't new ones, I'm sure it will be helpful for many women, particularly working moms. However, it just wasn't for me. The writing itself seemed unpolished (a possible consequence of being written during squeezed out fringe ours?) and though I agree with the importance of self care, I don't know that that it can be achieved by maximizing every last second of one's day. The frenzied tone of the book seemed antithetical to the stated message of cultivating inner calm and fulfillment. I've heard Jessica Turner in numerous interviews and found her very inspiring, so I was hoping for a bit more of that in this book.
My Rating: 3 stars.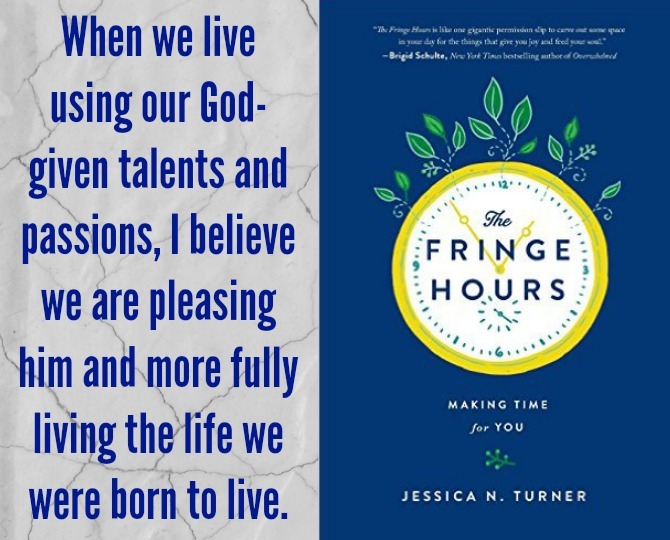 ---
Have you read any of these titles? If so, please share your thoughts with me! And stay tuned for upcoming reviews of my latest fiction reads including A Man Called Ove, The Nix, Today Will Be Different, and several more!
If youIf Save
Save
Save
Save
Save
Save
Save
Save
Save