It's time for Part Two of this month's reading wrap-up. As I shared last Monday, I've read quite a few books since my previous Quick Lit and decided to split this month's wrap-up into two parts. In last week's Part One, I shared all of my recent nonfiction reads. Today I'm reviewing the novels I've read recently. My opinions of these books are all over the map: I loved quite a few, while a couple others just weren't for me. Let's get to the reviews!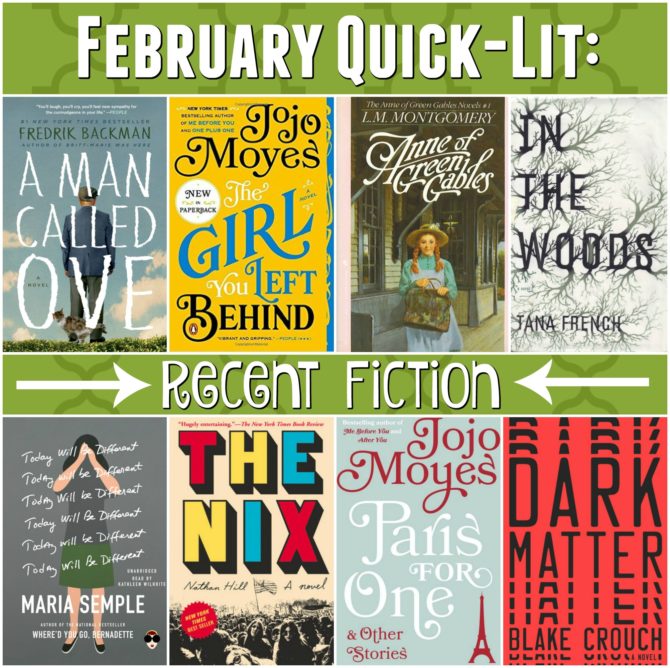 A Man Called Ove, by Fredrik Backman: Ove is a curmudgeonly man with a prickly demeanor and a fastidious adherence to his rigid principles and regimented way of life. After losing the love of his life, Ove feels little reason to go on living. Then a vibrant young family moves in next door, disrupting Ove's structured world and infusing his life with chaos and, ultimately, joy.
This is a simple but heartwarming story of lifelong love, quiet suffering, and the transformative power of friendship and kindness. Filled with endearing characters, subtle comedy, and copious amounts of heart-exploding sweetness, A Man Called Ove is a true feel-good tale with that I can't stop talking about. If you enjoy audiobooks, I highly recommend listening to this one; the narration is fantastic!
My Rating: 4.5 stars.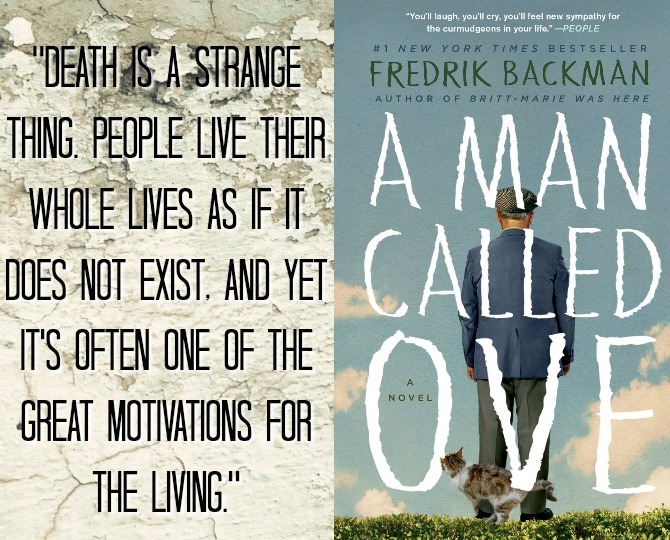 ---
Dark Matter, by Blake Crouch: Jason Dessen lives an ordinary life, but it's a good life and it's his. And then suddenly, it isn't. After a seemingly innocuous meeting with an old acquaintance, Jason is abducted and knocked unconscious, and when he awakens he finds himself in another world where he is no longer married to his wife, his son was never born, and he is not a college professor but a celebrated scientist who has somehow invented this parallel world in which he finds himself. As Jason struggles to get his bearings and reclaim his old life, he gets the chance to explore the various paths his life may have taken and must make some horrifying decisions about which strands to follow. I'd love to tell you more about the plot, but this is a book where you're better knowing as little as possible. Trust me, though: it's a story you won't want to stop reading!
Part Family Man, part Bourne Identity, this is a rare fast-paced thriller in which introspection and story are not overshadowed by action. I love that the story kept me entertained while making my brain go into overdrive: I couldn't wait to find out what would happen to Jason, but took many reluctant breaks throughout the book to try to wrap my head around what was happening and to contemplate how I might respond in similar situations. I generally don't love science fiction, but I do love books that force me to think about life and the world in unique ways, and Dark Matter definitely fits that bill. It also helps that the novel has a lot of heart: I found the love story touching but not sappy—perfect for satisfying my romantic side while maintaining its appeal to male audiences. If this isn't already being made into a movie, I'm sure it will be, and I can't wait to see it!
My Rating: 4.5 stars.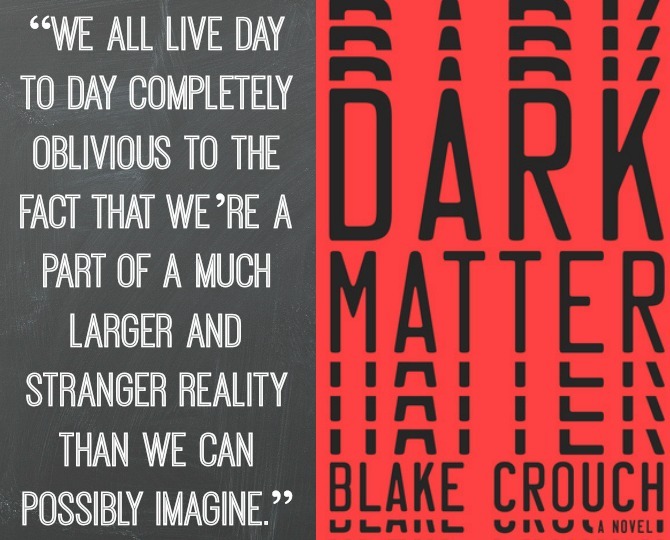 ---
In the Woods, by Tana French: Rob Ryan, a detective on the Dublin Murder Squad, lands the biggest case of his career when he and his partner/friend Cassie Maddox are called to investigate the murder of a 12-year-old girl whose body has been uncovered in the woods. For Rob, the case hits uncomfortably close to home: twenty years earlier, Rob's two best friends disappeared into these same woods, never to be found. The present-day investigation takes Rob deep into his past as he uncovers connections between the two cases and attempts to solve both mysteries, all while keeping his career and his relationships on solid ground.
In the Woods is much more literary than the average whodunnit: this is a complex novel, layered with multifaceted characters, intricate storylines, and nuanced themes. I found both of the novel's mysteries compelling and was captivated by the brilliant first-person narration: Rob is an intriguing character, evoking my sympathies while also causing me to question his reliability as a narrator. I did have two issues with the book: it is unnecessarily long, and the ending is incredibly vague with little resolution. As a whole, though, I as impressed with Tana French's debut novel and am looking forward to reading more in this series.
My Rating: 4 stars.
---
The Nix, by Nathan Hill: Samuel Andresen-Anderson is a college professor with a temporarily sidelined career as an author and a vibrant second life as a fantasy gamer. His dull but stable world is shaken up when his estranged mother, Faye, makes national headlines for assaulting a polarizing political figure. The event gives Samuel a chance to reconnect with his mother and possibly jump start his writing career, but to do so he must embark on a journey through his past. As the novel progresses, we learn the sordid details of Faye's former life in the hippy movement during the 1960s, as well as the painful upbringing that led Samuel to where he is today. We are also given glimpses into the lives of many side characters, including an entitled college student, a deadbeat gamer, and a young man scarred by sexual abuse.
The Nix made many of 2016's Top Book lists, and based on writing alone, it is deserving of the attention: Nathan Hill is an incredible wordsmith, managing to infuse sarcastic humor and quirky observations into some otherwise heartbreaking situations, and shedding light on a range of unique topics. His characters are believable, even if their experiences are remarkably unlike my own. For these reasons, I wanted to love this book, but I just didn't. The novel is WAY too long, with too many subplots diluting the main story (which itself was interesting, but not enough to truly hold my attention). I also had a hard time with the excessive sexual content and complete lack of redeeming qualities in most of the characters.
My Rating: 2.5 stars.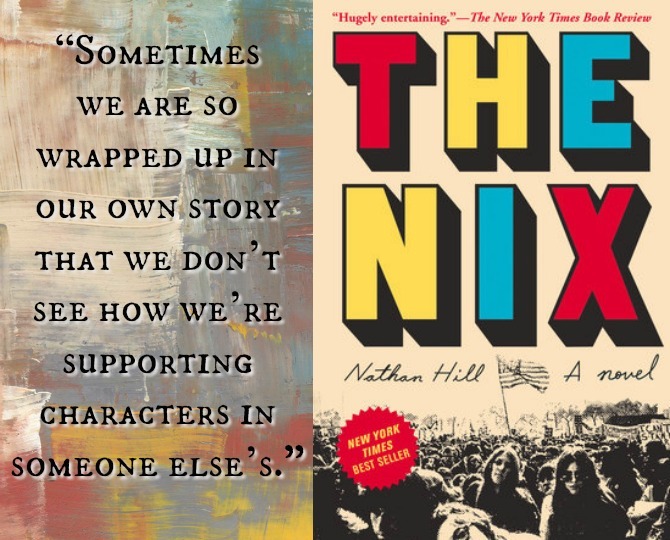 ---
Anne of Green Gables, by L. M. Montgomery: Prior to this reading I'd already read all of the Anne books (though not until I was an adult), but Anne of Green Gables came back to my attention when researching titles written in the 1900s for my 2017 Reading Challenge (the book was originally published in 1908). Since I'm trying not to reread books for my challenge, I went with a different title for my book written between 1900 and 1909, but I decided to revisit Anne as well. I listened to the recent audio version read by Rachel McAdams and it is fantastic—highly recommended to longtime Anne fans and those who have yet to make her delightful acquaintance.
Whether due to the excellent narration, or simply because it's a book that improves with time, I loved Anne of Green Gables even more this time through. I adore Anne: she is the dreamer I once was and long to be again, and her optimism is contagious even through the pages of a book. If we were to meet, I truly hope she would consider me a kindred spirit! The tone of this book is charming but not saccharine, and though the novel could stand alone, it also sets up the rest of the series quite beautifully.
My Rating: 4.5 stars.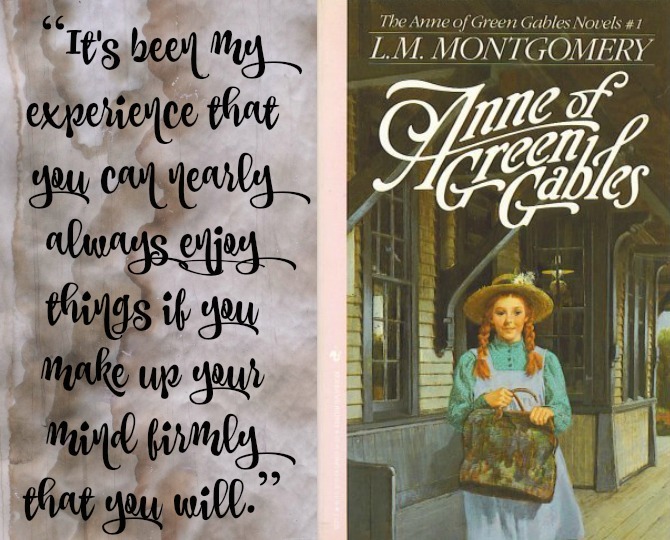 ---
Paris for One & Other Stories, by Jojo Moyes: In the titular story of this collection, Nell is a cautious 20-something whose boyfriend fails to show up on their romantic trip to Paris. Nell makes the journey alone and discovers love, adventure, and a newfound recklessness in the City of Light. This is a sweet story but predictable and not particularly well written.
The other stories in this compilation are shorter and examine troubled relationships from varying perspectives. I liked some of the stories more than others but felt they formed a nicely varied but cohesive collection.
This was my third Jojo Moyes book, and while her writing isn't terrible, I can't seem to get excited about her books the way so many other readers have. (Note: I wrote this review right after finishing the book and my opinion on Moyes has since changed, as you will see in the next review.)
My Rating: 3 stars.
---
The Girl You Left Behind, by Jojo Moyes: After my lackluster experience with Paris For One, I decided not to read any more Jojo Moyes books because I just wasn't enjoying them. Then an old library hold on The Girl You Left Behind became available, and since this book seemed so different from Moyes' other novels, I decided to give the author one more chance. I'm glad that I did!
The Girl You Left Behind tells the story of two women, decades apart. In 1916, Sophie Lefevre is living in occupied France. With her artist husband Edouard fighting at the Front, Sophie forms a complicated relationship with the local Kommandant who is interested in a portrait painted by Edouard. . . . A century later, the same portrait hangs on the wall of Liv, a young English widow whose husband gifted her the painting shortly before his death. Liv thinks she might finally have a chance at second love, only to find that her new beau has his own vested interest in Liv's precious painting.
I deeply enjoyed both the historical and present-day narratives, as well as the way Moyes weaves the stories of these two women together. I had a difficult time understanding some of the characters' decisions, but was completely absorbed by their stories. I always love a good thought-provoking novel, and this one raises some intriguing ethical questions regarding morally ambiguous issues—definitely a lot to ponder here! The ending seemed to be setting the story up for a sequel, which I would happily read.
My Rating: 4 stars.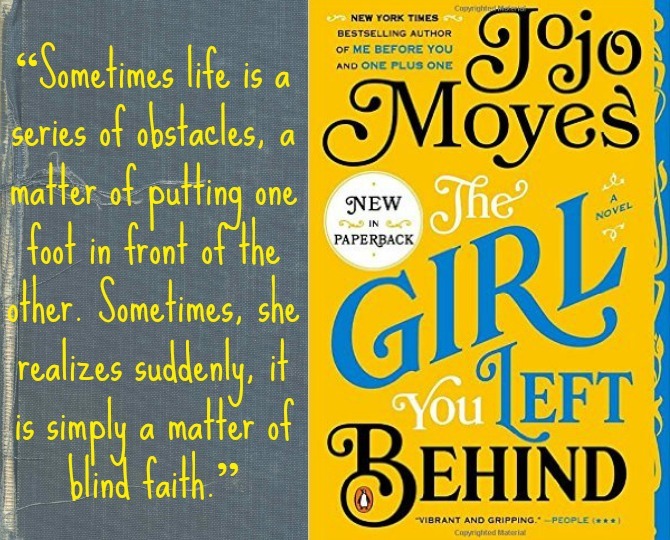 ---
Today Will Be Different, by Maria Semple: A decade ago, Eleanor Flood was a renowned animator of a popular cartoon. But then she traded her New York life for a quieter existence in Seattle and has since faded into middle age and motherhood. Though not entirely unhappy, Eleanor is determined to make some small changes in her life and wakes up one day pledging that "Today will be different." The novel follows her adventures on a single day that is indeed quite different, but not at all what she expected. As the day unfolds she discovers her husband is keeping secrets, she encounters a former employer who sheds light on some old projects, and she is forced to come to terms with some difficult parts of her past.
The tone of this novel is quirky and upbeat but with acerbic undertones that add depth to the characters and enhanced my appreciation for the book. I enjoyed the pacing and Eleanor's witty narration, but had trouble keeping up with some of the absurd plot points and felt much of the story needed to be more fully fleshed out. There are numerous parallels to Where'd You Go Bernadette? but I liked that book more.
My Rating: 3.5 stars.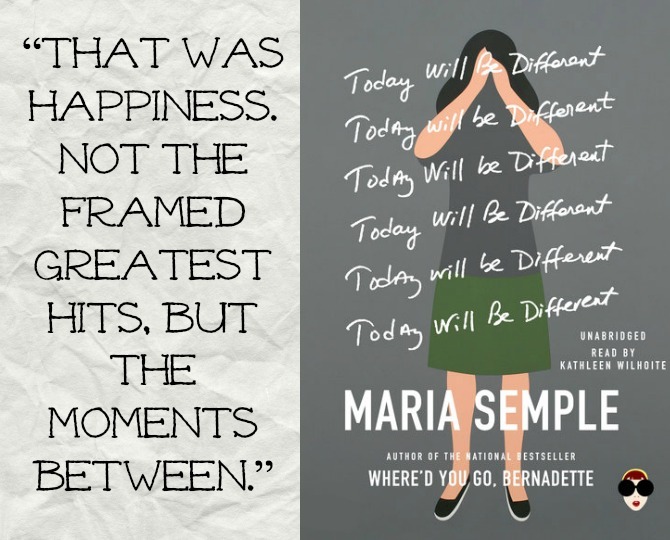 ---
I'm linking up with Modern Mrs. Darcy to share what we've been reading lately. If you're visiting me for the link-up, thanks for stopping by! I'd love for you to check out Part One of this month's Quick Lit, where I reviewed five nonfiction books I read in the last month.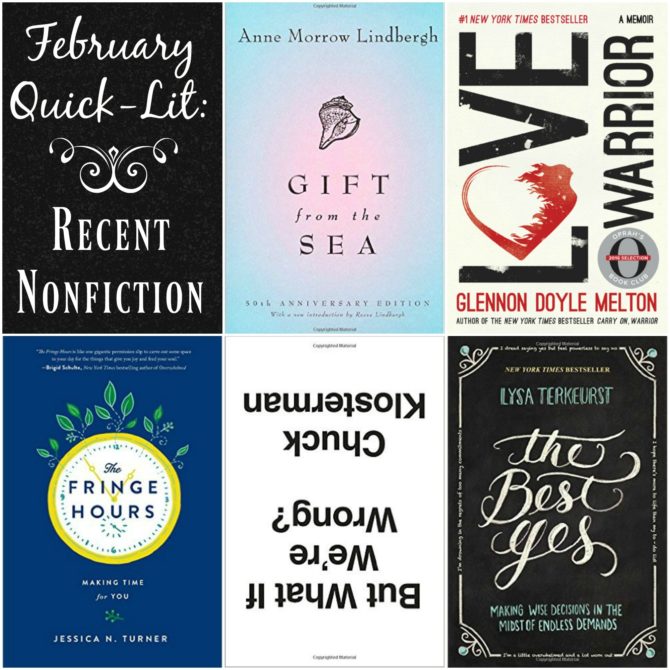 What books have you been reading lately? If you have any recommendations, I'd love to hear them!
Save
Save
Save
Save
Save
Save
Save
Save
Save
Save
Save
Save
Save
Save