The books in today's post are more lighthearted than my typical fare: I've been feeling overwhelmed and stressed lately, and these lighter reads are just what the doctor ordered. A few of these books have been getting a lot of buzz among book bloggers lately: if you've read any of these titles, I'd love to hear your thoughts too. Let's get right to the reviews!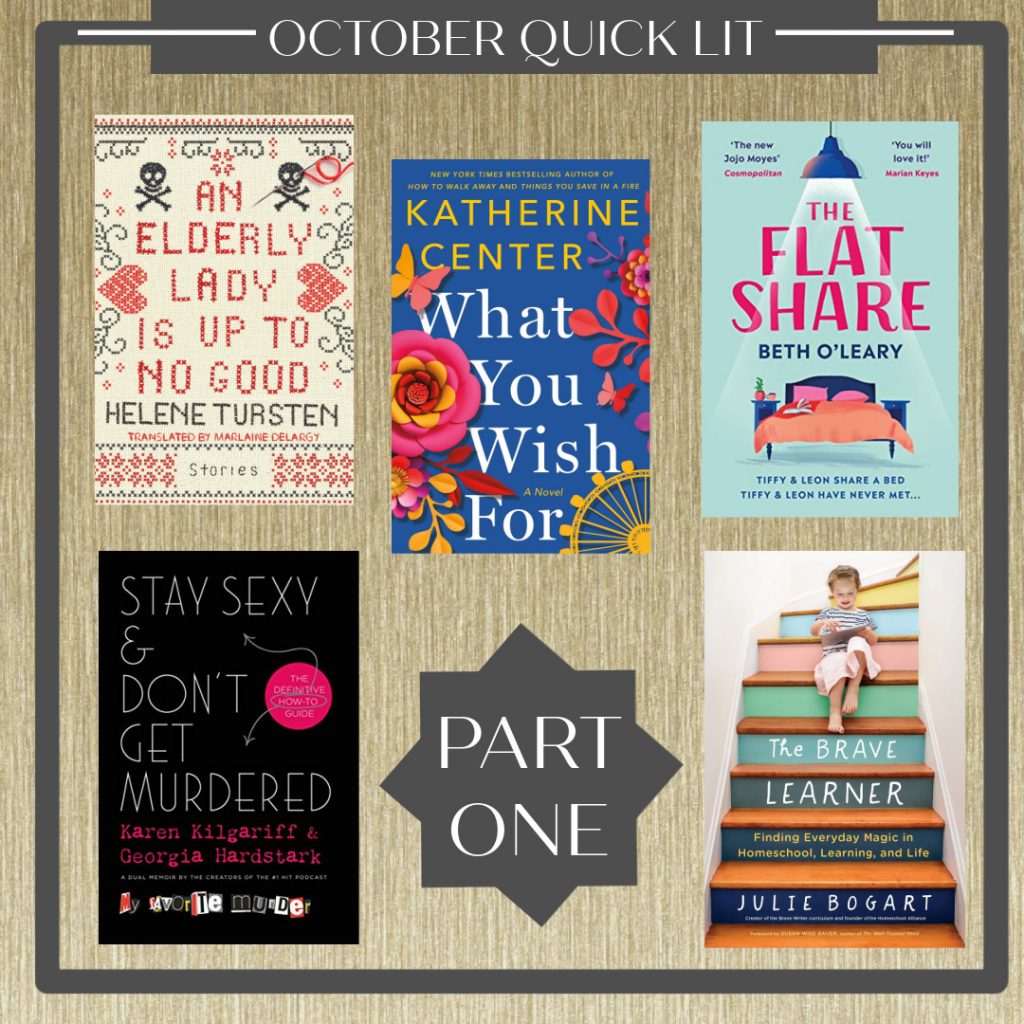 The Brave Learner: Finding Everyday Magic in Homeschool, Learning, and Life, by Julie Bogart: I have rarely felt as confident about a decision as I have been feeling about our choice to homeschool Charleston. I've been happy with how our schooling is going, but am also open to new ideas, strategies, and approaches, which is what led me to read The Brave Learner. Written by a veteran homeschool mom of five, the book encourages an informal approach to schooling in which parents cultivate curiosity by incorporating natural learning into everyday life. Bogart encourages parents to make learning exciting and accessible through the four forces of enchantment (surprise, mystery, risk, and adventure) which tap into the four capacities for learning (curiosity, collaboration, contemplation, and celebration), each accessed through the mind, body, heart, and spirit. Bogart uses examples from her own homeschooling experience to show parents how to implement these educational "superpowers." Throughout the book, she invites families to educate—and to live—with joy, freedom, and courage.
As a former classroom teacher, I naturally gravitate toward a more traditional homeschooling model, so I found this book—which embraces aspects of unschooling—insightful and helpful as I attempt to make our schooling less sterile and more of a lifestyle. I see the value in Bogart's freestyle methods and emphasis on genuine learning that goes beyond rote memorization and bookwork, and I especially loved her ideas for outside-the-box methods of teaching specific subjects.
While Bogart assures parents that her go-with-the-flow teaching methods are meant to ease a homeschooling parent's workload, the opposite is true for moms like myself who crave structure and schedules; to that end, I won't be adopting all of her suggested ideas. I cannot fully get onboard with her child-led approach to learning or her critical views of classical teaching methods. However, I appreciated the reminders of how families can benefit from lightening up, seeking non-traditional learning opportunities, and pursuing the joy of home education. Most of all, I came away with a renewed enthusiasm for making our own little home school a place of happy, ENCHANTED learning.
My Rating: 4 Stars.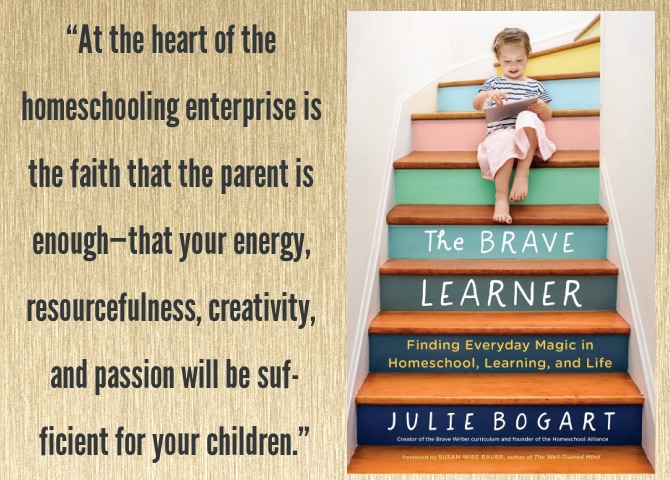 ---
What You Wish For, by Katherine Center: Samantha Casey is a twenty-something school librarian with a quirky fashion sense, a passion for teaching, and joyful enthusiasm that—after a difficult childhood—has been earned through years of careful cultivation. Sam's happy little world is turned upside down when her friend and school principal dies unexpectedly and Sam's former love interest, Duncan Carpenter, is brought in as his replacement. Sam is shocked by Duncan's arrival, especially when it becomes apparent that this Duncan Carpenter is not at all the goofy, prank-playing teacher Sam remembers working with years ago; this serious new Duncan, with his passion for school safety and his obsession with following the rules, seems set upon destroying the school that Sam loves. Sam is determined to rescue her school, and she won't let anything—not even lingering romantic feelings for Duncan—get in her way.
This is the third book I've read by Katherine Center, and though her other books haven't been favorites of mine, the premise of this one was too intriguing to pass up, and I'm so glad that I decided to give it a read. Sam and Duncan are delightful characters—flawed yet lovable, and though not at all believable, extremely easy to root for. I enjoyed the school setting, the librarian element, and the emphasis on themes of courage, authenticity, resilience, and the pursuit of joy. Some of the plot points were pretty over the top, but the book's humor and warmth made it easy to suspend my disbelief and settle into a sweet story. This optimistic tone also made the presence of one very graphic/violent scene tolerable, but just barely (and if you are a sensitive reader you may need to skip this book because of it.) Despite that one regrettable scene, this is a feel-good romantic comedy with some depth and a lot of heart. I highly recommend the audio.
My Rating: 4 Stars.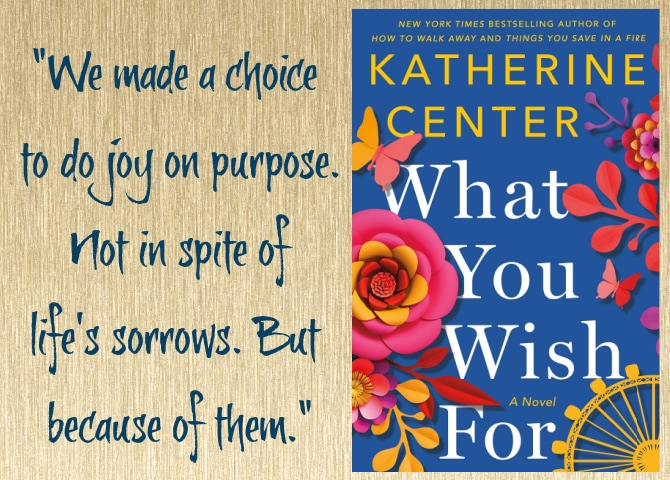 ---
Stay Sexy & Don't Get Murdered: The Definitive How-To Guide, by Karen Kilgariff & Georgia Hardstack: I'm not a fan of true crime and don't listen to My Favorite Murder, but I'd heard such good things about this essay collection from that podcast's hosts that I was eager to give this audiobook a listen. In Stay Sexy and Don't Get Murdered, Karen and Georgia share personal stories of their own struggles, from depression and eating disorders to poor self image and lifelong battles against the patriarchy. Their storytelling is crass and irreverent, yet the lessons they've learned are powerful and timely, and their journeys to success and emotional health are relatable and inspiring.
I admired the authors' candor and enjoyed the easygoing narration (which worked great in the audio format). A lot of their advice on self-advocacy and emotional healing is spot-on. However, the foul language was a big turnoff for me, as was the authors' tone of disrespect and angry female empowerment. I'm sure many of the anecdotes would have been more interesting if I were a fan of the podcast, but having no previous connection to Karen and Georgia, many of their stories felt incomplete and not particularly relevant.
There is almost no discussion of true crime in this book, which suited my tastes, but I have a feeling fans of My Favorite Murder might wish there was more crime talk. Then again, the book seems to have excellent reviews from the hosts' listening fans, so maybe not. . . .
My Rating: 2.5 Stars. (Rounded down to 2 stars on Goodreads.)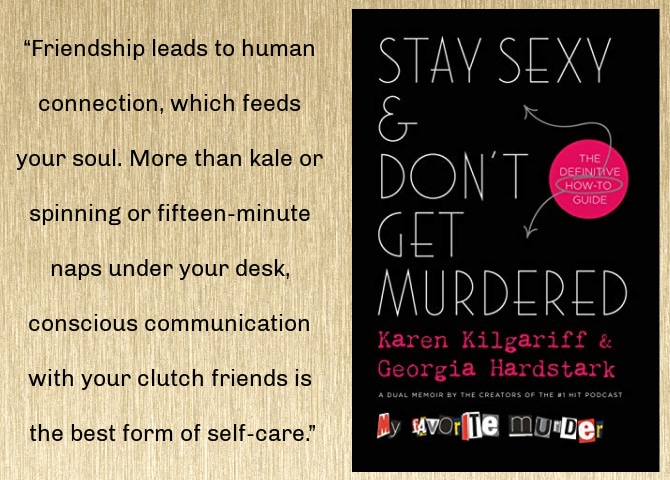 ---
The Flatshare, by Beth O'Leary: Tiffy and Leon are flatmates, yet they've never met. As a nurse, Leon works nights and sleeps in the apartment's single bed during the day, while Tiffy occupies their shared home at night. The living situation seems odd to their friends, but it meets their needs, and they enjoy getting to "know" one another through observations of each other's living habits and the notes they leave for each other around the flat. Slowly, Tiffy and Leon's lives begin to intertwine. But between Tiffy's possessive ex-boyfriend and Leon's incarcerated brother, life in this apartment is about to get pretty complicated.
This is a sweet little romance with a fun premise. Tiffy and Leon are likable (albeit prototypical) protagonists, and I enjoyed watching their relationship develop through their note writing. While I didn't love this book as much as many seem to, I'll admit that my overall lack of enthusiasm for romance might have something to do with that. . . . I thought the pacing was a little uneven—I could have used more build-up and less end-drama—and there were a few too many side characters. Still, this is a fun and easy read, if not a standout in the genre.
My Rating: 3.5 Stars. (Rounded down to 3 Stars on Goodreads.)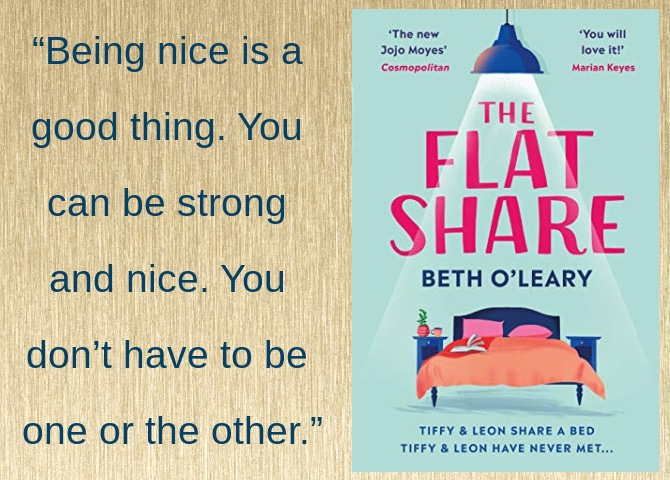 ---
An Elderly Lady Is Up To No Good, by Helene Tursten: Maud is a spunky 88-year-old Swedish woman with discretionary income, a love of travel, and a penchant for murder. Maud's strong sense of justice and self-preservation are not unusual, but her willingness to kill anyone whom she deems a "problem" is. In this collection of four short stories, we witness Maud's disposal of some pesky neighbors, the paramore of a long-ago lover, and a local celebrity. Of course, Maud easily gets away with her criminal lifestyle, because who would suspect this sweet old lady of murder?
Despite the rather morbid premise, this is a humorous book featuring a quirky character whom I couldn't help but like. (She reminded me of Miss Marple if that iconic spinster was the criminal rather than the detective.) There is murder, of course, but thankfully no gore. I would have liked more depth of story—or perhaps just more than four stories in this very tome—but for a short story collection, this was an enjoyable read. Though technically not a mystery, it's perfect for fans of the cozy cottage mystery.
My Rating: 3.5 Stars. (Rounded down to 3 stars on Goodreads.)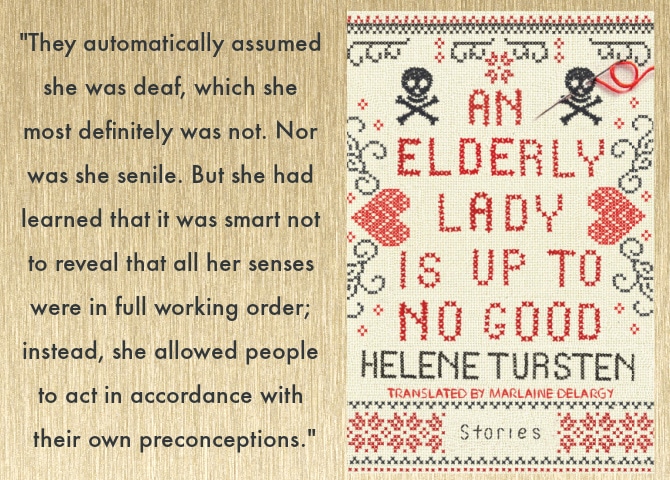 ---
As a reminder, I am shifting to a Monday/Thursday schedule for the foreseeable future, so you will not be seeing a post from me this Wednesday. I'll meet you here Thursday with a roundup of some of my favorite links from recent weeks. And Part Two of this month's book reviews is headed your way next Monday. Have a wonderful, book-filled week!