As you've likely noticed, I am fairly stingy with my star ratings. While I tend to enjoy (or at least find something to like about) most of what I read, it takes a really special book to earn that fifth star from me. The books I'm sharing in today's batch of reviews each had that extra *something* that pushed them into 4.5 or 5-star territory. (Two of the 4.5-star books were good enough to make it onto my Best Books of 2019 list, and all three were rounded to 5 stars for my Goodreads reviews.) All five are books I haven't been able to stop thinking about, and I am so excited to be sharing my reviews of them with you today!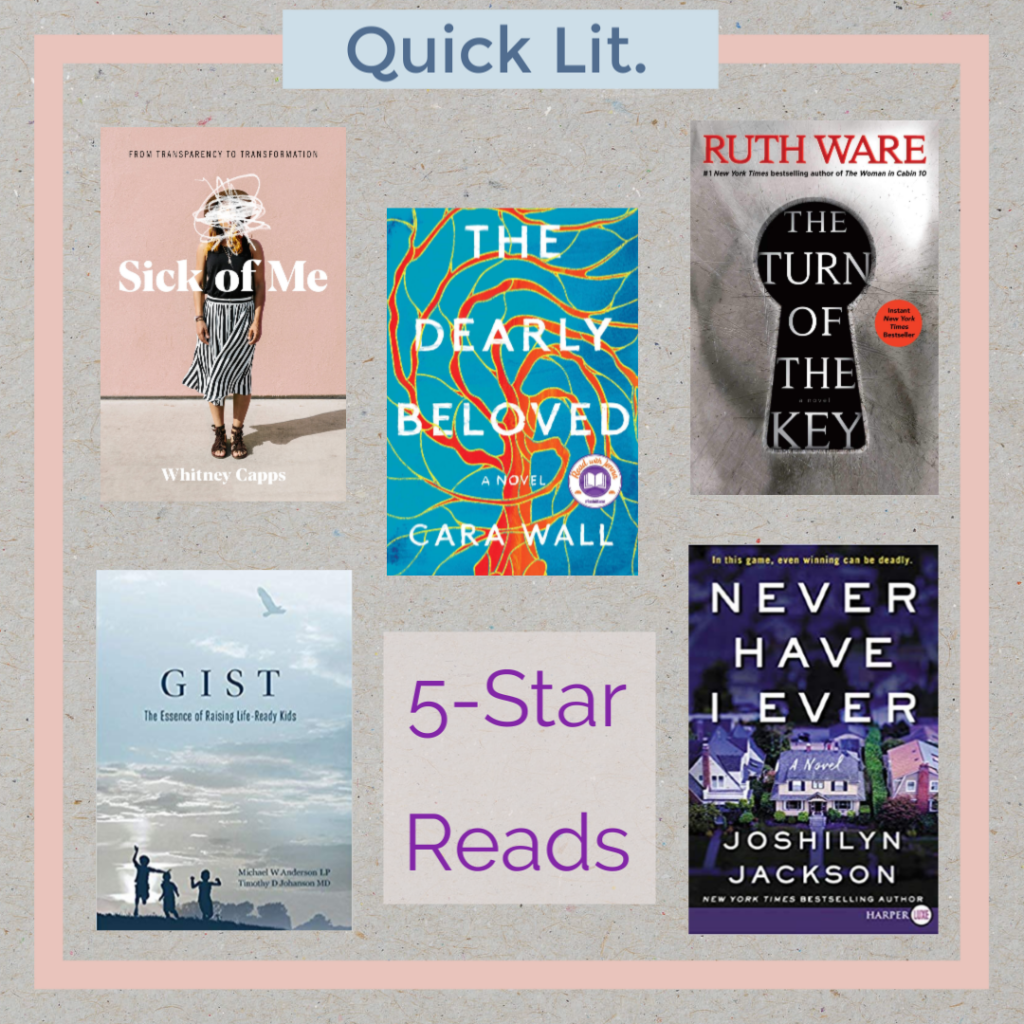 Gist: The Essence of Raising Life-Ready Kids, by Michael W. Anderson and Timothy D. Johanson: I heard the authors of this book on a Focus on the Family podcast, and their message really resonated with me. Their perspective is very similar to that discussed in Parenting With Love and Logic and How To Talk So Kids Will Listen; both of those books discuss parenting principles I am completely on board with but have difficulty implementing, so I knew a refresher was in order.
The core message of Gist is that our aim as parents is to prepare our children for adulthood, and that we need to nurture a significant understanding of authority, discipline, disappointment, relationship, and achievement in order to prepare them for life. The book begins with a description of life's foundational characteristics: love, learning, living, and joy. The second section of the book teaches solid parenting principles and strategies, and the third section examines unintended consequences of ineffective parenting.
A few key takeaways from the book that I want to remember:
+ We need to let outcomes (not lectures or helicopter parenting or extreme punishments) be the teachers: bad outcomes result from bad choices, and good outcomes result from good choices.

+ We need to allow our kids to experience the harsh realities and disappointments of life so that they become resilient and gain a more realistic perspective on what to expect out of life.

+ Most of what you naturally say as a parent is repetitive, unnecessary, and even destructive.

+ Avoid overpraising or shaming to help your child develop an accurate view of him/herself.

+ Instead of telling your child to "do their best," set clear expectations for the outcomes you hope to see.
This book is definitely geared towards parents of older kids, but the principles work well for younger children as well. I know that I am guilty of coddling my children, overparenting, and relying on threats and consequences rather than natural outcomes. . . these are all areas I should begin to work on now, rather than waiting until my kids are older to attempt to put them into practice.
In addition to offering a plethora of solid parenting advice, this book is engaging, easy to follow, nicely organized, and offers a good balance of principles and examples. It definitely ranks high on my list of recommendation-worthy parenting books.
My Rating: 5 Stars.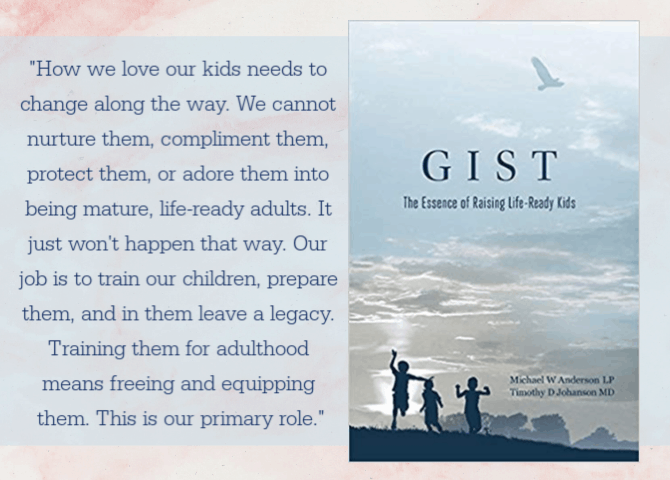 ---
Sick of Me: From Transparency to Transformation, by Whitney Capps: I heard Whitney Capps on two separate podcasts this past fall and was immediately drawn to her message and commitment to Biblical truth. I re-listened to both podcasts (something I almost never do) and downloaded her book, eager for more.
In Sick of Me, Capps examines what it means to be set apart as believers. She explores sanctification and spiritual growth, how these differ from self help and how we often care more about looking holy than actually pursuing genuine holiness. She also addresses the topic of transparency, something that has become a trendy reaction to the unrealistic images plastered all over social media: she acknowledges that many of us tout our own authenticity and seek it in others as a way of feeling better about ourselves and avoiding the work of overcoming our sin. And she looks at what it means for us to be transformed from the inside out.
I resonated with nearly every word in this book. Like Capps, I am guilty of "airing out my dirty laundry" without being willing to open up to God's transformative work in me. Capps does an excellent job of distinguishing justification from sanctification, making a case for the later without conveying the message that our actions are important but that they do not save us (only Jesus' sacrifice could do that). She also gets to the uncomfortable root of many issues present within the church today—issues I'd never heard addressed in this way. I was convicted by nearly every chapter, especially the discussion of how we crave authenticity of the negative variety in others because it helps us feel better about ourselves, and how we are quick to dismiss people who "look good" as inauthentic or saccharine simply because theIt lives don't align with our own life experiences.
I would love to reread this book with a group of Christian women,as I know it would provide excellent discussion points and have the potential to transform the dynamic within a church group.
My Rating; 4.5 Stars.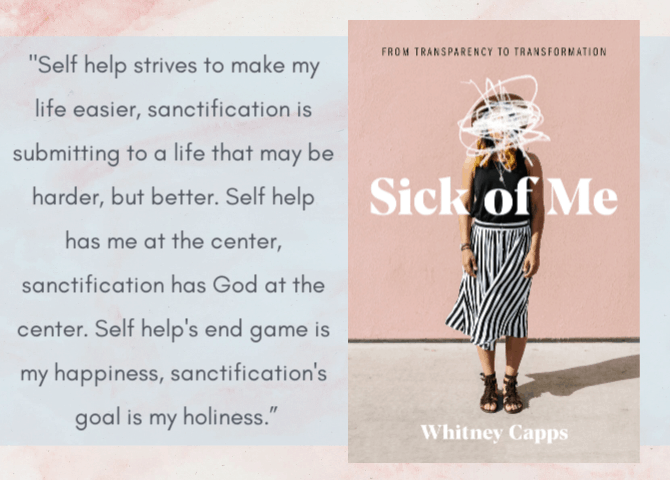 ---
Never Have I Ever, by Joshilyn Jackson: Amy Whey is a happily married suburban housewife who loves her life as a scuba instructor, mom to an infant son, stepmom to a spunky teen daughter, and best friend to her neighbor Charlotte. But her perfect world begins to crumble when a mysterious new neighbor, Roux, crashes their monthly book club and initiates a spicy game that leads the neighborhood women to expose their darkest secrets. Amy soon realizes that the game was targeted specifically at her, and that Roux plans to use what she knows about Amy's past to destroy the life she has so carefully constructed.
Soon, Amy is wrapped up in a dangerous game of deceit and betrayal as she attempts to combat Roux's manipulation and threats. She is forced to confront her worst sins—sins she thought were long buried—and decide what measures she is willing to take in order to protect herself, her image, and everyone she loves.
I've had mixed feelings about Joshilyn Jackson's books in the past, and I was unsure how she would handle this new genre of domestic suspense. The answer? Quite masterfully! This novel is unputdownable, with a terrifying but compelling storyline, nuanced characters, and intriguing themes of identity, self image, and deception. I have rarely hated a fictional character as much as I hated Roux, yet I was utterly engrossed in the dynamic between Roux and Amy and the inner demons each of them faces and brings out in the other. There is a lot of psychological manipulation and introspection going on, yet the plot moves forward at a decent pace. I was also intrigued by the scuba diving descriptions and metaphors, as this is something I haven't read about before. And the eating disorder element was disturbing yet very well written (though possibly triggering for some).
If you're a fan of smart, subtly literary thrillers, you'll love this.
My Rating: 4.5 Stars.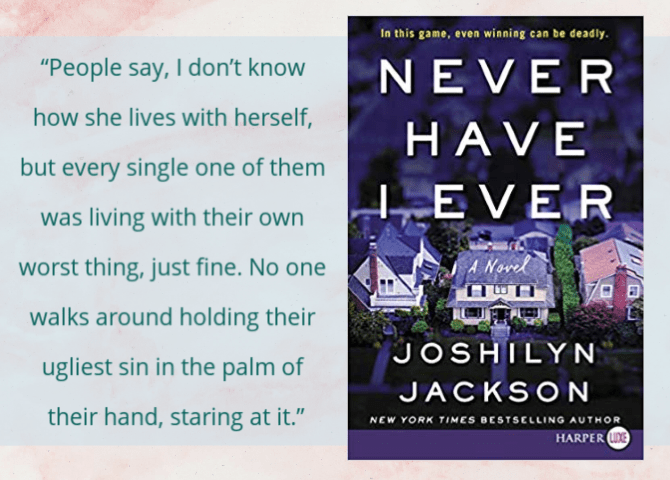 ---
The Dearly Beloved, by Cara Wall: Charles and James meet in Greenwich Village in 1963 when they are each called to pastor a historic Presbyterian church. The two form a strong pastoral team: Charles is academic yet pastoral, a steadying presence to James's zealous passion for activism and social change. Their wives, too, are opposites: Charles is married to Lily, a staunch atheist who has embraced a life of solitude and sadness after being orphaned as a young teen, whereas James's wife, Nan, is the kindhearted, pious daughter of a pastor.
In this novel that spans decades, we follow the lives of these four individuals, from their formative years and each one's embracing or rejecting of faith, to their courtships and marital trials, to the challenges they face in their lives and their church.
I don't think I've ever read a novel quite like this one. Though not explicitly Christian, it utilizes the unique faith journeys of each protagonist to explore the nature of faith—how faith is gained and lost, what it is and isn't, why it is necessary, and how it serves us. It is also a story of love and marriage, of the ways we relate to our spouses and the steps we are willing to take for those we love. Finally, it is a novel of friendship, partnership, and the ways that other life forces play into these dynamics. These deeper themes are the undercurrent of a story that takes some surprising routes, touching on everything from alcoholism to biracial couples to infertility to autism. It's a lot to pack into a single book, yet somehow they all fit, without detracting from the novel's core messages.
After reading so many amazing reviews of this book, I was almost afraid to read it for fear that it would not live up to my expectations. Instead, it exceeded them! The Dearly Beloved offers everything I love most in a novel: clear, dense prose; multifaceted characters; varying points of view across an extended time period; and intriguing reflections on God, society, and human nature. This wasn't a quick read for me, as every sentence is loaded with meaning and I didn't want to miss a thing. It also wore me out emotionally—in good ways (mostly), but I had to take it in small doses to allow myself space to process the story and the ideas being presented.
It's early in the year to be calling out favorites, but I have no doubt that this will be on my year's list of best books, probably topping the list.
My Rating: 5+ Stars!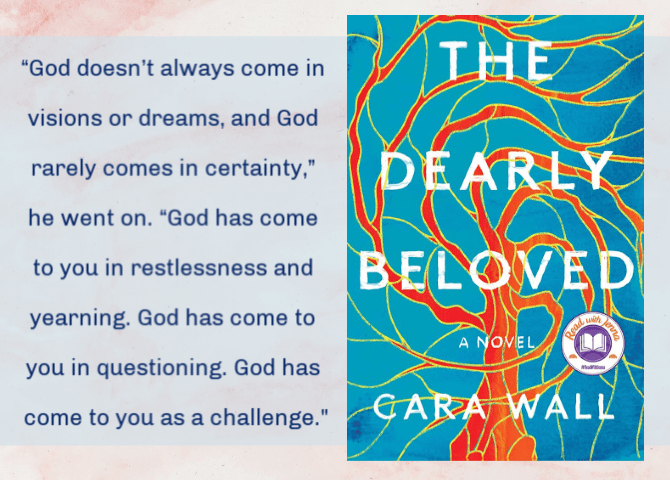 ---
The Turn of the Key, by Ruth Ware: With many years of childcare under her belt, Rowan Caine recognizes a prime nannying job when she sees it. So when she stumbles upon an ad for a nannying position in a luxurious house with an amazing salary, she jumps at the chance to apply. But after beginning work at Heatherbrae House, she quickly realizes she has walked into a nightmare complete with three challenging charges who seem to hate her, cameras watching her every move, and evidence of ghosts roaming the house that is plagued by a turbulent history.
Writing to her lawyer from her prison cell, Rowan attempts to explain what went wrong in her time at Heatherbrae House and how her presence there resulted in the death of one of her employer's young daughters. She knows that she is guilty of many wrongdoings but insists she is innocent of the murder she has been accused of committing.
I read this book on Halloween week and I can't imagine a more fitting holiday read: though not gory or gratuitous, Turn of the Key is one of the most suspenseful books I've encountered in a long time! Ware has crafted a complex, atmospheric mystery that had my spine tingling from start to finish and kept me guessing until the very last line. The novel is a slow burn but has enough intrigue scattered throughout to hold my interest, and I loved the way the pieces all come together in the last couple of pages. This is by far my favorite from Ruth Ware! Highly recommend the audio version.
My Rating: 4.5 Stars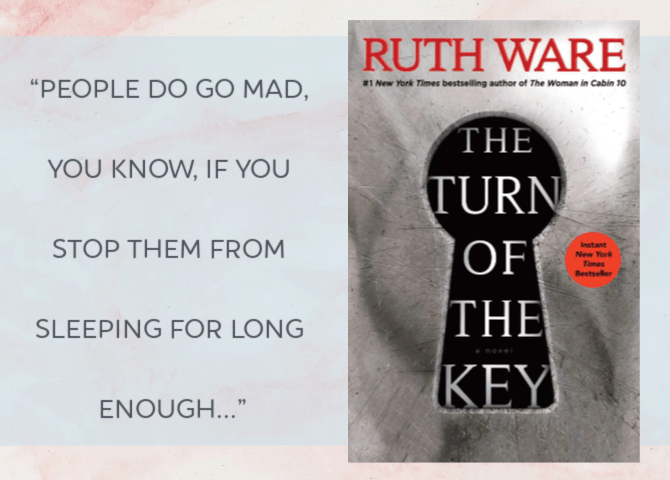 ---
Have you read any of these books? I'd love to hear your opinion! What was the last 5-star book that you read?
I'm linking up with Modern Mrs. Darcy to share what we've been reading lately. If you're here from the linkup, thanks for stopping by! For more of my recent reviews, check out this roundup of books about books . . .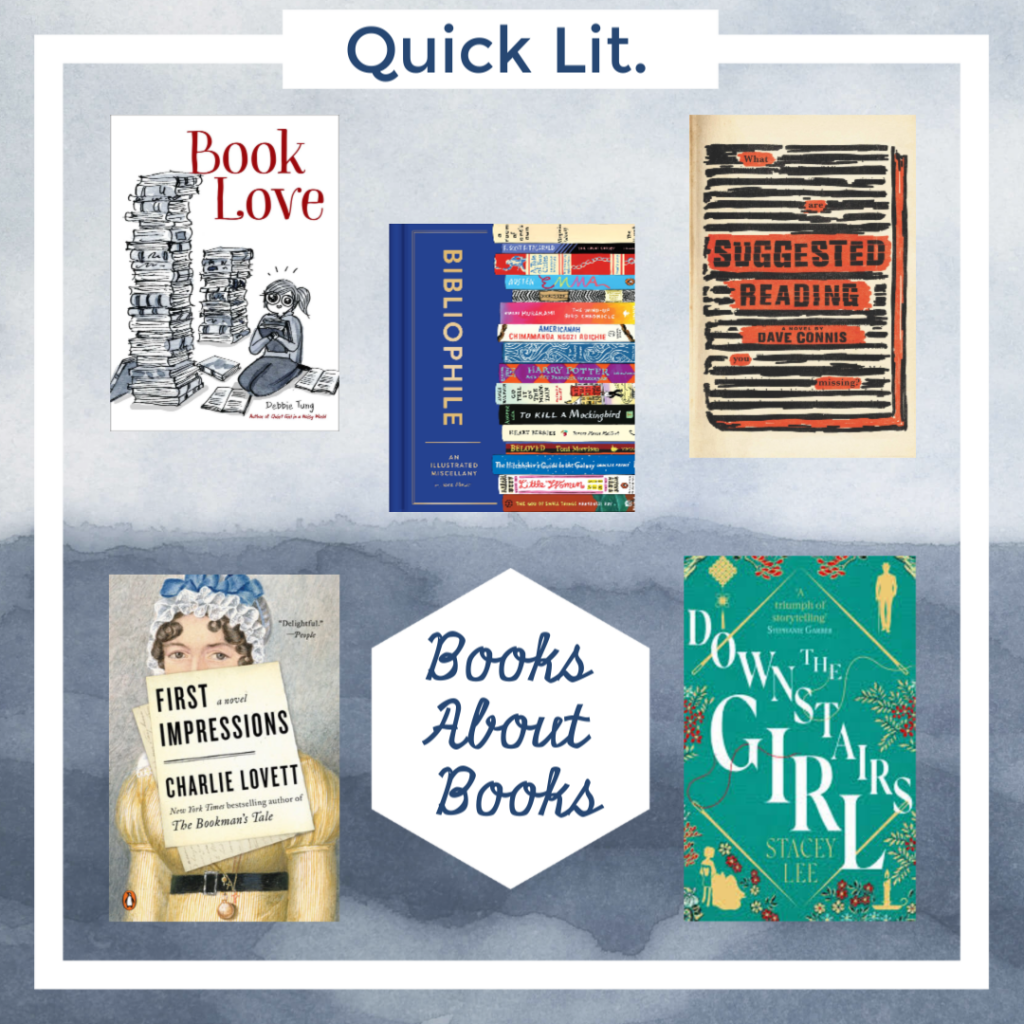 or this post of stories involving complicated families.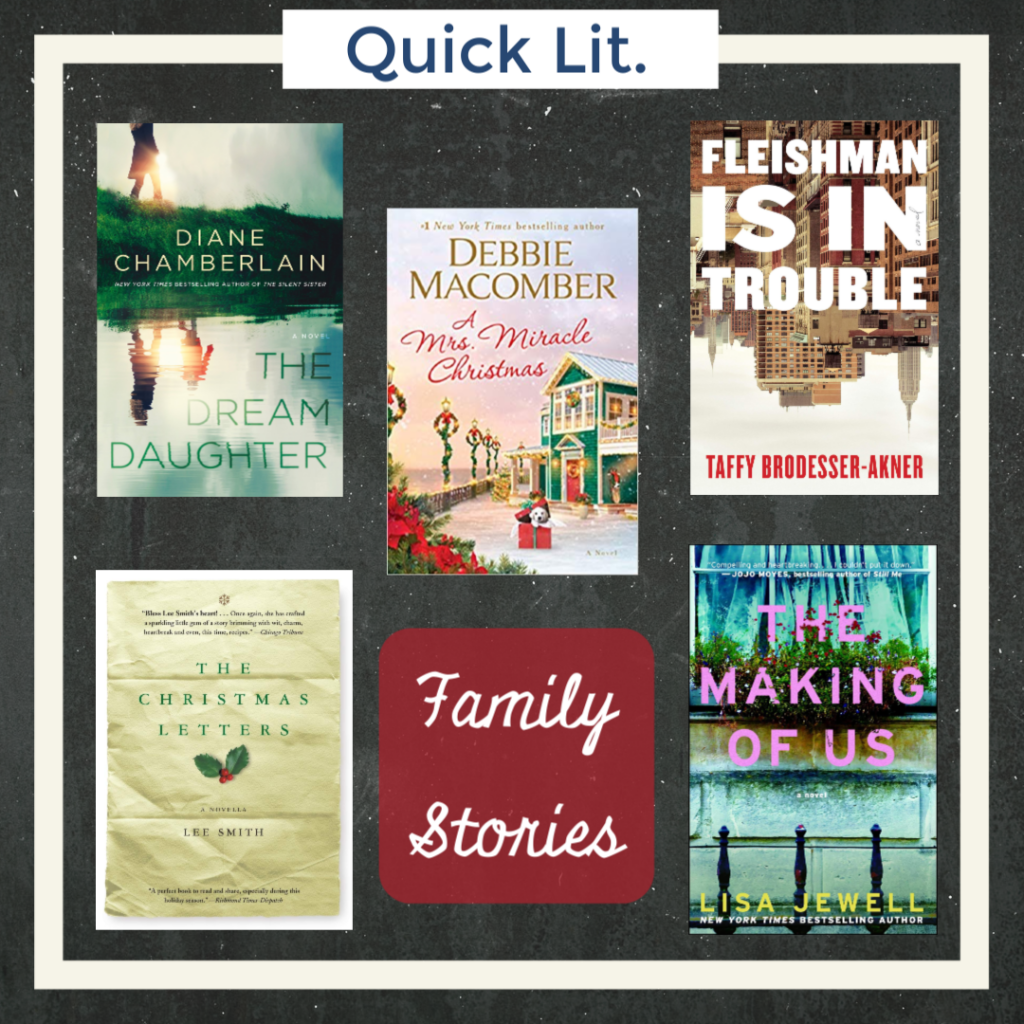 And check back here next Monday when I'll be sharing the self-help books I've read lately.