December is my favorite time of year—not just because I adore Christmas, but also because it's a month chock-full of recaps, reflections, and Best Of lists. I enjoy seeing these sorts of inventories from others and I love compiling them myself, which is why I'll be rolling out a few of them over the next couple of weeks! And there's no better place to start than with a recap of my reading life in 2019.
For many readers, the act of documenting and analyzing their books would take the joy out of reading, but for me, it enhances it! It's fun for me to a do a deep dive into the books I read over the course of a year. Now that I've been doing this for a handful of years, it's interesting to see patterns that emerge in my reading life, and how the books I choose as my favorites have changed over the years. (See past Reading Recaps: 2018, 2017, 2016, 2015, 2014, and 2013.)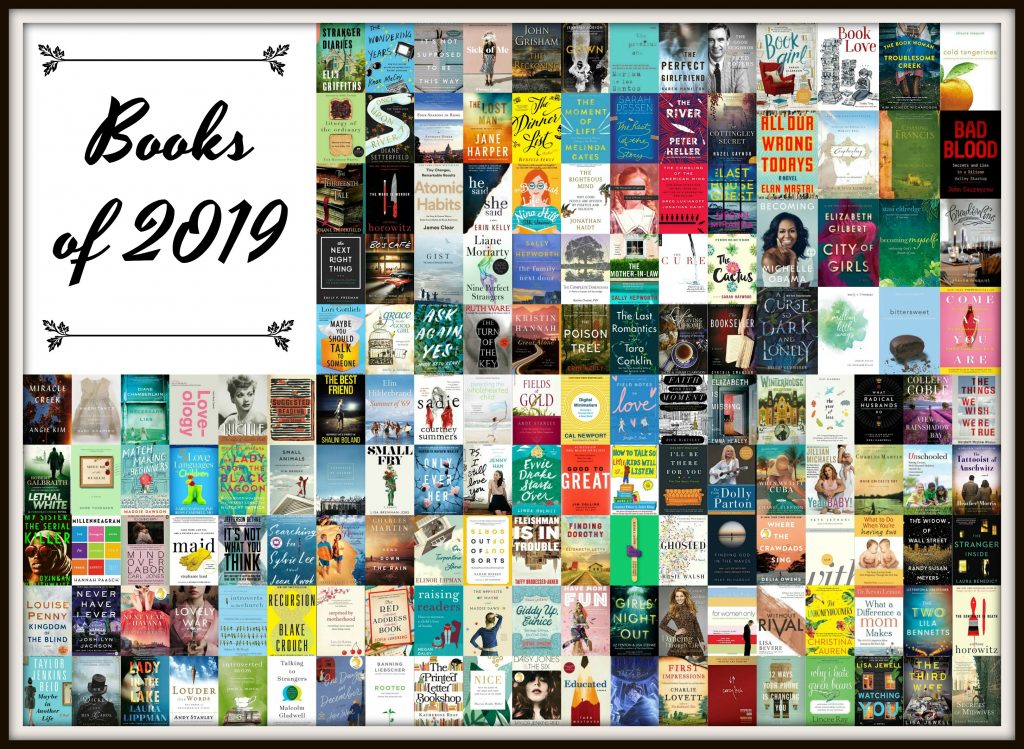 I read 170 books in 2019. (For those who are curious, I use a December-November calendar for my book recording, which is how I have these stats mid-December, while still planning to read more books before ringing in the new year.) This is down quite a bit from 2018's record number of 205 books read, and there are a number of reasons for this: 1) I was pregnant for nine months of the year, which meant I spent more time sleeping and less time reading; 2) we moved to a new house, another significant event that cut into my reading time; 3) I read longer books this year: according to GoodReads, the average length of my books in 2019 was 309 pages, up from my average of 287 pages in 2018; and 4) I began listening to several new podcasts, which reduced my audiobook time.
I'm not disappointed in myself for having read less this year; in fact, it was actually a goal of mine to focus on quality over quantity in my reading life in 2019, and I believe I succeeded on that front. I found much more enjoyment in reading this year, and chose books I wanted to read instead of simply racing through titles to add to my book count.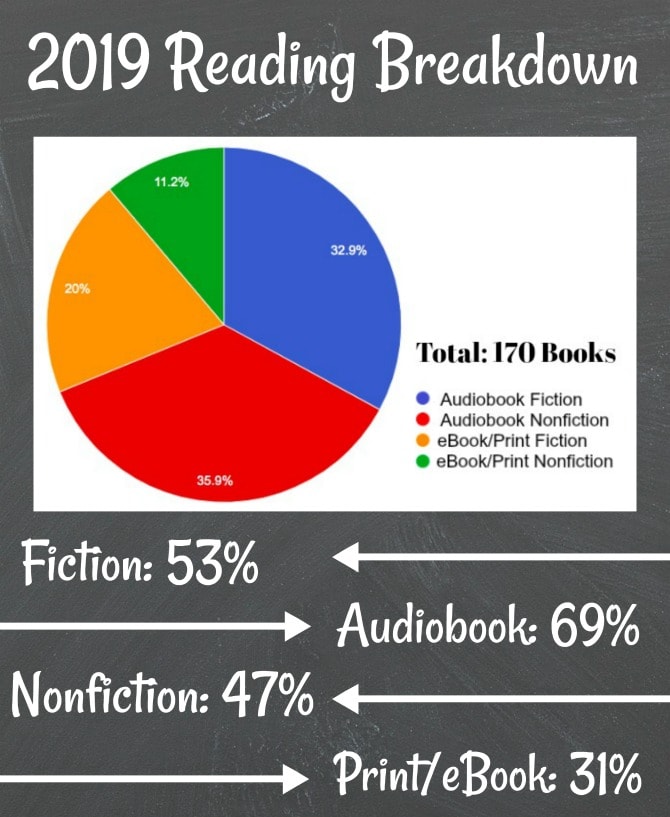 While I still consumed a majority of my books via audio this year, my ratio of audiobooks to print/ebooks was slightly lower in 2019 (down from 72% last year) which is an ongoing goal of mine. I find I enjoy and retain books more when I read them with my eyes, but it's hard for me to let go of the convenience of audiobooks. In 2020 I will continue aiming to read more with my eyeballs and less with my ears, but I've come to accept that at this stage in my life, audiobooks are my only realistic option for consuming as many books as I want to.
Over the years I've begun to read much more nonfiction; this year, nonfiction titles made up nearly half of the books that I read. I believe this balance reflects my interests: I love diving into a novel, but have grown to enjoy nonfiction almost as much. Usually, unless it's a book I know I'll want to do a lot of highlighting in, I prefer to listen to nonfiction, reserving ebook time for novels. (Tellingly, of my favorite books listed below, only three of the fiction titles were audiobooks, while five of the nonfiction books were read on audio.)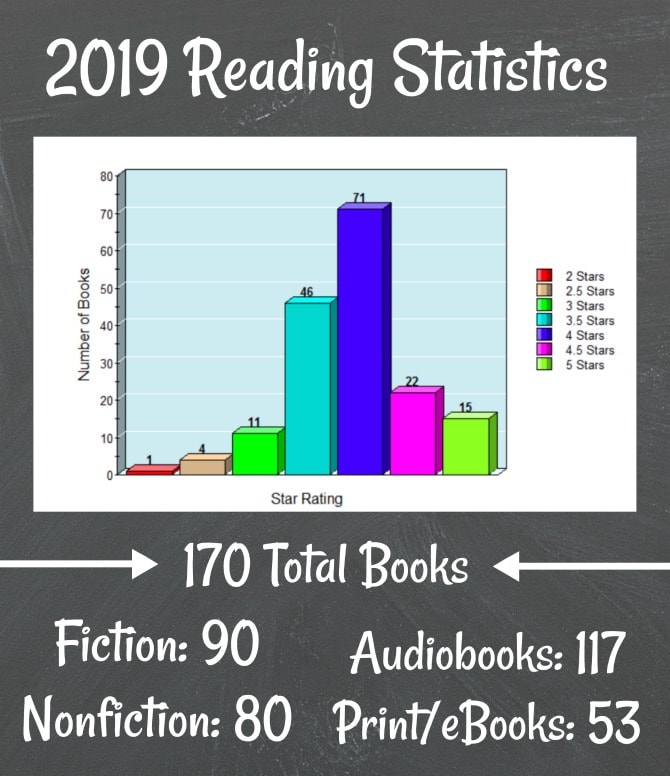 Alright, enough of the literary navel-gazing. It's time for what you're really here for: my list of favorite books of the year! As you can see in the chart above, I had great success with my books this year, with a whopping 37 titles receiving 4.5 or 5 stars, so you can imagine how difficult it was for me to narrow my favorites down to just twenty.
When deciding on my favorite books from the year, I chose books that have really stuck with me and not necessarily those that received the highest ratings right after I read them. Some of my 5-star reads from the year didn't make this list, while a number of 4.5-star books did. Every one of these books is a title I would wholeheartedly recommend!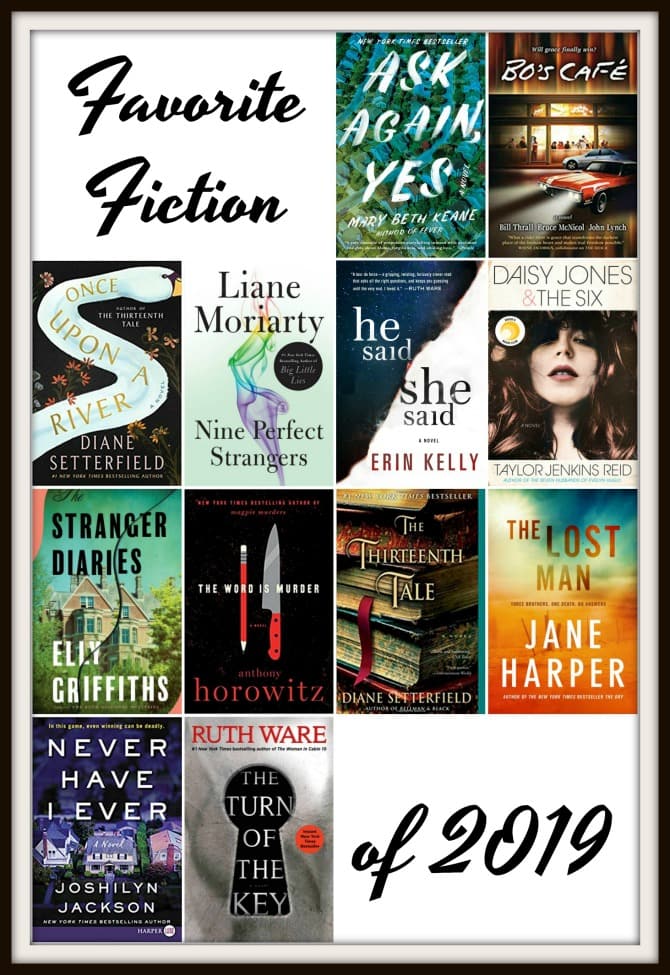 Stranger Diaries, by Elly Griffiths: A high school English teacher comes face-to-face with murder when her best friend is killed. Much to her horror, her own diaries seem to have played a role in the crime. Dark and atmospheric, with wonderful ties to the Gothic tale at the book's center, this spellbinding mystery is chilling in all the best ways. (Original Review)
The Lost Man, by Jane Harper: This riveting mystery follows the lives of a family devastated by loss and perpetually at the mercy of the relentless Australian Outback. Though it's less of a thriller than Harper's previous novels, I was captivated by the challenging themes and impeccable storytelling. (Original Review)
The Word is Murder, by Anthony Horowitz: In this absorbing British procedural mystery, a fictionalized Anthony Horowoitz (the author himself) is drawn in against his will to serve as Watson to rogue detective Daniel Hawthorne's Holmes. Together they must solve the mystery of a woman who, one day prior to her death, had walked into a funeral parlor to plan her own funeral. A great story, creatively told. (Original Review)
Never Have I Ever, by Joshilyn Jackson: When the enigmatic new neighbor turns up at the book club of a happily married suburban housewife, she—along with the rest of her neighbors—finds herself wrapped up in a life-destroying game of deceit and betrayal. Replete with challenging themes and a brilliantly devastating villainess, this mystery is a departure from Jackson's usual fare, and I am HERE for it! (Not Yet Reviewed)
Ask Again, Yes, by Mary Beth Keane: This family saga spans decades and shares the stories of two neighboring police officers, their wives and children, the tragedy that tears their families apart, and the romance that manages to blossom in the midst of trauma. The dramatic yet realistic story of resilience, loyalty, and redemption was my #1 favorite book of the year, and I haven't been able to stop thinking about it since reading it over the summer. (Original Review)
He Said/She Said, by Erin Kelly: Young and in love, two eclipse chasers are having the experience of a lifetime at a festival celebrating a solar eclipse when they witness a crime that will haunt them for the rest of their lives. Twisty, terrifying, and totally engrossing—although I hated the ending. (Original Review)
Bo's Café, by John Lynch, Bill Thrall, and Bruce McNicol: Written by a team of pastors, his relatable allegory is filled with powerful life lessons and offers an amazing illustration of the importance of authenticity and vulnerability within community. This would be an excellent group read for a newly-formed accountability group. (Original Review)
Nine Perfect Strangers, by Liane Moriarty: This fun, smart, and engaging novel is the story of nine individuals who meet at a remote health resort for a silent retreat. While the guests are hoping for rest and renewal, the retreat soon takes a deliciously dramatic turn. This ranks right up there with What Alice Forgot as my favorite from Liane Moriarty. (Original Review)
Once Upon a River, by Diane Setterfield: Dripping with symbolism and marked by heartbreak and redemption, this bewitching tale centers around an extraordinary event that takes place one midwinter's night in an ancient inn on the banks of the Thames. Though it isn't a quick read, I was captivated by the evocative setting, masterful storytelling, and nuanced themes and characters. (Original Review)
The Thirteenth Tale, by Diane Setterfield: Yep, back-to-back titles by the same author, but each novel earned its spot on this list. The Thirteenth Tale follows a young biographer who is invited by her favorite author to document the alluring yet grotesque story of feral twin sisters. This love letter to the reading life unites gothic sensibilities with an utterly spellbinding mystery. A VERY close second to Ask Again, Yes, as favorite novel of the year! (Original Review)
Daisy Jones and the Six, by Taylor Jenkins Reid: Told through a series of interviews, Daisy Jones is the behind-the-scenes look at an iconic 1960s rock band. The book got a lot of hype this year and deserved every bit of it. This is amazing on audio; definitely the best audiobook I listened to this year, possibly ever! (Original Review)
The Turn of the Key, by Ruth Ware: One of the most suspenseful books I've read in a long time, this spine-tingling thriller about a nanny who finds herself in a possibly haunted home kept me guessing until the very last line. This novel is a slow burn, but I loved how it came together in the last couple of pages. (Not Yet Reviewed)
RUNNERS UP FOR FAVORITE FICTION:
Next Year in Havana, by Chanel Cleeton (Original Review)
Matchmaking for Beginners by Maddie Dawson (Original Review)
The Mother-In-Law, by Sally Hepworth (Original Review)
Evvie Drake Starts Over, by Linda Holmes (Original Review)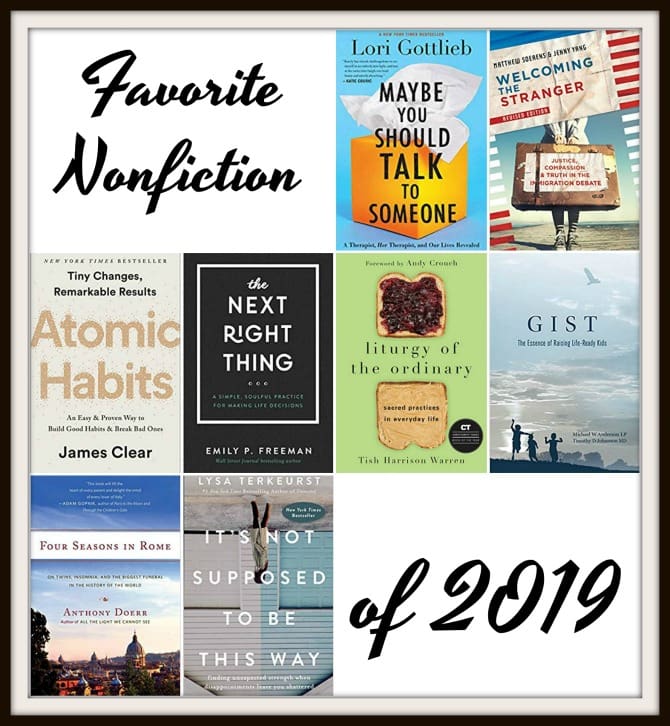 GIST: The Essence of Raising Life-Ready Kids, by Michael W. Anderson and Timothy D. Johanson: This fascinating parenting book provided me with a new, effective framework for disciplining my children. Though geared towards parents of older children, we've been having great success in applying these principles with Charleston. This is a book I'll want to return to frequently throughout my parenting journey. (Not Yet Reviewed)
Atomic Habits: An Easy & Proven Way to Build Good Habits & Break Bad Ones, by James Clear: An engaging tutorial on the why and how of habit change. I really enjoyed the infusion of psychology, neuroscience, and life hacks into what could have been a dry self-help book. (Original Review)
Four Seasons in Rome: On Twins, Insomnia, and the Biggest Funeral in the History of the World, by Anthony Doerr: In this unique travel memoir, Anthony Doerr documents quotidian moments spent in one of the world's most romantic cities during his young family's year spent writing and living in Rome. I really want to reread this now that I have some experience with parenting twins! (Original Review)
The Next Right Thing: A Simple, Soulful Practice for Making Life Decisions, by Emily P. Freeman: I've loved all of Emily's books, but this is my favorite. In it, she walks readers through the act of making decisions big and small. This book was a Godsend for Luke and me this year as we were making decisions regarding our move and the birth of the twins. This is hands-down the book I've recommended to the most people this year. (Original Review)
Maybe You Should Talk to Someone: A Therapist, HER Therapist, and Our Lives Revealed, by Lori Gottlieb: My favorite nonfiction read of the year! Gottlieb's memoir reads like a novel, while exploring the history and practice of therapy. An excellent read for anyone who has spent time in a therapist's office or thinks they might like to, this book gave me a new perspective on my own years in therapy. (Original Review)
It's Not Supposed to Be This Way: Finding Unexpected Strength When Disappointments Leave You Shattered, by Lysa TerKeurst: In this—the most inspiring book I've read in years—Lysa shares her journey of learning to trust God in the midst of unfathomable hardship. I was in awe of Lysa's ability to write with such faith and candor in the midst of her trials, not simply in their aftermath. (Original Review)
Welcoming the Stranger: Justice, Compassion & Truth in the Immigration Debate, by Matthew Soerens and Jenny Yang: A difficult but important book about the topic of immigration. This book has completely revolutionized my opinions on this subject. A must-read for every Christian who cares about social justice and is looking for a balanced perspective on this controversial issue. (Original Review)
The Liturgy of the Ordinary: Sacred Practices for Everyday Life, by Tish Harrison Warren: Framed around elements of an ordinary day, this book (written by an Anglican priest) explores daily life through a liturgical lens, modeling how these routine activities can become sacred acts of worship. I appreciated the reminder that God is just as present in our everyday moments as when we are sitting in a church pew. (Original Review)
RUNNERS UP FOR FAVORITE NONFICTION:
Surprised by Motherhood: Everything I Never Expected about Being a Mom, by Lisa-Jo Baker (Original Review)
Sick of Me: from Transparency to Transformation, by Whitney Capps (Not Yet Reviewed)
Grace for the Good Girl: Letting Go of the Try-Hard Life, by Emily P. Freeman (Original Review)
We Need to Talk: How to Have Conversations That Matter, by Celeste Headlee (Original Review)
Bittersweet: Thoughts on Change, Grace, and Learning the Hard Way, by Shauna Niequist (Original Review)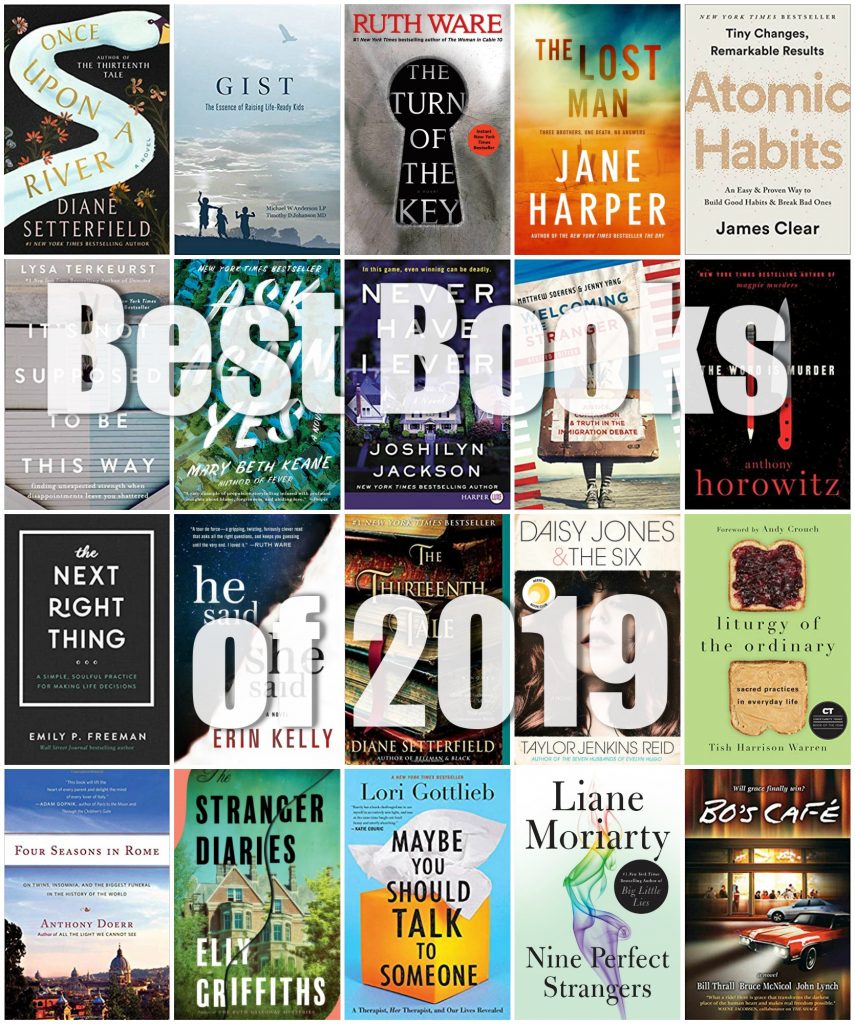 What was the highlight of your reading life in 2019? I'd love to hear about your favorite books of the year!