As promised, I'm back for Part Two of this month's reading wrap up, this time with reviews of the fiction books I've read recently. If you're visiting from the Modern Mrs. Darcy link-up, thanks for stopping by, and be sure to check out Part One for full recaps of the nonfiction books that have graced my bookshelf in the past month.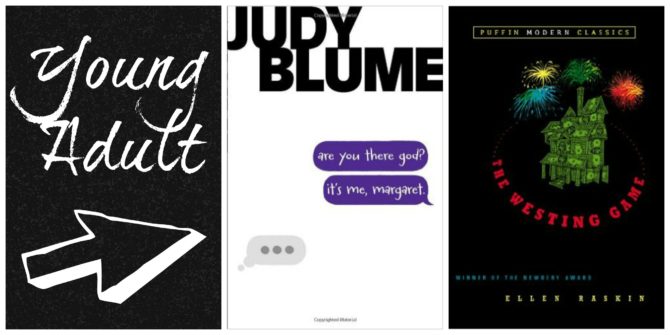 Are You There God? It's Me, Margaret., by Judy Blume: I somehow escaped young adulthood without reading this quintessential YA novel about an 11-year-old navigating puberty, social awkwardness, and religious exploration in 1970s suburbia. Reading this book as an adult in 2016, I was amazed by the innocence of Margaret's experiences; though I'm sure that the book was considered somewhat scandalous when it debuted (and to be honest, I likely would have been shocked myself had I read this book in elementary school), the content pales when compared to YA books of today.
I spent much of the book reflecting on how different (or not?) this book would be, had it been written by an adolescent rather than an adult channeling a younger voice; however, I believe that Blume succeeds in capturing Margaret's attitudes and experiences—so very much like my own at that age. With its timeless themes and palpable emotion,  I can understand why this book is a classic. My Rating: 3.5 stars.
---
The Westing Game, by Ellen Raskin: Samuel Westing is dead, and when sixteen unlikely individuals are invited to the reading of his will, they find themselves involved in a race to solve his murder and thereby inherit his vast fortune. Part And Then There Were None, part 39 Clues, this exciting mystery is filled with colorful characters, more than a few red herrings, and some plot twists that I never saw coming. I wish I had gotten to read this book as a child, but loved it even as an adult.
Side Note: I would not recommend the audio version, as there are quite a few characters that can be hard to keep straight. I started with the audiobook then switched to Kindle halfway through, and found the story much easier to follow visually. My Rating: 4.5 stars.
---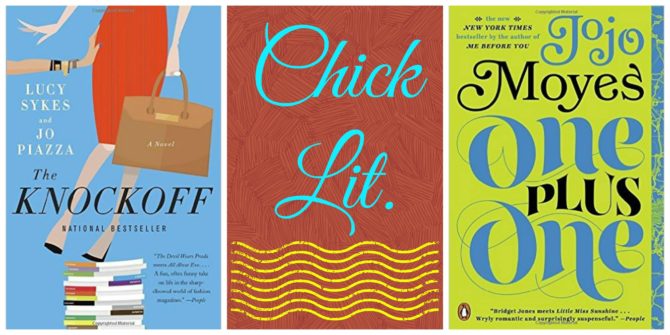 One Plus One, by Jojo Moyes: Jess is a single mom struggling to make a decent life for her brilliant 10-year-old daughter and socially ostracized teenage stepson. When the family learns of an opportunity that could drastically improve their circumstances, they accept the help of a stranger (a tech millionaire), launching this unlikely assortment of characters onto an adventurous road trip across Great Britain. The resulting story is cheesy and totally predictable, but also hilarious and heartwarming.
I have to admit that while I enjoyed this book, I expected a bit more substance: many have cited Moyes as a favorite author, but One Plus One has me wondering what the fuss is all about. My Rating: 3.5 stars.
---
The Knockoff, by Lucy Sykes and Jo Piazza: At 42, Imogen Tate reigns supreme in the fashion world as the Editor in Chief of Glossy magazine. When Imogen returns to her job after a 6-month medical leave, she finds herself unexpectedly dethroned by Eve, her ruthless, twenty-something former assistant who is relaunching Glossy as an app. As Imogen struggles to find her bearings in the digital age, she attempts to make peace with the millennial culture that has settled over her work life.
This Devil Wears Prada read-alike isn't high literature, but it's a lot of fun. Imogen is an endearing character, and while I had a hard time accepting this high-power, middle-aged woman as a technological dinosaur, the generational conflicts she faces are uncomfortably realistic. The novel's depiction of millennials led me to both admire and despise my own generation. My Rating: 4 stars.
---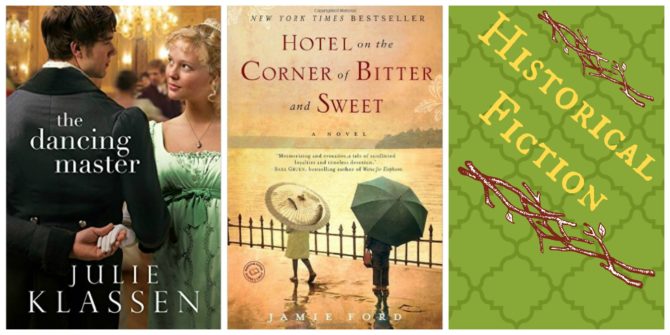 Hotel on the Corner of Bitter and Sweet, by Jamie Ford: In the year 1986, Chinese-American Henry Lee is recently widowed and struggling to establish a relationship with his adult son. When Henry learns that the belongings of Japanese immigrants have been discovered in an old Seattle hotel, he is taken back to the 1940s. . . . Four decades earlier, Henry was the only Chinese boy at a white elementary school, where his attempts to forge his own identity apart from his Chinese parents led to an unlikely relationship with a Japanese girl.
I've read very little about the Japanese internment during WWII and learned a lot from the novel about this shameful period in our nation's history. Ford's treatment of racial themes and cultural/generational conflict is insightful and relevant, and the story he shares is a sweet one. However, the novel's one-dimensional characters, unimaginative prose, and predictable storyline keep this book from reaching its full potential. My Rating: 3 stars.
---
The Dancing Master, by Julie Klassen: Essentially Footloose set in Regency England, The Dancing Master is a light-hearted read about a dancing master who attempts to bring new life to an unhappy British village. Had it been written by any other author, I would have easily forgiven the novel's slow pace and lack of plausibility. However, Julie Klassen is my go-to author of Christian Historical Fiction, so I was expecting much more from this book. With her other novels, Klassen effortlessly weaves faith discussions into her compelling narratives, but the brief Christian references in The Dancing Master are forced and somewhat disingenuous. This is by no means unreadable, but far from Klassen's best. My Rating: 3.5 stars.
---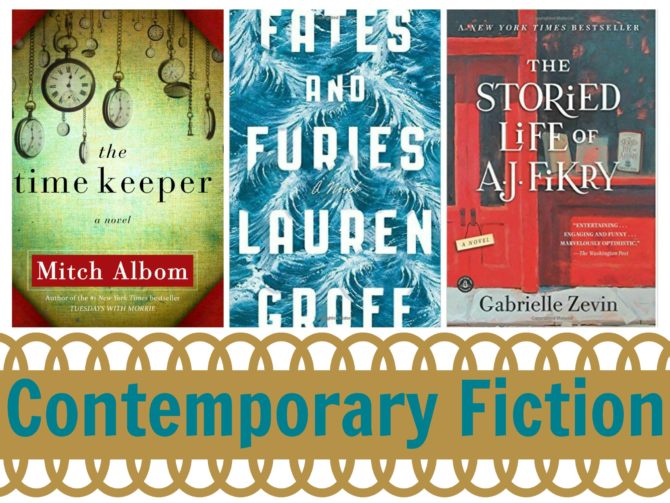 The Time Keeper, by Mitch Albom: This fable tells the story of Father Time, the first man to count the hours. As punishment for trying to measure the gift of time, he is sent into a centuries-long banishment. He gets a chance at redemption by helping two modern-day individuals: a heartbroken teenager who wants to end her life, and a terminally ill billionaire who wants to live forever. Together these three come to appreciate the gift of time as they see into past and future and learn to value the present.
This Christmas Carol-esque novel is thought provoking and creative, filled with rich metaphors and ageless insights. Time is something I think about quite often, and this book led me to ponder it in some new ways. My Rating: 4 stars.
---
Fates and Furies, by Lauren Groff: Touted as one of the best books of 2015, Fates and Furies is yet another Gone Girl copycat, though unlike most books compared to that genre-defining novel, the similarities here revolve around character types and plot structure rather than a mystery component. Fates and Furies follows the 24-year marriage of Lotto and Mathilde, a larger-than-life couple assumed by all around them to be leading an idyllic romance. But relationships aren't always as they seem, even to those involved, and every story has two (sometimes strikingly different) sides. . . .
Lauren Groff is a talented wordsmith who expertly captures the intricacies of relationship by utilizing creative structuring and clever shifts of perspective. (Which don't transfer well to audiobook, by the way.) Through the examination of one couple's story, she taps into universal emotions and elicits thoughtful reflection about our own relationships and the truths (or lies?) upon which they are formed. While the book excels on a literary level, it suffers from too little action (a page turner, this is not) and a touch of pretentiousness. On a personal note, I found the graphic sexuality severely off-putting. My Rating: 2.5 stars.
---
The Storied Life of A.J. Fikry, by Gabrielle Zevin: A.J. Fikry is a middle-aged bookseller with a prickly attitude and an affected taste in literature. Following the death of his wife, A.J.'s life is void of joy and purpose until an unexplained delivery makes an appearance at his island bookstore. Poignant, heartwarming, and infinitely quirky, this book is a bibliophile's dream, filled with literary references, book discussions, explorations of literary taste, and insights into the book selling and publishing worlds. The novel is told through a series of vignettes, each prefaced with a short story title and A.J.'s snarky commentary. Vivid characters and an unexpected narrative arc make The Storied Life of A.J. Fikry a pure delight from start to finish. My Rating: 5 stars
---