Summer is the best time for reading—at least, that is what I'm told. I love reading all year round, so summer doesn't seem all that different from the rest of the year! (One day I hope to return to lazy summer afternoons reading by the pool, but with a toddler who thinks he can swim by himself—and can't—that isn't really in the cards right now!) My most recent reads have included a couple books that would qualify as "beach reads", but I've read some heavier/more serious books as well. Here's a look at six of the books I've read over the past month.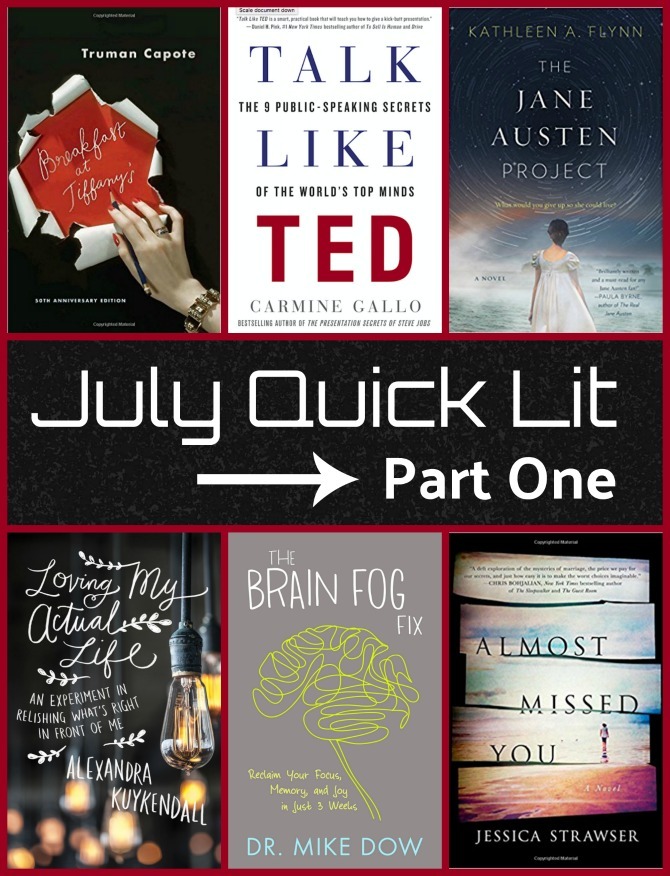 Breakfast at Tiffany's, by Truman Capote: This was my Reading Challenge selection for a book written during the 1950s. As a fan of the movie, the book wasn't at all what I expected; it was much darker, and with quite a different story trajectory. However, I was blown away by the caliber of Capote's writing. I hadn't previously read anything by Capote, but this novella (and the other short stories in the collection) is a stunning example of his mastery over the written word. I'll share a complete review in a Reading Challenge post in a couple of weeks.
My Rating: 4 stars.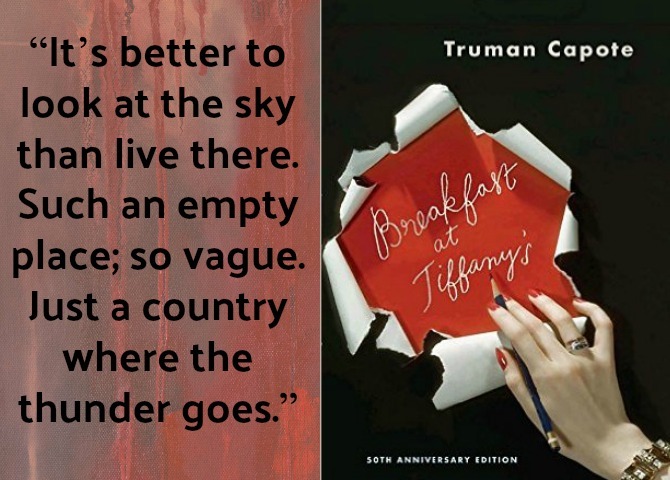 ---
The Brain Fog Fix: Reclaim Your Focus, Memory, and Joy in Just 3 Weeks, by Mike Dow: I've written quite a bit about my struggles with anxiety and depression, and lately I've also been experiencing increased levels of what I can only describe as "brain fog"—mental and emotional haziness, inability to focus, and general brain fatigue and even confusion. It's been frustrating and a bit alarming, and my search for answers led me to this book.
According to The Brain Fog Fix, my personal mental issues are shared by many Americans. We are a nation of poorly nourished, sedentary, sleep-deprived, technology-addicted individuals, and it is affecting every aspect of our lives, including our brains. In The Brain Fog Fix, psycho-therapist Mike Dow elaborates on this epidemic and then offers his prescription for healing our brains by naturally restoring our serotonin, dopamine, and cortisol levels. His solutions are fairly expected and straightforward: get more sleep, spend less time with technology and more time connecting with people, remove chemicals from your home, establish a spiritual practice, and (most importantly) clean up your diet by following a mostly Mediterranean diet.
Though some of the specific statistics were new to me, there's a lot in this book that I already knew. However, it was helpful to see it all laid out in one place and be reminded of the things I should be doing to promote a happier, healthier brain. I was especially convicted to improve my diet–I'd suspected this might be the culprit of my own brain fog, but reading the exact ways in which specific foods can contribute or detract from my brain health makes it harder for me to rationalize a lot of my choices. (Diet Soda and excessive amounts of ice cream and sweet potato fries, I'm looking at you!)
The biggest caveat to this book is that the author is not a medical doctor or a nutritionist, which (for me at least) detracts from his credibility. He references many scientific studies, but I still had to remember that his ideas—especially the more radical ones—are simply one man's opinions. I especially took issue with his dismissal of antidepressants and anxiety medications; he does acknowledge that prescription medications are necessary for some people, but feels that they are overprescribed and usually unnecessary. I don't disagree, but worry that his general disparagement of them might prevent some readers from turning to a prescription when it is a genuine necessity.
After reading this book, I'm not committing to following the specific 21-Day Brain Fog Fix Program (which is pretty rigorous), but I will be making some changes in an effort to clear the fog from my brain. If you are you've experienced brain fog, depression, or a lack of zest in your life, give the book a try, but don't expect any revolutionary ideas or quick fixes other than recommendations to "live a healthy life."
My Rating: 3.5 stars.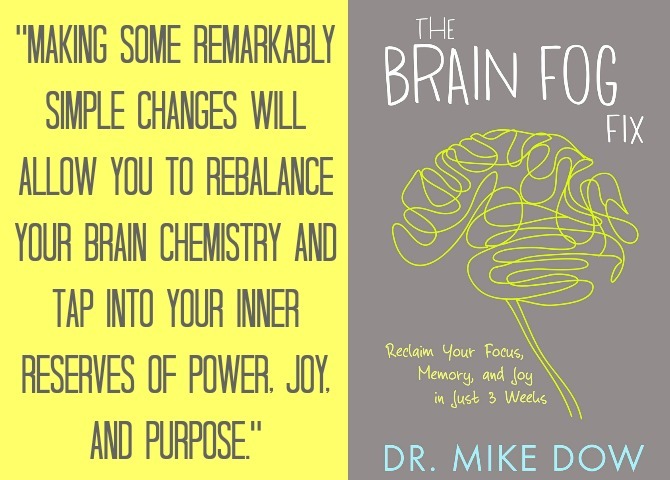 ---
The Jane Austen Project, by Kathleen A. Flynn: At some point in a (technologically advanced) future, worm holes in the earth's atmosphere have made time travel a reality. Two researchers—Doctor Rachel Katzman and former actor Liam Finucane—have been sent to London, 1815, to befriend Jane Austen and obtain an uncompleted novel hinted at in her letters. Posing as a brother and sister from the West Indies, the travelers infiltrate Austen's circle through her brother, Henry, and as relationships form, the duo attempts to save Henry from bankruptcy and, more audaciously, try to save Jane from premature death. As they live out their lives in the nineteenth century, Rachel struggles to reconcile her modern feminist views with the female oppression surrounding her. She also finds herself becoming overly attached to both the subjects of her mission and her partner, and she begins to wonder if they are naïve in thinking such an endeavor could be accomplished without totally altering the future.
I am a big fan of both time travel stories and all things Jane Austen, so this book seemed like it would be a perfect fit. The premise was indeed intriguing and I enjoyed learning more about Jane Austen; in fact, in reading this book I realized I knew very little of the author herself despite loving so many of her books. However, the story felt trite, possibly due to the unlikeable main characters. I went into the book hoping for a Jane Austen tone, but Kathleen Flynn has created an atmosphere that is much more sex-crazed than nuanced, and her modern characters (and their implausible drama) overshadow the historical ones, rendering them rather flat. But while there was a lot of the book I didn't love, I found the ending intriguing and quite thought provoking.
My Rating: 3 stars.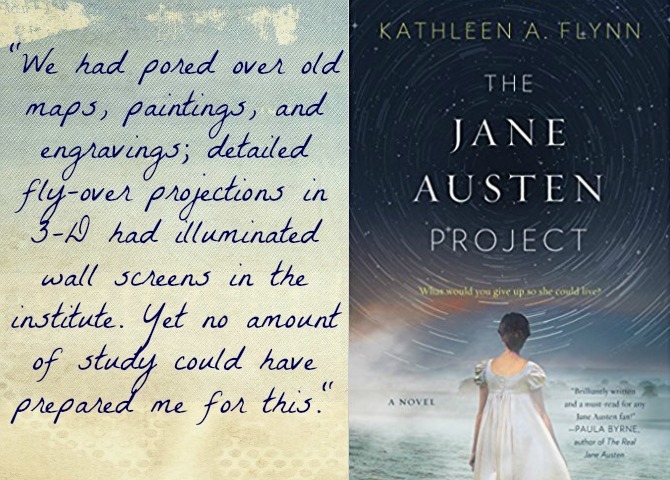 ---
Talk Like TED: The 9 Public-Speaking Secrets of the World's Top Minds, by Carmine Gallo: When I was in high school, our English department hosted an annual speech contest for the sophomore students. My speech (about the merits of homeschooling) got me to the final round of the competition, but during that round I suddenly froze. My mind blanked and I was unable to continue with my presentation. Needless to say, I didn't win first place.
Since then I've had many more opportunities to speak to large groups, and it's one of my favorite things to do. I even taught a public speaking class (to 7-year-olds; it was adorable!). But I've never quite gotten over that high school embarrassment, and to this day feel somewhat insecure about my public speaking skills. Perhaps if I'd had Talk Like Ted in my life at age sixteen, things would have gone differently.
In this book, the author outlines nine secrets to public speaking success, using the TED Talk platform as a model. Many of these secrets are pretty straightforward, and nothing I didn't learn in my high school or college Speech classes, but I enjoyed seeing how they were implemented in specific TED talks. Like most of the world, I've been fascinated by the success of TED and the ways it has transformed how we view presentations. (Even the pastor at our church now delivers his sermons in TED-like format!) I've watched many of the talks discussed in this book, and now have more in my to-watch queue. And of course, in the future, I'll be paying even more attention to the "secrets" implemented by TED presenters.
My Rating: 3.5 stars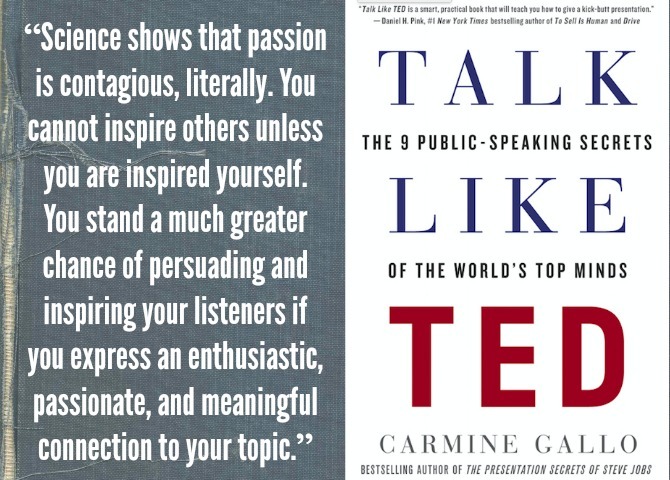 ---
Loving My Actual Life: An Experiment in Relishing What's Right in Front of Me, by Alexandra Kuykendall: Like many busy moms (myself included) Alexandra Kuykendall found herself living a great life, but having trouble actually enjoying it. Plagued by busyness, comparison, and a whole slew of "if onlys…" she wondered if loving the life she was living was even a possibility. To jumpstart her personal happiness, Kuykendall embarked on a 9-month experiment to intentionally improve upon and savor nine areas of her life, from adding more quiet, to improving health and relationships, to organizing her home and getting a handle on meal time. Loving My Actual Life documents her experiment, with the specific challenges she tackles each month, followed by a day-by-day journal, end-of-month reflections, and questions/starting points for readers who choose to embark on a similar experiment.
I've read a number of these "challenge memoirs" lately and it's become one of my favorite genres. I was interested in this one in particular after hearing the author on several podcasts and resonating with her experience of having a great life, but not appreciating it as much as she knew she should or could. I liked the idea of this experiment more than the book itself. There are some great suggestions (not exactly groundbreaking, but still helpful reminders) and I appreciated the infusion of faith throughout the book, but the writing style felt haphazard and the takeaways were pretty shallow. Still, it was a quick and encouraging read and a good reminder to become more intentional with MY actual life.
My Rating: 3.5 stars.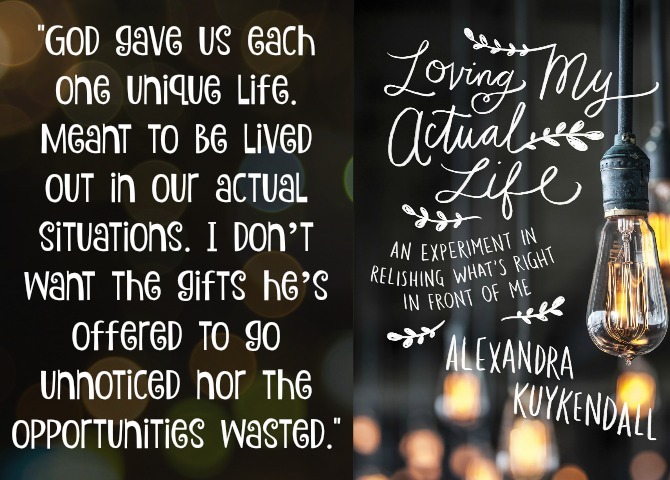 ---
Almost Missed You, by Jessica Strawser: Violet thought she had an idyllic life, with a precious young son and a husband who is almost too good to be true. Violet and Finn even have an awesome backstory involving a chance meeting at the beach and subsequent reunion involving a Craigslist "missed connections" ad. But just three years into their marriage, while on a family vacation, Violet returns to her hotel room to find that Finn has fled and taken their son with him. As Violet seeks answers to why Finn would leave, the story shifts along the timeline of their relationship and between the perspectives of Violet, Finn, and Finn's best friend, Caitlin. As the story unfolds, a number of past secrets are unearthed and we learn that nothing about any of these relationships is as it seemed.
I was expecting a mystery from this book, and though it is very suspenseful, it's not a thriller, but an excellently plotted exposé on marriage, parenthood, and the ways in which lives can hinge on chance encounters and snap decisions. This is a powerful novel and while I was at first confounded by many of the characters' choices, I came to understand and even empathize with the broken individuals whose story is being told. The book prompted a lot of reflection and would provide great fodder for a book club.
My Rating: 4 stars.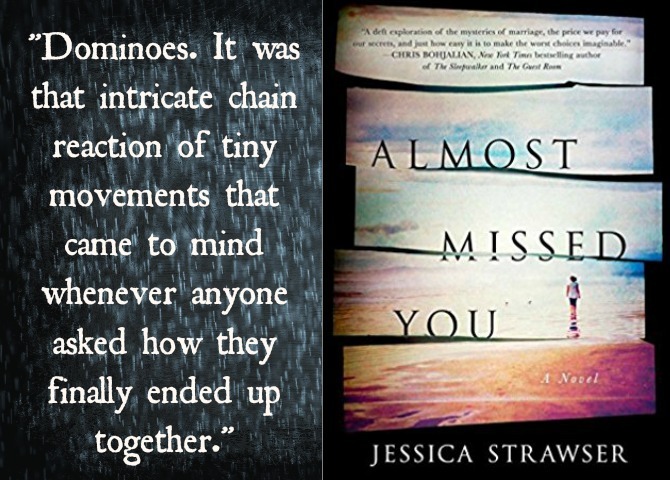 ---
Have you read any of these books? I'm dying to know what you thought; leave a Comment to share your opinions!
On Friday I'll be back with Part Two of this month's Quick Lit, sharing reviews of Hillbilly Elegy, This Is How It Always Is, and four other books I've read in the past month. See you then!