I'm back with Part Two of this month's Quick Lit. This batch of books includes a few controversial (or at least much-talked-about) titles, and I had some pretty big thoughts. Let's get right to the reviews!
Britt-Marie Was Here, by Fredrik Backman: Britt-Marie is a woman after my own heart: she loves and lives by her fastidiously kept lists; she despises a disorganized cutlery drawer; and she takes pride in keeping a tidy and welcoming home, and supporting her husband in his work. A bit socially awkward, she holds strong opinions, but does her best to either keep them to herself, or share them in a helpful and kind manner (NEVER passive-aggressively).
For decades her life has been uneventful, straightforward, predictable—totally manageable. But her world is turned upside down when, at 63, she walks out on her cheating husband and finds herself starting over in the backwater town of Borg. Fearing that she will die without anyone taking notice, Britt-Marie takes on a job as the caretaker of a dying rec center. She becomes friends with latchkey children, teen gangsters, and all manner of unsavory characters. As her heart softens and her OCD tendencies loosen their grip, Britt-Marie is just as transformed by the town as they are by her.
This is a simple story, but a sweet one, equal parts heartbreaking and endearing. I enjoyed the subtle humor and eclectic characters. Britt-Marie herself is a wonderful and memorable character, and I loved watching her bloom over the course of the book. The novel shares similarities with A Man Called Ove, particularly the quirky-but-loving central characters and whimsical tone. Fredrik Backman writes these aging protagonists so well, I was shocked to read recently that he is only in his mid-30s! There are aspects to his writing style that I don't care for, such as awkwardly worded phrases, but I assume these quirks are due to translation issues and not Backman's abilities as a writer.
My Rating: 4 stars.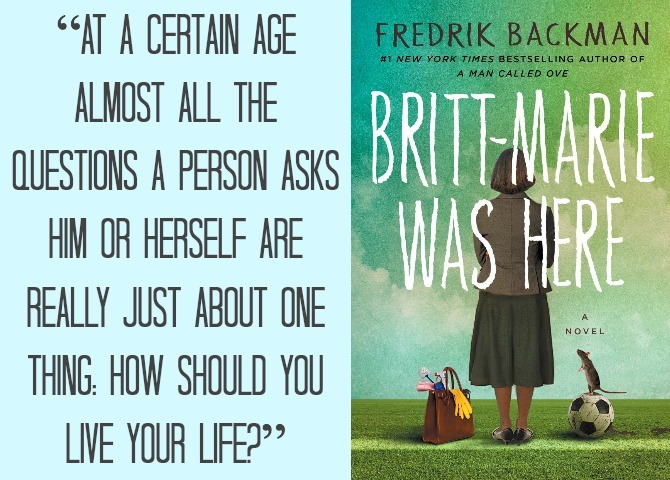 ---
The Good Widow, by Liz Fenton and Lisa Steinke: Jacqueline "Jacks" Morales knows that her marriage isn't perfect. But eight years—and many rocky moments—after saying I Do, she still loves her husband and is devastated when the police arrive at her door informing Jacks that he has been killed in a car accident. Her devastation turns to bafflement and horror when she learns that the car crash took place in Maui, where he was vacationing . . . with his mistress. The other woman was a 24-year-old waitress named Dylan Matthews, who herself had been engaged. Her fiancé, Nick, is also blindsided by the affair and approaches Jacks with a proposition: join him in returning to the scene of the accident in order to retrace their cheating partners' final days alive and gain some answers about the two individuals they thought that they knew.
Like Almost Missed You (which I reviewed on Monday—and liked more), this is a story of relationships shrouded in secrecy, and the harmful decisions individuals make when their commitments are grounded in lies. I found the relational examination component of the novel intriguing, and it was enough to carry a plot that was much more chick lit than suspense. I also enjoyed the Orange County setting (and laughed at Jacks' description of herself as the only person in Orange County who doesn't like the ocean—because I, too, was a Southern Californian who was not a fan of the beach!).
Despite these high points, I didn't love this book as much as I wanted to. With each chapter I expected the pace to pick up, and was kept waiting until nearly the end. The characters seemed incredibly inconsistent (perhaps due to the book having two authors?), and I didn't particularly like them or understand their decisions. (Specifically—why would the two grieving partners want to return to Hawaii just to see where their spouses had engaged in their affair?)
Though petty, two more slightly bothersome things about the book that I simply must mention: 1) the names of the two main female characters (Jacks and Dylan? Really?), and 2) the fact that the 33-year-old protagonist is considered too old to know what Snapchat is. (I might not actually be on Snapchat, but even at my "advanced age" [also 33] I am familiar with the platform.) Silly grievances aside, this isn't a bad book and is very readable, even if it does lack substance.
My Rating: 3.5 stars.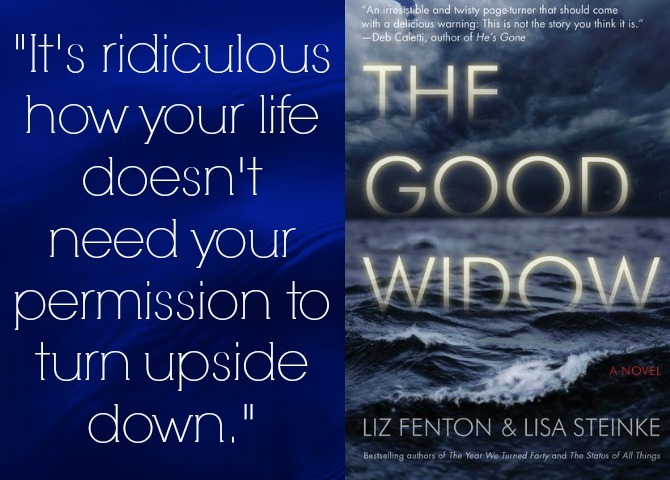 ---
This Is How It Always Is, by Laurie Frankel: Rosie, a doctor, and her writer husband have a fairytale life complete with four wonderful sons. They decide to go for a fifth child in hopes of finally having a daughter; instead they give birth to Claude, a fifth boy—who, from an early age, decides that he wants to be a girl. By the time Claude reaches Kindergarten he is wearing dresses and answering to the name Poppy. The transition proves too much for their conservative town to handle, so Rosie and Penn move their family to a new state, where the whole family acts as though "Poppy" has always been part of their lives. But the secret can't be held forever, and when it comes out, it threatens to tear the whole family apart.
I was very reluctant to read this novel: I don't generally love "issue" books, particularly ones that push an agenda that doesn't necessarily align with my personal values. However, I'd heard many positive reviewers touting it as a powerful and important read, and more than just a PC book about a hot-button topic. So, as part of my ongoing effort to step outside my bubble and expose myself to views that are different from mine, I decided to give it a shot. And it definitely left me with a lot to think about. The novel prompts questions about gender roles and stereotypes; about how to help children navigate issues of identity (their own and those of their siblings and peers); about reality and fiction and how the lines between them are blurred; and—perhaps most significantly—how to make decisions for our children that will affect them for the rest of their lives.
For me, This Is How It Always Is served as a much-needed (but hitherto avoided) foray into some personal exploration regarding many prickly ethical issues. It also helped me to view these issues with more empathy and compassion. Though I would not respond to the situation in the same ways as the characters in the novel, I felt that the author presented the issues with nuance and without (too much of) an agenda.
Objectively—issues aside—I didn't find this to be the best-written or most engaging book, and if it weren't for the high-profile subject matter I doubt that it would have garnered any positive recognition. With the exception of a few poignant passages, the prose is stilted, the story slow, and the dialogue awkward. (Though, to be fair, my opinion might have been swayed by the terrible narration of the audiobook; I may have felt differently had I read this one with my eyes rather than my ears).
Even though I didn't love it, I'm glad that I read it. And I know it's a story I will be thinking about for a long, long time.
My Rating: 3.5 stars.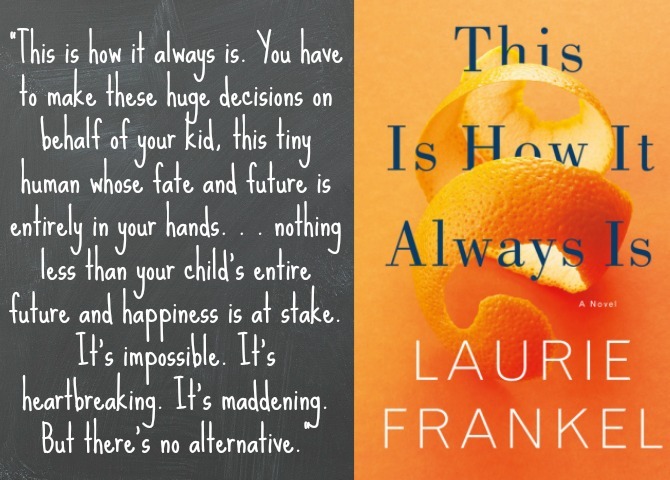 ---
Present Over Perfect: Leaving Behind Frantic for a Simpler, More Soulful Way of Living, by Shauna Niequist: In this age where Perfectionism has become a dirty word, and "embracing a simpler lifestyle" is what all the cool kids are doing, Present Over Perfect is a book whose premise describes a journey many of us are already pursuing. Shauna Niequist's story is one I've read in a number of books lately: overwhelmed by her frenetic lifestyle, tired of constantly striving to prove herself to the world, and convicted about putting her career above her true priorities (family, faith, hospitality), she began to step back—and then, of course, she wrote a book about it.
Even though Niequist's experience is not unique, I'm glad that she chose to share it with us. Clearly, perfectionism is a vicious beast to tackle (I know from experience!), so I find it helpful to have a chorus of voices speaking out in favor of less-than-perfect (but fully present) living. [For the record, my favorite book on this subject has been Lysa TerKerust's The Best Yes, which relies much more heavily on Scripture and faith-based values to make its point.]
This is the first book that I've read from Shauna Niequist and I admired her vivid writing style and willingness to share from the heart. And as I said above, the message definitely spoke to me. However, I was a little confused by the format: was it a memoir? A self help book? It was also incredibly repetitive, in parts reading more like a stream-of-conscious journal than a true book. Another drawback was that, while I liked the big ideas, I had a hard time relating to Niequist's exact story: I don't have a big career that I'm stepping away from, so what does letting go of perfectionism and striving look like for me, a stay-at-home mom who still feels burdened by the lure of achievement?
It's a tricky thing to write a book about how you no longer feel called to be a speaker and a writer. It sends conflicting messages, and it definitely caused me to question the author's sincerity. Niequist addresses this in the final section of the book, which I appreciated, but even with those disclaimers, I came away from the book partly inspired, but also wondering whether letting go of perfectionism really is attainable, or if it's just another trend—one we all like to talk about, but none of us are fully ready to embrace. I love the idea of resting in my identity in Christ and letting all else go (that's actually been my core focus lately) and this book pointed me in the right direction, but it didn't quite get me there.
My Rating: 3.5 stars.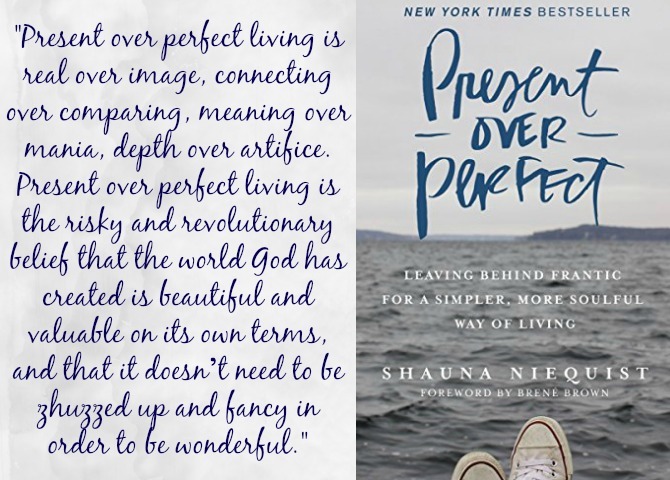 ---
Option B: Facing Adversity, Building Resilience, and Finding Joy, by Sheryl Sandberg and Adam Grant: Facebook COO Sheryl Sandberg is no stranger to challenge; in fact, she literally wrote a book about leaning into obstacles. But none of her experiences prepared her for the biggest challenge of all: the sudden death of her husband that left her a single mom to their two young kids. In Option B, Sandburg shares the tragic story of her loss and opens up about her own grieving process. She explains the tactics she and her kids have used to move on, and elaborates on the ways in which others have been helpful (and, more often, how their "helping" has done more harm than good). Sandberg's own story is interwoven with those of others who have faced adversity, along with scientifically-backed strategies for building resilience in the aftermath of a tragedy, or even before it occurs.
While I found a lot of the extra stories and statistics distracting, the personal portions of this book are incredibly moving and enlightening. I have not experienced a tragedy like Sandberg's but imagine her advice would be beneficial for someone who has. And we ALL know people who have mourned a loss; Option B provides excellent advice for navigating this challenging scenario.
The conversations prompted by Option B are ones we need to be having, and though I am so sorry that Sandberg had to experience such a devastating loss, I am thankful to her for finding a way to redeem her circumstances by writing a book that will help so many.
My Rating: 4 stars.
Even if you don't plan to read the book, check out this excellent podcast interview that Sandberg and Grant had with Krista Tippett regarding the subject of the book. I enjoyed this interview even more than the book itself.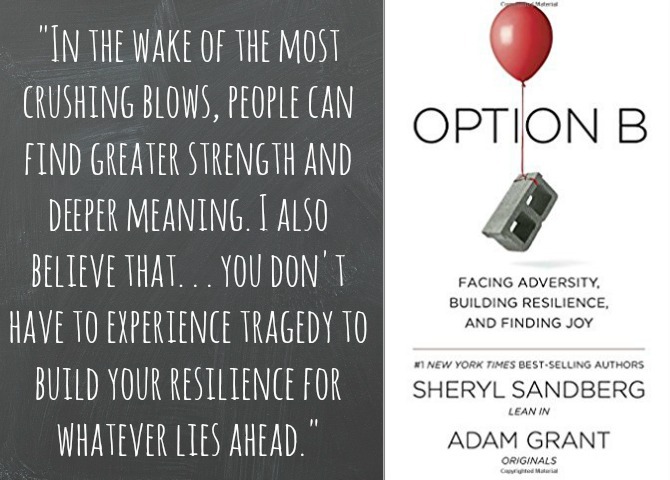 ---
Hillbilly Elegy: A Memoir of a Family and a Culture in Crisis, by J. D. Vance: I was late to the party with this book. After last year's election outcome, it seemed like everyone was touting it as THE book to read for answers about the white working class who supposedly fueled Trump's campaign; but I was feeling weary of politics and needed some time and space before I was ready to read. I needn't have waited, as it wasn't at all the political diatribe I was expecting.
J. D. Vance was born in 1984 (the same year as me) in Middletown, Ohio, but his family came from the Appalachian region of Kentucky and his upbringing was strongly influenced by his "hillbilly" roots. Vance describes a childhood tainted by domestic violence, financial insecurity, drug and alcohol abuse, and all manner of disfunction. Vance went on to join the Marines, then graduate from Ohio State and Yale Law School. However, his successful trajectory is an anomaly. Vance describes the ways in which harmful hillbilly culture has trapped those within the region and contributed to the ethical and financial downfall of this population.
I appreciated Vance's story. He is a helpful guide through hillbilly culture in that he is able to offer insights as both an insider and an outside observer (he is clear that his current life looks very different than that of us upbringing, and he no longer identifies with his culture of origin). Though Vance's childhood was vastly different from mine, the culture Vance describes wasn't entirely foreign to me thanks to television, movies, and other books I have read; however, it is always helpful to step outside of my personal experiences—even if it's just through books—to be reminded of the privilege I've been given.
When reading this book, I kept in mind that it was a personal memoir, and not the memoir of an entire people group. The story Vance offers is simply his own, and though he provides some societal commentary, he cannot speak for all of Appalachia, let alone every sector of the white working class. I think that many have projected much more meaning onto Hillbilly Elegy than was intended by the author. Vance does make a few bold statements about the culture, but he has no answers. For his audience to draw conclusions about the state of our country or political climate based on a single memoir is a mistake.
I am glad that J.D. Vance chose to share his story with the rest of America but his story is just one among many and does not (can not) speak for an entire demographic. If you are curious about hillbilly culture, go ahead and read this book, but don't expect it to answer all of your questions about race, politics, our economy, or religion.
My Rating: 3.5 stars.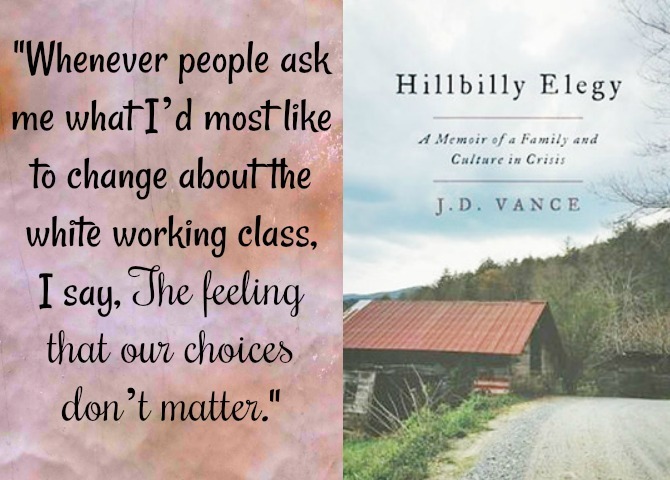 ---
Have you read any of these books? I'd love to know what you thought! Which of these titles will you be adding to your summer reading list?
If you found me today through the Modern Mrs. Darcy linkup, thanks for stopping by! Please check out Part One of my July Quick Lit for reviews of the other six books I've read recently.