Today's batch of reviews contains a mix of chick lit, memoir, contemporary fiction, and thriller. All six books were heavy at points, but every one of them receives my hearty recommendation. Let's get to the reviews!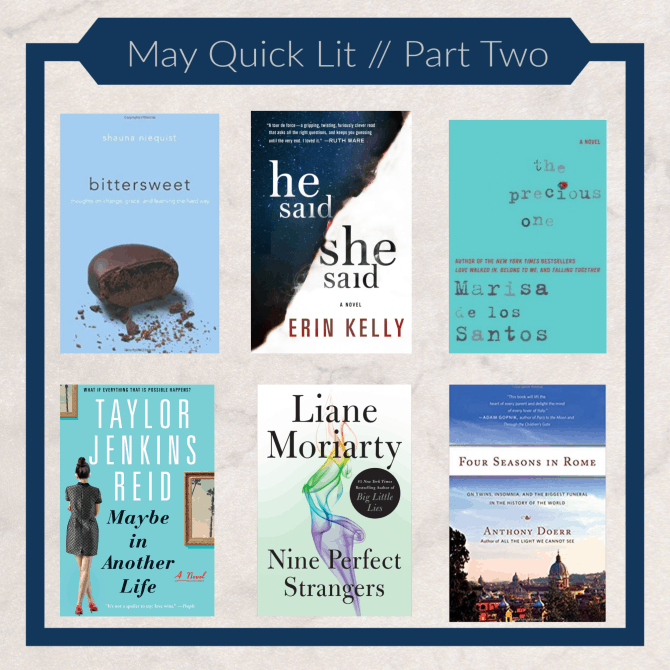 The Precious One, by Marisa de los Santos: Seventeen years ago, Wilson Cleary abandoned his wife and twin teenagers, Taisy and Marcus, for a new family. In the years since, they have only had a single visit with Wilson, his sculptor wife Caroline, and their daughter Willow. So Taisy, now in her thirties, is shocked to receive a phone call from her father—the professor, inventor, philanderer, self-made millionaire, brilliant man, and breathtaking jerk who, despite his numerous shortcomings, continues to hold her heart all these years later.
Taisy cautiously accepts Wilson's invitation for an extended visit, which provides a welcome opportunity to reconnect with her high school sweetheart (and only true love), Ben Ransom. Much to her surprise, Taisy also begins to develop warm feelings for her sixteen-year-old half sister, Willow.
Having spent the majority of her life under the careful care and tutelage of her doting parents, Willow recently began attending the local high school where she feels ostracized because of her sheltered upbringing and quickly falls under the spell of her pretentious English teacher. Though Willow is both distrusting and jealous of her older sister, Taisy longs to help the fragile teen navigate the social challenges of school.
The Precious One alternates between Taisy's strong, insightful voice and Willow's heartbreakingly naive one. As the story unfolds, we follow the two protagonists as they navigate broken hearts, confront long-buried family secrets, and struggle to make sense of the enigmatic father whom Willow adores and Taisy resents.
Though light on plot, The Precious One is a compelling read whose complex, endearing characters are the true highlight. I was immediately drawn to the mature, soft-hearted Taisy, and though it took me a while to warm to the precocious and self-absorbed Willow, she eventually won me over as well, as did each woman's love interest. The novel offers an unflinching look at the nature of predatory male figures while also paving the way for redemption and healing.
Through her gorgeous prose, de los Santos paints an emotionally poignant picture of a fractured family, drawn from two startlingly different viewpoints and offering a unique look at shapeshifting characters and the ways that time and perception can alter one's interpretation of past and current circumstances.
My Rating: 4 Stars.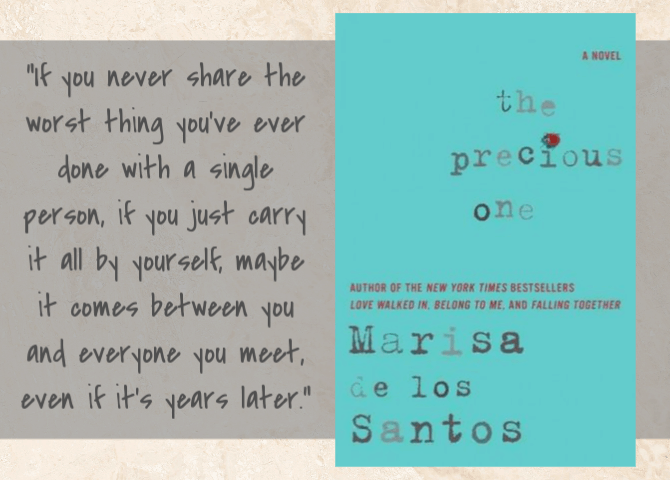 ---
Four Seasons in Rome: On Twins, Insomnia, and the Biggest Funeral in the History of the World, by Anthony Doerr: I visited Italy with my family when I was in college, and though I haven't been back in the fifteen years since, Italy has continued to hold my heart. It is one of the most beautiful, magical, romantic places I've ever seen and I am still captivated by every movie, book, or piece of artwork that has Italy at its center. To that end, Four Season in Rome has been on my TBR for quite some time. I'm not sure why I waited so long to read it, but after learning that we are having twins, I've been craving books about parenting multiples, and this book came to mind. Its time had come!
In Four Seasons in Rome, Anthony Doerr (author of the incredible All the Light We Cannot Sea) describes in exquisite detail the year he spent in Rome. The trip came about when Doerr was named the recipient of the Rome Prize, one of the most prestigious awards from the American Academy of Arts and Letters. Included in the prize was a stipend and a writing studio in Rome for a year. Doerr learned of the award just hours after his wife had given birth to twins, and six months later he and his little family find themselves living in a small apartment in Rome.
This is one of the most captivating travel memoirs I've ever read. Doerr seamlessly blends descriptions of modern-day Rome into the quotidian moments of life as a new parent. The romance and lusciousness of the city are juxtaposed against Doerr's reality of teething babies, sleepless nights, and insomnia-induced writer's block. Sprinkled throughout the book are observations gleaned from Pliny, Dante, and Keats—whose works serve as Doerr's inspiration—as well as his own poignant insights on parenthood, marriage, and travel.
As the seasons unfold, Doerr and his family attend the vigil of a dying Pope John Paul II, make friends with the locals, dine on the finest Italian dishes, and explore the monuments, piazzas, temples, and fountains of the city. Doerr's Rome glimmers vivaciously, while preserving elements of its mystique.
Although Doerr is an attentive father whose love for his children is seen in every page, his descriptions of the early months with twins did leave me slightly terrified about what lies ahead for me. . . . More than anything, though, Doerr had me longing to return to the beautiful, enthralling city of Rome.
My Rating: 5 Stars!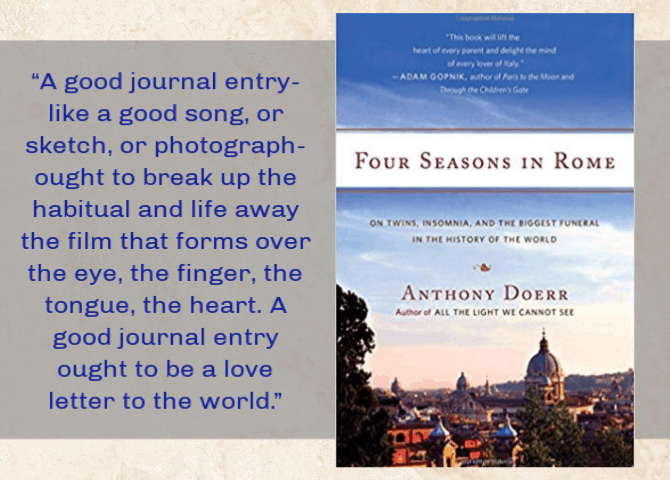 ---
He Said / She Said, by Erin Kelly: In the summer of 1999, college students Kit and Laura attend a festival in Cornwall to view a total eclipse of the sun. Kit, who has been chasing eclipses since he was a child, already has a life of eclipse sightings mapped out ahead of him, and he's eager to share the experience with the new love of his life. But shortly after the shadow passes, Laura stumbles across what she immediately deems to be a crime scene. Laura and Kit report the brutal rape to the authorities, and months later, both testify in court against the perpetrator who vehemently denies his culpability.
In the aftermath of the trial, the grateful victim shows up on Kit and Laura's doorstep, eager to repay them for the kindness they have shown her, and the two women form an intense friendship. But the relationship soon sours, resulting in events so horrific that fifteen years later, Kit and Laura have changed their names and are living completely off the digital grid in order to avoid a potentially deadly confrontation with their past. Some things haven't changed though: Kit is still a passionate eclipse chaser and when he leaves Laura, now six months pregnant with twins, for a boys' trip to view the latest solar eclipse, their temporary peace is shattered. Years of lies and deception have come back to haunt them, and this time they may not escape unscathed.
I can't remember the last time I read a book that caught me in its hooks like this one did. Case in point: I stayed up until 4 in the morning to plow through the last 250 pages of the book (this is really saying something for this pregnant lady who is barely able to keep her eyes open past 10 these days)! The story jumps between the POV of Kit and Laura over a fifteen year time span, essentially creating four puzzle pieces of story that slowly but brilliantly come together. I spent the first half of the book somewhat disoriented, having no idea what was happening or where the story was leading, but it all comes together to form a jaw-dropping thriller with more plot twists than I could count.
Kelly's writing is impeccable: riveting story, compelling characters, an intriguing setting and premise (who knew a book centered around eclipse chasing could be so fascinating?), emotional depth, and beautiful extended metaphors and psychological observations that add to the suspense.
The themes here are not easy ones—huge trigger warnings for violence and a graphic sexual assault—but these are handled tactfully. I was fascinated by the depiction of the British court system, and slightly appalled by nearly every aspect of the rape trial. (I'd be interested to see how a similar case would be handled in the United States today, twenty years after the events of the book; so much has changed regarding sexual ethics in the last two decades). This book gave me a lot to think about, and left me questioning some previously held assumptions and convictions related to the issues of sexual consent, accusation, and justice.
Beyond the subject of rape, Kelly touches on the topics of addiction, anxiety, grief, and false perceptions, and offers an in-depth examination of marriage—what binds couples together, why relationships evolve over time, and how secrets and lies can fester and ultimately warp a relationship past recognition. Kit and Laura's infertility and subsequent twin pregnancy also struck a cord with me, for obvious reasons. And the relationship between Kit and his own twin brother (an alcoholic) is a small but intriguing storyline.
This would have been a five star read for me, except that I HATED the ending. If you've read this book, what did you think? I'm dying to discuss it with someone!
Book Rating: 4.5 Stars.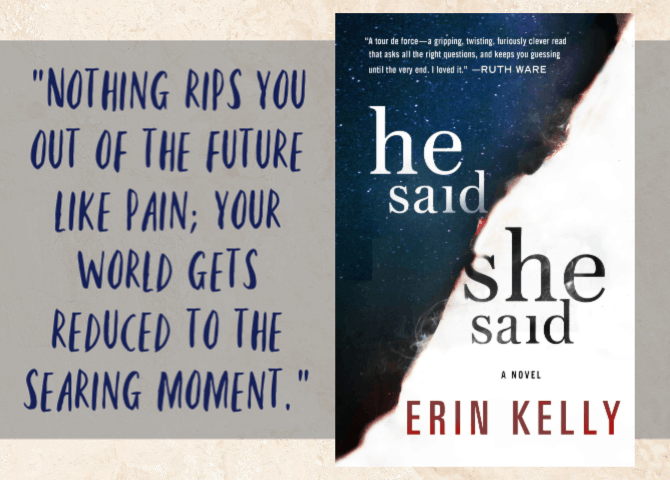 Nine Perfect Strangers, by Liane Moriarty: Nine strangers arrive at a remote health resort, prepared for ten days of rest, relaxation, rejuvenation, and a jumpstart on new-and-improved bodies and lives. Among the guests is Frances Weltey, a former bestselling romance author who arrives at Tranquillum House with a deteriorating menopausal body, a broken heart, and a sense of loss regarding her flailing writing career. Frances is hopeful that the House's enigmatic director can offer the answers that she seeks.
From the first evening at Tranquillum House, Frances and the other guests begin to realize that this resort is not the luxurious retreat they'd anticipated. Through fasting, enforced silence, and mindfulness, the guests are quickly exposed to some unconventional transformational tactics and forced to confront their heartbreaking pasts and inner demons. And then, halfway through their ten-day stay, their resort experience takes a dramatic turn and the guests begin to wonder if they will ever escape.
I had some trepidation heading into this novel. I'm an enormous Liane Moriarty fan, but lackluster reviews of this one had me worried. I am so glad I disregarded the naysayers; other than What Alice Forgot, this might be my favorite Moriarty novel yet! This is a character-driven story, and we are given an in-depth look into the lives and psyches of nearly a dozen individuals, with alternating chapters told from each of their perspectives. Every single character is unique and intriguing, with a surprising backstory and endearing attributes. I found every one of them delightful (even the "villains") and warmed to each of their plights. Through their histories, Moriarty touches on challenging but important themes of grief, relationships, suicide, psychedelics, heartbreak, and personal transformation. These topics are delicately handled, and Moriarty's unique brand of empathy and sardonic humor prevent the story's darker aspects from weighing the novel down.
While each character is remarkable and adds to the novel's depth and intrigue, I was especially drawn to Frances, our leading lady. She is quirky but relatable, and I couldn't help but wonder if this middle-aged author was at all autobiographical. Her occupation as a writer also leads to some fun self-referential moments throughout the novel that are wonderfully hilarious.
Many reviewers have noted that, while they enjoyed the beginning of the novel, they didn't care for the story once things went off the rails at the halfway point. I've come to expect a bit of absurdity in Moriarty's books and didn't mind these plot twists at all. I actually got a kick out of the plot's outlandish trajectories and enjoyed seeing how it all came together in the end.
Nine Perfect Strangers may not be everyone's cup of tea, but I found it fun, smart, and deeply engaging. The book also has me second-guessing my long-held desire to spend time at a wellness retreat!
My Rating: 4.5 Stars.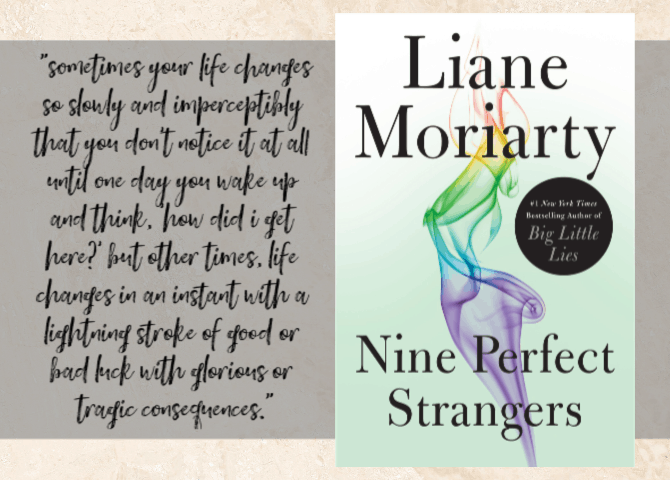 Bittersweet: Thoughts on Change, Grace, and Learning the Hard Way, by Shauna Niequist: "Bittersweet is the idea that in all things there is both something broken and something beautiful, that there is a sliver of lightness on even the darkest of nights, a shadow of hope in every heartbreak, and that rejoicing is no less rich when it contains a splinter of sadness. Bittersweet is the practice of believing that we really do need both the bitter and the sweet, and that a life of nothing but sweetness rots both your teeth and your soul." This message is at the heart of Shauna Niequist's collection of essays, and it is a message that I've personally walked myself in the last few years as I've sought beauty from my own ashes.
In this vulnerable, contemplative book, Niequist shares stories of the big and little things in life, mining each experience for "opportunities to grow, things to learn, and ways to transcend and transform." The book explores a tender year in Niequist's life, in which she and her husband left jobs, moved to a new state, said goodbye to many friends and family members, lost a baby, and suffered through secondary infertility. Stories about motherhood, marriage, friendship, and dinner clubs are filled with laughter and sorrow, love and longing, grief and hope. Niequist's subject matter is quotidian, yet her style is poetic and points to the power of reflection and the amazing life lessons that can be gleaned from life's hardest, most desperate moments.
I laughed and cried in this book and nodded along with each core truth. I saw so much of my own story in these pages, and was reminded of the numerous blessings that have come by way of my own dark nights of the soul. I've noticed that many reviewers have panned Bittersweet as a self indulgent pity party, but I found the opposite to be true: I admired Niequist's ability to candidly share the hard parts of her life, while remaining firmly planted in the hope that we have in Christ.
While I didn't care for the meandering nature of the essays and found some much better than others, the book features dozens of stand-out moments that I hope to remember long after I've finished reading. My favorite chapter was about thin places, "places where the boundary between the divine world and the human world becomes almost nonexistent, and the two, divine and human, can for a moment, dance together uninterrupted. Some are physical places, and some aren't places at all, but states of being or circumstances or seasons." I love the idea that thin places offer an opportunity to become aware of the divine fingerprints within the world, and that brokenness is a special type of thin place that has a way of bringing us to "the sacred place where God's breath and touch are closer than our own skin."
There is a heavy thread of miscarriage and infertility running through these essays, including a story about the loss of twins.* These are obviously topics I am fluent in and generally appreciate reading about, but I wish I'd read this book before becoming pregnant, as Niequists' experiences were somewhat anxiety-provoking for me to read while in my first trimester. However, I'd love to get this book into the hands of any woman who was in my shoes just a year ago.
My Rating: 4.5 Stars.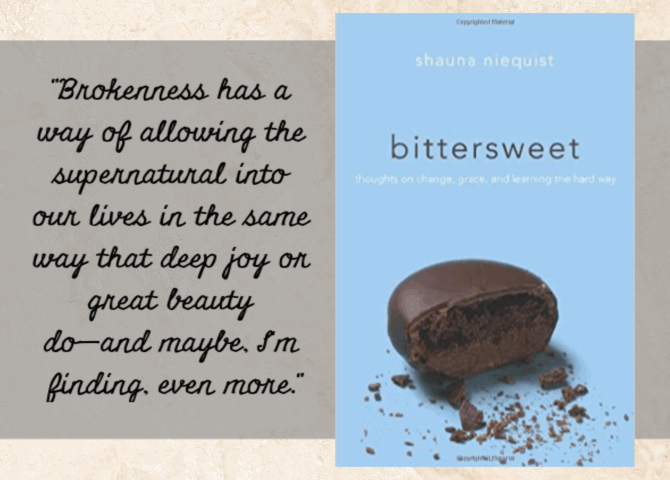 Maybe In Another Life, by Taylor Jenkins Reid: At age twenty-nine, Hannah Martin has no idea what she wants to do with her life. She's spent the years since college bouncing from state to state, holding meaningless jobs and getting wrapped up in ill-advised relationships. In an attempt to break away from an affair with a married man, Hannah has moved back home to Los Angeles to live with her best friend, Gabby, while she gets her feet back on the ground. Shortly after getting back into town, Hannah is at a party where she runs into her high school boyfriend, Ethan. Just after midnight, Ethan invites Hannah to stay with him at the party. Does she remain with Ethan or go home with Gabby?
In concurrent storylines, Hannah lives out the consequences of each decision. Within these parallel universes, the stories quickly diverge, resulting in radically different outcomes for Hannah and those around her. Within each of the alternate realities, Hannah discovers the meaning of love, loyalty, and commitment. She encounters heartbreak and pain as she attempts to find purpose and meaning in the life she has been given.
I've always been fascinated by the concept of alternate realities and the way that life can hinge on a single small decision, and Taylor Jenkins Reid's execution of this premise is one of the best I've come across. Each of the storylines is engaging and heartwarming, and I enjoyed seeing the parallel stories intersect in some creative ways. Before reading, I worried that I might get confused by the alternating stories, but they were different enough that I had no problem following the separate plot lines, even in audiobook. Reid's characters are well-drawn and relatable, if not particularly likable, and I enjoyed the exploration of some poignant and thought-provoking themes such as fate, true love, and the existence of soul mates. This is my third book from this author (my favorite so far), and I appreciate her smart writing that interweaves philosophical ideas into heartwarming romances—not an easy combination to pull off!
My Rating: 4 Stars.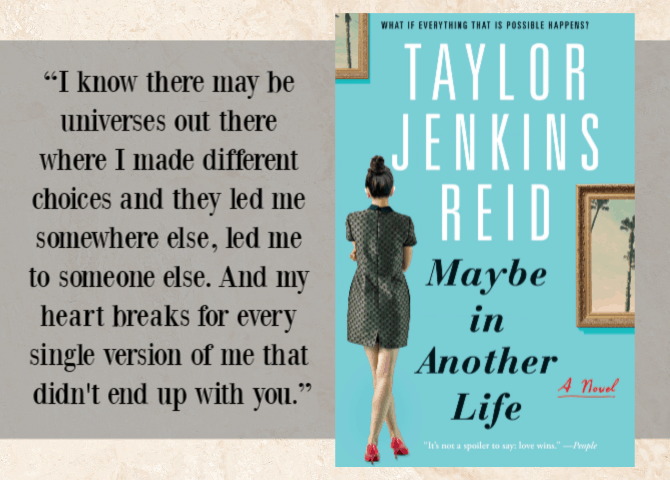 ---
And in case you missed it, you can check out Part One of this month's reviews right here.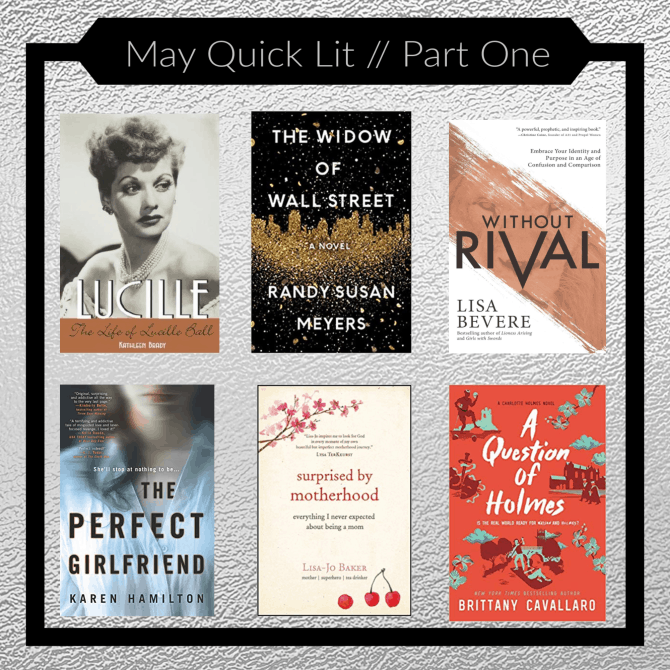 What's the best thing you've read in the last month?
*I am just now realizing that FIVE of these books contain twins, either at their center or on the periphery. Only one of these twin-based reads was planned; multiples seem to be following me around!